If you love texting, you'd be familiar with the MightyText SMS app. The popular app has gained a lot of popularity off late, thanks to its great features, especially its ability to reply to SMS from PC. That's not all that the app offers though, as it also includes the ability to make calls, ring your phone, uninstall apps, transfer photos & videos, check battery status through its web client. However, the recent announcements from the folks at MightyText that they are limiting the messages send from PC to 250 in its free version hasn't gone down too well with the users.
You can get MightyText Pro ($3.33/month) for unlimited messaging from PC but if you are looking for something free, you'd have to try out some alternatives. And the good news is, there are some great SMS apps that bring similar functionality. However, we are only listing down apps that offer unlimited messaging from PC for free or through a nominal price.
So, keeping that in mind, let's take a look at the 4 best MightyText alternatives you can try:
1. Mysms
Mysms is arguably the most perfect MightyText alternative, if you loved MightyText for its SMS capabilities and not for its other additional features. As the name suggests, Mysms focuses on the SMS part. All you need to do is, login to Mysms on your smartphone with your Google account and login to its Web client or desktop apps with the same account to sync all your messages. Moreover, you can even send messages from your Android tablet or iPad. Unlike MightyText, the app's free version lets you send unlimited messages. Along with SMS notifications, the app also brings call notifications along with the ability to send MMSes.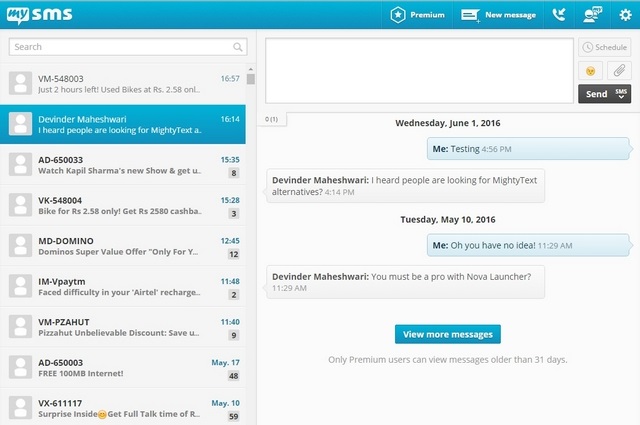 If you'd like more SMS features like backup & restore, scheduler, start calls remotely, archive messages to cloud storage services etc., you can get the Premium version of the app for a subscription of $9.99/month.
Availability: Android smartphones, Android tablets , iPhone, iPad, Web, Windows desktop client, Windows Store, OS X
2. Yappy
Yappy is another very popular SMS app and rightly so, as it brings a plethora of messaging features. Firstly, addressing to the elephant in the room, Yappy lets you send unlimited messages from your PC, Mac or tablet in the free version, so that automatically makes it a great MightyText alternative. There are a plethora of messaging features here like MMS support, backup & restore, integration with other popular SMS apps like Evolve, Chomp, QK, Material and more. Yappy also includes its own instant messenger too, so if your friend uses Yappy, they will get a message on Yappy rather than an SMS.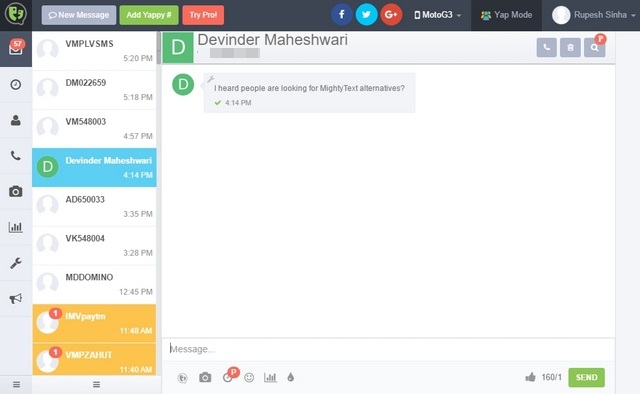 There's also a Pro version of Yappy ($1.99/month), which brings message scheduling, search, themes, unlimited retention, no ads, signatures and more.
Availability: Android, Chrome, Firefox, Windows, XMPP
3. AirDroid
If you want MightyText's ability to send messages from PC but you want to do more, you can check out AirDroid. The good news is, the free version of AirDroid lets you send unlimited messages from your PC. Another cool thing is, along with SMS, it also syncs messages from instant messenger apps like WhatsApp, Telegram, Facebook Messenger etc. That's just the tip of the iceberg though, as it also mirrors all your notifications, lets you install apps, answer & make calls, file sharing, check device status and more. It also packs in a mirroring feature dubbed AirMirror (desktop client), which mirrors and lets you control your Android smartphone's display from your PC.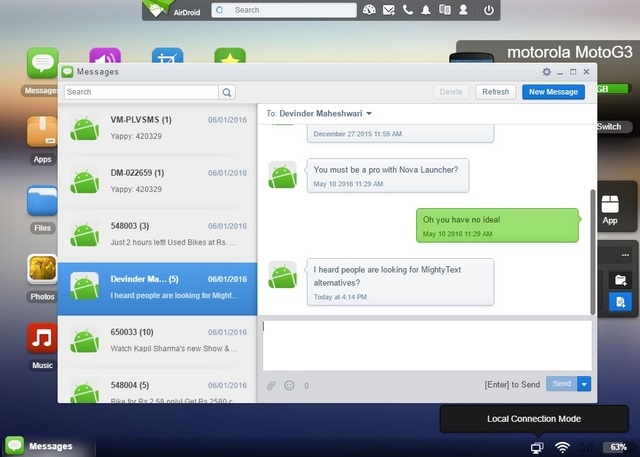 Also, AirDroid's Premium subscription ($1.99/month) brings unlimited file transfers, large file support (1 GB) and the ability to run on multiple devices. While AirDroid is a feature-rich application, it can get overwhelming at times, so if you want a simple MightyText alternative for SMS, we'd suggest you to use the other apps on the list.
Availability: Android, OS X, Windows, Chrome, Web
4. Join
Join (beta) is a new app that has been gaining a lot of traction, as a Pushbullet alternative, so it's way more than just a MightyText alternative. What makes it even better than MightyText is the fact that it lets you remotely SMS from any device with a browser. There's no limit here to the messages you send, plus you get a plethora of features like clipboard sharing, notification mirroring, file sharing, end-to-end encryption, Tasker integration, ability to open web pages remotely and more.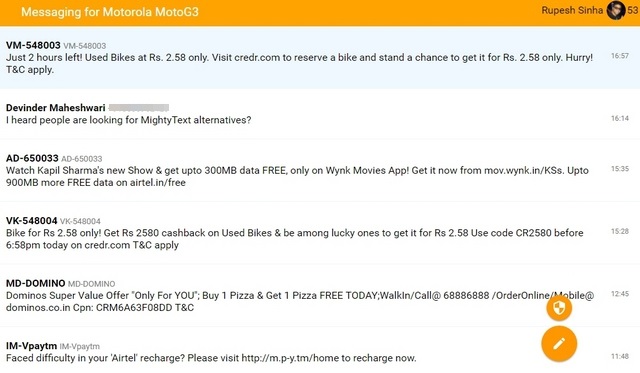 While the app is available at a price of $4.99 after the one month free trial, it's still a valid MightyText alternative because it's a one-time payment only, unlike MightyText's subscription service.
Availability: Android, Windows, Chrome, Web
SEE ALSO: 8 Pushbullet Alternatives To Counter Its Free Version Limitations
Use these MightyText Alternatives to send unlimited messages from your PC
We understand that MightyText is looking to monetize its services but we don't really appreciate the messaging limit, as the app's popularity will definitely take a hit. Thankfully, the aforementioned apps are some great alternatives that offer unlimited messaging from PC for free (Join is available for a nominal one-time purchase). Along with the aforementioned apps, you could even consider Pushbullet but the problem is that the app only offers 100 messages in its free version. So, try out the alternatives and let us know how you like them. Sound off in the comments section.