Microsoft has just unveiled its first 'Non-Nokia' Lumia device – the Microsoft Lumia 535. The Microsoft Lumia 535 follows from the line up of erstwhile affordable and commercially successful Nokia Lumia 520, Nokia Lumia 525 and Nokia Lumia 530. The phone is expected to come in single SIM and dual-SIM variants for different markets. As far as the specs go, the Nokia..Oops..Microsoft Lumia 535 comes with a Snapdragon 200 chipset, a 1.2-GHz quad-core CPU, 1 GB RAM, 8 GB internal memory along with MicroSD card support.
| Microsoft Lumia 535 Specs: | |
| --- | --- |
| Display | 5-inch qHD; 960 x 540p; Corning Gorilla Glass 3 |
| Processor | 1.2-GHz Snapdragoon 200 |
| Internal memory | 8 GB |
| OS | Windows Phone 8.1 |
| Camera | 5-megapixel rear; 5-megapixel front |
| Battery | 1905 mAh |
The Microsoft Lumia range represents a change in the smartphone industry that has been long coming and now we have been so numbed to it, that we are hardly noticing as it is sweeping us along. This is iconic – it is the end of an era and most importantly the end of the Nokia brand, at least for a couple of years, if not in totality. Nokia, for sure, will never be the same again and the brand that had a major hand in bringing the smartphone industry to where it is today has fallen victim to the market forces.
Alas, Nokia is dead and buried with no fine funeral.
Now that we have cried all that we could about Nokia, let's have a look at its nemesis – Microsoft Mobiles. The fact that Microsoft has chosen a range smartphone [The Microsoft Lumia 535 is priced around $140], might be an indication that despite the change in name, there might be no change in strategy. Microsoft Mobile may continue to cash on Nokia's success in the budget market.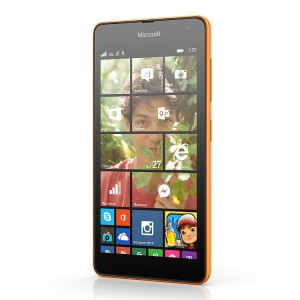 The interesting thing about the Lumia 535 is not its specs, but its looks. It looks pretty good and is pretty thin in comparison with its predecessors at 8.8mm.
While China, Hong Kong and Bangladesh will have the first jab at the Lumia 535, the Indian availability of this device is not yet known. What we can say is it will have a huge amount of competition waiting for it here: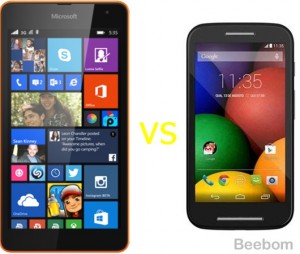 Microsoft Lumia 535

vs

 Motorola Moto E
 The Motorola Moto E kind of settles around with similar specs, albeit with a much smaller display. But a 4.3-inch display is not a disadvantage for the Moto E. Since it has the same display resolution as the Microsoft Lumia 535, it will have a better display density at hand. Both phones have 1 GB RAM, Corning Gorilla Glass3, 5-megapixel rear cams and a good battery in tow.
Everything now depends on how Microsoft prices itself in the market.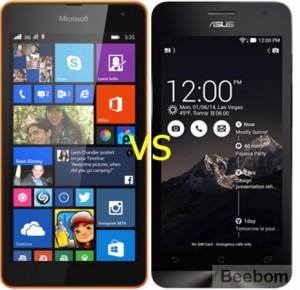 Microsoft Lumia 535 vs Asus Zenfone 4 A450CG
The Asus Zenfone 4 A450 CG too comes in with a similar specs. It has a 4.5-inch 480p display, 1 GB RAM, 8 GB internal memory, an 8-megapixel rear cam, an Intel Atom Z2520 dual-core processor and a a1700 mAh battery. Needless to say, the Microsoft Lumia 535 kind of trumps it in terms of specs.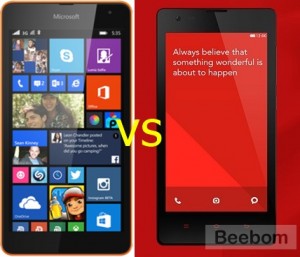 Microsoft Lumia 535 vs Xiaomi Redmi 1S
This is one phone, that will give tough competition to the Micrsoft Lumia 535 – the Xiaomi Redmi 1s has a 5-inch 720p display, AGC Dragontrail glass, 1 GB RAM, 8 GB internal memory, an 8-megapixel rear cam and a 2000 mAh battery. This one might be a tough potato for the Microsoft Lumia 535.
Recommended: The Nexus 6 Necromancy: To Buy Or Not To Buy
Trust us to keep you posted and get you all the bytes on the Microsoft Lumia 535.