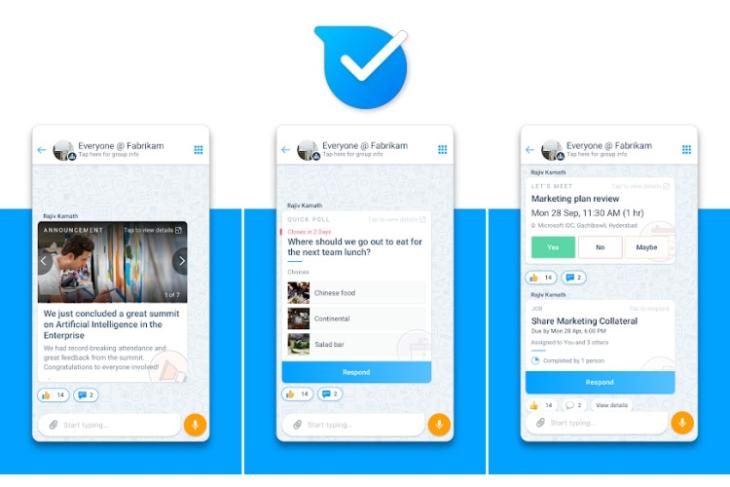 Microsoft's Garage graduate "Kaizala" has already made it quite easy for first-line workers (the ones who work on the ground) to stay connected and be effective. However, Redmond believes there's still room for more features and has today integrated digital payments service into the Kaizala app.
To enable digital payments within its enterprise social network app, Microsoft has partnered with MobiKwik and Yes Bank to use their payments infrastructure. On one hand, Mobikwik is going to allow workers to complete peer-to-peer transactions in individual or group chats, the UPI-based transactions have been made possible by Yes Bank. This UPI integration works with all the 86 partner banks.
By enabling digital payments, Microsoft is now empowering first-line workers to participate and complete business workflows on chat. This is a helpful feature that'll enable the users to quickly send or receive money without having to switch apps. Talking about the addition of digital payments to Kaizala, Rajiv Kumar, Corporate VP, Office Product Group, Microsoft says,
Microsoft Kaizala is used by thousands of organizations across different industry verticals for their day-to-day workflows today and is growing. Payment transactions within the app was a key demand from our users for getting work done and we are happy to offer it today.
Another benefit of using Microsoft Kaizala is the fact that it's a mobile-only product, hence, it's accessible to almost everyone within an organization. The digital payments feature only another layer of usability for co-workers, who'll now be able to use the app "to disburse micro-payments, bill expense reimbursements, and pay travel allowances on the go to its mobile workforce," says Microsoft.
For those unaware, Kaizala was first launched in mid-2017 to make a mobile-first product that includes chat, collaboration, and productivity tools available to organizations. The app has since reached over 900 organizations, including YES BANK, State Bank of India, Apollo Telemedicine, United Phosphorus and many more. Close to 475,000 first-line workers are now using Kaizala in India to efficiently manage their work and time, according to the company.
Microsoft's Kaizala app is available for free on Android, iOS, as well as Windows Mobile.