Huawei flagships with their innovative cameras have made a name for themselves in the smartphone world, so it's no surprise that the company is planning some more amazing camera features in its next flagship, the Huawei Mate 30 Pro.
The Huawei Mate 30 Pro is still some time away before it officially arrives, but today, we have some info on what we might see on the camera front of the Huawei Mate 30 Pro. See, Huawei has trademarked a couple of new camera features: "Cine Lens" and "Matrix Camera". These new trademarks were filed on July 17 to the EUIPO (European Union Intellectual Property Office) at Munich, and these might be the names of the new camera features we might see in the upcoming Mate 30 Pro flagship.
The trademark listing for Cine Lens states: "Cinema photography; optical lenses for recording, reproduction, and processing of sound, images, and/or data", which makes us believe that Huawei might put a dedicated camera lens on the Mate 30 Pro for video recording, which honestly, won't be a surprise.
The other trademark, Camera Matrix, is described as ""a rectangular array of quantities or expressions in rows and columns treated as a single entity", which I think is just the name Huawei will be using for the rectangular camera setup on the Mate 30 Pro. At least, that's what I can think of right now.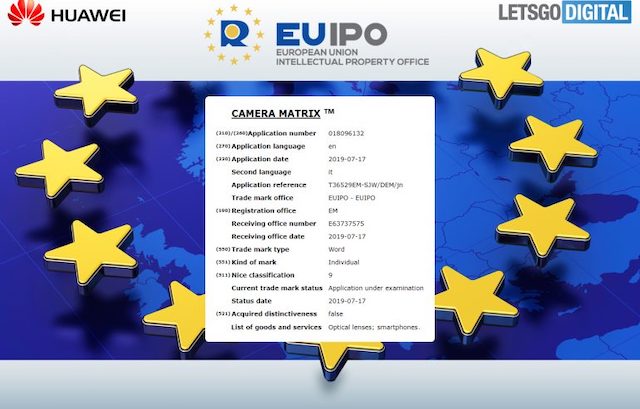 While it's plausible that Mate 30 Pro is still far away, and Huawei plans to use these features in some other phones, but either ways, we can expect the Mate 30 Pro to pack in some interesting camera features.
---