Instagram is one of the most popular social media platforms, and like any popular social media platform, the company is struggling with bad actors making the platform a hateful place with hate comments, bullying and what not. Now, in an attempt to curb bullying on on Instagram, the company is trying out a new AI-powered feature.
The new feature, which uses AI to detect potentially hateful comments, comments that may be classified as bullying, or comments that are similar to other comments that have been reported, is aimed at deterring bullying, especially among teens, wrote Instagram CEO Adam Mosseri in a blog post.
It's noteworthy that while this isn't the first instance of Instagram turning towards AI to police its platform — the company already uses AI to detect harmful content in photos, videos, and even comments — it is the first time Instagram is using AI to prevent hateful content from appearing on the app in the first place.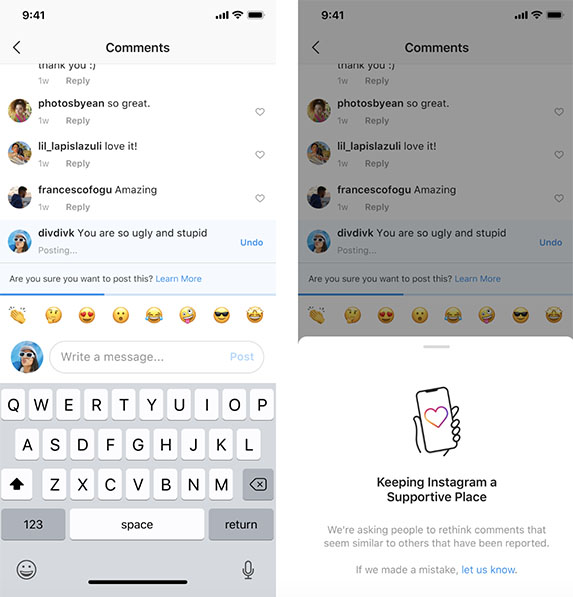 "This intervention gives people a chance to reflect and undo their comment and prevents the recipient from receiving the harmful comment notification," wrote the Instagram chief. He also added that "From early tests of this feature, we have found that it encourages some people to undo their comment and share something less hurtful once they have had a chance to reflect."
The platform is also introducing a new 'Restrict' feature that's aimed at helping people who are being bullied or targeted with hate. Users can now 'Restrict' certain people which will let the restricted person comment on your post, but their comment will only be visible to them — more or less like what a Shadow Ban does on other platforms. Moreover, Restricted users will not be able to see if you've read their messages, or whether you're online on the platform.
The reason behind Instagram's decision to introduce a new 'Restrict' feature was also explained by Mosseri who wrote in his blog post, "We've heard from young people in our community that they're reluctant to block, unfollow, or report their bully because it could escalate the situation, especially if they interact with their bully in real life." 
Instagram is trying to tackle bullying head-on on its platform, and these two new features, according to the company's chief are "grounded in a deep understanding of how people bully each other and how they respond to bullying on Instagram, but they're only two steps on a longer path."