There are numerous EPUB readers on Windows, but very few come close to what Icecream Ebook Reader offers. It has a fantastic and clean user interface with support for multiple eBook formats. In addition, you can listen to your favorite books using the Read Aloud feature, add notes, and highlight text effortlessly. Not to mention, the Icecream EPUB Reader offers several customization options, including dark, light, and Sepia themes, translation support through Google, and an online dictionary integration. So if you are looking for the best EPUB reader for Windows, your search comes to an end here and now.
Icecream Ebook Reader: Features Overview (2023)
Clean and Elegant UI
First and foremost, the Icecream Ebook Reader is a fantastic app as far as design and user experience are concerned. It is a lightweight app that's only 34MB in size after installation and has a memory footprint of a little over 70MB. The CPU consumption is absolutely low, idling at below 1% at all times. The user interface is modern, with a clean navigation pane on the left side, and you can browse through the library, categories, your favorite ebooks, formats, and more with ease.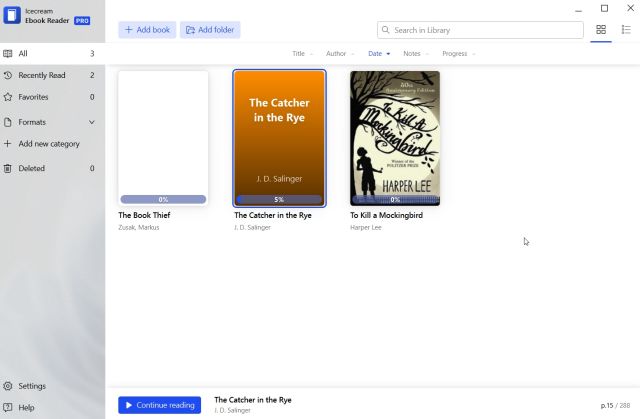 You can sort books based on title, author, date, current progress, etc. You can also display your library of books in a list or grid view, depending on your liking. What I like about Icecream Ebook Reader is that you can import a whole folder, and it will automatically recognize and add all the ebooks to your library in a neat manner. Even while reading a book, the app lets you readily access your library, the contents of the book for quick navigation, notes, bookmarks, and more.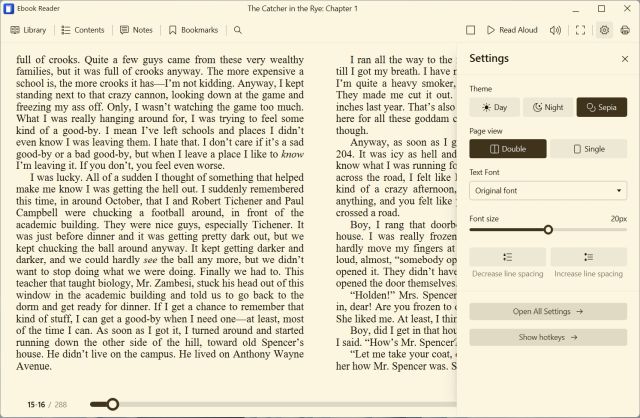 The best thing about Icecream EPUB Reader is that it has support for both light and dark modes. No more blinding yourself at night while reading those fantasy or mystery novels you can't put down. In addition, you can change the theme to Sepia for a book-like reading experience as well. Not to mention, there are options to change the page view to double-paged or single, font customization, line spacing, etc. Overall, the Icecream EPUB Reader is far better than Calibre in terms of UI and UX, and I absolutely loved its bloat-free UI.
Read Aloud Books
One of the advanced features of Icecream Ebook Reader is that you can listen to any ebook similar to audiobooks. No need to subscribe to audiobook apps and download them separately. This app already features a built-in text-to-speech service. What's awesome is that it works even when you are offline. Yes, you can listen to ebooks without an active internet connection through the Icecream EPUB Reader. That's fantastic, right?
You can even choose different voices from the settings menu. It includes Zira and David voices from Microsoft's TTS service. Moreover, you can set the reading volume, reading speed, and reading pitch as well. To sum up, the Read Aloud feature of the Icecream EPUB Reader is a great addition and will supplement your reading experience in the best way possible.
Compatible With Popular eBook Formats
The app not only supports EPUB but a long list of popular book formats. Icecream EPUB Reader is compatible with MOBI, PDF, FB2, CBR, CBZ, TXT, and ZIP as well. Do note that DRM-protected books are not supported on Icecream Ebook Reader.
To test the app, I uploaded three eBooks of different formats, including EPUB, MOBI, and PDF files, and it rendered all of the digital files without any friction. So as far as compatibility with various book formats is concerned, you are sorted with the Icecream Ebook Reader.
Add Notes and Highlight Texts
Another thing I love about the Icecream Ebook Reader is that you can create notes while reading a book. You have the option to highlight texts if you want to revise an important paragraph later on. The app supports highlighting in various colors, and you can revisit your notes from different sources in just one place.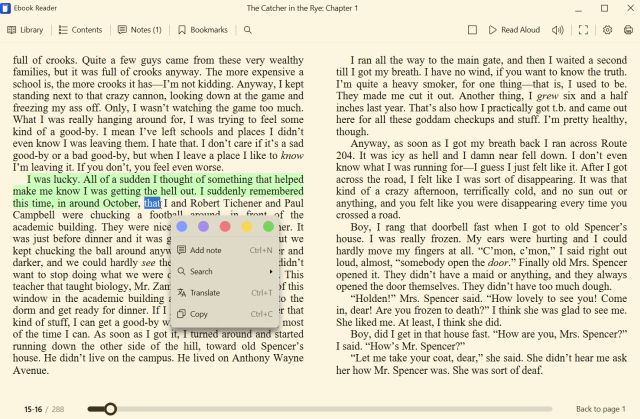 If you are into color-coding texts based on the type of information, well, you can easily filter notes based on the color as well. Just select a sentence or a paragraph and right-click on the text to add notes or highlight the text. Besides that, you can even translate the text via Google's service from the context menu and find the meaning of any word from Google or Wikipedia.
Icecream EPUB Reader: Pros and Cons
| Pros | Cons |
| --- | --- |
| Beautiful app with great UI and UX | No built-in offline dictionary |
| Very light on system resources | |
| Supports dark, light, and Sepia themes | |
| Supports all popular eBook formats | |
| Read-aloud books; works even if you are offline | |
| Highlight and color-code notes | |
| Translate and find meaning/information online | |
Icecream Ebook Reader: Pricing and Platform Support
Now coming to platform support, you can run Icecream Ebook Reader on Windows 7, Windows 8 and 8.1, Windows 10, and Windows 11. It can run on both Intel and AMD processors and can operate even with a system having 1GB of RAM, which is perfect for students.
As for pricing, there's a free version of Icecream EPUB Reader, which offers most of the basic features for absolutely free. However, for the best eBook reading experience on Windows PCs and tablets, I strongly recommend upgrading to the Pro version. It offers a license for two PCs and comes with all the premium features. The paid plan for Icecream EPUB Reader starts at $19.95 per month if you choose the annual plan. However, you can also choose to pay a one-time fee of $39.95 for a lifetime license. Click on the link below and download Icecream Ebook Reader right away.
Download Icecream Ebook Reader