Apple Maps is still only officially available on Apple devices, which means Windows and Android users don't even have the option to try it out on their computers and smartphones. That said, there is a workaround that does allow you to use it on Windows, Linux, Android and pretty much any non-Apple device. So if that sounds interesting, read on to find out how you can use Apple Maps on Windows, Linux and Android devices using the privacy-focused search engine, DuckDuckGo.
Use Apple Maps on Windows, Linux and Android
DuckDuckGo uses Apple Maps instead of Google Maps as its default mapping software. Which means you can switch from Google to DuckDuckGo to access Apple Maps on your web-browser on pretty much any connected device, irrespective of its make or operating platform. There are some obvious limitations, but the trick works on all popular web-browsers, including Chrome, Firefox, Edge, Opera and Safari.
Use Apple Maps on Windows PCs
Open any web-browser on your Windows PC and go to DuckDuckGo.com. Now search for any location and click on Maps at the top of the page.
To get driving or walking directions to that location, click on the Directions button  just below the 'related images' section.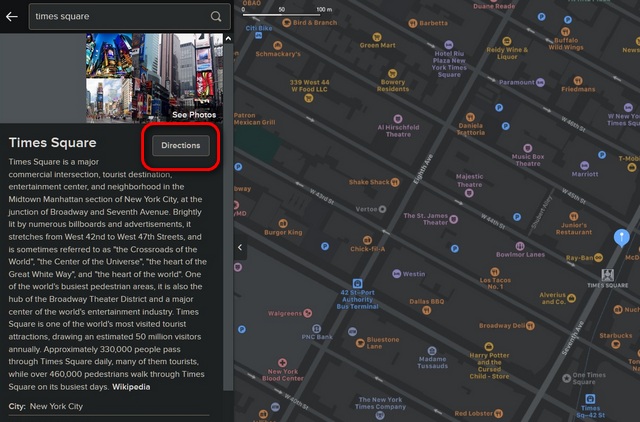 You can also view local businesses on a map, but you'll need to share your location using the map pin icon [1] in the top-right corner of the map. To switch to satellite imagery, click on the Satellite inset [2] on the bottom-left corner of the map.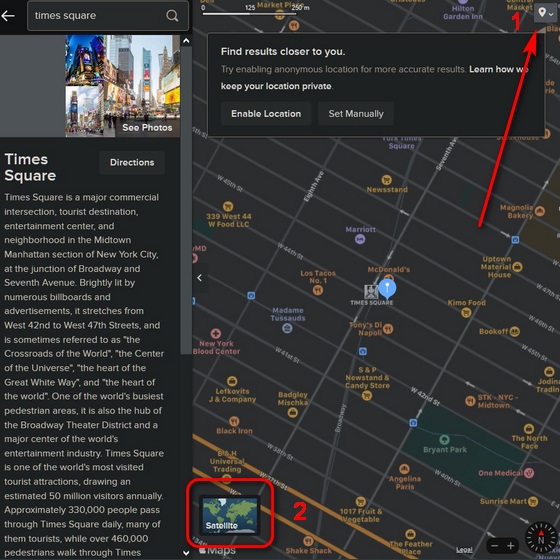 Note: If you feel uncomfortable sharing your real location, learn how you can fake your geo-location on any web-browser, including, Chrome, Firefox and Edge.
Use Apple Maps on Android Smartphones and Tablets
You can use the same method to use Apple Maps on Android devices as well. I am using the privacy-focused Firefox Focus (free) for the demo below, but the process is identical on Chrome, Edge and the standard Firefox.
Visit DuckDuckGo on any mobile browser and search for a location. Next, click on Maps at the top to access Apple Maps. Click on Open Map to see the location on Apple Maps or select Directions on the next page to see a route mapped out for you.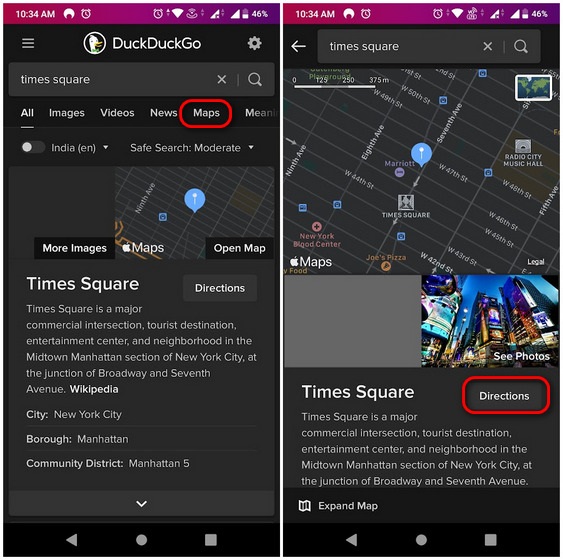 As on Windows, you can see directions for walking as well as driving. Do note that to use the 'Navigate' feature, you will have to use the Apple Maps app on an iPhone. On an Android device, you will be asked to open the link on Google Maps.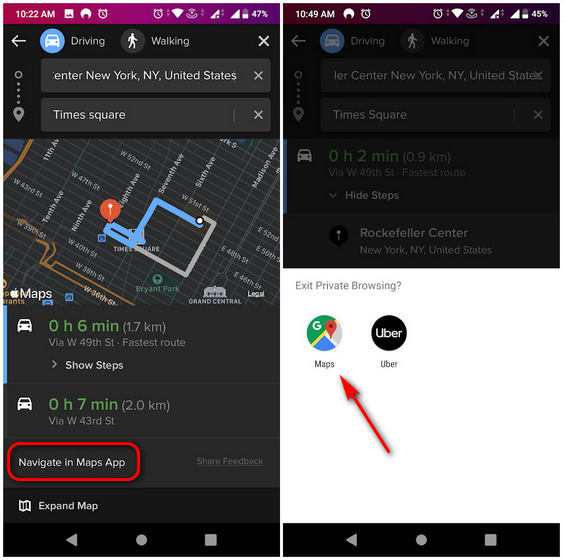 Limitations When Using Apple Maps on Non-Apple Devices
Using DuckDuckGo will let you get a taste of Apple Maps on any non-Apple device, including Windows, Linux and Android. However, the experience is far from perfect. While you still get to use its full mapping potential, the experience is nowhere near as complete and feature-filled as Google Maps. Firstly, there's no built-in support for route planning, which means you can't really use this service for pre-planning a trip and plotting your route in advance.
What's more, the browser-based interface lacks the interactivity that you get on Google Maps, Bing Maps, or HERE Maps. Finally, you also won't get information about public transportation or traffic, both of which are of paramount importance for using a digital mapping service circa 2021. While Apple does offer all of that in its mapping service, you will need to use the official Apple Maps app on iPhones and iPads to access that.
DuckDuckGo Brings Apple Maps to All Non-Apple Devices
While Google Maps is the gold standard in mapping services, many swear by Apple Maps, which has come a long way since its launch in 2012. Now that you know how to use it on any non-Apple device using the privacy-focused DuckDuckGo search engine, give it a try and see if you find it more user-friendly than Google Maps. Once you try it out, let us know about your impressions about it by leaving a comment down below.