Animojis may have been one of the most talked-about iPhone X features at launch, but it's restricted only to the iPhone X right now. Which is understandable, given that the software used to create those animations make use of all the hi-tech Face ID hardware that's not yet available on any other smartphone. That being the case, you won't even get Animojis on the iPhone 8, 8 Plus or any of the other devices from the Cupertino giant. However, if you're using an Android smartphone but really digging the singing firefoxes and talking giant pandas, there are apps available on the Google Play Store that can somewhat replicate the Animoji experience on your Android device. That being the case, let's take a look at some of the best apps you can use to get iPhone X's Animojis on Android smartphones and tablets:
Note: Animojis on the iPhone X make use of dedicated Face ID hardware (cameras and sensors) to create a 3D model of the face, which is why it is much more accurate and polished than any regular app will ever be. The apps mentioned below do a very decent job of giving you an idea of what the feature actually feels like, but are neither as capable nor as accurate as the real McCoy. So do manage your expectations before proceeding further.
Get Animojis on Android with 'Animoji for phone X'
'Animoji for phone X +Live Emoji Face Swap Emoticon' is the actual full name of the app that we believe is the closest thing you'll find to replicate the iPhone X's Animoji feature on Android. It is available for free on the Google Play Store, so install it on your device and fire it right up. As you can see, the landing screen will give you a bunch of different Avatars to try. You can also left swipe on the icons to find several more. Just hold the phone straight to your face, select the Avatar you like, and follow on-screen instructions.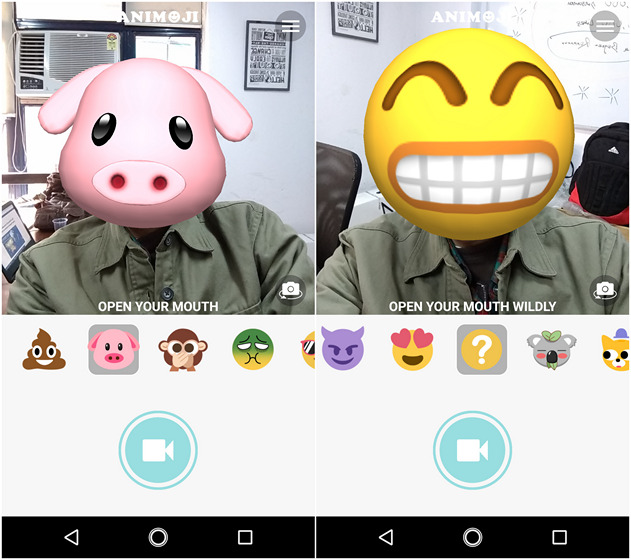 Now that you've picked an avatar, create a 10 second video by tapping on the giant camcorder button as seen in the screenshots above. The short, 10-second video I shot with the giant pig head is embedded below as a GIF.
While 'Animoji for Phone X' is a cool app to try, there are other, similar apps available on the Play Store as well.
Create Cool Live Emojis with 'Emoji Maker'
Emoji Maker is yet another free app that lets you create cool, live emojis on the lines of iPhone X's Animojis. Again, its not quite the same thing, but as we found out, it does give you quite a few options to play around with. On the landing screen, you can either tap on 'New Emoji' to create your own emoji, or scroll down a bit to choose 'Popular' to download the most popular stock emojis.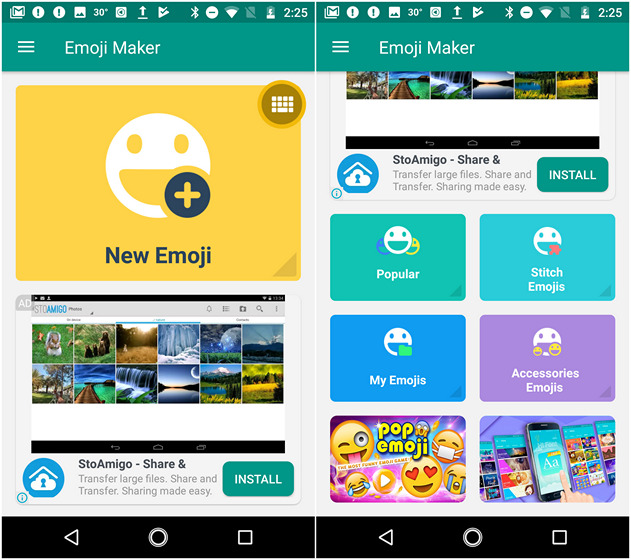 While Emoji Maker allows you to create emojis from scratch, it doesn't let you create them the way the iPhone X does, which means you cannot use your own face to create a live avatar that mimics your facial gestures. What we really liked, though, is the way you can customize just about everything about the emojis you create, including face, mouth, hairstyle, eyes, eyebrows etc. Oh, and as you can see, you also get the infamous poop emoji as part of the package!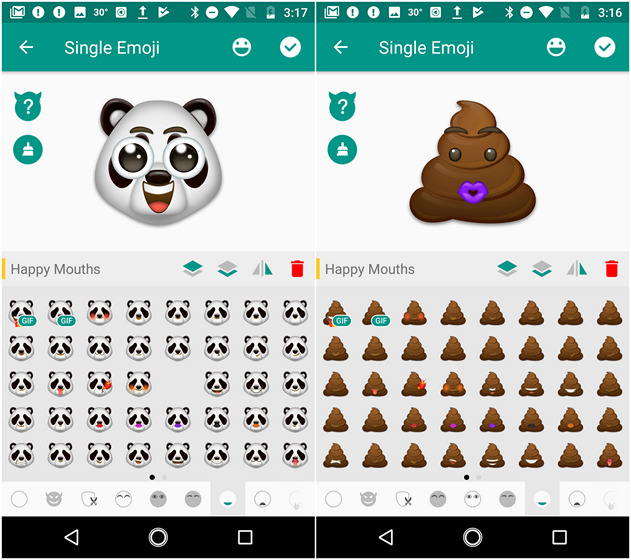 While this app works as advertised for the most part, be prepared to be bombarded with ads for every little thing you do. If you can live with that, it's a pretty cool app that we liked a lot.
SEE ALSO: How to Get iPhone X Look on Android Devices
Free Apps to Get iPhone X-like Animojis on Your Android Smartphone
While the animojis described above are not exactly like the ones found on the iPhone X, I must admit they grew on me over time. Sure, you won't get to create a giant panda grooving to Jailhouse Rock with either of these apps, but they're the next best thing without the expensive hardware that ships with the iPhone X. So give it a go and let us know how things went, because we love hearing from you.
---
Load More