Last August, Google announced a software platform that makes it easier for developers to build their own augmented reality apps. Called ARCore, the feature is similar to Apple's ARKit, and gives uses a taste of augmented reality even without Project Tango. Since then, the search giant has announced a number of updates to the platform, one of which is 'AR Stickers' – a feature that is currently available exclusively on the Pixel 2 and Pixel 2 XL. However, if you don't have either of the those devices but want AR stickers on your smartphone nonetheless, here's how you do that:
Get AR Stickers on Your Android Smartphone with Holo App
Holo is a free AR Sticker app that rose to prominence when it was used as promotional material for Spiderman: Homecoming. You can hop over to the Google Play Store and download the app to get started. You need to allow it access to your storage, camera and microphone, so grant those permissions to Holo and fire it up.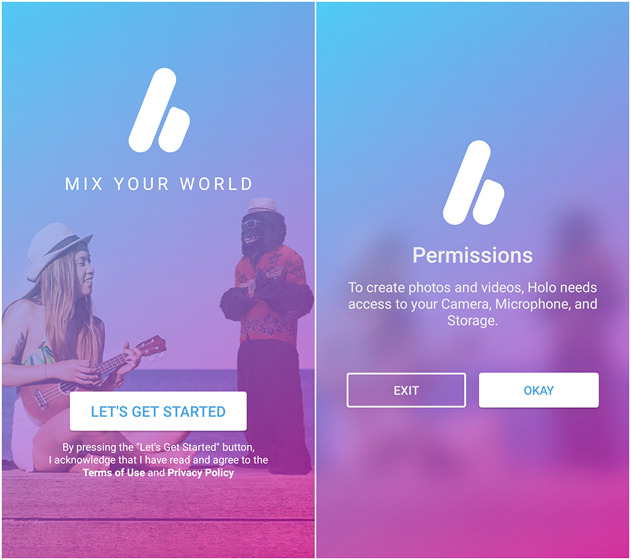 There are three pre-installed characters (Walking Dog, Winking Mermaid and Spiderman), but as you can see, you'll also get a whole host of additional choices; from zombies to daemons and from superheros and animals, so you can add any number of them to your collection.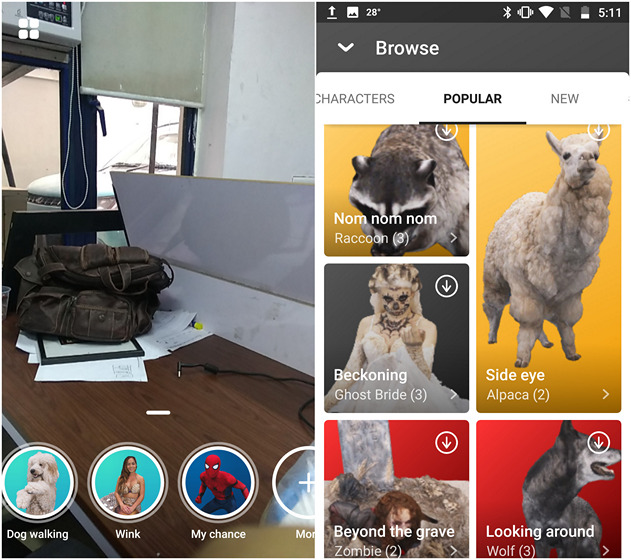 Once your chosen figure downloads in the background, it will automatically be placed at the center of your screen, but you can move it around or make it bigger/smaller if required. I chose the dancing puppy and downloaded the lazing tiger, and both worked great, as you can see.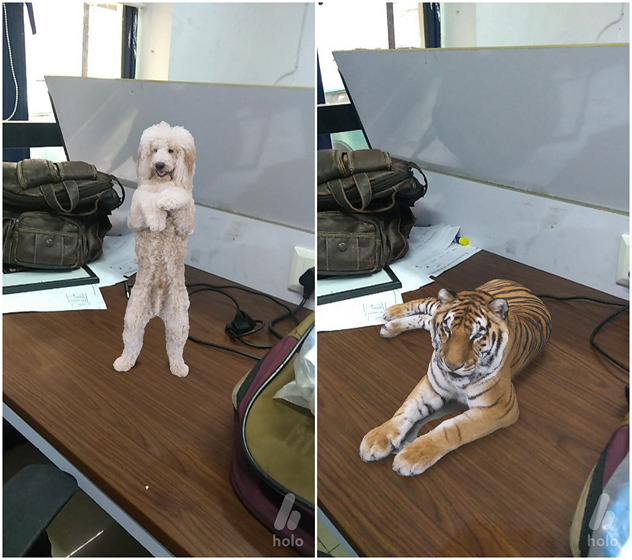 Holo is fairly similar to Google's AR Stickers in how it operates, but unlike Google's offering, the virtual characters in this app cannot interact with each other, nor with any of the real-world objects. However, the stickers we tried (including the two aforementioned examples) are all animated in nature, and you can even take photos or short videos with them moving around, playing, dancing or gesturing, as the case may be.
Other Apps to Get AR Stickers
While Holo is a great app to get Pixel 2's AR Stickers-like features on your Android phone, it's far from your only option. We tried a few other apps, but the one that clearly stood out from the crowd was 'Augment – 3D Augmented Reality', which is also available for free on the Play Store. It's designed more for small businesses to let their customers visualize 3D models in augmented reality, but comes with some funky characters like the dancing alien as well as a bunch of animals like the elephant featured here.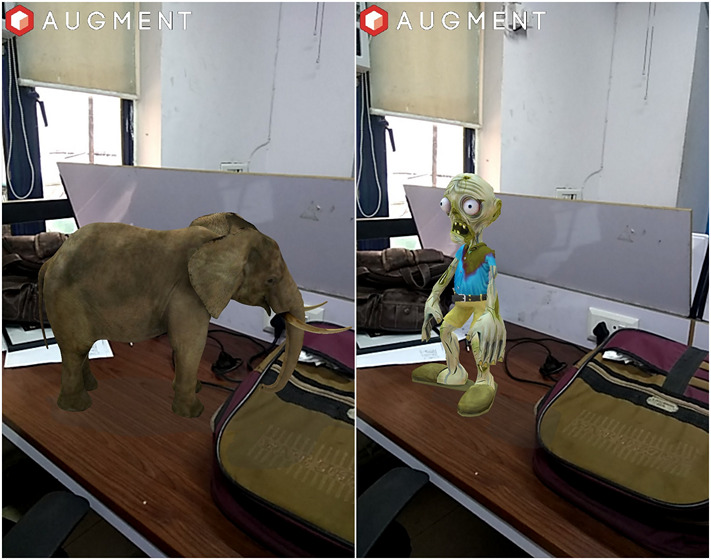 That's it, folks. Now you know how to get the Pixel 2's AR Sticker feature on any Android smartphone, and while neither app is as polished as the the one from Google, they are definitely fun to play around with.
Note: Both Holo and Augment need gyroscope and magnetometer (e-compass) to function properly, so they're unlikely to work in entry-level devices that don't have these sensors.
SEE ALSO: ARCore vs ARKit: How Does Google's AR Platform Compare To That Of Apple's
Try Out AR Stickers on Your Android Device
It will be interesting to see when Google Rolls out its AR Stickers app universally, but till then, both Holo and Augment are great ways to get the feature on your Android device. So go ahead and have fun with these cool AR apps and, remember to leave a comment below to let us know if they matched your expectations.