While the ability to use your Apple Watch to find your misplaced iPhone has been available for a long time, Apple has taken it a step further with the new iPhone 15 series and Apple Watch 9 & Ultra 2. Now, not only does your iPhone make a noise when you ping it with your Apple Watch, but you can now see exactly how far your iPhone 15 is using the new "Precision Finding" feature on your Apple Watch 9 and Ultra 2. Here's how you can locate your iPhone 15 or 15 Pro using your Apple Watch with Precision Finding.
How Precision Finding Works on Apple Watch 9 & Ultra 2
At the Wonderlust launch event, Apple announced that the Apple Watch 9 and Ultra include the same upgraded Ultra Wideband chip you find on the latest iPhone 15 and 15 Pro lineup. The all-new "U2 Ultra Wideband chip" is the only reason you can use your Apple Watch Series 9 or Ultra 2 to get accurate directions to locate your iPhone 15 through precision finding.
Like Bluetooth and Wi-Fi, ultra-wideband (UWB) is a short-range, wireless communication protocol that operates through radio waves. But unlike its counterparts, it operates at very high frequencies, a broad spectrum of GHz frequencies. and it can be used to capture highly accurate spatial and directional data.
How to Locate iPhone with Apple Watch Precision Finding
You need an Apple Watch Series 9 or Apple Watch Ultra 2 along with any model of the iPhone 15 lineup for the Precision Finding feature to work. Here is how it works:
Unlock your Apple Watch and press the Side Button to bring up the Control Center. Apple changed the way you open the Control Center on Apple Watch in watchOS 10.
Here, locate and tap the Ping iPhone tile, and your iPhone 15 will play a sound if it is within the range of the Apple Watch.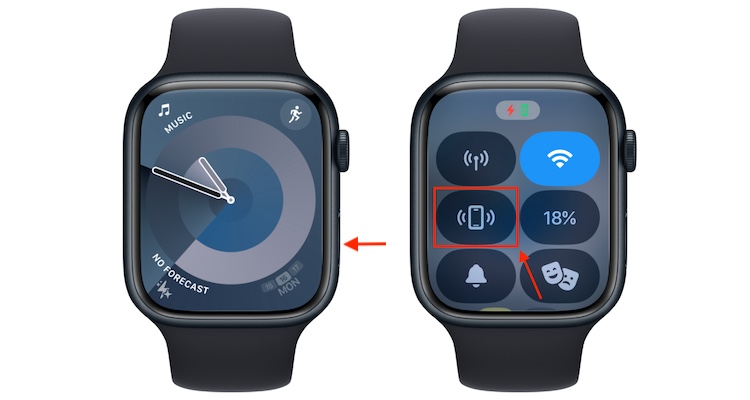 Now, this is where things take a different route compared to the Ping My iPhone feature on older Apple watches and iPhones. Unlike the older models, you won't only hear the sound played by your iPhone. Instead, your Apple Watch 9 will show a starry circle with the distance to your ‌iPhone.‌
Once you start moving toward your iPhone, the starry circle will disappear, and a black circle will appear, showing the distance and the direction you need to move toward.
As you move closer to your iPhone, the black circle screen will change to a green screen with a white circle that shows the exact distance between your Apple Watch and your iPhone in the center.
While finding your iPhone 15 or 15 Pro series models, your Apple Watch will give you continuous haptic feedback, indicating that precision finding is in progress.
The distance in the middle will change to "✅" once your iPhone is located, and the haptic feedback will also stop.
So yeah, you will no longer need to run around the house or look in each crevice of your couch to find your misplaced iPhone. Also, check out my iPhone 15 Pro Max review to learn more about the new features of Apple's latest flagship, and share your opinion in the comments below.
---
Load More