Update: WhatsApp has now rolled out the new "Status" feature to all the Android and iPhone users. The new feature arrives as server update, so you don't even need to update the app. It brings a new "Status" tab between your chats and calls. In the Status tab, you get to see all the status updates, along with a button to post your own. It's almost identical to Instagram stories, which was in turn a rip off of Snapchat Stories. Like Snapchat stories, you can add emoji to your statuses, text and even doodle on it.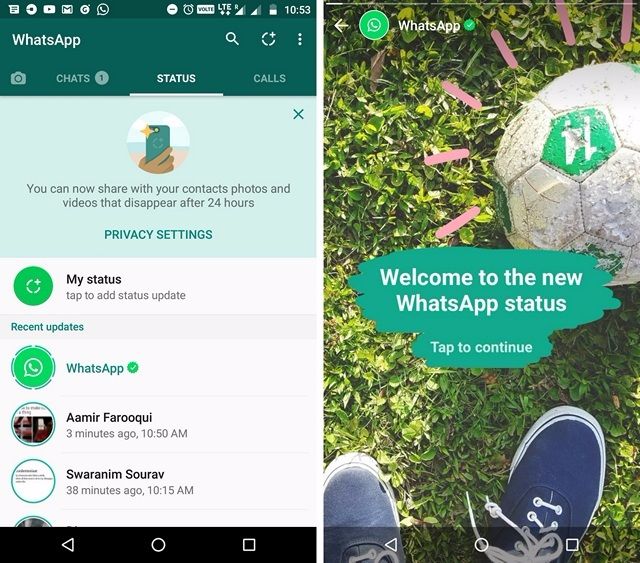 WhatsApp has been pushing in some seriously interesting updates from the past few months. Most of the features being clones of features from other apps like Snapchat. Apparently, after the failed attempts of acquiring Snapchat, the parent company Facebook is trying to beat Snapchat at its own game. After introducing image editing features, similar to Snapchat, WhatsApp is now preparing to release a new feature called "Status" and it's not the Status feature we are accustomed to, it's a new feature similar to what Snapchat offers with Stories, which Instagram too copied with the same "Stories" moniker. So, yes, Facebook is on a roll when it comes to stealing Snapchat's features.
This new Status feature is not yet available to the stable or beta version but if you have a rooted Android device, you can easily enable this feature on your phone. Well, here are the steps to enable the new WhatsApp Status feature in Android:
How to get WhatsApp Status feature
Requirements:
Rooted Android device
WhatsApp Beta version 2.16.336 and above.
In order to get this feature working on your device, you'll first need to enter the beta program of WhatsApp. You can enter WhatsApp's beta testing program here. Or else you can grab it on APKMirror.
To enable this feature, we'll use an app called WA Tweaks. Since this feature is not yet available to the Public beta, we'll need to inject the specific code for it and the WA Tweaks app will do that for us.
Well, before making any changes, I'd like you to first backup your WhatsApp chats and data to Google Drive. As we are going to modify the database of WhatsApp on your phone, you might lose your data if something goes wrong. In fact, I'd suggest you to backup the app using Titanium Backup.
After you're done, follow the below given steps:
1. Download and install the APK for the latest version of WA Tweaks.
2. Open the app and it'll first check if you've got root access. Tap on grant when prompted to give root access.
3. Now, we have to just enable a few options to make the Status feature work. First, turn on the "Enable New Home UI" option.
4. Then, open the drawer from the left and tap on "Extra". Here, you need to tap on "Inject WhatsApp Status Chat".
Now, you should open WhatsApp and see if it worked. If it did not, you should try it again. It will work after a few tries. If you want to get back to the usual WhatsApp interface, just disable the options in WA Tweaks.
Quick Look at WhatsApp's Status Feature
The new feature additions in WhatsApp have been really past off late and since the new Status feature is not even part of the beta build, it's no surprise that it's quite buggy. However, let's how the new WhatsApp Status works.
First, the UI has some changes. The tabs on the main page now feature a "Status" tab. Also, you'll see a camera icon aligned with the tabs on the left corner.
In my opinion, it look quite odd with the camera icon aligned with the tabs. However, it might change when it goes public. Next, coming to the Status tab.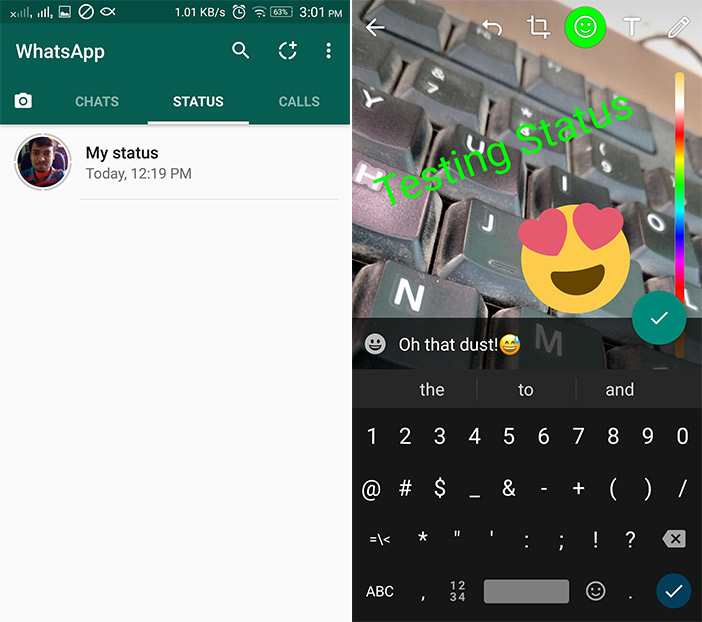 In the Status tab, your status will be named as My Status. You can create a new Status by tapping on the Status icon in the top-right corner. Creating a Status is similar to sharing a photo and it features the same UI that you get when you edit photos on WhatsApp.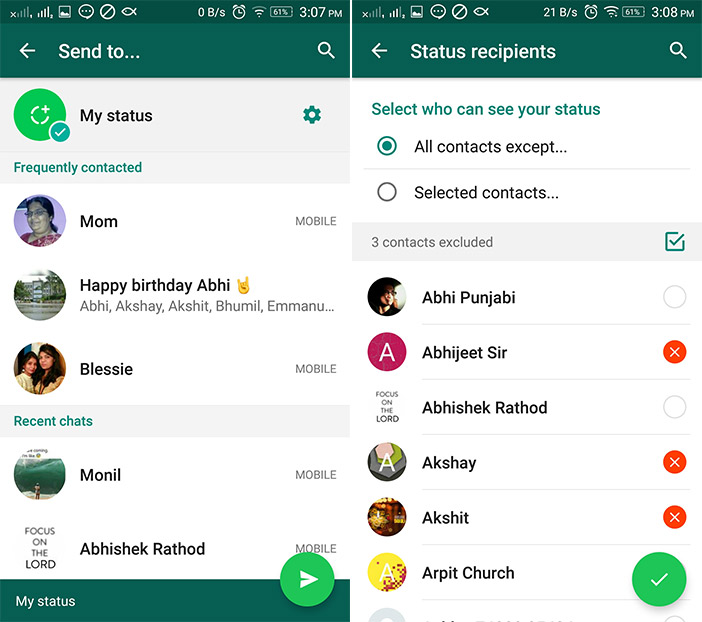 After you've done creating your Status, you can select who you'd like to share your Status with. You can send it as a photo to specific groups or contacts or select My Status at the top to share it as a Status. You get full control over who can see your Status in the Status Recipients page. You can set that by tapping on the settings icon during the send to activity. You can exclude contacts if the ones you don't want to see your Status are few or else you can select specific contacts if the ones you want to show your status are few. However, you can't set this every time for each Status.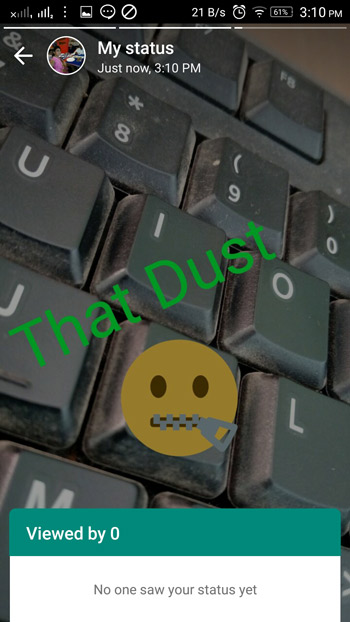 Status works the same as Instagram stories. They add up to your current Status and you can also check who viewed your Status.
Well, as it yet in development, it would be unfair to compare it with other apps. So, let's wait until we get it on public beta.
SEE ALSO: 10 Cool New WhatsApp Tricks for Android and iPhone
Like the new WhatsApp Status feature?
In past few months, we've seen many great features introduced in WhatsApp. With Video calling already in Beta and the new Status feature already in development, it's going to be a blast for all the WhatsApp users. While you can only enable this feature on rooted devices, we can expect it to arrive in the WhatsApp beta build soon. Well, that's all from our side, do let us know what you think of this new Status feature. Also, if you have any queries regarding enabling the feature, mention them down in the comments section below.
---
Load More