Gmail comes with many helpful tools and features. To keep your inbox organized, it offers a variety of options to create folders, labels, and sub-folders in Gmail. Moreover, you can schedule emails in Gmail natively without using third-party add-ons. And now, Google has come up with a neat new feature that enables you to track packages right within the Gmail app. No need to hunt down the tracking number and manually check the shipment status. Gmail will do all this for you and display the arrival date at a glance. How cool is that? So, to enable package tracking on Gmail, follow our guide below.
Enable Package Tracking on Gmail (2023)
Package tracking is now available in the Gmail app on iPhone and Android phones, but you need to enable it manually. On our Android phone, the setting for package tracking appeared on Gmail version 2023.01.08.501398065.Release (January 24). That said, the rollout is fast, and it's likely that you have already got the feature. You just need to enable it, and here's how to do that:
Note: Keep in mind that package tracking is not available on the desktop version of Gmail, and you need to use the Gmail mobile app for this feature
1. First, open the Gmail app on your phone and move to "Settings" under the hamburger menu. After that, select the email account for which you want to enable this feature. On iPhones, open Gmail settings and move to "Data privacy".
2. Next, scroll down, look for the "Package tracking" option, and enable the feature. Do note that Google will share the tracking numbers with shipping carriers.
3. From now onwards, you will get an estimated arrival date in the Gmail app. The information will be glanceable and labeled with the current status of the package. You can then open the email to access the order tracking card at the top, including the "Track Package" and "View Order" options.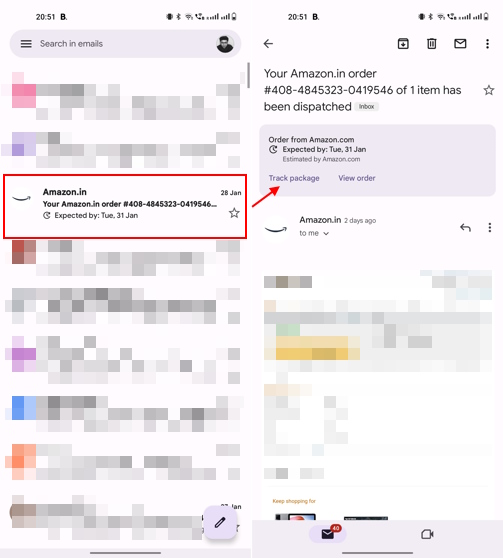 Easily Track Your Packages With Gmail App
So this is how you can enable package tracking and get quick information about your shipments. I would have loved it if Google integrated this feature with the "At a Glance" widget on the home screen. Anyway, if you want to learn more such cool Gmail tricks, follow our linked article. And to enable offline Gmail, which will let you use the email service without an active internet connection, go through our detailed guide. Finally, if you have any questions, let us know in the comment section below.
---
Load More