Do you also get frustrated when you let your friends use Apple Music on your iPhone, and their not-so-good song choices negatively affect your personal music recommendation? Well, not anymore, as with iOS 17 installed on your iPhone, you can create a focus mode that turns off your Apple Music history and prevents others' poor song choices from influencing your recommendations. Keep reading to learn how to use the new iOS 17 focus filter to turn off your Apple Music listening history temporarily.
Create a Custom Focus Mode in iOS 17 on iPhone
To automatically turn off Apple Music history with just a few taps, your iPhone must be running on at least iOS 17.2 or the latest available firmware. With that said, here's how to disable Apple Music listening history using a focus filter:
Open the Settings app and tap on the Focus option.
Here, tap the "+" button at the top right corner of your screen.
 Now, tap the Custom option from the list of options to create a new focus filter.
On the next screen, give your Focus mode a name, symbol, and color, then tap the Next button at the bottom.
Here, tap the Customize Focus button at the bottom to start customizing the new focus mode.
Scroll down to the bottom and tap the "Add Filter" button under the Focus Filters section.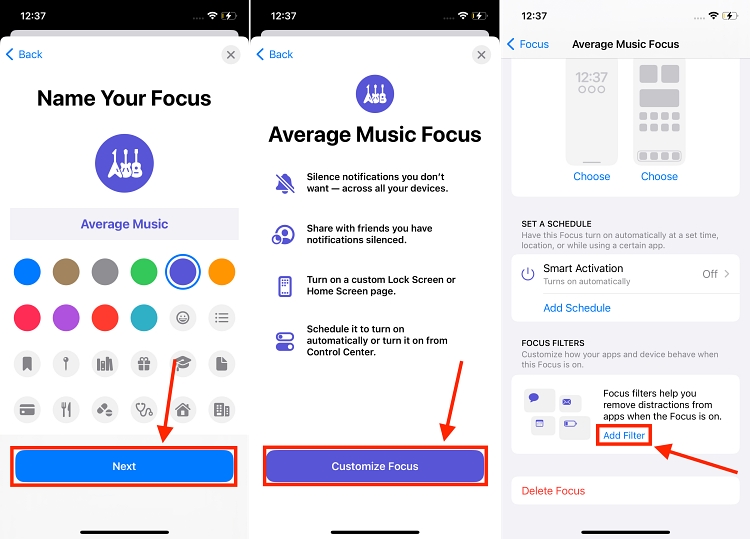 Choose Music from the available list of options.
Make sure the toggle next to Use Listening History is off, then tap the Add button at the top right corner to confirm the music focus filter addition.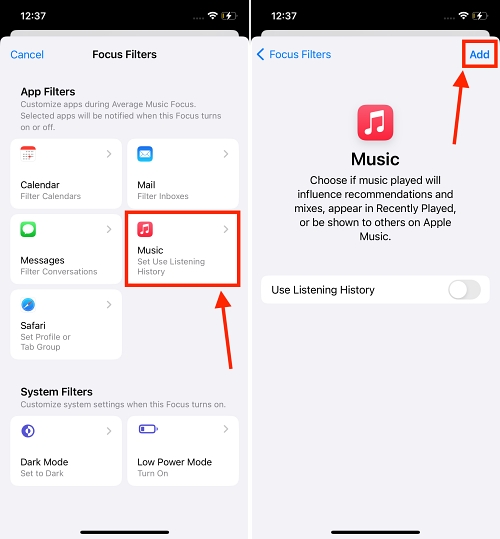 And that's it; the next time someone asks your iPhone to play songs on Apple Music, simply turn on this customized focus mode, and your Apple Music algorithm will stay unaffected.
How to Enable Customized Focus Mode on iPhone
Now that you have created a customized focus filter to protect your Apple Music history, knowing how to enable it on your iPhone is also necessary. Here's how:
Unlock your iPhone and swipe down from the top right corner of the screen to open the Control Center.
Here, tap and hold the Focus tile. Then, choose the custom Focus mode you created in the above steps.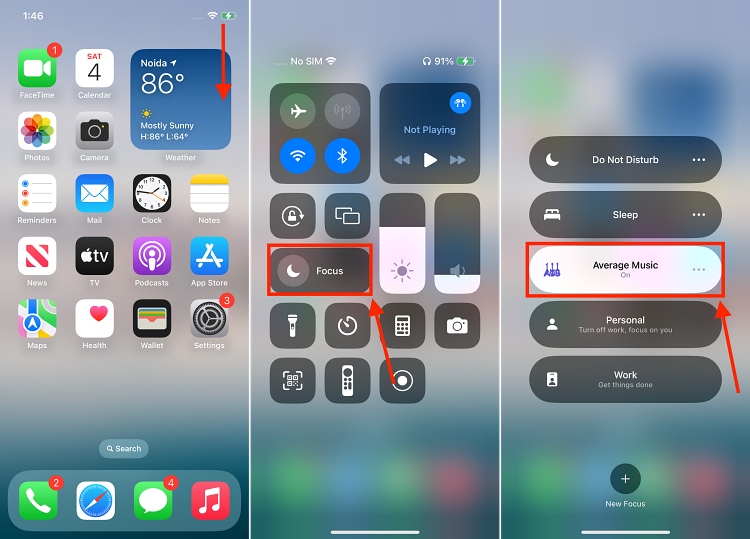 And that's it. We are sure that by now, you must have understood how to set up and use a custom focus mode on your iPhone with this new iOS 17 feature. Once you turn on this focus, you can rest assured that whatever songs other people play won't ruin your ‌recommendations.
---
Load More