While Xiaomi has always been quick with their updates, the wait for MIUI 9 has been longer than ever, with their previous update of MIUI 8 coming in May 2016. Thankfully though, Xiaomi is expected to release the MIUI 9 Beta build along with the Mi 5x on July 26. The new MIUI update is expected to based upon Android 7.0 Nougat and will come with a redesigned lock screen, an always-on VPN, a new launcher and themes amongst other stock Android features. While the MIUI 9 stable build is still more than a month away, if you can't wait to lay your hands on the latest MIUI update from Xiaomi, you can become a beta tester for the same. So without wasting any more time, let's see how you can become an MIUI 9 Beta tester:
Devices Compatible With MIUI 9 Beta
I enrolled to the MIUI 9 beta program using the Xiaomi Mi 6 and the Redmi Note 4 Qualcomm version but the MIUI 9 beta is supported by 49 Xiaomi devices. You can check if your Mi or Redmi device is supported or not by searching in the table below:
Redmi and Mi Devices Compatible With MIUI 9 Beta
Mi 2
Mi 2S
Mi 2A
Xiaomi Mi Note
Xiaomi Mi Pad
Redmi Note 4G
Redmi Note 3G
Redmi 1
Redmi 1S
Redmi 2
Google Nexus 5
Redmi Note 2
Redmi Note 2 Prime
Mi 4C
Redmi Note 3 (Snapdragon)
Redmi 2 Prime
Mi 5
Mi 5 Pro
Mi 5s
Mi Max 32GB
Mi Max Prime
Mi MIX
Mi Note 2
Mi 4i
Mi 5s Plus
Redmi Note 4 Qualcomm
Redmi Note 4 Mediatek
Redmi 4
Redmi 4 Prime
Redmi 4A
Redmi Note 3 SE
Redmi Note 3 Mediatek
Redmi 3S
Redmi 3S Prime
Redmi 3X
Redmi 3
Redmi 3 Prime
Redmi Pro
Mi 4S
Mi Note Pro
Redmi 4X
Mi 6
Mi 5C
Mi Max 2
Xiaomi Mi Pad 2
Redmi Note 4X Mediatek
Redmi Note 4X Snapdragon
Redmi Note
Redmi 2A
Apply For MIUI 9 Beta Tester Program
1. First, download the "Xiaomi MIUI Forum" app from the Play Store.
2. In the MIUI Forum app, tap on the Profile icon in the top left and Login/Sign Up with an MIUI account.
3. Once done, tap on the "Recruitment" option in the home page of the app.
4. In the next page, select the Xiaomi device that you own from the drop down list, and experience you have in the field of smartphones. Lastly, you'll be required to enter your reason for applying as an MIUI 9 Beta Tester.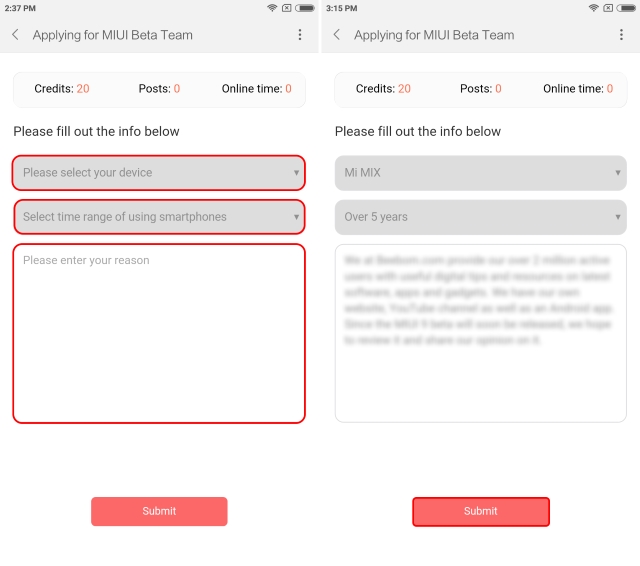 5. Once you're through with all of that, tap on the "Submit" button. You'll be presented with a browser window that should say that your application has been submitted.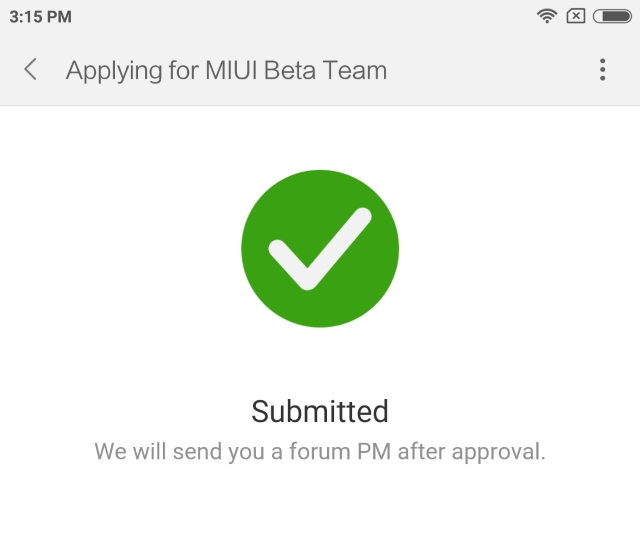 And that's it. All you have to do now is cross your fingers and hope for your application to be selected. The first batch of selected beta testers will be notified on July 25, and the rest will follow soon after.
Note: This application is for the Chinese version of the MIUI 9 Beta ROM. If you're interested in trying out the Global variant instead, you'll have to wait till further details are announced by Xiaomi.
SEE ALSO: 12 Cool MIUI 8 Tips, Tricks, and Hidden Features
Ready to Try Out MIUI 9?
Now all you have to do is wait for your application to be selected. Once selected, you will be notified by a message to your official Mi account or the email account registered with Mi, containing information on how to proceed with the installation of the MIUI 9 Beta build. With you potentially getting to taste the beta build, tell us about your expectations from the new OS in the comments section.