Apple's AirPods are the company's first truly wireless earbuds that was launched last year right after they ditched the headphone jack with the iPhone 7 and iPhone 7 Plus. Nevertheless, it's a great accessory if you have an iOS device due to its integration and convenience, despite the fact that it costs $159 and doesn't sound significantly better than the wired EarPods. Moreover, if you have an additional Android device, you can still simply make use of a regular Bluetooth connection to take advantage of the convenience that AirPods has to offer. Now, it's also possible to make use of AirPods' double-tap gesture to activate Google Assistant on your Android phone, just like the way it's used to activate Siri on iOS devices. Keen on trying this out for yourself? Without further ado, let's take a look at how to activate Google Assistant with Apple AirPods:
Set Up Google Assistant with Apple AirPods
Note: I tried this on a Galaxy S8 running Android Nougat and it worked flawlessly. However, depending on the device you're using, there are chances that you might run into compatibility issues.
First of all, you need to make sure that your AirPods are connected to the Android device over Bluetooth. In order to set up Google Assistant with Apple AirPods, we'll be making use of a recently launched third-party application called AirPodsForGA. So, download and install this app on your Android smartphone and simply follow the steps below to set Google Assistant up in a jiffy:
Open up the app and tap on "OK" to allow certain permissions for the application. First, you need to provide Usage Data Access for the app. In order to do this, tap on AirPodsForGA and enable "Allow usage tracking" by making use of the toggle.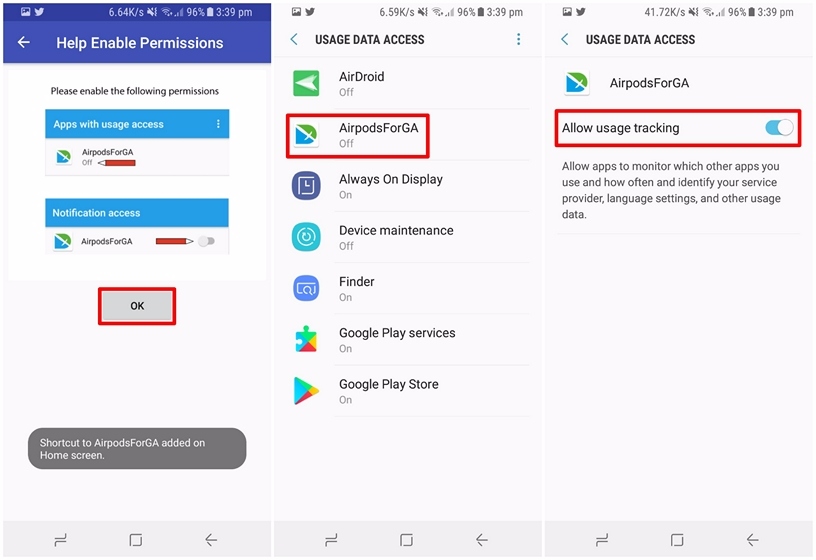 Next, you need to allow Notification Access for the app. Once the pop-up is displayed on the screen, simply tap on "OK" and provide access by tapping the toggle right next to AirPodsForGA.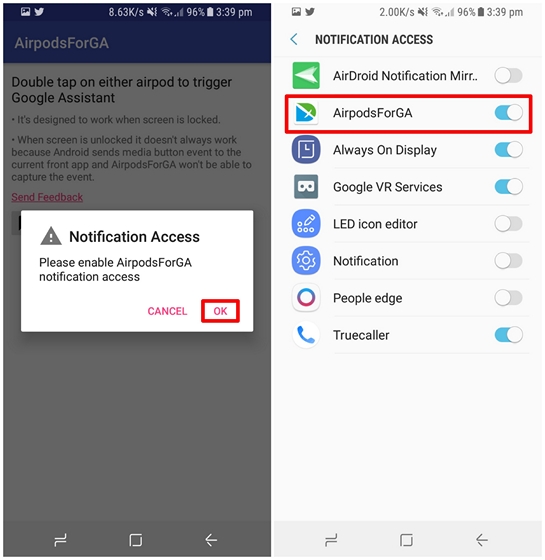 That's pretty much all the set-up process. Now, you'll be able to activate Google Assistant by just double-tapping on one of the AirPods and perform certain functions like scheduling a reminder or asking for restaurant recommendations.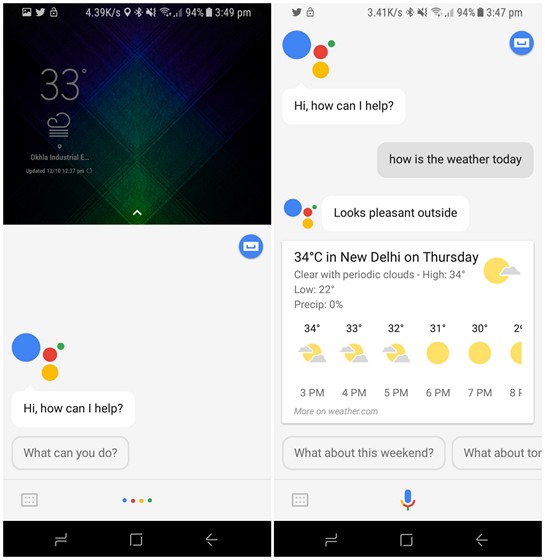 The developer has stated that the app is designed to work when the screen it locked. Although it did work for us even after we unlocked the phone, the developer states that it doesn't work all the time because Android sends media button event to the app that's currently running and therefore, AirPodsForGA won't be able to capture the event.
SEE MORE: How to Customize AirPods Functions in iOS 11
Use Google Assistant with Apple AirPods
All credits to the app developer for providing Google Assistant integration for Android users to get the most out of AirPods. Despite it's minor restrictions, using Google Assistant to perform certain tasks without even having to take out our phone from the pocket is actually a pretty nifty feature that we absolutely loved. So, if you currently own AirPods along with an Android smartphone, are you ready to take advantage of the functionality that this app adds to your truly wireless earbuds? Do let us know, by dropping your valuable opinions in the comments section down below.