Google entered the hyperlocal food delivery and discovery market in India last year in April with Areo. The app, just like Zomato, Swiggy, and Foodpanda, allows users to find nearby restaurants and home chefs. But not just that, Areo can also be used to discover nearly service providers like plumbers, electricians, and other professionals.
The service, at the time of its launch, was only available in Bengaluru and Mumbai. While the booking and delivery features were later made available in Delhi and Gurgaon, Google Areo services have now been extended to Pune.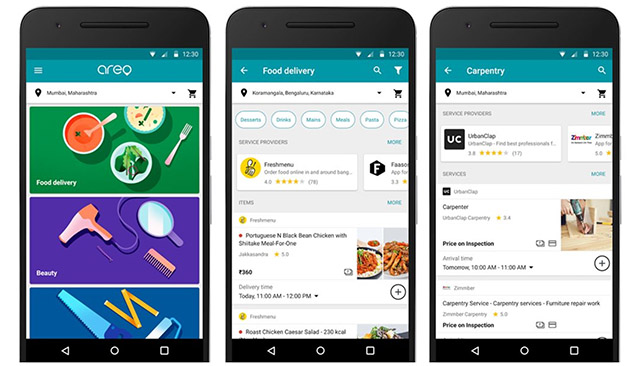 For Pune, Google has tied up with OvenStory, Behrouz Biryani, Faasos, Box8, MojoPizza, Zimmber for delivery of food. At the same time, it has on-boarded Mr. Right and Timesaverz for providing home maintenance service. As it is evident from the list of service providers, Google is not engaging with individuals directly, but instead working with local franchises and businesses that provide services. So, Google's Areo has the DNA of a discovery app than an aggregator. In other cities, Google also works with providers like Urbanclap instead of trying to compete with it.
The team responsible for Areo's development believes that it will be soon expanding to more cities and welcoming more partners to increase the value offered to users. "We are energized by India's on-demand services ecosystem and excited to work with so many partners integrated on Areo," said the app's Product Manager Lilian Zia.
Back when Areo was introduced, Google claimed that it wasn't charging partners for their services as the app is intended to be an experiment. There is no clarity if Google is still offering these services for free or has begun charging providers.
If you want to try out the app and see how different it is from other providers, you can download it for free from the Google Play Store.