Google has steadily been giving its lightweight version of Android, called Android Go, the push it needs with new entry-level devices being added to its kitty every so often. Google already has many official Go apps available right now but it has now launched Gallery Go, which is a lighter version of Google Photos. It is now available to download all across the globe.
Being a Go-optimized app, Gallery Go has a download size of under 10MB and the app will take just 20MB upon installation. This is way less than the > 90MB installation size of Google Photos, making the app perfect for entry-level devices from Alcatel, Xiaomi, and Nokia.
Apart from the smaller size, which should be obvious, the major highlight of Gallery Go is that it uses machine learning to automatically organize photos on your device. The app works offline and doesn't require Internet to organize your pictures in categories like selfies, nature, food, screenshots, and more.
"You don't have to manually label your photos and all these features run on your phone, without using your data"
This organization feature is currently not available in all countries and India seems to be one of them as we couldn't see the different categories. Gallery Go supports dark theme though if that's a consolation. It's pretty minimalistic as you can see in the screenshots down below: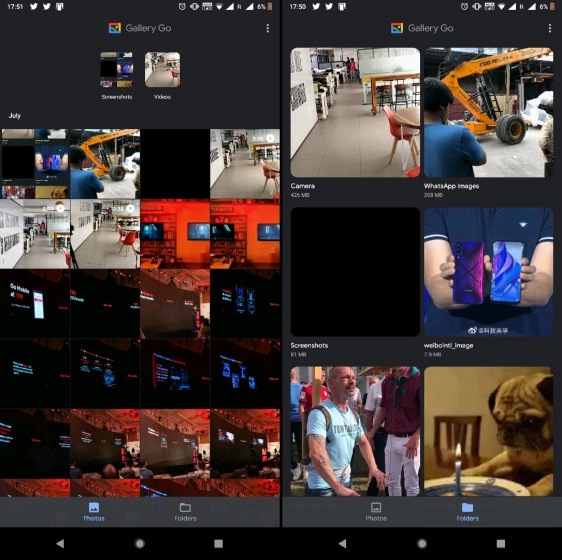 Another handy feature that Gallery Go brings to entry-level users is photo editing. Yeah, the app isn't skimping on features that users want and will use. You get only a simplistic photo editor where you can easily crop, rotate and apply filters to your photos. Your device folders with images also show up in this app.
There are no options available under the Settings right now, except for the option to 'submit feedback' right now. However, we expect Google to bolster the feature set of Gallery Go over time, offering the option to backup and share your media via Google Photos.
Download Google Gallery Go from the Play Store (Free)
---