Almost everyone has played one or two puzzle games in their life. Nowadays everybody is busy playing the hyped up Candy Crush games on their phones, PCs, tablets, etc. Candy Crush is a cool game but its prime has passed. There are countless other games that are much better than Candy Crush and offer a lot more exciting features. We have rounded up a collection of cool games that are like Candy Crush.
Below are the 15 Cool Games like Candy Crush that are available for free
1. Bejeweled

This is the game that actually inspired games like Candy Crush and many other match-3 clones in the puzzle gaming world. This game has the best match-3 mechanics for any puzzle game. Original features like burning gem, electrical gem, etc make it, even more, fun. You get to create different combos with your gem-matching skills. If you perform a specific move like matching 4 then you get a special gem. Matching more gems means you get more cool gems that will help you in getting rid of a lot of gems from the board and take your score to the top. There are different modes in the game. The classic mode is simple, you have all the time in the world to match the gems as long as there are moves left on the table. Timed mode is more fast-paced because you have to match the gems quickly before the timer runs out. Bejeweled is definitely one of the best match-3 puzzle games out there. It's a must play if you have never played it before.
Availability: Android, iOS, Windows, Browser, Xbox 360
2. Candy Blast Mania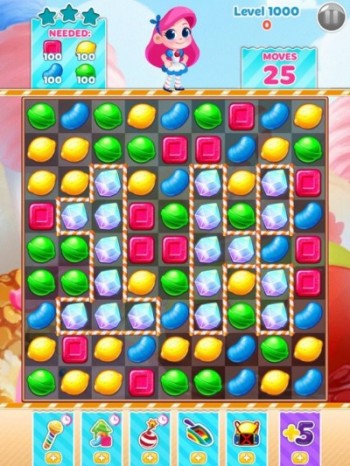 Not all the Match-3 puzzle games out there have an interesting story but Candy Blast Mania sure does have one awesome and sweet story that will keep you hooked to the game for hours and hours. In this game you don't have to mindlessly play level after level matching candies for no reason instead you are supposed to collect as many candies as possible by matching them and defeating the evil King Gummy Bear. You have to make sure the evil Gummy Bear King doesn't rule the candy kingdom in this amazing game. Embark on an adventure in the world filled with sweets and candies. Match the candies to collect them and sue them against the evil bear in the head to head battle. Play weekly challenges and become the top player of the week.
Availability: Android, iOS, Browser
3. Pokemon Shuffle Mobile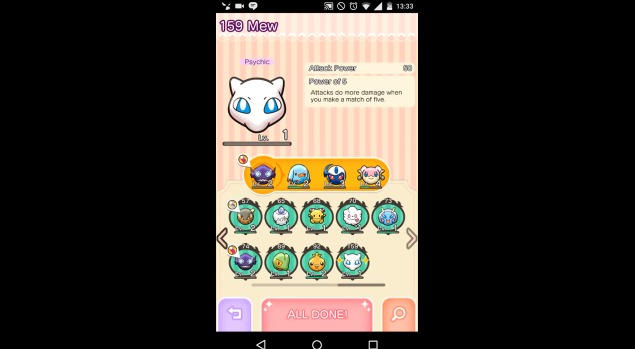 Move along Candy Crush because Pokemon is here to save the day. If you want to be the very best then you need to catch them all. Pokemon Shuffle Mobile is the perfect matching puzzle game if you are a fan of Pokemon series. In this game, you can catch different Pokemon species by battling them. Each battle is timed. You choose a party of 3 or 4 Pokemon and you have to make sure that your team has a type advantage over the Pokemon you are fighting. You get a limited amount of hearts, whenever you play a level it consumes 1 heart. The hearts regenerate in half an hour or you can just buy them with in-game coins. You can earn the coins or buy them with real money, your choice. Pokemon Shuffle Mobile is the best matching puzzle game with a unique gameplay and abilities. There are hundreds of Pokemon for you to catch.
4. Puzzle & Dragons
If battling against Pokemon is not very exciting for you then maybe, you need something more powerful like Dragons going head to head against other dragons. Fuse your dragons together and make them, even more, powerful. Battle against other enemies and make them pay for battling you. Get together with your friends and crawl the dungeons along side them. Get ready to make the most out of this puzzle and RPG game. Puzzle & Dragons is the perfect mix between a match-3 puzzle game and a role playing game. You can collect up to 700 different monsters just like Pokemon. Use these monsters to battle your enemies in head to head puzzle matches and beat them to become the champion monster trainer.
5. Farm Heroes Saga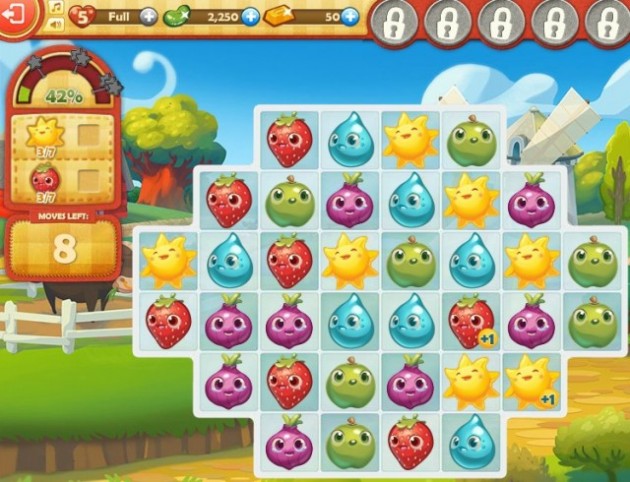 Forget about Candy Crush Saga because the same developers have made something even more enjoyable and with an amazing story to compliment the overall gameplay of the matching puzzle game. Enter Farm Heroes Saga, where you are going to become a hip new farmer who matches cropsies and collects them. The rancid raccoon is trying to destroy all your crops so your job is to defeat the raccoon and collect as many cropsies as you can. You have to collect the maximum number of cropsies on each level before you run out of moves. You can also take on your buddies and see who is the best farmer in this game. Become the best by placing at the top of the leaderboards and defeating your friends' highscores in Farm Heroes Saga.
Availability: Android, iOS, Browser
6. Cookie Jam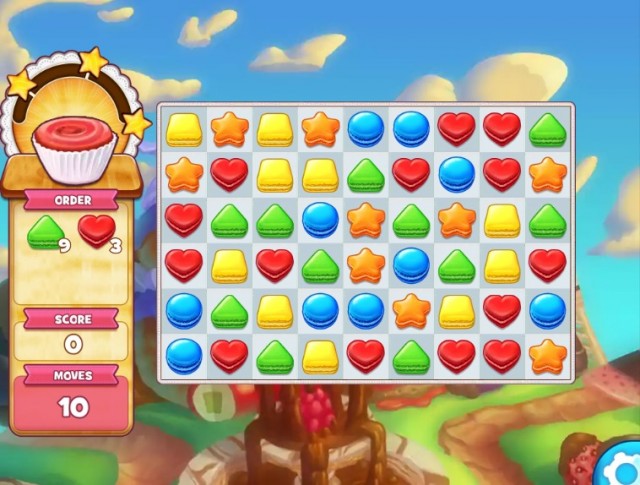 Get ready for some delicious sweet treats in the Cookie Jam puzzle game. This game is filled with sweet cookie treats covered in delicious goodness. You have to match 3 or more cookies and collect them before they crumble. You will never get enough of the sweet treats in this game because there are more than a 1000 levels in Cookie Jam and each level comes with an exciting new twist to keep you hooked to the gameplay. Get ready to cure your sweet tooth with this deliciously sweet puzzle game.
Availability: Android, iOS, Browser
7. Frozen Free Fall
Things will get pretty chill when you play as one of your favorite character from the Frozen movie. In Frozen Free Fall you are going to match some icy goodness and get amazing rewards for clearing different levels. The more matches you make on a level, the more amazing and helpful rewards you will get that will help you in your frozen journey. There are more than 600 different puzzles that you can enjoy in this game. The holiday season can not get any better than this because you can now bring the joy of winter on your mobile device with Frozen Free Fall.
Availability: Android, iOS, Windows
8. The Treasures of Montezuma 3
You only have one minute in order to match as many ancient token as possible to unlock new levels in this epic puzzle game. Create amazing combos to score extra points and advance to the next levels. Get ready to explore more than 150 different levels filled with some of the most exciting and complex puzzles you have ever encountered. Use strategy to create chain moves and combos and earn the magic stars to upgrade your items. You can also look for treasure in 5 different treasure rooms filled with amazing goodies to augment your game even further.
9. Jewel Mania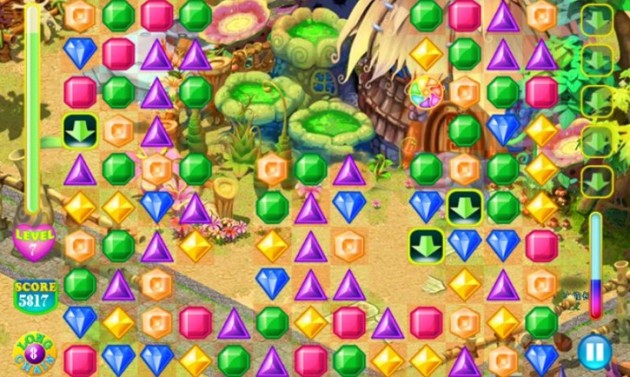 This game is developed by the same team that developed Candy Blast Mania. If you are looking for a free and great looking jewel matching game for your mobile device then Jewel Mania would be the perfect choice for you. The game provides countless hours of excitement and fun with nearly 600 different levels filled with amazing jewel based puzzles. If you think you are the master of match-3 puzzle games then you should try to achieve 3 stars on each level in Jewel Mania and share your achievements with the world.
Availability: Android, iOS, Browser
10. FarmVille: Harvest Swap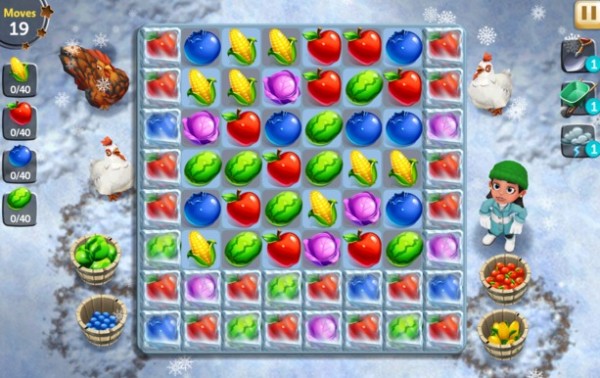 If the regular FarmVille game is too boring for you because of the time consuming gameplay and harvesting then you don't have to worry about it anymore because now you can get your FarmVille fix with the all new FarmVille: Harvest Swap puzzle game. In this game you harvest the crops by matching them. Just swap the crops or swipe along and match them all to clear the board and score higher than your friends. Share your highscore with the world and tell them who the real boss is in FarmVille: Harvest Swap.
Availability: Android, iOS, Browser
11. Happy Forest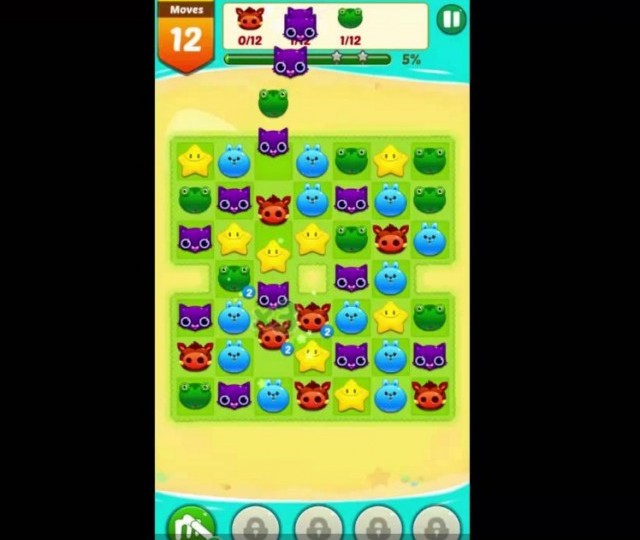 The cute little residents of the Happy Forest are in grave danger. The scary rex is trying the harm the cute animals living in the Happy Forest so it's now up to you to save all these cute animals by matching them and sending them to a safe place. You have a limited amount of moves so you have to quickly collect as many animals as possible before you run out of all the moves. Collect them all and take them to the safe place far away from the evil rex. Create amazing chain reactions and combos to achieve high scores and save extra animals.
12. Garden Mania 2
If you still haven't gotten enough of harvesting and crops then dive deep into the real world of crops in Garden Mania 2. There are different seasons and different crops grow in seasons so you have to grow them all. Match them and harvest them that's your job as a trendy new farmer. You also have to fight crop diseases, lava threats, and other calamities that might ruin your crops. Get ready to grow as many cute little crops as possible and achieve the highest score in this fast paced puzzle game.
13. Pet Rescue Saga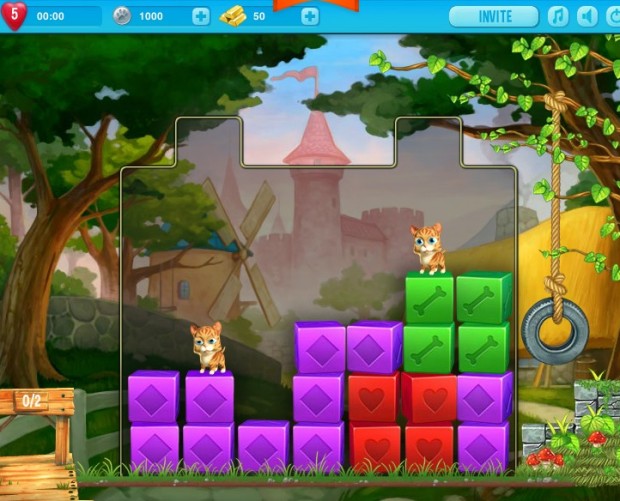 It's all good with crops, jewels, and ancient totems but matching some blocks in order to save some of the cutest pets is definitely something amazing. Match the obstacles and break them in order to save the trapped pets. Hundreds of puzzles and thousands of blocks trapping the cute little pets. Your job is to save them all. Perform ultimate combos and chain reactions to destroy as many blocks as possible in single try and save all the pets before the time runs out on you. See your name at the top on the leaderboards and get the bragging rights.
Availability: Android, iOS, Browser
14. Dots: A Game About Connecting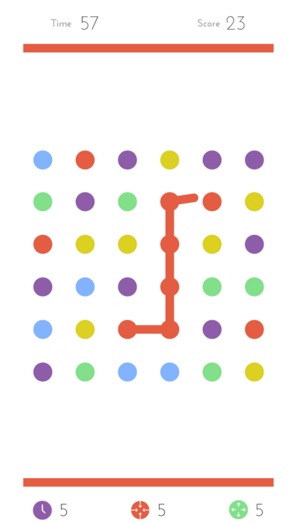 If you are tired of matching gems and candies together to collect them then you have been playing the wrong games so far. If you want something much more simple yet very exciting then you should play Dots. It's a game about connecting as many dots as possible. These dots need to be of the same color and you can just keep joining one dot after another until you match at least 4. There are no fancy explosions, or flashy graphics. It's just a simple game about connecting different dots that highly addicting and very rewarding. You can also challenge your friends to a multiplayer match and find out who's the real expert in this simple game.
15. Smiles HD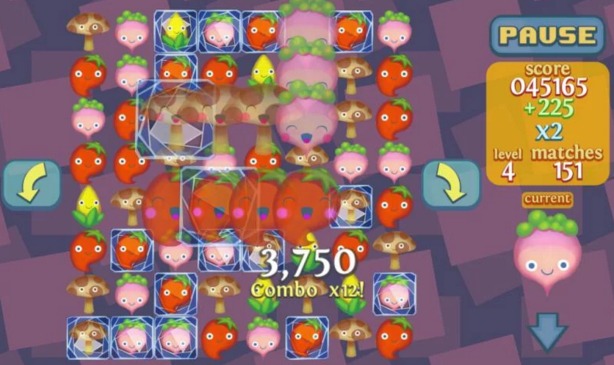 If you are a newcomer to the match-3 puzzle gaming then Smiles Hd is the perfect game for you because it's really easy on the newbies. There is no on-screen clock ticking so you can take your time and enjoy matching the little fruits in this game. Match fruits, create combos, and start chain reactions all at your own pace. No need to rush things. Just think about your moves and then play them out easily in this newbie-friendly game.
SEE ALSO: 10 Cool Sandbox Games Like Minecraft
If you want your daily match-3 puzzle fix then the above list is going to keep you busy for years to come. All these games have a lot of puzzles to offer. These games will definitely keep you hooked for hours and you can always try another one from the list because all of these are available for free on your favorite mobile platforms and browsers. If you have any other puzzle games that you want us to include in our list of cool games like candy crush then feel free to mention them in the comments section.