Yesterday we spoke about the new High Stakes event in Fortnite, and while the event will bring a new 'Wildcard' skin to the game, there will also be a bunch of challenges that players can complete to unlock more rewards. We now know which challenges will be part of the High Stakes event, and here they are:
Play 10 Matches of Getaway Mode
This challenge is really simple to complete. All you need to do is play 10 matches in the new Getaway Mode to complete the challenge. As a reward you'll get 5000 XP which is pretty awesome because in regular Battle Pass challenges, you have to complete any 4 challenges for a particular week to earn 5000 XP.
Deal 500 Damage to Jewel Carrying Opponents
In case you're not aware, the new Getaway Mode puts four safes on the map, each with its own jewel that has to be extracted to a getaway van. To complete this particular challenge, you have to deal a total of 500 damage to opponents carrying the jewel. This one will be difficult to complete since you'll have to spot opponents carrying the jewel, and they will most likely be protected by their teammates. However, completing this challenge will reward you with a spray which includes all four suits of a card set.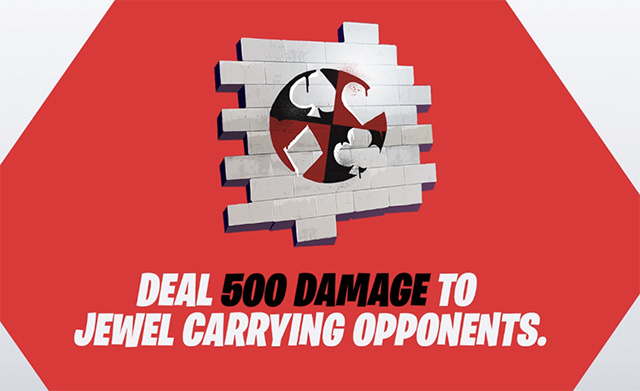 Pick a Jewel in 5 Different Matches
For the third challenge, you'll have to pick up the jewel in five different matches. This will also be difficult, but if you succeed, you'll get what is probably the coolest reward — the money trail which looks ridiculously awesome.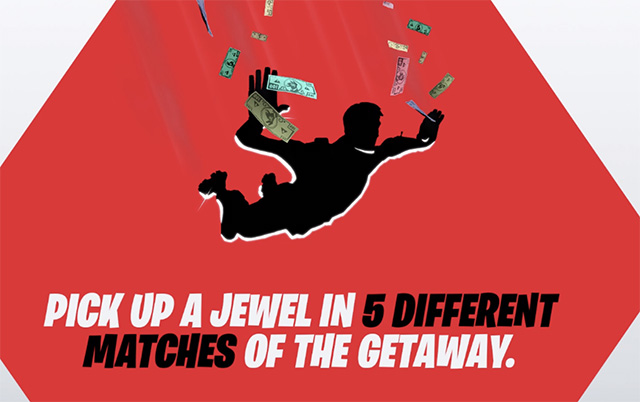 Complete All Three Challenges
If you're able to complete all the three challenges in the High Stakes event, you'll be rewarded with the 'crowbar' harvesting tool. This might come as a disappointment to many people who were expecting the new skin to be the reward for completing all the challenges. However, Epic has decided to release the skin on the item shop instead, so interested parties can buy the skin, making Epic a whole lot of money; not that there's anything wrong with that.