Whether you are a concerned parent who wants to keep tabs on his or her child, or a manager who wants to make sure that the official smartphones are used properly, you know it is impossible to do that by just using the native tools provided by iOS or Android platforms. We really can't blame either Apple or Google for this, as you can't have an operating system be secure while having a backdoor which allows you to monitor system level information at the same time. That's why, you will have to use third-party services which facilitate remote monitoring of devices. In this article, I am going to tell you about one of the best such services and show you all its features. The software that I am talking about is called FoneMonitor, and it lets you remotely supervise any Android or iOS device. So, let's see how it does that and the features it offers, shall we?
Key Features
As I mentioned above, the FoneMonitor service lets you monitor any Android or iOS device from the comfort of your home. The best part is that you don't need to either root or jailbreak your device. Also, the device that you are monitoring shows no signs of being monitored, so you can easily monitor your children's activities without letting them know. With all that said, let's see what kind of information we can monitor using the FoneMonitor service as we go through its key features:
FoneMonitor allows users to monitor calls that have been made through the phone that is being monitored. Not only the service shows you the name and numbers of callers, but it also shows you exactly when the calls were made and for how long. It also shows the status of calls, as to whether the calls were made from the phone or whether they came in. The only thing you can't monitor is the content of the call.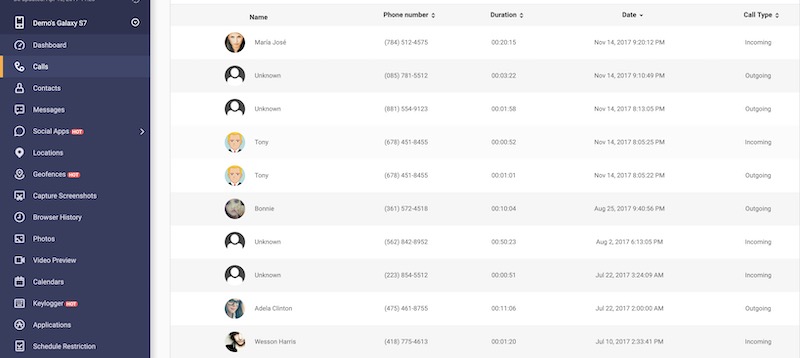 Monitor Text and Other Third-Party Messages
FoneMonitor also allows users to monitor carrier-based text messages along with messages coming through any other third-party messaging service, including WhatsApp, Line, and others. The best part about monitoring messages (both carrier-based and third-party) is the fact that not only you can see who sent the messages and when, but you can also read the entire content of the messages.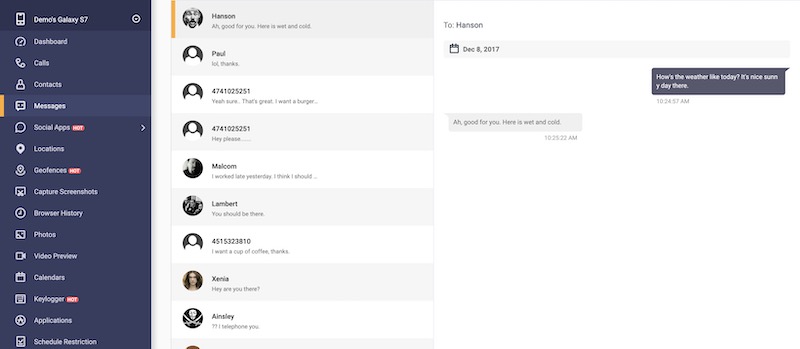 Another thing that FoneMonitor allows you to monitor is the browsing history of the device. You will be able to see the URLs of the visited websites, number of times those websites were opened, and the exact time when a particular website was last accessed from the monitored device.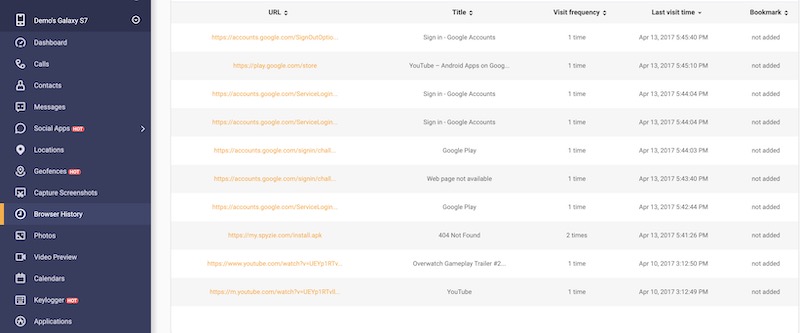 One of the best features of FoneMonitor which allows you to keep tabs on your children is the ability to monitor the GPS data i.e. the location history of the monitored device. The app will track the phone's location at all times and will show you all the places the phone has been to, along with time stamps of visits and latitude and longitude coordinates of the visited places. It even shows you the location on a Map.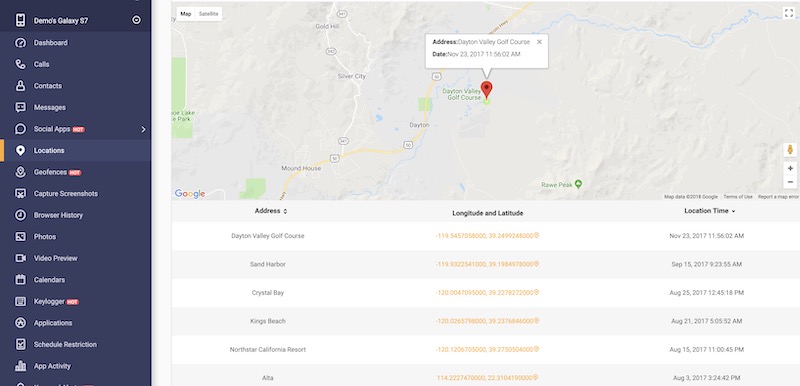 Other Monitoring Services
Apart from the above-mentioned monitoring services, FoneMonitor allows for monitoring of many more things including and not limited to contact list, list of applications installed on the device, bookmarks, photos, and videos. Not only that, you can even take remote screenshots and install a keylogger on to the device which will monitor and save each and every keypress a user makes on the monitored device. Basically, FoneMonitor gives you an all-access pass to the devices that are being monitored.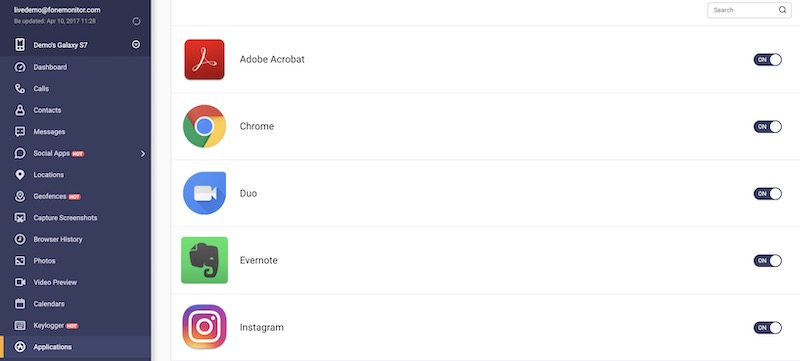 Monitor Devices from Anywhere
One of the best features of FoneMonitor is that it allows you to monitor your devices from anywhere. You can either install its mobile apps or you can just visit its website (fonemonitor.com) and log in with your credentials to monitor all your devices. I prefer monitoring the devices using my laptop as their web-interface is very good and gives you all the required information at a glance. That said, you have the option to use their app if you want to monitor on the go.
User Interface
As I mentioned above, I prefer to use FoneMonitor's website for monitoring purposes as their web interface is quite intuitive and easy to use. When you log in, the first page that you see will be the dashboard. It houses the overall information about the monitored devices which includes things like device name, operating system, last known location, battery level, latest calls, messages, and more.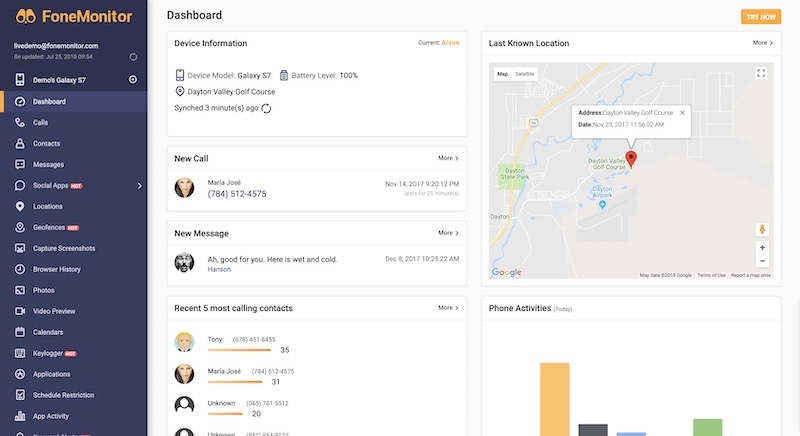 The left-hand side houses the menu which lets you easily switch between different monitoring parameters such as calls, contacts, messages, WhatsApp, location, and more. You can click on any parameter to get related monitoring information. That's all you need to learn to keep an eye on your loved ones or anyone whom you are monitoring for that matter.
Ease of Use
FoneMonitor makes it really easy to monitor Android and iOS devices. Firstly, talking about the devices that are being monitored, both iOS and Android devices have different but easy to set up monitoring processes. First, you will need to register for a paid plan on FoneMonitor's website and only then you will be able to monitor the devices. Once you have registered, for Android devices, all you need to do is to download their monitoring app, sign in with your credentials, and then grant it the necessary permissions.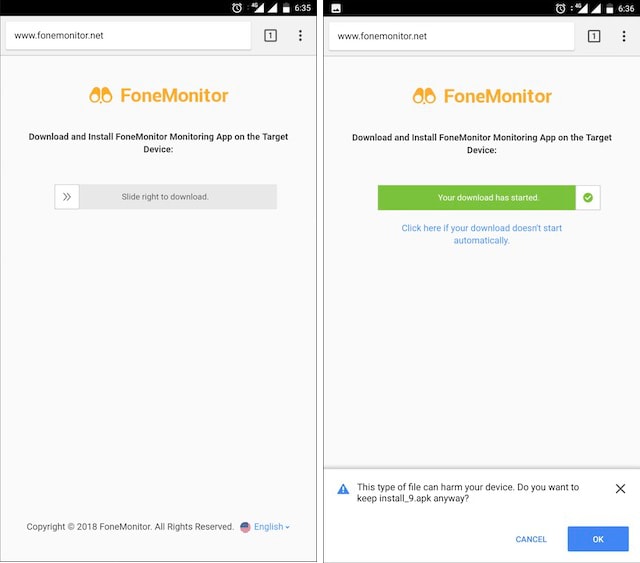 On iOS devices, you don't even need to install an app. You just need to verify the iCloud ID of the target device by visiting FoneMonitor's website, and you are good to go. Once you are set up, you will be able to monitor everything that I mentioned in the key features without any delay. Do note that the phone needs to be connected to the internet for the data to reach FoneMonitor's servers. That isn't a problem as everyone uses the internet on their devices, however, it might result in delayed monitoring if the internet is turned off for a while.
Price and Availability
FoneMonitor is available to download and use from their website right now. There are a couple of pricing plans available. For monitoring Android devices, you can either choose the premium or the ultimate edition plan, both of which costs $29.99/month and $39.99/month respectively. For iOS devices, there's only a single plan which costs $39.99/month. You can receive discounts if you are ready to pay for more than a month at a time.
Pros:
Monitors calls and messages
Third-party messaging services can also be monitored
Easy to set-up the service for monitoring
Easy to monitor the devices from any device
Cons:
Service is a bit pricey
Can be used with wrong intentions
Take Control of Your Devices Using FoneMonitor
FoneMonitor is the service which many people have been waiting for. If you are a parent, you will be happy to know that there is a service out there which lets you monitor your child's activities. Do give this service a try and let us know if you liked it or not. Share with us how easy or hard it was to set up and use the service for yourself. We would love to hear your stories.
Check out FoneMonitor here