If you've ever tried editing a video, whether it was for your first video project ever, or just an experiment to see what video editing is like, you'd know that having a good video editor is probably one of the most important parts of the entire process. Having a video editor you're used to, and that you can make your way around is definitely important, and that's where Wondershare's Filmora9 (download) comes into the picture. It's a pretty solid video editing software that comes with a bunch of features, and also has an interface that's incredibly easy to navigate. So let me tell you why I'm recommending Filmora9 as a video editor you should definitely check out.
Key Features:
1. Easy, Intuitive User Interface
Like I said, having a video editor with an interface you can easily navigate is important, and Filmora9 nails that with a clean UI that's user friendly, and doesn't give you that awkward "I don't know what to do here" feeling that a lot of video editors do. With Filmora9, you'll feel right in control, and you'll always know what to do, and how to do it. I was really impressed by Filmora9's user interface.
There are big, clean, well-labelled buttons right on the top to switch between the imported video files, audio files, transitions, and more. There's a video-preview that takes the place of honor, as it should, right in-front of your eyes so you can always see what's going on with the video you're editing. On the left side, you'll get your folders and file management, all neatly labelled, which is great.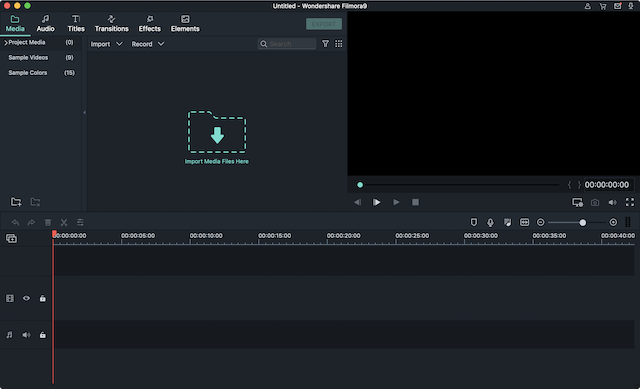 As is the case with most video editors, the actual editing timeline is at the bottom, and it too looks clean. It opens with two tracks by default (one for video, and one for audio), but you can add up to 100 tracks to get as free an editing workspace as you need. We edit a lot of videos at Beebom, and 100 tracks are not something we've ever needed, so it's safe to say that they're more than enough. Plus, if you do end up using 100 tracks, you can even choose the track size of individual tracks to keep more important clips looking bigger, and things like audio files looking smaller.
2. Easy to Use
If you're just starting out with video editing, or if you're just trying to create a montage of that trip to Europe, you probably don't want to worry yourself with creating video effects and using them in your videos. Well, Filmora9 has you covered, thanks to it's rich library of built-in video effects, along with support for easy drag and drop actions almost everywhere in the editor.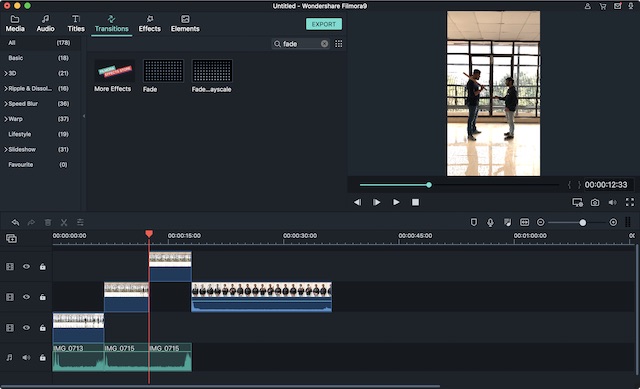 You can switch over to the transitions tab, and add video transitions to your clips by simply dropping them onto the timeline, you can switch over to the effects tab and do the same with effects to make the video look just the way you want it to look, plus you can download extra effects and transitions from the Filmora Store if you need to.
3. Packed with Powerful Features
Filmora9 may be an easy to use video editor, but that doesn't mean it's lacking when it comes to powerful features. Filmora9 supports full 4K video editing, so you can shoot with your favorite smartphone, or even a 4K DSLR, and edit the footage easily on Filmora9. Plus, it supports things like color grading, and has a pretty solid color-grading tool built in. It comes with preset LUTs, by the way, so if you're like me and have no idea how to color grade a video, these will come in handy, but if you like full control over the color grading on your footage, Filmora9 has you covered there too.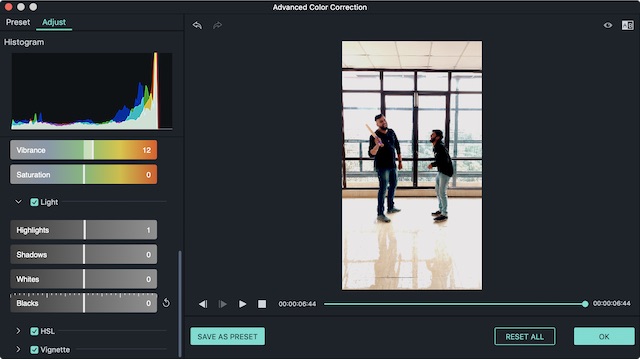 That's not all, you can also get into the nitty gritty with the audio on your project by entering the audio mixer which will let you individually control the audio levels for each of the (upto 100) tracks in your timeline, set them to left, right, or balanced channels, and even just set the master volume to increase or decrease the volume for all the tracks individually.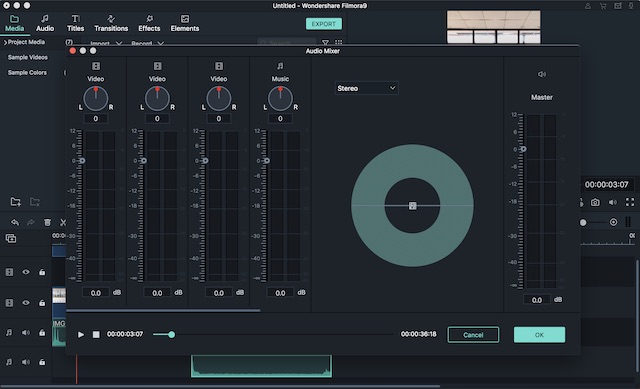 There's also a new and improved Chroma Key feature in Filmora9, which makes it even easier to use a green screen in your clips. So, if you're trying to replace a green screen shot with a new background, Filmora9 will make it easier for you to do that.
However, my favorite feature in Filmora9 is what Wondershare calls 'Proxy clips.' Basically, you can use proxy clips to make editing easier and more seamless on your system. This way, Filmora9 doesn't actually use the original, full-res video clip in the timeline, but a proxy of that video clip is used instead to make editing easier, especially with 4K videos.
New and Improved Features in Filmora9
Other than those key features, Filmora9 brings a ton of new features and improvements as compared to the previous version of Wondershare's video editing software. Let me take you through all the new additions, and improvements that Wondershare has made to Filmora9.
1. Preview Quality
While Filmora9 is capable of handling 4K videos, it doesn't necessarily mean your system will be able to easily playback those 4K clips with all the effects, transitions, title tracks, and music you will probably layer on them. To help with that, Filmora9 comes with adjustable playback quality, similar to what you'd find in something like Adobe After Effects. This lets you adjust your playback quality within Filmora from Full quality playback, all the way down to 1/16th the quality. So you can choose whichever quality works smoothest on your system. It's pretty neat, plus it will let you edit 4K videos on systems that aren't very powerful as well, which is definitely great.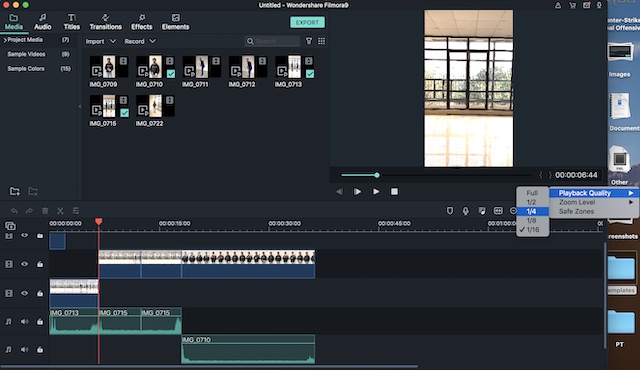 2. Faster Import/Export Speeds and Smoother Editing
One of the biggest pain points in editing videos is actually importing a ton of clips into your project — that can take a lot of time. Fortunately, Filmora9 uses a new rendering engine that makes importing media into your project, and exporting a completed project a whole lot faster. It's just impressive. I imported a bunch of 4K clips into Filmora9 and they were done importing in a snap. Moreover, Filmora9 uses real-time rendering, similar to Final Cut Pro, which means your editing playback will be as smooth as possible, even when you're working with 4K footage. It's a pretty impressive set of features and you'll definitely love using them.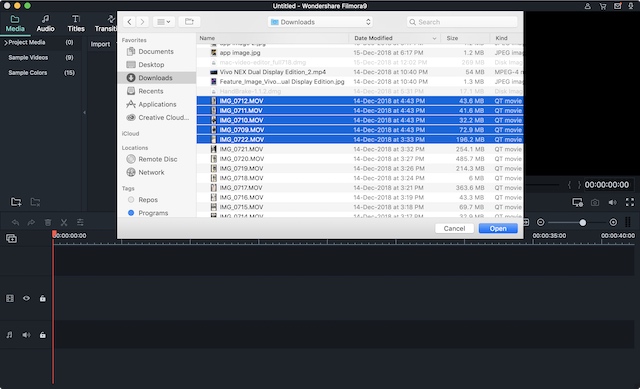 What's more, if you use action cameras for recording your footage, Filmora9 now comes with an improved stabilizer, so even if your action camera's stabilization isn't on-point, you can easily stabilize it while editing the footage in Filmora9.
3. Easy Audio Editing with Advanced Features
Editing videos goes hand in hand with editing the audio tracks you're using in the video. Which means that having a good audio editor on hand is a great idea. However, for changes in audio that you need to make while editing the video, you know, things like fade ins during transitions, and other similar effects, switching back and forth between your video editor, and audio editor of choice can be quite the chore. With Filmora9 however, you get advanced audio editing tools built right in.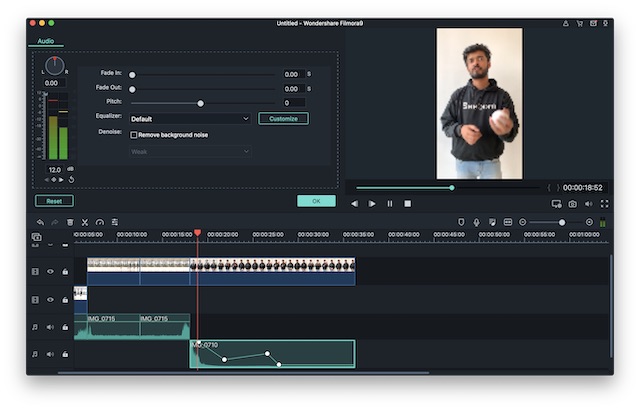 Filmora9 comes with tools such as keyframing for audio, so you can adjust the audio's volume much better, and that comes in very handy, especially for those fade-ins and fade-outs I was talking about earlier. Plus, Filmora9 brings peak metering for audio files, so if you end up increasing the gain too much, Filmora will let you see where the audio file is getting clipped, so you can adjust the gain accordingly and save yourself the trouble of re-exporting a video. Plus, there are transitions available for audio files as well, which means that you can easily mix different audio files so they transition smoothly.
Pricing and Platform Support
I'm sure you're pretty much convinced that Filmora9 will be a great option to check out for your video editing journey, which just leaves two important questions.
What's the price like?
Filmora9 is available to download and use for free, and you'll get all the features in the free version. However, exported files will have the Filmora9 watermark on them, unless you buy the pro version of the software.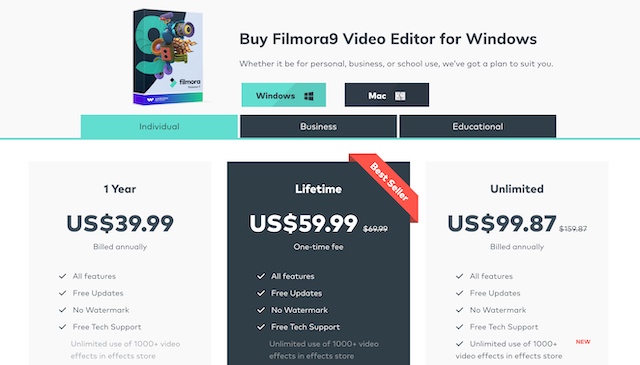 Filmora9 is a subscription based video editor, and its plans start at $39.99 for a year on Windows, and $44.99 for a year on Mac.
Platform Support
As I mentioned above, Filmora9 is available on both Windows and macOS, but you know what's even better? If you have Filmora9 running on both Windows and Mac, you can start editing your videos on one platform, and continue editing them on another. That's pretty sweet, and it's something a lot of people will appreciate for sure.
Use Filmora9 for Your Video Editing Needs
So yeah, if you're looking for an easy to use video editor that doesn't slack off on features, and isn't very pricey, Filmora9 is definitely worth your attention. It has amazing features like support for up to 100 video and audio tracks, adjustable track sizes, advanced audio features including peak metering, effects, transitions, and a lot more all packed into an easy to use package. Plus, if you're already a Filmora user, you can upgrade to Filmora9 for free.
Check out Filmora9 from the website