The Delhi Metro Rail Corporation (DMRC) has launched a dedicated mobile app called DMRC Travel for you to book QR-based Delhi Metro tickets online. For those who don't know, this service already exists for Bengaluru and Chennai Metro. Here's how you can book your metro ticket.
Buy Delhi Metro Ticket On Your Smartphone Now!
You will now be able to book Delhi Metro tickets via your Android and iOS devices. The service comes after DMRC launched a pilot project last month to let users book QR Code Tickets within WhatsApp.
By booking your metro ticket through your smartphone, you can avoid waiting in long queues and crowded counters. All you need to do is scan the QR code at the kiosk and start your journey hassle-free. It's a simple and convenient process that saves you time and effort.
To book your QR ticket, download and install the app on your smartphone. Create an account with DMRC to proceed further. Go for the "Buy Ticket" menu and then select the source and terminus stations. You will be able to see the various relevant details for your journey like the price, number of tickets, number of stops, and the journey time for your selection.
Now, in order to generate your QR Ticket, simply complete your purchase. The app supports a variety of payment methods, including UPI, credit/debit cards, and Wallets. All you will need to do is present the generated QR code at the AFC ((Automatic Fare Collection) gate to proceed with your journey.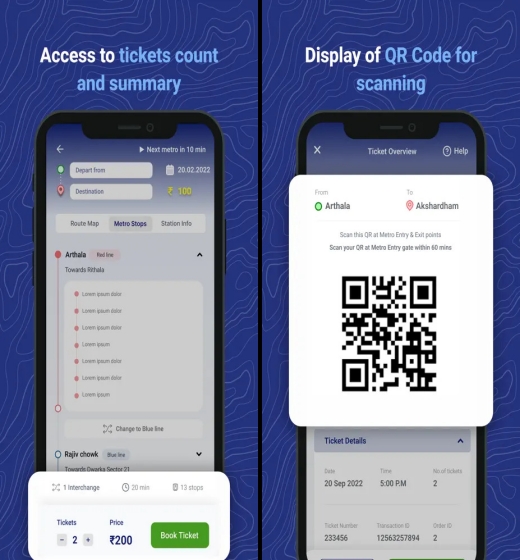 Commenting on the launch, Anuj Dayal, the Principal Executive Director (Corporate Communications) of DMRC said, "In order to provide such a user-friendly, cashless and fast mode of ticketing, DMRC carried out a mammoth technically challenging exercise of upgrading its AFC Gates, which were already in passenger services, on all its corridors without shutting down these gates even for a single day in record time. The entire exercise was taken up mostly during the limited time available in the night once the passenger services were over, in a manner that once the services resumed the next day, all the gates were again kept functional for passengers. DMRC has already upgraded over 60% of its AFC gates with QR code scanners and the remaining are also targeted to be covered within the next 1-2 months."
However, as of now, the app is only available in the App Store. We are expecting its debut on the Play Store soon. So, what do you think? Do you think this is a great initiative by the DMRC? Let us know your thoughts in the comments below.