WhatsApp has partnered with Delhi Metro Rail Corporation (DMRC) to allow you to book metro tickets online. This service already exists for Bengaluru and Chennai Metro. Here's how you can book your metro ticket.
Delhi Metro Rail Tickets On WhatsApp
You will now be able to book Delhi Metro tickets via a new WhatsApp bot. The service was inaugurated by Dr. Vikas Kumar, Managing Director, DMRC from Metro Bhawan, and has been launched in partnership with PeLocal Fintech Private Limited, as a pilot project. As of now, this service is live for commuting on the Airport Express Line (AEL) only.
Before we tell you how you can avail of this service, here are some aspects of this facility that you should keep in mind. First and foremost, keep in mind that a single commuter can generate a maximum of 6 QR Tickets per journey. Secondly, the validity of each QR Ticket is until the end of the day. However, once you enter a gate, you have to exit within 65 minutes. You can only book tickets during operational hours and cannot cancel your QR-based tickets. Lastly, in case your exit is from the source station itself, it should happen within 30 minutes.
How to Book Metro Ticket On WhatsApp
Send a "Hi" to DMRC's official WhatsApp number 9650855800 and then select your preferred language (Hindi or English).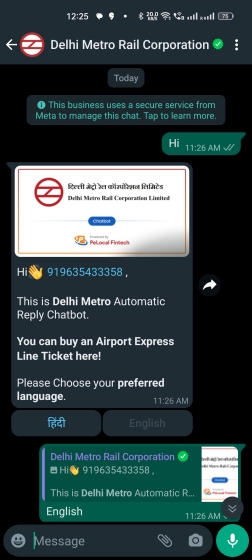 Select the "Buy Ticket" option and then select our source and destination stations. There will be Last Journey Tickets and Retrieve Ticket options too.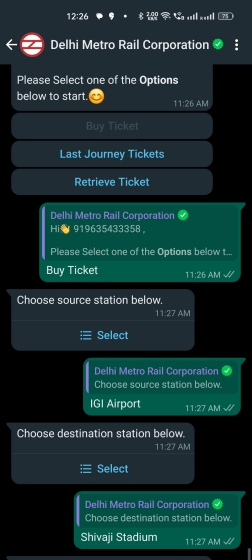 Select the number of tickets you want to purchase.
Once you confirm your choices, the chatbot will generate a link for you to make the payment.
Note: Payment can be done via Debit card, Credit card, or UPI.
Upon successful payment, you will receive your QR-based ticket on WhatsApp, which can be scanned at designated scanners at AFC gates for entry and exit.
As of now, the functional stations include New Delhi, Shivaji Stadium, Dhaula Kaun, Delhi Aerocity, IGI Airport, and Dwarka Sector 21. It should be available for more Metro stations soon. So, will you book your metro ticket via WhatsApp? Let us know in the comments below.