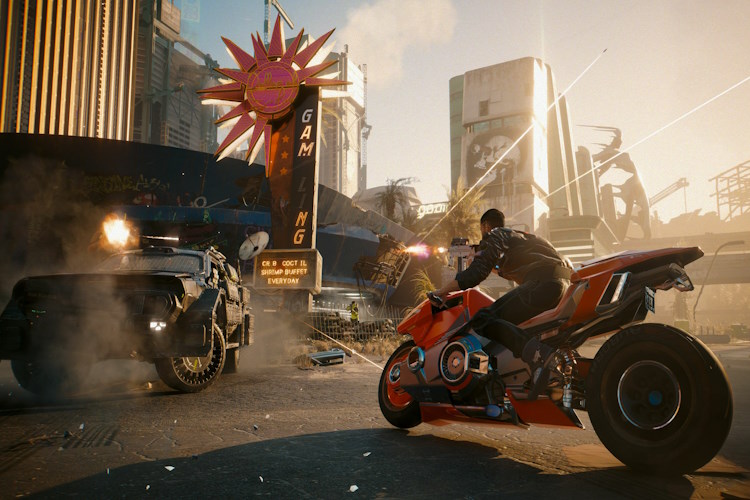 Cyberpunk 2077: Phantom Liberty finally rises from the ashes to reveal more details. After announcing the DLC in 2022 to some tempered reception, we have new footage for the upcoming DLC, thanks to Xbox Showcase 2023. It does not end there, as Cyberpunk 2077: Phantom Liberty also gets a launch date, with pre-orders going live.
Save New USA in Cyberpunk 2077: Phantom Liberty
As previously mentioned, the upcoming Cyberpunk 2077: Phantom Liberty will be a chunk of DLC content for the December 2020-released Cyberpunk 2077. It will launch for Xbox Series X/S, PlayStation 5, and PC on 26 September 2023. The DLC sees V returning alongside Keanu Reeves' Johnny Silverhand in a new spy-thriller adventure.
The official plot sees the president of New USA crash-landing at the new location. Called "Dogtown," it is a city run by jumpy militias and ruled by Colonel Hansen. Players will team up with NUSA sleeper agent Solomon Reed, portrayed by Idris Elba, to rescue President Myers of NUSA.
CD Projekt Red, the developers of Cyberpunk 2077, have made the Phantom Liberty DLC keeping the next-gen hardware in mind. Hence, PlayStation 4 and Xbox One players will to, unfortunately, miss out on the spy-thriller action. Right out of the gate, we have a look at new screenshots, where we see some tasteful looks of Idris Elba as Solomon Reed, Keanu Reeves as Johnny Silverhand, some new characters, and more.
Cyberpunk 2077 DLC: System Requirements & Pre-Orders
Pre-orders for Cyberpunk 2077: Phantom Liberty went live no sooner than the announcement dropped. It has been priced at $29.99 for PC, PlayStation 5, and Xbox Series X/S. Players pre-ordering the DLC will receive a Quadra Sport R-7 Vigilante car in-game.
CDPR has updated the requirements for the game. The reason for the change in requirements is for the game improvement process and for adding new features.
One of these changes is actively dropping support for hard drives. While the game will run on an HDD, Cyberpunk will perform well on an SSD from here onwards. They also reassured that the game should support older minimum requirements. However, the developers won't support and test the game on those settings. Here are the new settings for the game:
Minimum Requirements:
Resolution: 1080p
OS: Windows 10 64-bit
Processor: Core i7-6700/Ryzen 5 1600
Graphics Card: GeForce GTX 1060 6GB/Radeon RX 580 8GB/ Arc A380
Ram: 12GB
Storage: 70GB SSD
Recommended Requirements:
Resolution: 1080p
OS: Windows 10 64-bit
Processor: Core i7-12700/Ryzen 5 7 7800
Graphics Card: GeForce RTX 2060 Super/Radeon RX 5700XT/ Arc A770
Ram: 16GB
Storage: 70GB SSD
Ultra Settings:
Resolution: 2160p
OS: Windows 10 64-bit
Processor: Core i9-12900/Ryzen 9 7900X
Graphics Card: GeForce RTX 3080/Radeon RX 7900 XTX
Ram: 20GB
Storage: 70GB NVME SSD
RT Minimum:
Resolution: 1080p
OS: Windows 10 64-bit
Processor: Core i7-9700/Ryzen 5 5600
GPU: GeForce RTX 2060/Radeon RX 6800 XT/Arc A750
Ram: 16GB
Storage: 70GB SSD
RT Recommended:
Resolution: 1080p
OS: Windows 10 64-bit
Processor: Core i9-12900/Ryzen 9 7900X
GPU: GeForce RTX 3080ti/Radeon RX 7900 XTX
Ram: 20GB
Storage: 70GB NVME SSD
Cyberpunk 2077 Overdrive:
Resolution: 2160p
OS: Windows 10 64-bit
Processor: Core i9-12900/Ryzen 9 7900X
GPU: GeForce RTX 4080
Ram: 24GB
Storage: 70GB NVME SSD
---