Xiaomi is well-known around the world for its budget smartphones, but the Chinese giant has spread its reach into the entertainment segment with TVs and soundbars, and in the IoT segment with smart bulbs, routers and security cameras among other things. However, Xiaomi's isn't restricted to just these products, as it runs a crowdsourcing platform in China that churns out some pretty interesting and handy gadgets and accessories. Well, we recently went to Xiaomi's flagship Mi Store in Shenzhen, China, and we came across some really cool gadgets. So, here are 10 cool Xiaomi gadgets you probably didn't know about:
10 Xiaomi Gadgets You Should Check Out
Note: Most of the gadgets in this list are not manufactured by Xiaomi, but instead have been crowdfunded on the company's Youpin platform in China.
1. Xiaomi Auto-Sense IR Induction Water Saving Device
Apart from increasing its budget smartphone market share, well, it seems Xiaomi cares about water conservation and auto-sense IR induction water saving device is surely the best example of the same. This device that you see below attaches to your tap using connectors that come in the packaging to convert your standard tap into an auto-sense one, similar to those you might have seen at airports or malls.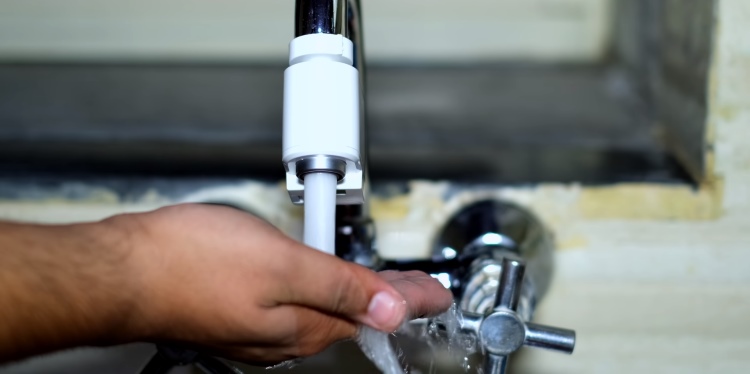 Once you've installed the device, you simply need to bring your hand under the faucet to see the water start running. But it will only release water enough to wash hands and then stop. As for when you wave your hand over the sensor on the side, there's a continuous water supply for 3 minutes, so water isn't wasted if you forget to turn off the tap. Pretty awesome, ain't it?
Buy from Banggood: (Rs. 1336)
Get 15% off with exclusive coupon code: BGbeebom2 (valid till 4th July

2. Yeelight Wireless Charger with LED Night Light
Yeelight makes some of the best smart products and well, this wireless charger and LED night lamp combo is no exception. We've got it at the Beebom office for quite some time now and it was the minimal aesthetic of the device that attracted us to pick it up. Just look at that sweet caramel pudding-shaped light and the sleek wireless charging pad next to it: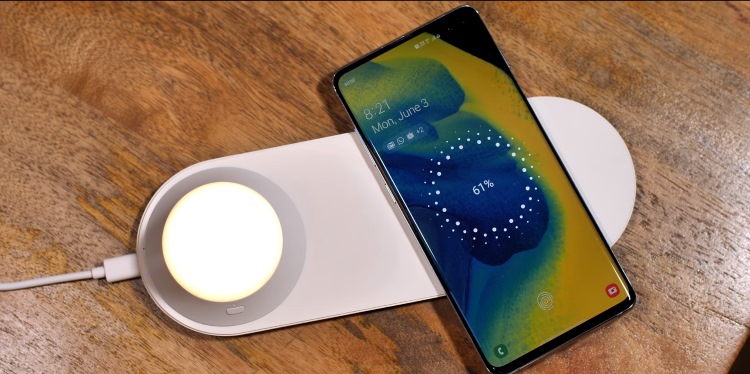 The night light offers two color tones – one white and other a warmer light, which can be easily switched between at the touch of a button. However, the highlight here is the fast wireless charging pad attached to it that supports up to 18W charging. Well, we found it to be working great with the Galaxy S10, iPhone XS Max, and other devices, so yeah, it's a cool wireless charger to have.
Buy from Banggood: (Rs. 2040)
Get 15% off with exclusive coupon code: BGbeebom2 (valid till 4th July

3. Xiaomi Portable Fruit Juicer Mixer
One of the coolest and useful gadgets on this list will certainly have to be this portable juicer mixer from Xiaomi. It's basically a blender that you can carry along with you on outdoor trips, without having to worry about your juice or smoothie intake. You'll get a glass bottle and the blender cap, which is complete with blades and an in-built battery.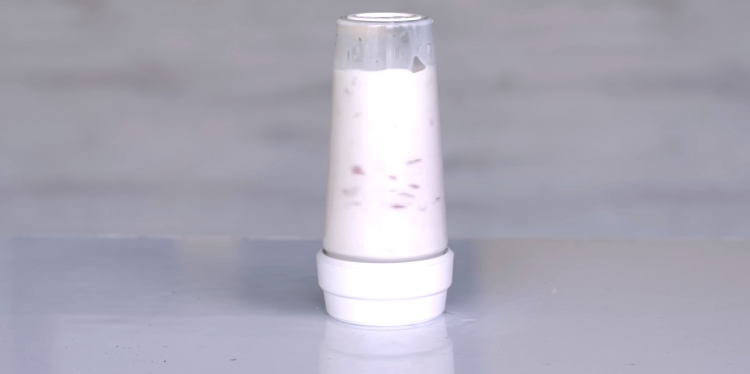 The 400ml capacity of the glass bottle is enough to make a single serving and you could then drink straight from it. The internal 700mAh battery, which can be juiced up (no pun intended) using a 17-pin magnetic charger, helps make 5-odd shakes/ juices on a single charge.
Buy from Banggood: (Rs. 3525)
Get 25% off with exclusive coupon code: BGbeebom1 (valid till July 4)

4. Xiaomi ZMI 2-in-1 Dual Wall Charger-Power Bank
If you're looking to buy a new wall charger, as well as a power bank, well, you don't even need to think twice. Just go ahead and pick the Xiaomi ZMI 2-in-1 dual charging adapter. This isn't just a charging brick that you can plug into an outlet and charge two devices at once. It's a 6,500mAh power bank as well, with Quick Charge 3.0 support, and for around Rs 1700, it's certainly a steal for power users.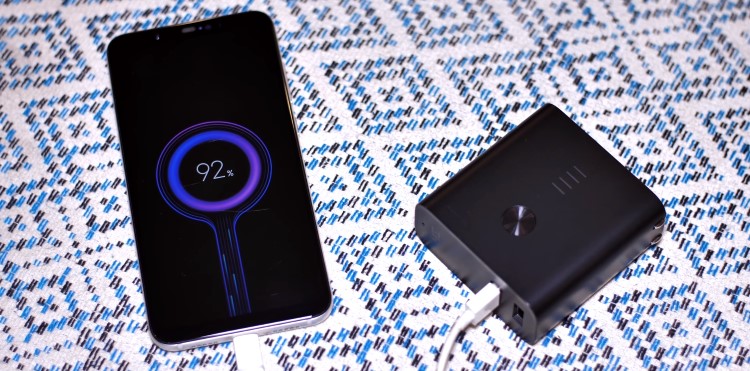 This ZMI charger basically doubles as a wired wall charger for when you are near a plug point or a portable charger when you're on the move. There are 4 LED indicators on top, keeping you aware of battery juice left. It's a handy Xiaomi product that I'm thinking of ordering right now as it will go perfectly with my Mi Notebook and Redmi Note 7 Pro.
Buy from Gearbest: (Rs. 1770)
5. Xiaomi MIIW Dual-Mode Bluetooth Keyboard
Another gadget that will certainly be of great use for people on the move is this Xiaomi dual-mode Bluetooth keyboard and we love it. You can connect the wireless keyboard to your desktop, smartphone or the iPad, the latter two of which can be placed in the soft-plastic cavity above the keys while typing. It's compatible with Mac, Windows, iOS, and Android, which is a great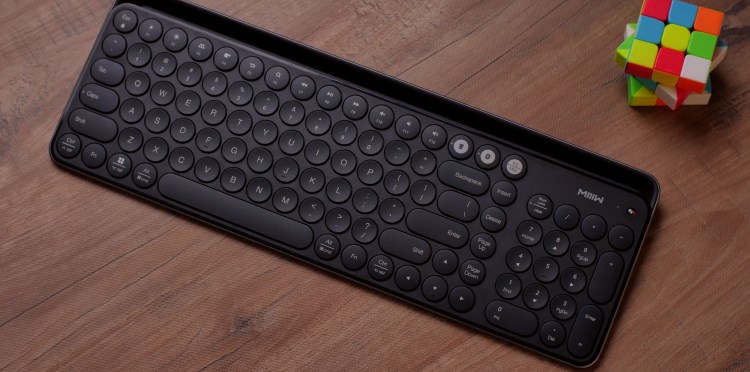 This keyboard looks quite attractive, with a complete set (104 keys) of circular keys that clearly add to the appeal and give it a premium look. We've carried it to a number of events, of recent, and there's certainly a charm in typing on a physical keyboard than the glass screen of our smartphone. It even comes with a tiny dongle if your older PC doesn't have Bluetooth baked into it, which is just a great gesture.
Buy from Gearbest: (Rs. 4600)
6. Xiaomi VH Wireless Charging Cup
This is one of those crazy yet exciting products that I recently came across and well, the name is enough to pique your curiosity. Well, Xiaomi's popular crowdfunding partner VH has come up with a genius concept (or weird, whatever you make of it) of utilizing the wireless charging pad we use to juice up our phones to warm things up in a cup and we love it.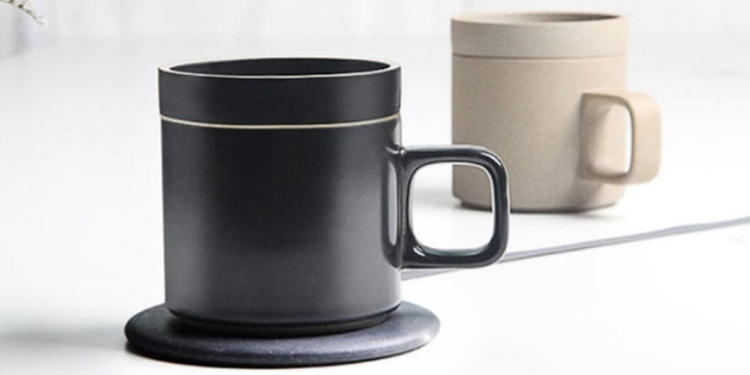 You get a ceramic cup along with the wireless charging pad in this kit, which can either be used to heat up water, milk or even soup on a cold winter night without having to step out from the comfort of your bed. It operates at 24W in insulation mode, heating the cup but smartphones are charged at up to 10W, so you won't find them exploding.
Buy from Gearbest: (Rs. 3158)
7. Xiaomi Sothing Cactus Mosquito Killer Light
We Indians are no stranger to mosquitos and use electrified badminton rackets to swat them down, however, Xiaomi's crowdfunding partner Sothing has come up with a more convenient way to kill mosquitos. Sothing Cactus mosquito killer light uses UV light to attract mosquitos close to itself and the rotating fan on here pulls them inside, storing them within a container that can later be emptied. Convenient, ain't it?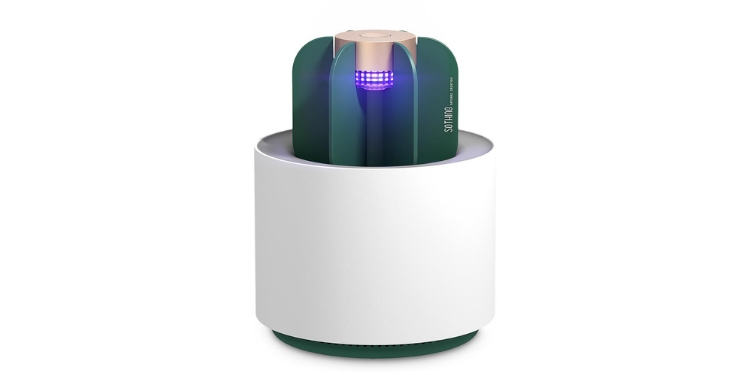 This is a cute and miniature product that you can safely place on your bedside table and forget about mosquito bites. It operates over microUSB and does not emit any smoke or odor that may be harmful to you.
Buy from Banggood: (Rs. 1240)
8. Xiaomi Giiker Smart Cube
If you've been meaning to learn how to solve a Rubik's cube or have given up thinking it isn't for you, well, you need to give this smart cube from Giiker a shot. It's an intelligent Rubik's cube with built-in 6-axis sensors and recognition algorithms, which can recognize each step of the cube in real-time – that too on all 6 sides automatically. This means you can see each turn and twist in the companion app the moment you do it.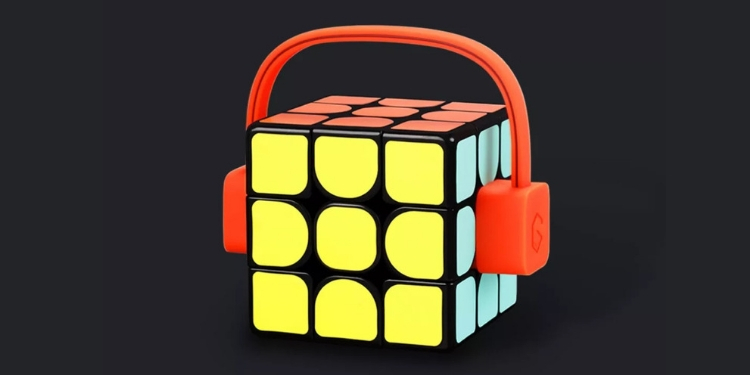 For beginners, the app has simple tutorials on learning how to solve the cube with steps shown in real-time, along with interesting games and an auto-timing mode where timer starts the moment you make the first spin. It's all done using the sensor baked into the cube.
Buy from Banggood (Rs 3628)
9. Xiaomi VH 2-in-1 Clip-on Table Fan
And we're back to talking about VH, which also makes fans. Yeah, fans. We already have one of their hand-held fans at the Beebom office and it's a handy product to beat India's scorching summer heat. However, if you are looking for more power and have a desk job, well, check out the 2-in-1 clip-on table fan that you can either place or clamp to a table.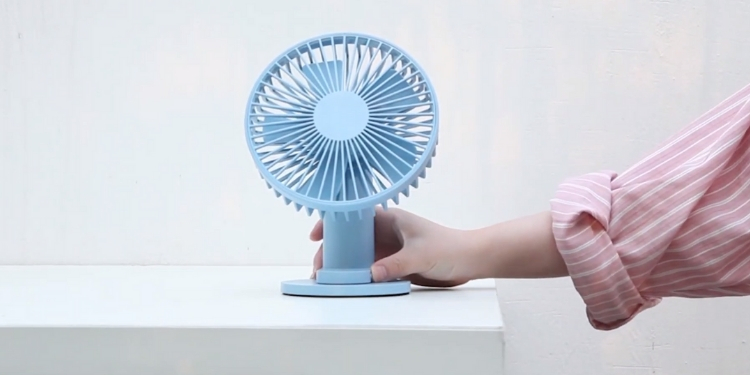 This fan boasts a five-blade design in a 6-inch cage for more powerful airflow, an invisible stand design that you can choose to open, and a rechargeable 2,000mAh battery for use outdoors. The fan's cage is adjustable, with a 90-degree free movement and offers you 3 fan speeds that you can switch between with the press of a button.
Buy from Banggood: (Rs. 1383)
10. NuSign Mini Desktop Vacuum Cleaner
We have all used vacuums at home to clean out carpets or furniture, but have you ever used a vacuum cleaner to make your desk clean and shiny? Well, Xiaomi's crowdfunding partner NuSign thinks it's a niche which users may be interested in and is selling a mini desktop vacuum cleaner. It weighs just 130 grams and occupies space less than an SSD resting on your desk.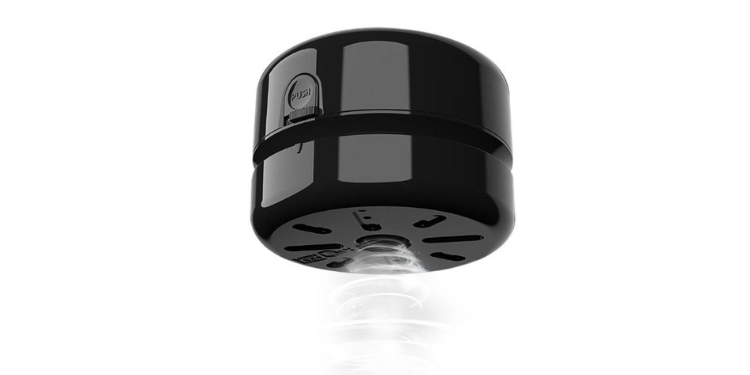 NuSign desktop vacuum cleaner uses a strong suction with a 360-degree ascending wind that pulls in air from the bottom along with dirt. There are also nylon brush heads at the bottom of the vacuum cleaner to get rid of liquid stains, which sure is great for such a tiny product. All the dust and particulate matter is collected inside the vacuum cleaner and needs to be cleared from time to time.
Buy from Gearbest: (Rs. 1292)
SEE ALSO: Tracing The Evolution of Xiaomi's MIUI as It Turns 8
10 Cool Xiaomi Gadgets You Didn't Know About
Well, Xiaomi's crowdfunding partners sure come up with some pretty crazy and innovative products that will be a great addition to your home. So, if you are a Xiaomi fanboy who's looking to add some new and useful gadgets to their collection, then you can take a pick from any of the aforementioned products. So, did any of these products catch your fancy? Let us know in the comments below.
---
Load More