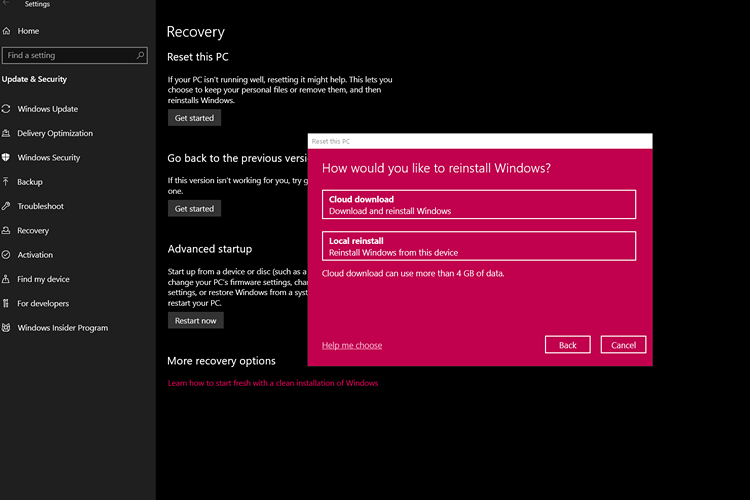 Microsoft is making it easier to get rid of all the old clutter in your PC. Starting with the latest Insider Preview versioned "Windows 10 20H1 test build No. 18970", the software giant is testing a "Cloud Download" feature that will essentially download the latest version of Windows 10 from the cloud in case you are facing random issues or you want to start fresh.
Previously, the "Reset this PC" feature had just the ability to perform a local reinstall where the operating system simply performs a reinstall from Windows files that are available in your PC. Microsoft thought now would be a good time to make use of your blazingly fast (I feel sorry if it is not) internet connection to make the process more seamless.
It is worth noting that this cloud reset feature will reinstall the same version of Windows 10 which you have in your device for which I have mixed feelings. "The cloud download option will reinstall the same build, version, and edition, that is currently installed on your device.", reads Windows blog. While I respect Microsoft's decision for not surprising users by providing new features after a PC reset, people are spending data to download it and I feel providing the latest version would have been nicer.
The blog post mentions that the feature is not working as of now if "specific optional features are installed". "The optional features are: EMS and SAC Toolset for Windows 10, IrDA infrared, Print Management Console, RAS Connection Manager Administration Kit (CMAK), RIP Listener, all RSAT tools, Simple Network Management Protocol (SNMP), Windows Fax and Scan, Windows Storage Management, Wireless Display, WMI SNMP Provider."
You probably don't have to worry about this since the version has just reached Insider builds and will take some more time to ship to the stable Windows 10 release.
Other incremental updates introduced with the latest Windows 10 insider build include new tablet experience for 2-in-1 convertible PCs and a redesigned Cortana experience.
---