Do you also get frustrated that every time you open the Snapchat app, the camera opens up as the default screen? Well, not anymore if you have a Snapchat Plus subscription. Snapchat+ users can now change their default home screen to any other tab, such as the chats tab or the spotlight tab. Not only this, but the Snapchat Plus premium subscription also allows you to change the app's icon, view who rewatched your story, and mark specific friends as BFFs. Keep reading to learn how to change Snapchat's default home screen tab.
Customize the Default Home Tab on Snapchat
While the Camera tab being the default home tab is indeed useful, as you can directly capture a snap and share it with your friends, several users use the Snapchat app only to talk with friends or consume content. Hence, the camera tab being the default home screen is useless to them.
To combat this issue, Snapchat has finally added the ability to change the home screen tab for Snapchat Plus users. Here's how it works:
Open the Snapchat app and tap your Bitmoji (or profile) icon at the top left.
Here, tap the Snapchat+ option available under the Snapscore tab.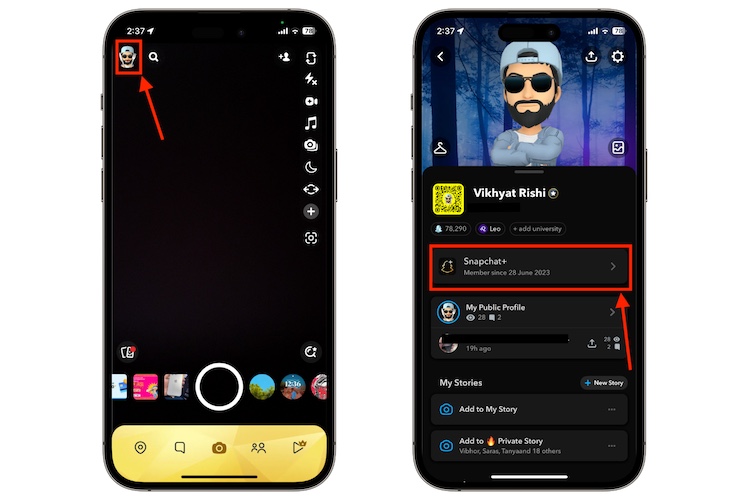 Now, tap the Home tab option under Snapchat+ settings.
Here, choose the tab you wish to set as the new home tab for Snapchat. In our case, we selected the Spotlight tab.
Now, every time we open the Snapchat app on our phone, the Spotlight tab will open first instead of the Snapchat camera tab. Also, check out other impressive features offered in the Snapchat+ subscription to know everything you need to learn about Snapchat Plus.
---
Load More