It can be quite annoying when someone is constantly calling you and you don't want to answer the call. Fortunately, you can always block a number on your android phone using third-party apps. You will not receive any calls or text messages from the blocked number. Although, some high-end Android phones do offer this feature built-in, but still many don't. So, our best bet is to use a third-party app that works on all android smartphones.
Furthermore, many call blocking apps will offer extra features, like filters, notifications and schedules to make it even easier to block calls. These apps are especially handy for blocking calls from specific numbers, like telemarketers who keep calling you to sell some insurance service. We have created this list of best call blocking apps for android. You can get rid of any type of annoying callers using the below mentioned apps. Just make your pick and start living a life without any annoying phone interruptions.
Best Call Blocking Apps For Android
1. Safest Call Blocker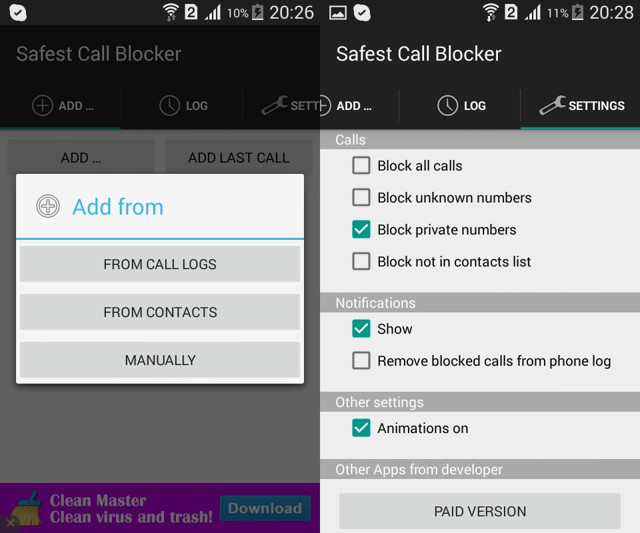 Safest Call Blocker is an ad supported call blocker that comes with a premium version that removes those ads. The app keeps things quick and simple, you won't have to dig deep into settings to block calls. You can easily add numbers to block list from your contacts list or call logs.
There is also an option to block the last call. So if you received an annoying call, you won't have to specifically search your call logs or enter the number manually, just tap the button and it will be added. You will also receive notifications of blocked calls inside the app to keep track of who called at what time.
The blocked calls will not ring and you can just check who called from apps history logs when you feel comfortable.
2. Mr. Number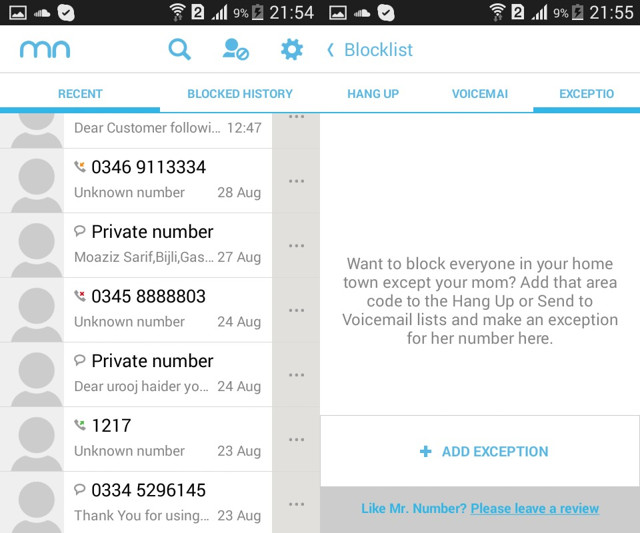 Mr. Number is a free call blocker app that will offer 20 free caller look ups, after that you will have to pay for caller look ups. Mr. Number is created to automatically block spam messages without any need of blacklisting numbers.
It can scan your call logs to identify spam numbers and block them (up to 20 number for free). You can also mark numbers as spam to help other Mr. Number users and the same way you take advantage of this spam blocking feature.
3. Calls Blacklist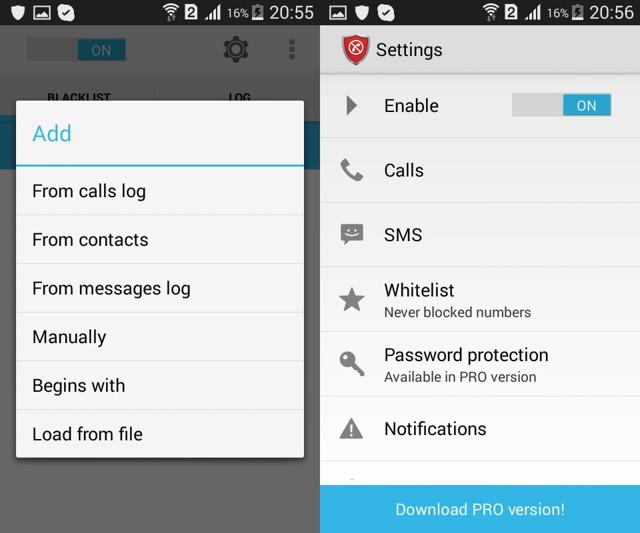 Calls Blacklist is a call and SMS blocker, it will block calls and SMS both from the unwanted number. However, for SMS you will have to make Calls Blacklist default SMS app if you are running Android 4.4 and above, which might not be comfortable. If you only want to use the call blocking feature, you can just decline the offer to make it the default texting app and just use the call blocking feature.
The app will let you block calls from contacts, call logs and messages log. You can also specify specific starting digits to block calls for specific numbers, like telemarketers. You can also export your created blacklist to a file to keep it with you and load it to the app in another phone.
If you are afraid that provided filters may accidently block an important number, then you can also add those numbers to whitelist to never block them in any situation.
4. Call Blocker FREE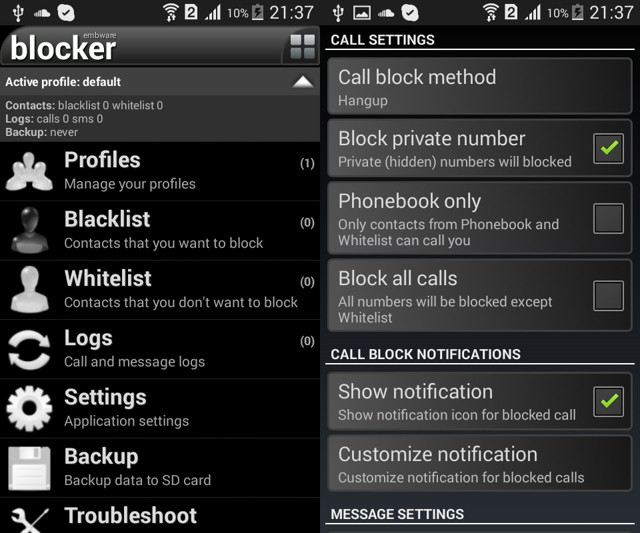 Call Blocker FREE is a completely free app with no ads at all. It is a full featured app that will let you block both SMS, MMS and calls (SMS, MMS is not available for Android 4.4 and above). You can specify numbers to block from your contacts, call logs and message logs. It also has different call block method, you can hang up, answer hang up, silent the call and Airplane mode.
The numbers you can block include, private numbers, unknown numbers and specified numbers. You will also receive a notification (optional) for the blocked calls. All data can be backed up on your SD card.
5. Call Blocker Free – Blacklist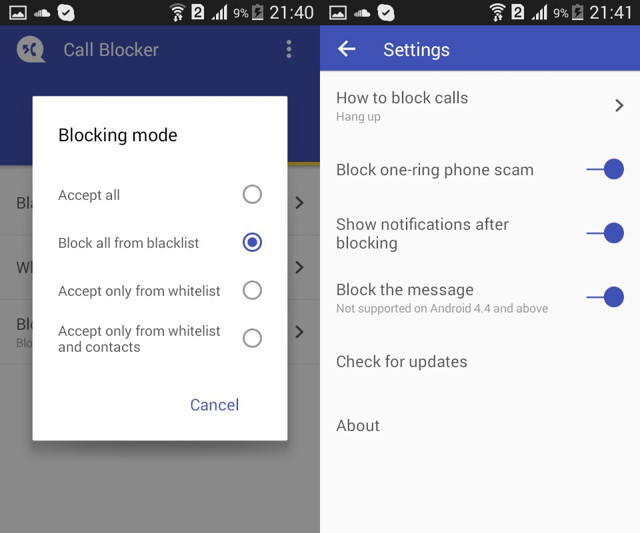 Don't get confused by the name, Call Blocker Free is a completely different app. The app doesn't offer many features, but it is extremely light and simple to use with low pressure on the phone's battery. You can create both blacklist and whitelist to block calls.
It also offers different methods to block the call, including hang up, mute, and hang up and send messages. The app will notify you about all the calls blocked and you can see the blocked calls log to keep track of which numbers got blocked.
It is completely free to use without any premium subscriptions. It also doesn't offer any annoying ads, but it does have section where you can see more apps by the developer.
6. Blacklist Plus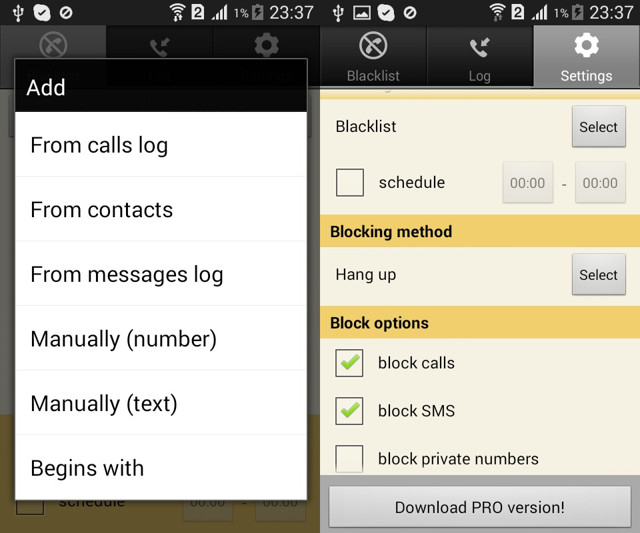 Blacklist Plus is a simple to use app with some interesting features. It doesn't offer many ways to block numbers, but it does offer different ways to manage blocked numbers. You can schedule specific timing to only block numbers during that time.
There are different ways to block calls as well, you can either mute the call or hang it up. If you are willing to buy pro version, then you can also add password protection to keep your logs and lists private.
7. Master Call Blocker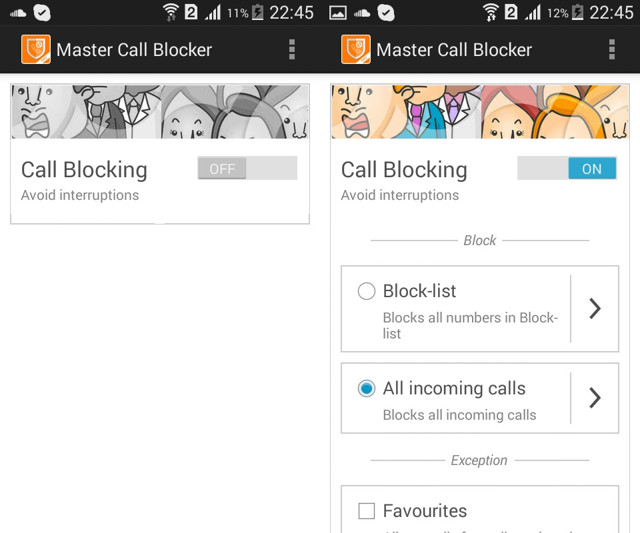 Master Call is another light and free app without any kind of ads. It doesn't offer too many features, but it is very light and simple to use. You can easily create blocklist to specify numbers to block or create a whitelist to block all callers and allow specific callers.
It also comes with a enable/disable button, to easily enable or disable the app. This is handy if you want some blacklist callers to call for a specific time or disable it to save battery usage. You can also schedule block callers, if you like.
8. Truecaller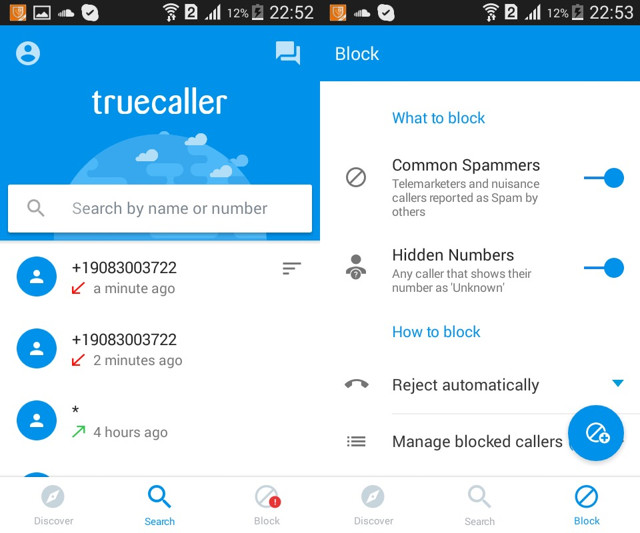 Truecaller is basically a service to identify unknown callers, so you won't have to identify by asking. Truecaller has a huge database of callers and their names, and they use this data to identify the person who is calling you. So it will only identify numbers already in the database.
They use this database for blocking calls as well, they will stop all types of spam messages and telemarketers using their spam blocking system. You can also manually create blacklists and whitelists to block or allow callers.
Furthermore, you can also search for numbers manually to see who it belongs to. However, you will have to register your number to use the service.
9. Avast Mobile Security & Antivirus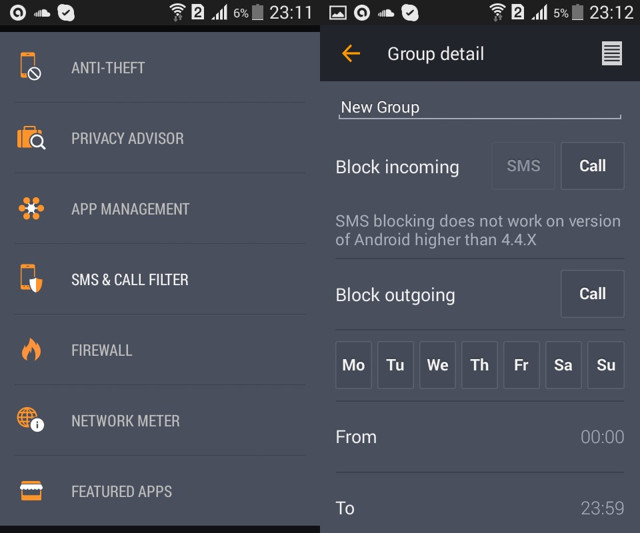 Avast the renowned Antivirus program also offers SMS and Call block feature in its mobile app. Although, Avast offers a premium version with more security, but you don't have to buy it as the call block feature is available in the free version as well.
The call block feature isn't that much feature rich, all you can do is create a manual blacklist to block calls. This options is only good, if you are already using Avast mobile security, then you won't have to download another app. Furthermore, it also comes from a trusted developer, if you have trust issues, then you can use this app to block calls.
SEE ALSO: How To Block Texts / SMS on Android
Hope this article helps you find the best app for blocking unwanted calls. If you know any other good call blocking apps for android, do share in comments section.