At times, it feels nice to go offbeat, especially when the usual stuff begins to look dull. By giving an altogether new appearance, it kind of spruces up the whole affair. Having just explored a variety of cute cases, clear cases, and leather cases, I thought it's about time I line up the best iPhone 12/12 Pro wooden cases as well. Aside from making a form-fitting match with the iPhone, they are also fully equipped to offer a 360° shield thanks to the durable wooden construction. If you are in the market for vintage wooden cases, look no further than these neatly crafted wooden cases for iPhone 12 and 12 Pro.
Best Wooden Cases for iPhone 12 and 12 Pro (2020)
Personally, I am fond of wooden cases with an engraved pattern as they appeal to my taste no end. Besides, I also love to try out wooden suits with a precision finish coupled with rubberized sides that provide an anti-slip hold.
As to which one you should choose for your iPhone, it entirely depends on your choice and what goes along nicely with your device. From a sleek wooden case to a protective wooden case with a bumper design to a rugged wooden cover with a shockproof cushion, I have lined up a variety of iPhone 12 Pro/12 Pro wooden cases. Hopefully, you may find them worth trying out!
1. Native Union Clic
Whether it's crafting top-notch rugged leather cases for iPhones or carving out vintage-looking wooden cases, Native Union excels like very few accessory makers. So, if you don't want to settle with anything less than a premium wooden case for your iPhone 12/12 Pro, Native Union Clic could be worth checking out.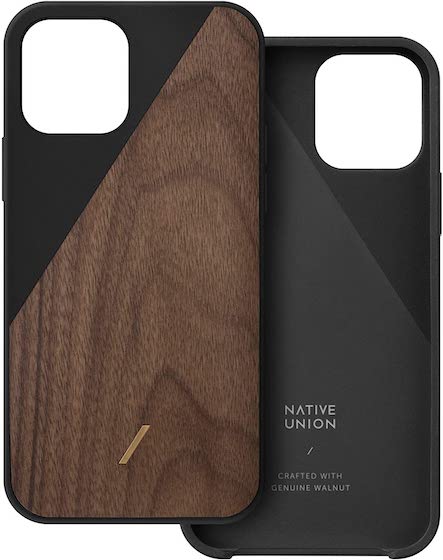 Carved out of American walnut wood and oak wood, Native Union Clic has got a slim yet highly protective design. Couple that with a neat finish and the wooden case promises to be a deserving accessory for the iPhone. That's not all, the wood cover also supports wireless charging to let you power up your iPhone without any problem.
Buy from Amazon: $39.99
2. iATO
Sporting a classy book design, iATO has ticked off all the boxes to be a notable companion of your iPhone. Made of real wood and hard PC, the case is also equally good in terms of resisting shock and fighting out scratches. Thanks to the smooth finish, the wooden case also provides a secure grip to prevent accidental slip-offs.
As for the cutouts, iATO wooden case allows hassle-free access to ports and the camera. And with the tactile buttons, it also allows you to use volume rockers or side buttons without any pain. What's more, the wooden case also allows wireless charging so that you can power up your iPhone 12 or 12 Pro without having to take off the cover.
Buy from Amazon: $29.95
3. JUBECO
Exhibiting a slim yet protective design, JUBECO doesn't take too long to hold your attention. Aside from the slim design, what has caught my eyes in this wooden case is the rubberized bumper that provides an anti-slip grip. As a result, your iPhone will feel comfortable sitting in your hands.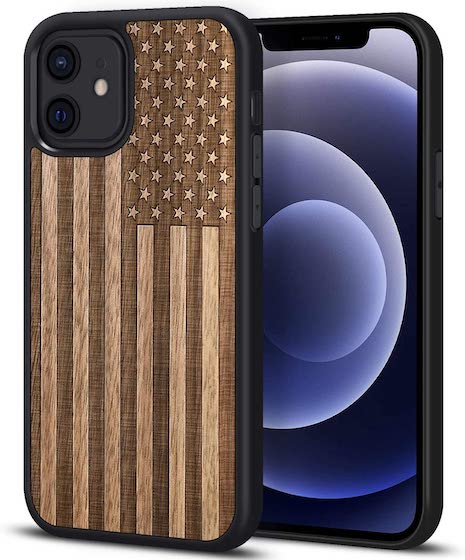 To offer an additional layer of protection, the wooden case has got elevated edges on either side. So, it will lift the 6.1″ OLED display and camera bump off a flat surface to ward off scratches.
Plus, it also doesn't come in the way of wireless charging to ensure charging the iPhone wirelessly remains easy-going. Overall, JUBECO is fully equipped to be rated as one of the best iPhone 12/12 Pro wooden cases in the market right now.
Buy from Amazon: $19.80
4. Loam & Lore
Made of bamboo wood, Loam & Lore wooden case features a compact design that fits around the edges of the iPhone. Thanks to the real wood construction, the case is no pushover when it comes to enduring impact. Add to that the elevated edges and you can count on this slim wooden case to offer a 360° safeguard to your iPhone.
Protection aside, the Loam & Lore wooden case has precise cutouts to make it easier for you to access ports. Besides, it also offers an anti-slip hold so that your device can fit comfortably in your palm. As for the pronounced buttons, I have found them pretty tactile that offer a responsive feedback.
Buy from Amazon: $23.95
5. TENDLIN
If you are looking for a relatively cheap yet equally good wooden case for your iPhone 12, this offering from TENDLIN could be worth giving serious consideration. Unlike other cases in this roundup, it's made of three different materials such as PU leather, TPU, and wood veneer.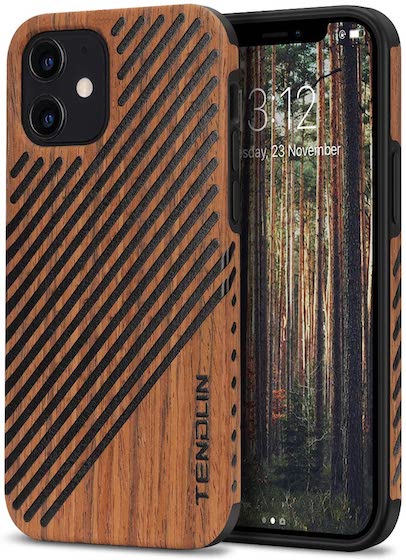 Despite the integration of three materials, it has a slim design that fits snuggly and also provides a better hold. With the presence of wood grain and PU leather on the back and the impact-resistant TPU interior, it has a durable construction that can survive accidental drops.
Additionally, the case also sports raised lips to prevent scuffs from damaging the OLED display and the big camera bump on the back. In a nutshell, TENDLIN can easily stake the claim of being one of the top iPhone 12/12 Pro wooden covers due largely to the slim yet impact-resistant casing.
Buy from Amazon: $12.99-$13.99
6. YFWOOD
Yet another wooden case that packs a solid punch way above its weight is YFWOOD. Boasting a hybrid construction, the case is touted to be shockproof. While the real wood strengthens the casing, the rubberized interior made of TPU plays a key role in absorbing shock.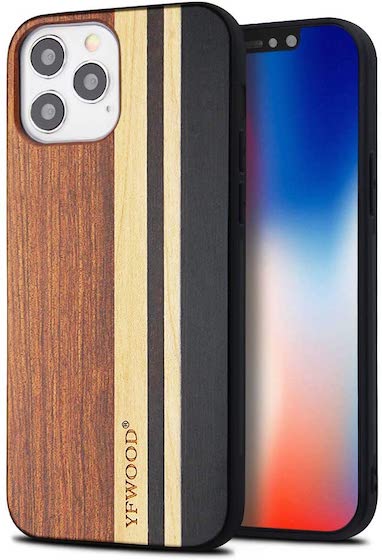 Plus, the beveled edges add an extra layer of defense to help the case ward off scratches. Courtesy of the TPU frame, the case features responsive buttons so that you can deal with volume rockers and side button with ease. Moreover, you can also bank on it to work with wireless chargers and allow painless access to ports.
Buy from Amazon: $13.99
7. B Belk
It's the eye-catch sleek design that has compelled me to pick B Belk. The blend of real wood and TPU material has given it a durable yet incredibly slim form-factor. So, you can expect this wooden case to keep the style of your iPhone 12 intact without jeopardizing the protection from drops and scratches.
To ensure the OLED display and the camera bump don't come face to face with scratches, it also features protective lips on either side. Beyond protection, B Belk has a smooth exterior that graces the palm with a secure hold. And at $11 (almost), it's undoubtedly one of the cheapest wooden cases for iPhone 12/12 Pro.
Buy from Amazon: $10.88
8. CYD
If you are fond of a wooden case with an engraved design, I bet CYD wooden case would win you over at the very first glance. The case is made of real wood and features different patterns like a dream catcher, life tree, sugar skull cross, and more.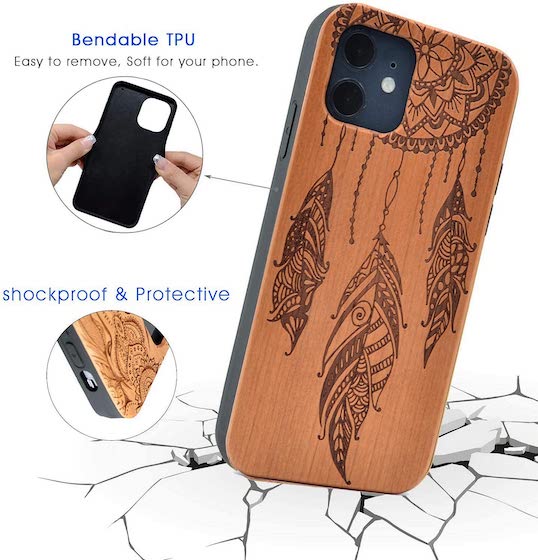 With the inclusion of a shock-absorbing interior, it has got the essential cushion to resist impact. The company claims that it can endure up to 8 feet drops, which is more than handy to keep your smartphone safeguarded.
Drop protection aside, it also has smooth wood textures to stop unwanted slip-offs. Considering these notable features, CYD wooden case seems to be a reasonably good buy at $13.
Buy from Amazon: $12.99
Top Wooden Cases for iPhone 12 and 12 Pro Lined Up for You
So, that ends this roundup about the wooden covers designed for iPhone 12/12 Pro. Carved out of genuine wood, they are fully equipped to be a long-lasting accessory to your smartphone. Oh yes, they can also live up to the mark in terms of style and protection.
Now that you have taken a peek at my lineup, let us know the wooden case that is more likely to pair with your iPhone. I guess it's the one that has got a premium look with an engraved pattern.