In today's digitally connected world, Computers and the Internet have essentially become a part and parcel of our daily lives. However, these advances have also led to the rise of numerous threats to our digital security and online data, such as viruses and spyware.
Now, it's easy to safeguard data against viruses, given the wide variety of antivirus software available out there for the same. However, when it comes to protecting against spyware, which are special malicious programs designed to spy on, and steal personal user data and confidential information, you need something a bit specific.
And guess what? That's exactly what this article is meant to help you with. Psyched? Let's take an in-depth look at 5 best spyware removal software.
Best Spyware Removal Tools
1. Spybot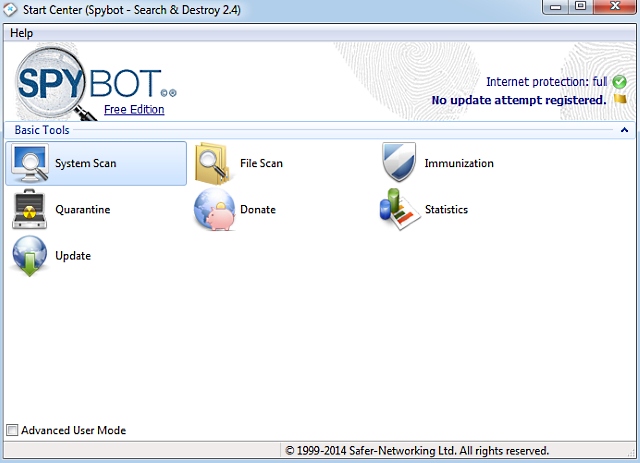 Probably the most well known name in the world of anti-spyware applications, Spybot is a powerhouse application, loaded to the brim with useful features.
Sporting robust live protection (only in paid versions), Spybot is divided into a bunch of sub-tools. These tools let you scan either some specific files, or your entire computer for possible spyware intrusions, and get rid of them, if the same are found. Apart from that, it also includes an immunization feature, which pro-actively secures web-browsing by monitoring websites in real-time and blocking access to malicious websites. Not only that, Spybot can also fix root-kits. There are also other advanced features, which can be used to manage startup programs, securely shred files, even create bootable CDs, and do a lot more.
So if you're looking for the absolute best spyware removal application out there, and don't mind shelling out a few bucks for it, go for Spybot.
Platform Availability: Windows 10, 8, 7, Vista, and XP.
Price: Paid (annual) licenses start from $13.99, Free version with reduced functionality also available.
2. SuperAntiSpyware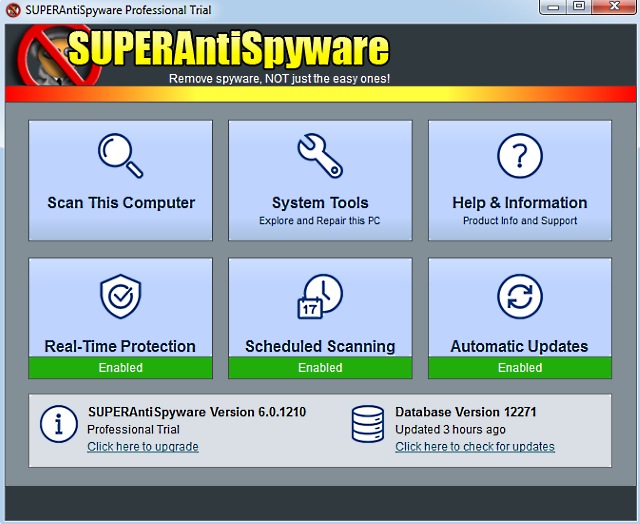 Although its cheesy sounding name might lead you into believing otherwise, SuperAntiSpyware is an extremely potent spyware removal software, with quite a bunch of features.
Sporting a functional and easy to use UI, SuperAntiSpyware can not only detect and remove spyware, but also trojans, root-kits, worms, and even key-loggers and other potentially harmful applications. The real-time protection blocks any and all kinds of bad programs from installing from the start. There are multiple scanning schemes, and you can either scan specific files, or the entire computer for spyware intrusions. SuperAntiSpyware's other functionalities include configurable e-mail alerts for specific actions, scheduled scans, compatibility with other antivirus products, and stuff like that.
In essence, SuperAntiSpyware is almost comparable to Spybot when it comes to features, and both programs offer a healthy set of extras. But SuperAntiSpyware is a bit more complicated, and its paid licenses' starting cost is more as well.
Platform Availability: Windows 10, 8, 7, Vista, and XP.
Price: Paid (annual) licenses start from $29.95, Free version with reduced functionality also available.
3. Malwarebytes Anti-Malware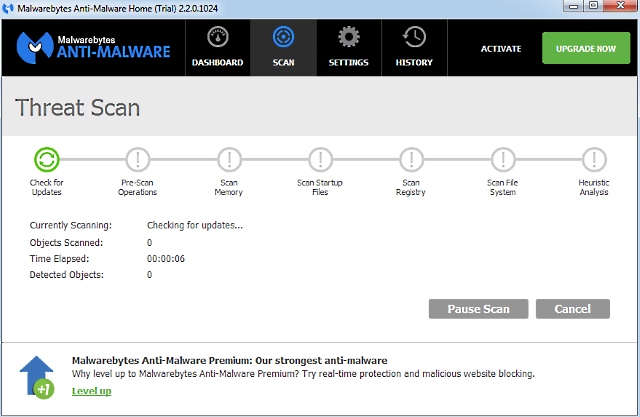 If you're looking for a comprehensive anti-spyware program that's still simple enough to use, Malwarebytes Anti-Malware is just what you need.
Quite a popular spyware removal application, Malwarebytes Anti Malware does a rock solid job of not only securing your computer against spyware, but also at removing adware and other rogue software from it. There are multiple scan types, including a quick hyper scan, and a more comprehensive threat scan. You can exclude certain files and folders, as well as some trusted websites from being scanned, and schedule multiple automated scans as well. You can even configure different policies to specify how different users can use and interact with the application.
To sum it up, Malwarebytes Anti Malware is pretty great for securing your computer spyware (and general malware). However, one of the its most important advantages is that it's also available for the Mac OS, unlike competitors like Spybot, which are Windows specific only.
Platform Availability: Windows 10, 8, 7, Vista, and XP; Mac OS X 10.7 and later.
Price: Paid (annual) licenses start from 24.95, Free version with reduced functionality also available.
4. AdwCleaner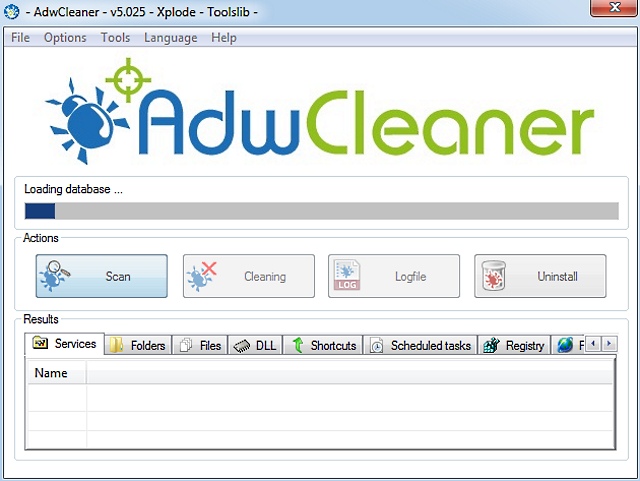 The above mentioned anti-spyware applications are no doubt all great, but almost all of them have a whole bunch of varied features packed into them. While this isn't a bad thing, there might be users who are looking for something simpler.
If that includes you, take a look at AdwCleaner, as it just might be what you need. Toting a fairly basic single window UI, AdwCleaner is a breeze to use. Basically, it scans just about everything in your computer, ranging from files and services, to DLLs and registry entries for any potential spyware intrusions, and logs the results in individually categorized lists. If anything harmful spyware are found, you can simply select them and use the Cleaning button to have AdwCleaner delete them in a jiffy. Other than that, AdwCleaner can also reset essential system settings such as TCP/IP & Firewall settings, as well as generate detailed logs.
AdwCleaner is freeware, and is thus perfect for those who don't want to spend money on commercial spyware removal applications. However, it doesn't have any real-time protection, scheduled scanning, or any other advanced features like that.
Platform Functionality: Windows 10, 8, 7, Vista, and XP.
Price: Free.
5. RKill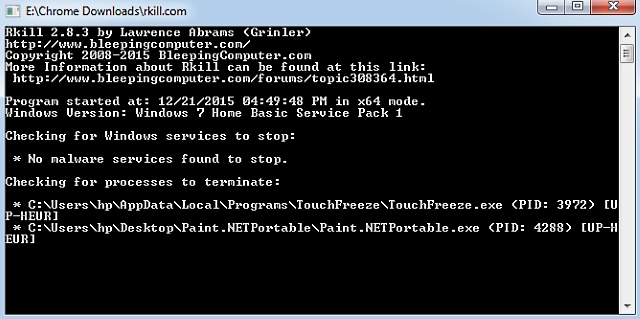 On the lookout for the absolute basic and easy to use anti-spyware tool? Things can't get any better than RKill.
Developed by the folks at the popular technical support website BleepingComputer, RKill is a ridiculously lightweight portable application, that scans your computer for any traces of running spyware (and other general malware) programs, and automatically terminates them. However, it's important to note here that RKill only "kills" the running spyware processes, it can't delete them. Essentially, RKill is designed to be used in conjunction with other anti-malware programs, which can be subsequently used to delete the killed spyware/malware processes.
RKill runs in the DOS environment, and immediately starts scanning the system for malware intrusions. Once it's done scanning, RKill outputs the results on the screen, as well logs them to a text file on the Desktop. As part of its basic functioning, RKill can reset corrupted file and registry associations to their defaults.
Basically, if all you want is a simple program that can help terminate the erring spyware programs so that the more powerful antivirus application do its job, go for RKill.
Platform Availability: Windows 10, 8, 7, Vista, and XP.
Price: Free
SEE ALSO: 10 Best Malware Removal Tools For Windows
All set to kick those spyware programs out of your computer?
Spyware applications are undoubtedly one of the most dangerous types of malware, as they steal personal and confidential user information and use it to cause further loss to the user's important data. However, using one of the great spyware removal tools discussed above, you can easily safeguard your PC (and the data on it) against any and all kinds of spyware. Looking for the absolute best and powerful spyware removal applications? Check out SuperAntiSpyware and Spybot. Don't wanna spend any money and would rather settle for basic freeware spyware removal tools? RKill and AdwCleaner will serve you fine. Try them out, and see how they work out for you. Know of any other applications worthy of being included in the list above? Do mention in the comments below.