The soft-textured finish coupled with the unmatched elegance that comes with skins is here to stay. While skins may not offer the full-on protection from drops like protective bumper cases or the shock-absorbing wooden covers or the vintage leather suits, nothing can beat their ultra-sleek design that hardly adds any bulk (or should I say zero bulk) to the smartphone. And when you add the luxury to design your own skins using a variety of textures, they make a strong case. If you prefer skins over cases, here are the 10 best skins and wraps for iPhone 12 Pro you can buy in 2021.
Best iPhone 12 Pro Skins and Wraps to Buy in 2021
When it comes to skins, I prefer to have a wide variety of textures so that I can get full freedom to mix and match. And guess what, accessory makers have left no stone unturned to live up to specific taste. From leather to stone to wooden to marble, you have plenty of textures to choose from. On top of all, you can also get the skin for the triple-camera, frame, and even the MagSafe charger, should you wish to go for full-on customization.
1. Slick Wraps Marble Series
If you have set your sight on the premium iPhone 12 skins, Slick Wraps Marble Series is for you. Made of top-grade 3M vinyl, the skin features a marble pattern that gives it a stunning look. Due mainly to the textured finish, the wrap feels comfy to the touch while also offering a better grip. The company claims that the skin offers bubble-free installation and goo-free removal.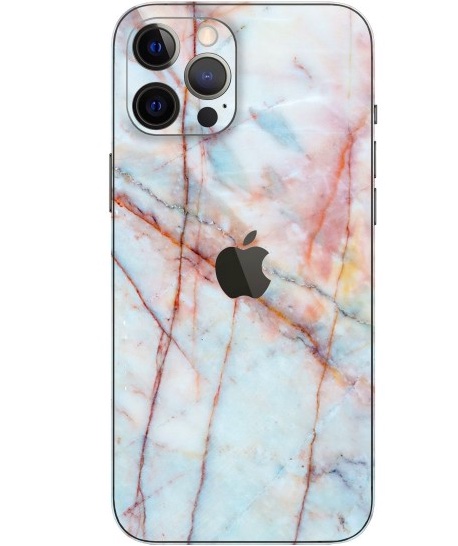 On the protection front, Slick Wraps Marble Series can live up to the expectation. Though the wrap can't deliver much when it comes to enduring impact, it can fight out scuffs with ease. Despite being priced comparatively at the higher-end, the Marble Series seems worth a serious look.
Buy from Slick Wraps: $24.12
2. dbrand Signature Skin
dbrand Signature skins have always been top-notch. So, there is no question of missing out on them. The high-quality 3M vinyl gives it a premium look and feel, while the smooth finish offers a much-improved grip. Besides, precise cutouts play a key role in helping it get perfectly wrapped on the back of the iPhone 12 Pro.
dbrand Signature skins come in a wide range of materials and textures such as metal, wood, matte, leather, carbon fiber, and more. Hence, you have the complete freedom to design your own iPhone 12 Pro skin wrap. Notably, the company also provides skins for the camera, frame, and MagSafe charger. Putting everything into the right perspective, dbrand iPhone 12 Pro skins are one of the best iPhone 12 Pro accessories.
Buy from dbrand: $12.95
3. MightySkins Americana Collection
If you are fond of designer skins, MightySkins Americana Collection is for you. These skins are beautifully crafted with 3M vinyl and sport precise finish and neat cutouts. Courtesy of the eye-catching patterns, they don't take much time to win the eyeballs.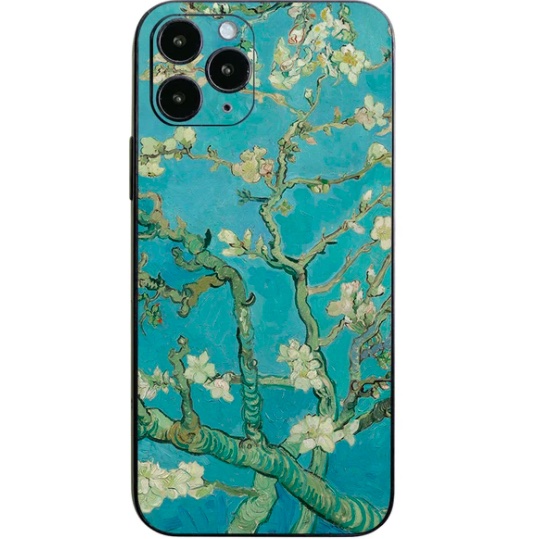 Design aside, MightySkins Americana Collection is equally good when it comes to resisting scuffs. Not just that, you can also rely on these skin wraps to endure low-volume dings. On top of all, the wraps don't lose their shine and come at $9 which makes them one of the cheapest iPhone 12 Pro skins in the market.
Buy from MightySkins: $8.99
4. Slick Wraps Honeycomb Series
Whether you want to amp the style quotient or wish to have an enhanced grip to ward off accidental slip-offs, Slick Wraps Honeycomb Series could be an automatic choice. The high-grade 3M vinyl strengthens the durability while also offering the textured surface that your palm will always feel.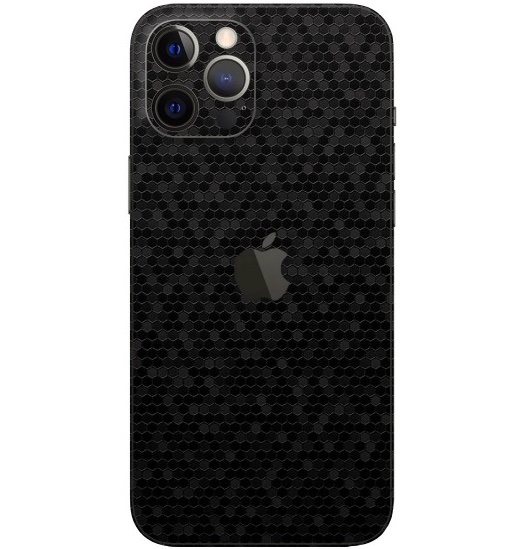 Honeycomb Series iPhone 12 Pro skin wraps are completely bubble-free and also provide goo-free removal. So, you can trust the wrap to not harm the design of your iPhone when it is removed. That aside, the iPhone 12 Pro skin template can also put scuffs at a fair distance to safeguard your device against unwanted damage.
Buy from Slick Wraps: $24.12
5. Gadget Shieldz Skins
If you are looking for high-quality iPhone 12 Pro skins and wraps at a relatively low price point in India, I would recommend you to try out Gadget Shieldz's offerings. These 3M vinyl skins have been crafted with precision and make for a befitting match with the smartphone.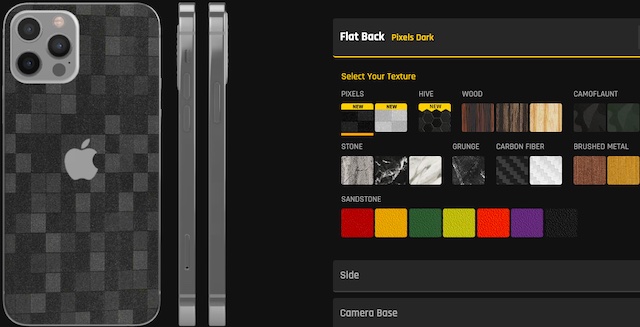 The high-quality vinyl also provides the skins the needed grip so that the 6.1″ iPhone will feel boxier in the hands. Grip aside, Gadget Shieldz wraps can also take on scratches and put away the minor impact of drops. That's not all, the company offers a ton of textures like wood, matrix, stone, carbon fiber, leather, and more. Be sure to check out the camouflaunt and sandstone if you have style on top of your mind.
Buy from Gadget Shieldz: Rs. 499 (almost $7)
6. Slick Wraps Leather Series
Slick Wraps Leather Series is for the folks who prefer skins with leather texture. If you are one of them, this one deserves a close look. The wrap is made of premium vinyl that ensures both durability and the desired textured finish.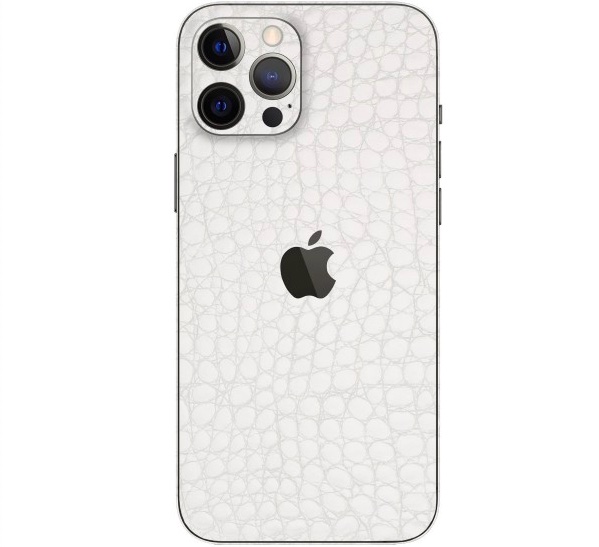 Probably the best part about Leather Series wraps is the ability to let the Apple logo shine through. Just in case you like to flaunt the iconic logo, you would appreciate this notable design. Talking about protection, it won't disappoint you in terms of thwarting scuffs.
Buy from Slick Wraps: $24.12
7. MightySkins Camo Collection
Showcasing funky design, MightySkins Camo Collection sort of compelled me to include it in this roundup. Being available in more than 15 designs with different patterns, it seems to be a ready-made choice for your fashionable outing.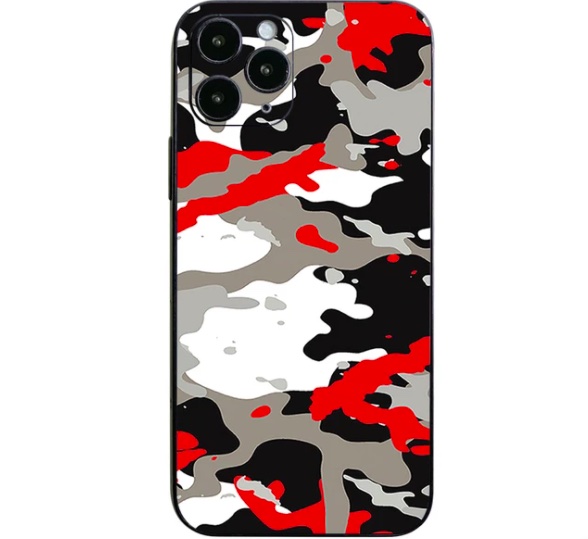 3M vinyl material promises durability, while carbon fiber finish makes sure you get a secure hold. You can attach it with ease and also peel it off cleanly as it doesn't leave behind any sticky residue. Even better, Camo Collection also doesn't fade away when faced with a real-life test, which is a big plus from a durability perspective.
Buy from MightySkins: $8.99
8. SopiGuard
SopiGuard skin is fully equipped to be a long-term companion of the iPhone 12 Pro. Among several impressive qualities, I would like to point three notable ones that make it a worthy contender. First and foremost, it is carved out of high-grade vinyl that can resist dust and fingerprints.
Second, the wrap provides heat dissipation to keep the iPhone 12 Pro cool even after hours of play. And third, it supports wireless charging to let you charge your device wirelessly without any trouble. Considering these features, SopiGuard seems to be a reasonable choice at $9.
Buy from Amazon: $8.99
9. Capes
Capes' lineup of iPhone 12 skins and wraps have looked one of the best to me. They are made of premium 3M vinyl and feature grippy 3D texture to prevent slip-offs. At 0.22mm thickness, the wraps are pretty thin. However, they are equally good in terms of safeguarding the devices against scratches.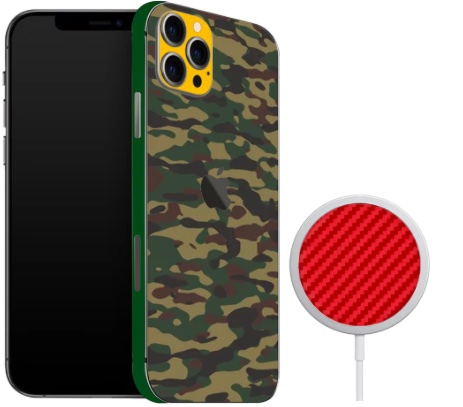 Capes skins are touted to have unmatched precision. Without getting into the debate, I would like to state that the cutouts for speaker holes and microphones appear to be on point. That's not all, the company also offers skins for MagSafe charger, camera, frame, and lens. Overall, these are undoubtedly some of the best iPhone 12 skins in India
Buy from Capes: Rs. 400 (almost $7)
10. MightySkins Classic Artwork Collection
Well, I have specifically chosen this skin for those who admire the classy design. If you are one of them, you would like to try it out. MightySkins Classic Artwork Collection is also made of 3M vinyl and comes in several color variants with different patterns. So, you have plenty of options to find a more suitable wrap for your iPhone 12 Pro.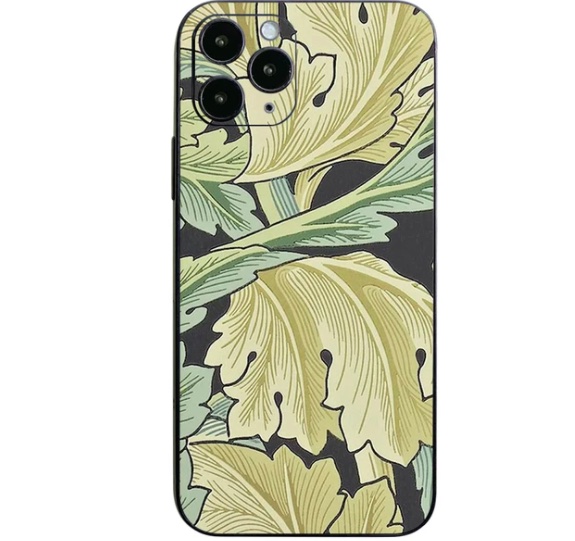 Just like other MightySkins' offerings, Classic Artwork Collection also features a carbon fiber design and attaches to the device securely. Furthermore, it also doesn't harm the design of the smartphone with sticky residue. And you can count on the design to not fade away easily.
Buy from MightySkins: $8.99
Frequently Asked Questions
Can I apply the skin at home?
Most high-quality skins are designed to be bubble-free. Thus, you can easily apply them at home.
Are all skins DIY?
No. Though not all skins are DIY, there are quite a few accessory makers that offer you the option to design your own skins.
Is it easy to remove after using the skins for a while?
Yes. Most top-grade skins offer goo-free removal. Thus, you can peel them off cleanly.
Will my phone become slippery after using a skin on it?
Material has a big role to play in making skin feel grippy. That's why most accessory makers use 3M vinyl and add a smooth texture on top to offer a much-improved grip.
Why people use skins on their phones?
Folks love skins because they offer comparatively more customization and also retain the elegance of the smartphone. Elegance aside, skins are also quite good in terms of resisting scratches.
How to apply leather skin on a phone?
Applying leather skin on a phone is just as straightforward. All you have to do is just peel the skin and then gently apply it from the bottom, making sure the cutouts are perfectly in line. After that, you can use a hairdryer on corners to improve fitting.
Do skins protect against drops and bumps?
No. You shouldn't trust skins to keep your phone protected from drops.
Top iPhone 12 Pro Skins and Wraps You Can Try
There you go! So, that ends this roundup of the best iPhone 12 skin wraps. Since most accessory makers offer a ton of textures and color variants with attractive patterns, I guess it was a bit easy for you to find the right wrap. As each one of us has a different preference, I would glad to know your selected skin and the qualities that you like to see in your favorites in the comments.
---
Load More