There's no denying that the recently announced Samsung Galaxy S8 and S8+ are the best phones released this year, and will quite possibly remain so. The S8 and S8+ feature a Snapdragon 835, 4 GB of RAM (a bit on the lower side, to be honest), and 64 GB ROM. They also packs in a ginormous (yet exceedingly beautiful) 5.8″ and 6.2″ Super AMOLED display which looks simply beautiful. However, as powerful as the device is, it's functionality can be augmented with the use of accessories that augment its features, and functionality of the Galaxy S8. So, if you're interested in getting even more things done with the Galaxy S8, here are the 15 best Samsung Galaxy S8 and S8+ accessories you can buy:
1. Samsung DeX for Galaxy S8 and S8+
Samsung DeX is basically a dock for the Galaxy S8 that will let you convert your smartphone into a competent desktop computer for light work apps and stuff. It's a lot like Windows' Continuum, except it runs Android (with Samsung's UI on top). The DeX dock features a fan to cool your phone, along with ports for Ethernet, 2x USB 2.0, HDMI, and a USB-C port as well. So, you can charge your phone while using it as a desktop computer on the go. It is only compatible with the Samsung Galaxy S8, and S8+ devices.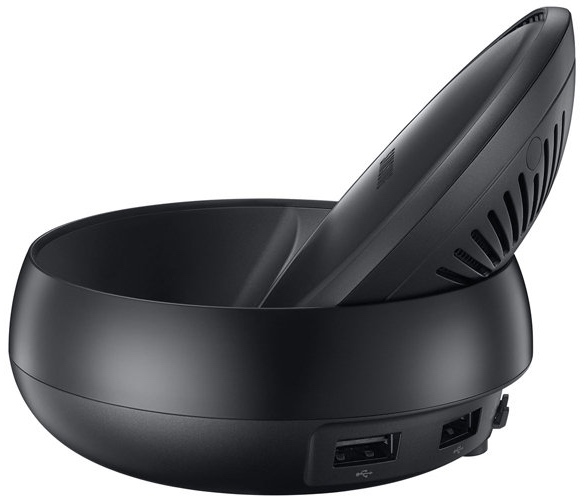 Buy from Samsung: ($149.99)
2. Gear 360 (2017)
Samsung also announced a refresh of their 360 camera, the Gear 360 at the Galaxy S8 launch event. The new 360 camera can shoot videos in 4K (at 30fps), live stream them using the Samsung Galaxy S8 or S8+, and more. Videos shot with the Gear 360 get recorded in the microSD card, which can be up to 256 GB, and the battery life of the new camera is claimed to be up to 130 minutes. The Gear app also features 5 different viewing modes for shots taken from the Gear 360, including a 360 view, a stretched view, a round view, dual view, and a panoramic view. The Gear 360 is definitely the kind of camera you can use to capture your life in stunning 360º detail.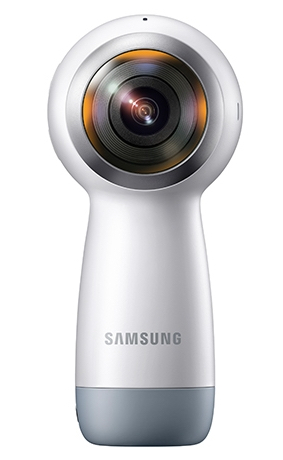 Buy from Samsung: (Coming Soon)
3. Gear VR with Controller
Gear VR, powered by Oculus, is one of the best VR headsets you can get. That is, VR headsets that don't require a fully fledged gaming PC to work. Samsung also introduced a controller for the Gear VR headset at the Galaxy S8 launch event, and this controller is sure to add a lot more depth to your VR experiences. While the "Gear VR with Controller" set is yet to be available, you can get the original Gear VR ($79.99), if you just can't wait to get your hands on some VR goodness. However, I'd recommend that you wait for the Gear VR with Controller set to be available, and get that, instead.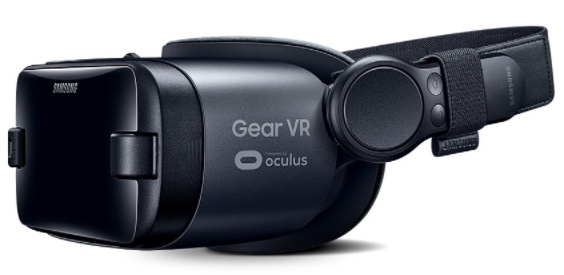 Buy from Samsung: (Coming Soon)
4. Gear IconX
While the new Samsung S8 and S8+ will come with a pair of AKG earphones right inside the box (good move, Samsung!), if you're looking for something even more portable, the Gear IconX wireless earbuds are a good option to consider. The earbuds are completely wireless, and work very well with Samsung devices. They have a built-in storage of 4 GB, so you can even save your favourite tracks right on the earbuds, and listen to them without connecting to your phone (like an MP3 player of old), and they also come with a built-in heart rate monitor. The IconX also have a coating to make them sweat resistant, so you don't need to worry about breaking a sweat while wearing them.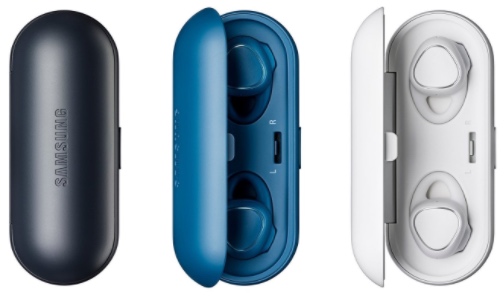 Buy from Amazon: ($149.99)
5. Gear S3 Frontier
Smartwatches (good ones, at least) are not so much a standalone device, than they are an extension of your smartphone. Which is why a good flagship smartphone, should be used with a good flagship smartwatch, and the Gear S3 Frontier definitely fits the description. It comes with an always on display so you can get a quick glance at your notifications, and the time. If you're in a country where Samsung Pay is supported, you can make payments directly from your watch as well. Plus, the built-in GPS keeps a track of your activities, and makes it easy to share your location with your friends and loved ones.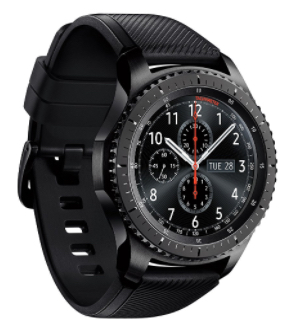 Buy from Amazon: ($299.99)
6. Clear View Standing Cover for Galaxy S8
An official cover from Samsung, the "Clear View Standing Cover" is a multi-purpose accessory for your Galaxy S8 smartphone. The cover will keep your phone safe from everyday wear and tear, while protecting the display from scratches. The clear front allows you to view the "always on" display of the S8 anytime you want, without having to flip the cover open. The cover can also be folded to convert it into a kickstand, allowing you to watch movies, take Skype calls, and a lot more, without having to hold the phone in your hand.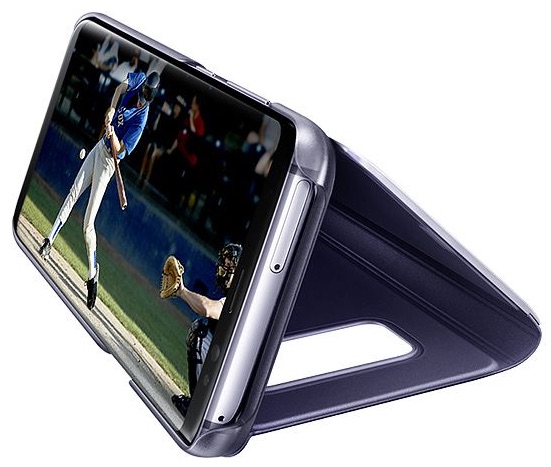 If you'd like to check out some cases and covers for the Galaxy S8, you can check out our detailed article on the best ones out there.
Buy from Samsung: (Coming Soon)
7. Samsung Galaxy S8 Keyboard Cover
Another really cool accessory that you can get for your Samsung Galaxy S8, is the keyboard cover from Samsung. It is meant to be used at times when you just need the tactile feel of a real, physical keyboard, but on your phone. You can simply snap the cover on your Galaxy S8, and start typing. You don't even need to recharge the keyboard or anything, it just works. This is definitely an awesome accessory, especially for people who type a lot on their phones, because it can get tiring to type on a glass surface.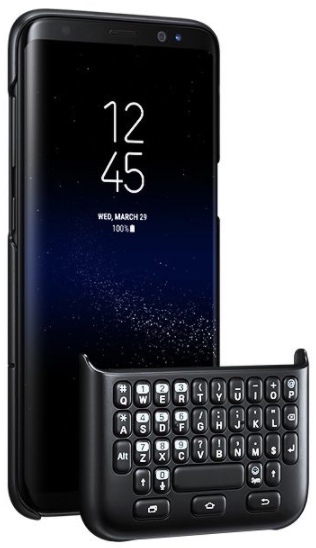 Buy from Samsung: (Coming Soon)
8. Fast Wireless Charging Stand for Galaxy S8 and S8+
If you're just about sick and tired of having to place your phone on a horizontal charging pad, which basically makes it unusable for the (admittedly short) time that it needs to charge, you should definitely check out this charging stand. It is a 2 coil wireless charging stand, that will let you keep your phone at an angle, so you can continue to use your phone, while it gets charged. Samsung also unveiled a similar charging pad for the Galaxy S8, except that it was convertible between a horizontal position, and an angled position. However, the product is coming soon, and will probably cost you quite a lot. More than what this costs, anyway.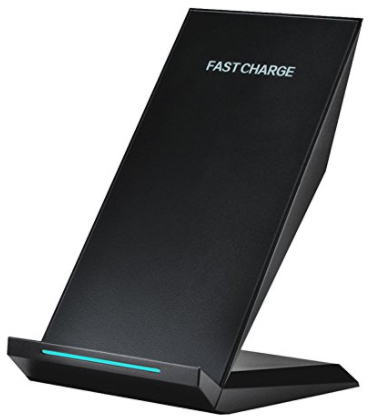 Buy from Amazon: ($19.59)
9. Aukey 30000mAh USB-C Power Bank
The Samsung Galaxy S8 and S8+ pack in quite a lot of power, and a really (like really) amazing display. However, they only packs in 3000 mAh and 3500 mAh batteries, respectively and while the new 10nm processor that Samsung is using will definitely improve power efficiency, the battery might still not cut it for heavy users. Which is where the Aukey 30000mAh power bank steps in. The power bank supports Quick Charge 3.0, so your Galaxy S8 or S8+ will get charged quickly, and it also includes a USB Type C port that supports both input, and output, so you can charge the power bank, or the phone with the same port, and 30000 mAh will definitely give you enough juice no matter how heavily you're using your phone.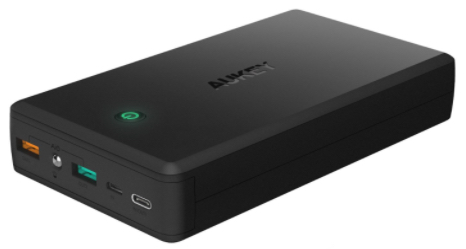 Buy from Amazon: ($29.00)
10. Car Charger with Quick Charge
This car charger is another cool accessory that you can get for the Samsung Galaxy S8 and S8+, for those long road trips where you need your phone on the dashboard, but also need to keep it charged. The charger comes with 2x USB ports, both of which support Quick Charge 3.0, which is definitely awesome. With QC3.0, your Galaxy S8/S8+ will get charged in no time, and you'll always be ready to go, even after long hours on the road. The charger comes with Trianium's 12 month hassle free warranty, as well, so you know you can count on it.
Buy from Amazon: ($15.99)
11. Car Smartphone Mount
A good car mount for the Galaxy S8 or S8+ is one of the most important accessories to have if you drive often, and use your phone for taking handsfree calls with Android Auto, or for navigation. The Teletrogy car phone holder is a good option to consider as it comes with a strong nut design to hold your smartphone tightly. It can also rotate 360º, so you can adjust your phone's orientation to suit your need. The mount also comes with a quick release button, which is placed behind the mount, on the bottom part.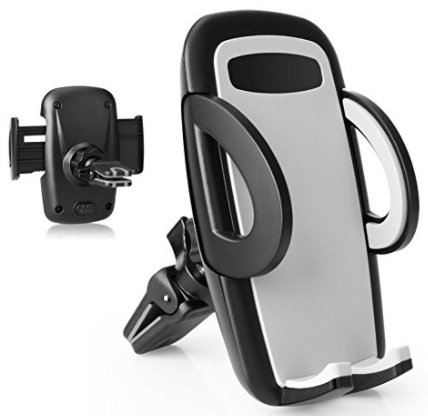 Buy from Amazon: ($9.99)
12. USB-C Smartphone Dock for Galaxy S8/S8+
If you like using docks for keeping your phone charged, while still being able to use it, this USB-C compatible dock from Wellci is one you should definitely consider. The dock comes with a USB Type-C cable in the box, and will work well with the Samsung Galaxy S8. You can use this dock for just charging your phone, and keeping a track of notifications with the always-on Infinity Display, or you can use it to charge your phone while taking Skype calls, surfing the web, etc. The dock has four rubber pads on the bottom, so that it doesn't slip. This can come in handy if you're using the phone while it is docked.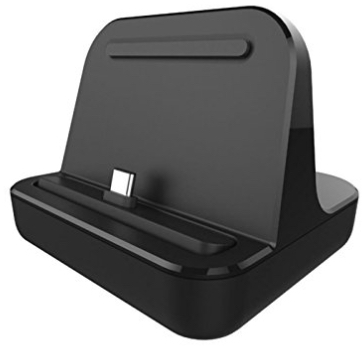 Buy from Amazon: ($14.99)
13. SanDisk 64GB USB-C OTG Flash Drive
While the Samsung Galaxy S8 and S8+ does support a microSD card (thankfully), having a USB OTG handy is a good idea, especially if you find yourself transferring files between a PC and your smartphone quite often. This one from SanDisk is a good one to consider buying. The 64GB USB OTG comes with a retractable design, and features a USB Type-C connector on one side, and a standard USB connector on the other. So, you can quickly connect the same USB drive between your PC and your smartphone without having to use dongles or adapters. The flash drive supports USB 3.1, and can reach read speeds of up to 150 MBps, which is definitely fast.
Buy from Amazon: ($30.45)
14. USB Type-C to Micro USB Converter
If you happen to use multiple devices, chances are, not all of them use USB-C. Most devices are still using a micro USB port for charging, and syncing functionality. If you don't want to carry multiple cables for all your devices, you can just get this USB Type-C to micro USB converter, and use the same micro USB cable with all your devices, even your Galaxy S8. Obviously, you'll not get the same speeds as you would with a USB Type-C, but it saves you the hassle of carrying different cables for different devices.
Buy from Amazon: ($7.99)
15. Spigen NeoFlex 2 Screen Protector for Galaxy S8
I'm sure you don't want to risk scratching that beautiful 5.8″ QHD Super AMOLED display on the Samsung Galaxy S8, and a screen protector is a surefire way of ensuring that it doesn't happen. This screen protector from Spigen is made from a flexible TPU material, which allows it to curve with the screen on the S8, and make sure that the entire display is protected from scratches, etc.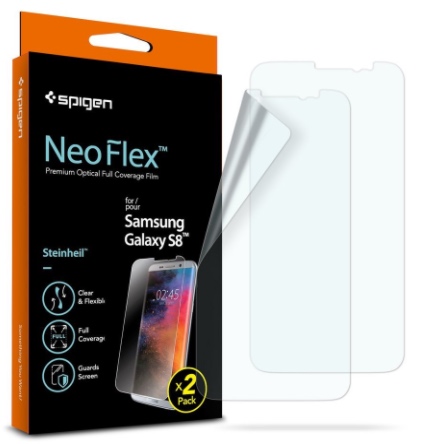 The screen protector is rated at 99% transparency, so the colour reproduction, and vibrance of the display will not be affected by applying this screen protector on it. Also, the wet-install method that this screen protector uses, ensures that it has a strong adhesion with the screen, but doesn't leave any residue upon removal. If the Spigen screen protector is not to your liking, there are a lot of other options to choose from as well.
Buy from Amazon: ($7.99)
SEE ALSO: 10 Best Samsung Galaxy S8 Cases and Covers You Can Buy
Buy The Best Samsung Galaxy S8 and S8+ Accessories
While there is no denying that the Samsung Galaxy S8 and S8+ are the best phones that Samsung has yet made, and are the best phones announced this year, these accessories can easily augment the capabilities of the new flagships from Samsung. I have included accessories for a variety of use cases, and you will probably find some accessories that are of interest to you. There are a lot of other accessories available for the S8 and S8+, as well, but these are the ones that I thought were most useful.
So, are you planning on buying the Galaxy S8 pr the S8+? And what accessories do you think you might find useful? Also, if you know of some other cool accessories for the Samsung Galaxy S8 and S8+ that you think deserve to be on this list, do let us know about them in the comments section below.
---
Load More