The Samsung flagship everybody has been waiting for is finally here. Samsung recently took the wraps off of the Galaxy S8 and the S8+ and we can't stop drooling. The curved Infinity display (Samsung's term for bezel-less) and the seamless metal-glass design look amazing. Plus, it features top of the line specs, with Snapdragon 835 and Exynos 8895 processors powering the different variants. Along with that, the flagship packs in unique features like an Iris scanner, a pressure-sensitive home button, front cam with autofocus support, the Bixby voice assistant etc. While the Galaxy S8 features IP68 water and dust resistance, the glass & metal design, along with edge display can be susceptible to scratches and dents. So, if you are planning to buy the Galaxy S8, here are the 10 best Galaxy S8 cases and covers you can buy:
1. Clear View Standing Cover for Galaxy S8
Samsung offers a slew of accessories for the Galaxy S8 and the Clear View Standing Cover is arguably the best Galaxy S8 case. As the name suggests, the cover features a translucent matte front, which protects the display while also letting you use swipe gestures to control calls, music etc. The cover also shows you date, time and notifications. Along with that, the cover also works as an adjustable stand, so you can just set it up and watch movies, make video calls and more.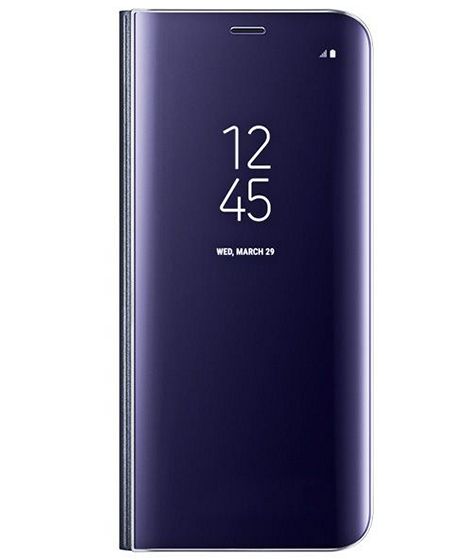 Overall, it's certainly a Galaxy S8 cover worth checking out. It's available in multiple colors like Violet, Black, Gold, Silver, Blue, and Pink. The cover should be available when the Galaxy S8 is released.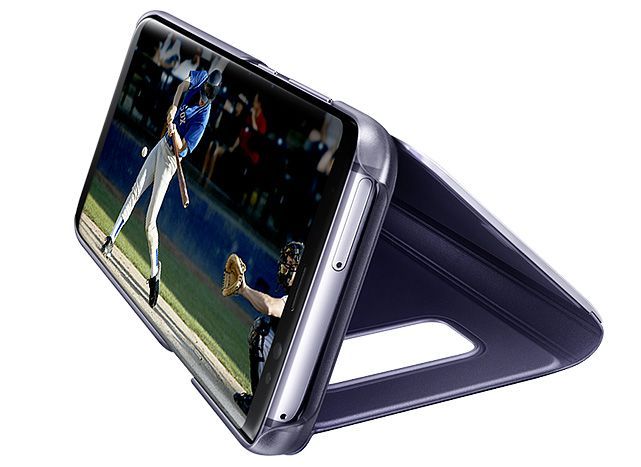 Buy from Samsung: (Upcoming)
2. Spigen Crystal Shell Galaxy S8 Case
Spigen offers a lot of great cases and covers for the Galaxy S8 and my favorite is the Crystal Shell case. The Galaxy S8 is a gorgeous looking device and the Crystal Shell case makes sure to show off the industrial design of the device. Plus, the case also brings ample protection for the device, with corner guard bumpers and raised edges protecting the device. Also, like other Spigen cases, there's the Air Cushion technology, so you can rest assured that your Galaxy S8 is protected.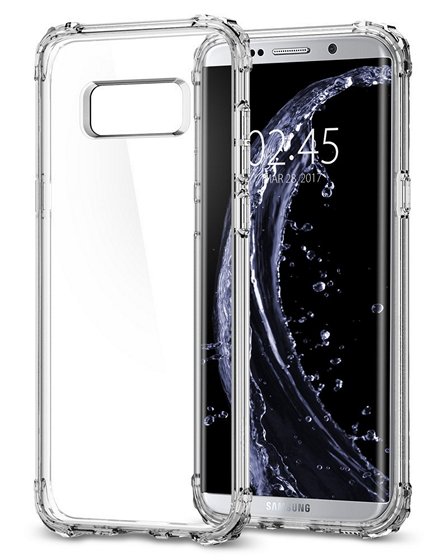 Buy from Amazon: ($24.99)
3. Caseology Flex Armor Galaxy S8 Case
I have tried Caseology cases for various smartphones over the years and they are generally very good. Well, they are offering multiple cases for the Galaxy S8 but I like the Flex Armor case. The case brings the best of both worlds. It looks great and brings great protection for the Galaxy S8. First of all, the case brings great grip, thanks to the textured design. Then, it features anti-slip and anti-scratch properties. It's also shock absorbent, slim, and features responsive buttons, and raised camera & screen bezels for added protection.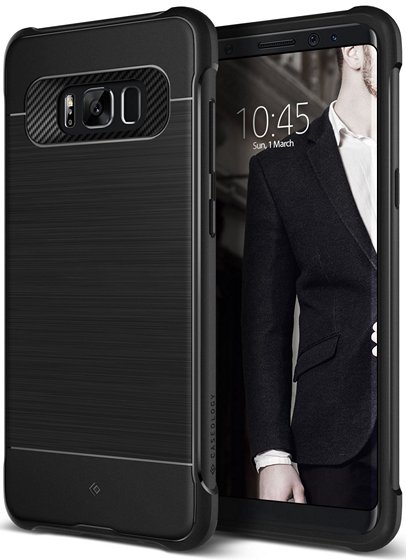 Buy from Amazon: ($14.99) 
4. LED View Galaxy S8 Cover
Samsung has been offering an LED View cover for all its Samsung flagships and the S8 is no different. The LED View cover features LED lights, which show the date & time, notifications and more. You can also turn off alarms, answer or reject calls, and do more, without even opening the cover. The case also lets you choose from 54 special icons, so that you can see various information at a glance. Also, since its a flip cover, you get great protection for your brand new Galaxy S8. It's available in multiple colors, including Gold, Black, Violet, Silver, Blue and Pink.
Buy from Samsung: (Upcoming)
5. Incipio Carnaby Case for the Galaxy S8
Incipio offers a ton of great cases for the Galaxy S8 and the most stylish of the lot is the Carnaby case. The case looks very classy while also protecting your shiny new Samsung smartphone. It's designed in a way that protects the Galaxy S8 against drops and is made up of premium fabrics that looks great indeed. The Carnaby case is available in Black, Blue, Gray and Olive and they look amazing. I certainly like the fabric's design and texture.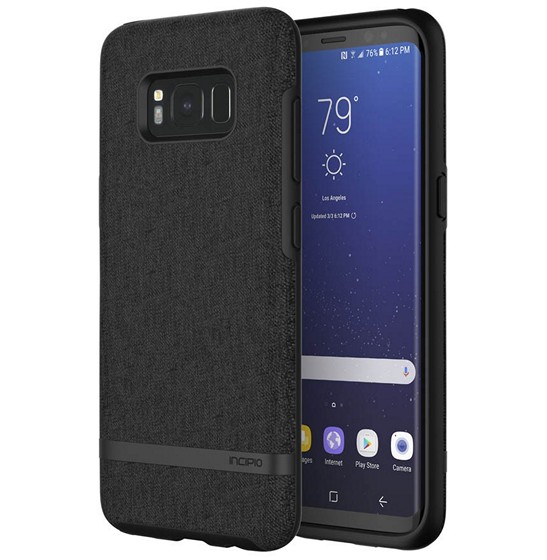 Buy from Incipio: ($34.99)
6. Keyboard Cover for Galaxy S8
The on-screen keyboard on Samsung devices is pretty good enough but if you don't like it, you can always install a great third party keyboard app. However, there are some people who miss the good old days when phones used to feature a tactile QWERTY keyboard. Well, if you are one of those people, you may want to check out the official keyboard cover that Samsung offers for the Galaxy S8. You can just snap on the keyboard cover and the TouchWiz UI on the S8 will automatically adjust to support the hardware keyboard.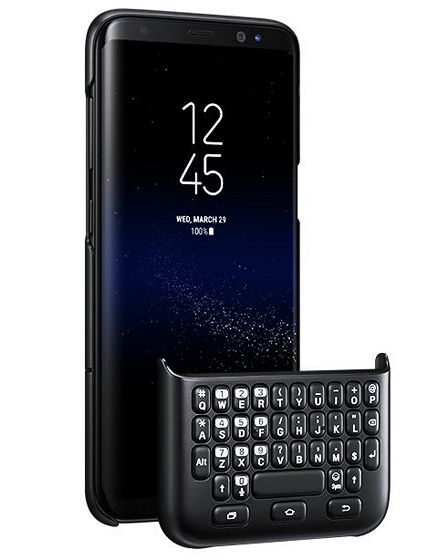 Buy from Samsung: (Upcoming)
7. Clayco Protective Wallet Galaxy S8 Case
The Clayco Protective case for the Samsung Galaxy S8 is a hybrid case, as you might have guessed. Along with protective properties, like the inclusion of hard PC and soft TPU materials, it features slots to hold a couple of cards or even some cash. Other than that, the case is pretty slim and features a premium, smooth design. The case is available in multiple colors, like Black, Blue, Gold and Rose Gold.
Buy from Amazon: ($12.99)
8. LK Slim Silicon Case for Galaxy S8
If you just want a simple and thin case for your Galaxy S8 that does not add a lot of heft to the device, then you should take a look at the LK Silicone case. The case might be exceptionally thin but it still offers great protection for the device. It features a high quality, tough and flexible TPU that is shock absorbent, shatterproof and scratch resistant. The case also offers great grip, which the S8 kind of lacks, considering it has a glass back. Apart from that, the LK Silicone case features raised edges to protect that gorgeous curved display.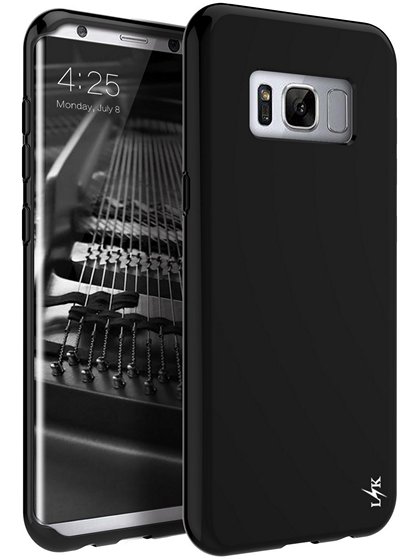 Buy from Amazon: ($7.99)
9. Spigen Liquid Air Armor Galaxy S8 Case
The Samsung Galaxy S8 is a sleek looking device and if you maintain its slim profile, the Spigen Liquid Air Armor case should be a good buy. The case is built of a premium TPU layer that is form fitted for the Galaxy S8 to maintain a slim profile and the pocket friendliness of the device. It also features a matte finish, which makes up for a great grip and fingerprint resistance. There's also Spigen's famed Air Cushion tech, which results in great shock absorption in case of drops.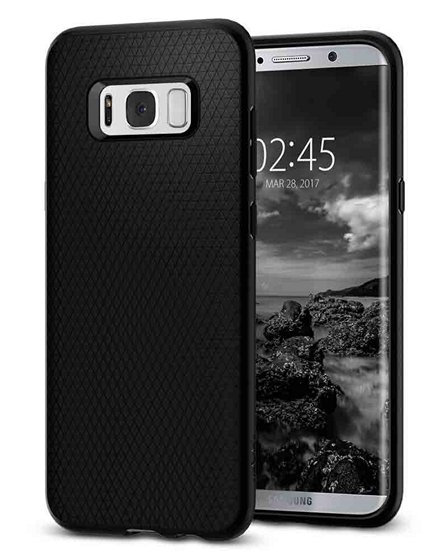 Buy from Amazon: ($12.99)
10. Tonertone Leather Folio Flip Galaxy S8 Case
Samsung offers a couple of great folio cases for the Galaxy S8 that also featured added functionality. However, they are quite pricey and in that case, you should check out Tonertone's Leather Folio Flip cover. The cover features precise cutting ports and is made from PU leather and TPU composition. Also, the cover is just 0.3mm thick, and brings a kick stand, as well as card slots. So, there's a lot of functionality that the case offers and it also brings a velvet feel, which many people appreciate. The case is available in Black, Blue, Gold and Rose Gold.
Buy from Amazon: ($10.49)
SEE ALSO: 8 Best Samsung Galaxy S8 Screen Protectors You Can Buy
The Best Galaxy S8 Cases and Covers To Protect The Device
The Galaxy S8 is undoubtedly the best Samsung flagship ever and it brings a design that has been universally loved. So, if you have bought a S8, I'm sure you love it. However, it's a pretty costly device and I will suggest you to get a case with it. Well, these are indeed the best Galaxy S8 cases and covers you can buy. Also, we will be updating the list with more cases and covers once they arrive. So, make sure to check this page out. That was all, do let me know your thoughts on the S8 and the cases and covers in the comments section below.
---
Load More