While I'm really fond of skins and clear cases, nothing appeals to my penchant like a genuine leather cover. The rich craftsmanship and the ageless leather texture coupled with non-slip grip have long been the winners for me. Not to mention, the pro look and feel that make leather cases a matching companion for a professional outing. Having just wrapped up an extensive roster of leather covers for the biggest sibling "iPhone 11 Pro Max", I thought I shouldn't miss out on the best leather cases for iPhone 11 as well – given how much much traction Apple's all-new 6.1-inch budget-friendly (aka vox-pop) smartphone is getting. Should you think that your smartphone deserves much better than cheap plastic covers, this roundup is for you.
Best iPhone 11 Leather Cases You Can Buy Right Now
Taking different needs into account, accessory makers have introduced a variety of iPhone 11 leather cases. While some are sleek, others are full-fledged wallet cases that can be your perfect travel companions. Moreover, there are also some suits that flaunt a slim profile with impressive wallet design that can be a great pick for the minimalists. That said, let's find out what's more the roundup has to offer!
1. Bella Fino from Pad and Quill
You didn't expect me to miss out on this one, did you? It's really hard to look beyond a leather case that's beautifully designed and pairs like a pro with the iPhone. Crafted with full-grain American leather, Bella Fino features nylon stitching with French hem styling that makes it look stand out. Not to mention, the case is also UV resistant and can hold up to 7 cards plus some cash. That means your traditional wallet doesn't have a chance to find a place in your pocket as Bella Fino has ideally covered all the basic needs.
On the protection front, Pad and Quill's offering is not behind other leather covers in the market. Thanks to the durable interior along with the genuine leather construction, it can be fully trusted to keep your smartphone protected when it matters the most. Moreover, this premium leather suit for iPhone 11 comes with elastic straps and supports wireless charging. And yes, it also costs you way more ($69.95) than other covers. But if you don't mind the high price tag, Bella Fino can easily walk into your favorite roster of top accessories for the iPhone 11.
Buy from Pad and Quill: $69.95
2. Mujjo Full Leather Wallet Case
If you prefer to have a leather wallet case but without adding any bulk to your smartphone, do not miss out on Mujjo's offering. The cover looks really compact and goes along perfectly around the 6.1-inch iPhone 11. And with the sturdy frame and impact-resistant corners, it can also survive some beating.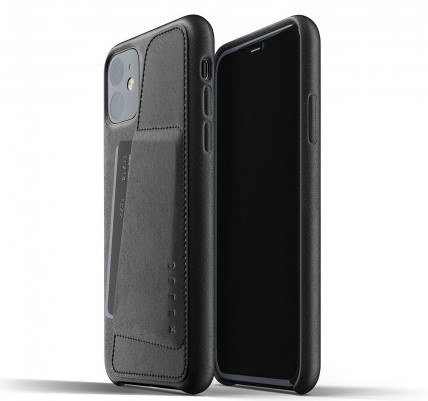 Unlike other full-fledged wallet covers, it has a small slot on the back where a couple of cards can comfortably rest securely. As the sides are smooth and grippy, it's convenient to hold the smartphone. Moreover, the buttons are clicky, whereas the cutouts are to the point.
One important thing worth mentioning is that the accessory maker has introduced a range of leather covers for not only iPhone 11 but also iPhone 11 Pro, and 11 Pro Max. So, do check them out, if you wish to explore more options.
Buy from Mujjo: $45.61
3. TORRO
Looking at what TORRO leather case has to offer, all I can say is you can count on it to make a great match with your professional outing. While the vegetable-tanned cowhide leather endows it the premium profile, the notable workmanship adds a vintage touch to the exterior. Not to forget, the texture and the gracious patina that is developed when the cover begins to age.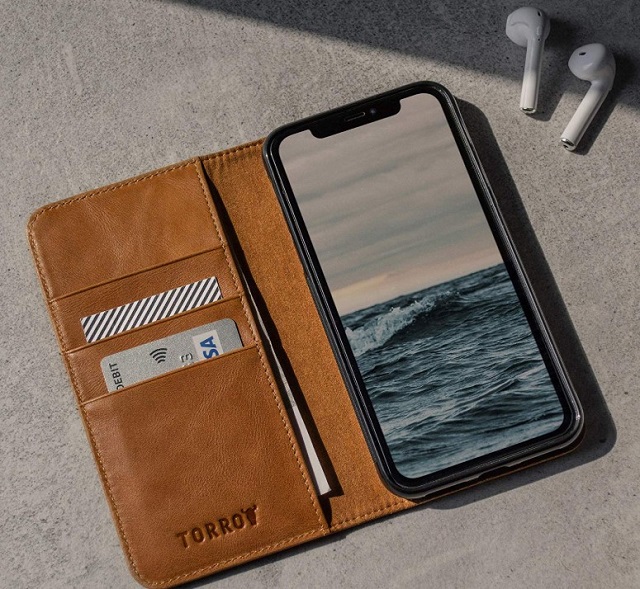 As for the interior, the manufacturer has used silicone material for shock resistance. Besides, the interior of the cover also features multiple slots for cards, money pocket, and the much-required microfiber to prevent scratches. One more thing worth noting about TORRO cover is the availability in five colors namely tan, black, dark brown, etc.
Buy from Amazon: $35
4. Nomad Rugged Leather Case
When high-quality leather and extremely durable casing come together, you get a cover like Nomad's Rugged lineup of cases. As compared to other leather covers available in the market, the Rugged Case looks more protective. The accessory maker uses top-grade vegetable-tanned leather sourced from Horween Leather Co. – America's well-known tanneries.
It features an impact-resistant rubber bumper around the edges for additional protection. Moreover, the durable leather cover also works with Qi-enabled wireless chargers so that there is no need to remove the case before dropping the iPhone 11 for wireless charging. Just like Mujjo, Nomad has also come up with a variety of Rugged cases including  Folio, Tri-Folio and more not only for iPhone 11 but also for 11 Pro and 11 Pro Max.
Buy from Nomad: $49.95-$79.95
5. SHIELDON
A genuine leather cover that not only gives a pro look to your iPhone but also provides the device reliable safeguard against drops. Yes, I'm talking about SHIELDON that has never failed to impress me as a high-quality leather case maker. What I love the most about this case is the neat book-style design that looks adorable on the smartphone. With three card slots, a money pocket, RFID blocking technology, and strong magnetic closure make it one of the finest leather wallet cases for iPhone 11.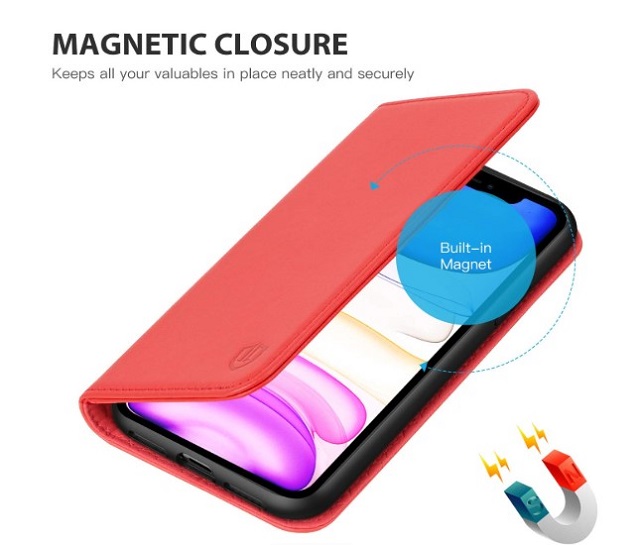 SHIELDON has included impact-resistant TPU inside that boosts the construction. Thus, your smartphone remains shielded against random drops. For hands-free functionality, the front cover turns into a well-timed stand so that you can rest your hands and enjoy videos to the fullest.
Buy from Amazon: $29.99  
6. totallee
Look no further than totallee if your aim is to find a sleek leather cover for your iPhone 11. The case is lightweight, compact, and pocket-friendly. Though the slim design is the main USP (unique selling point) of this cover, it's not bad at offering protection from minor impact. The precise cutouts give it a form-fitting look, while the responsive buttons ensure you have no problem in taking control of the physical buttons.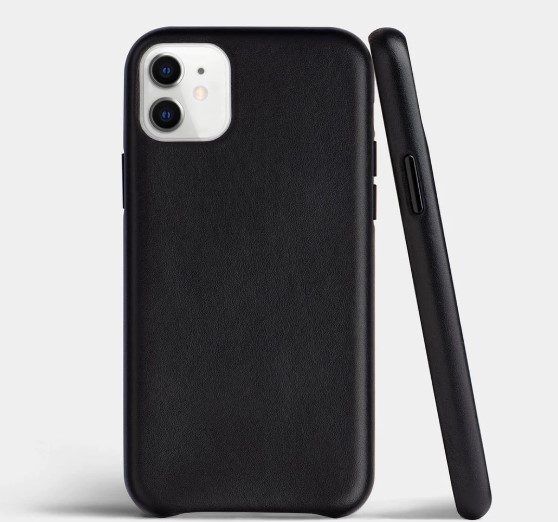 Other than that, what I like most about totallee is that it hasn't put branding at the forefront so that the case continues to look simple. Besides, it also doesn't obstruct wireless charging, allowing you to use a Qi-enabled charger without any problem. And with five color variants, finding the right fit for your 6.1-inch iPhone shouldn't be a big deal.
Buy from totallee: $39  
7. FYY Leather Case
Exhibiting a vintage look, FYY leather case can become your ideal travel companion. The cowhide leather coupled with handmade design makes it a better option for those who prefer simplicity over the eye-catching profile. Being genuine leather, the cover has a non-slip texture that fits snuggly in the palm. Add to that the rugged PC interior and it becomes fully equipped to protect your smartphone.
The interior features a money pocket and three slots for cards. With the presence of RFID blocking technology, the sensitive info of your debit or credit cards remains secure. Besides, the kickstand function and the support for wireless charging make FYY a complete leather suit for your budget-friendly iPhone 11.
Buy from Amazon: $27.99  
8. ProCase
ProCase has got everything going for it. From durable construction with genuine leather to impressive craftsmanship, the leather cover not only looks premium but also comes at a fairly affordable price ($25.99). Though the interior has only two slots for cards, you won't have any complaints if you don't carry a lot of cards. Aside from cardholders, ProCase also features a money pocket inside which I find good enough to stash a few dollar bills.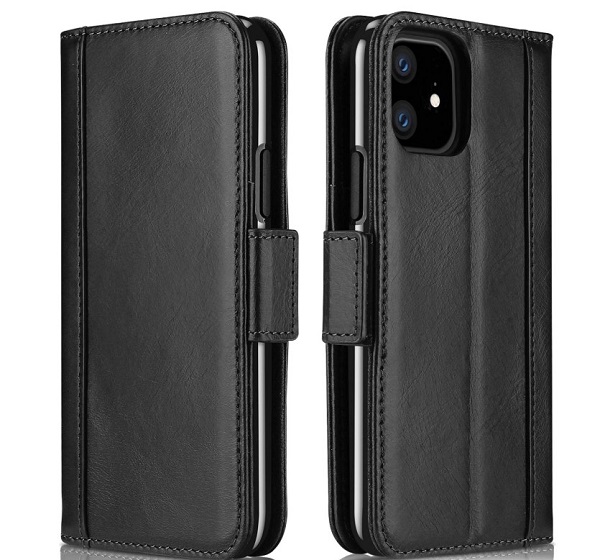 Not to mention the invisible self-propping stand that can light up your Netflix shows and enhance your hands-free FaceTime video calling. When it comes to colors, this classy leather case for iPhone 11 doesn't disappoint you either thanks to the three impressive hue variants: black, brown, and red.
Buy from Amazon: $25.99  
9. Monsoon Mohawk
For those of you who prefer to have a belt clip case, Monsoon Mohawk would be a much better pick. The case is made of genuine leather and comes with a non-rotating clip made of zinc alloy. You can use the durable clip to securely carry your iPhone 11 while trekking in the wild or during hectic travel. Mohawk can fit your 6.1-inch smartphone even with a dual-layer case. Thus, you don't need to remove the cover that you use every day with your device.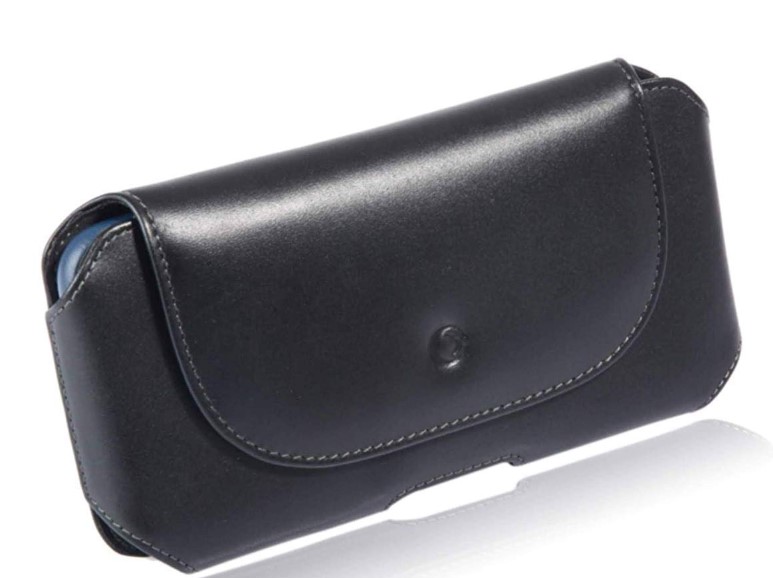 Buy from Amazon: $29.99  
10. FLY HAWK
There is a definite reason why I had saved FLY HAWK's highly affordable yet killer slim wallet case. Agreed, it doesn't have the premium leather construction nor does it boast the rugged casing to safeguard your smartphone against nasty bumps. But it looks pretty good where it counts. The case is made of soft PU leather and has a couple of slots on the back for keeping cards. More significantly, you can get this sleek PU leather case at just $14.99. Overall, it's one of the cheapest yet very impressive leather cases for iPhone 11.
Buy from Amazon: $14.99  
SEE ALSO: 7 Best Armbands for iPhone 11, 11 Pro, and 11 Pro Max
Get One of the Best Leather Cases for Your iPhone 11…
So, these are my top leather covers for Apple's budget-friendly iPhone. With so many notable covers vying for the attention, which one has succeeded in winning your smartphone? Is it the premium cover with luxurious design or have you opted for an affordable leather case? Do not forget to share your picks and what makes them stand out in the comments section below.