If you're looking for a gift for a photography enthusiast, or you just want to get into taking pictures, an entry-level DSLR is a great option. It will give you nice photos without breaking the bank, and will be sufficient for your photography needs for years to come. These nine cameras are the best out there right now. Grab them while you can!
9 Best Entry-Level DSLR Cameras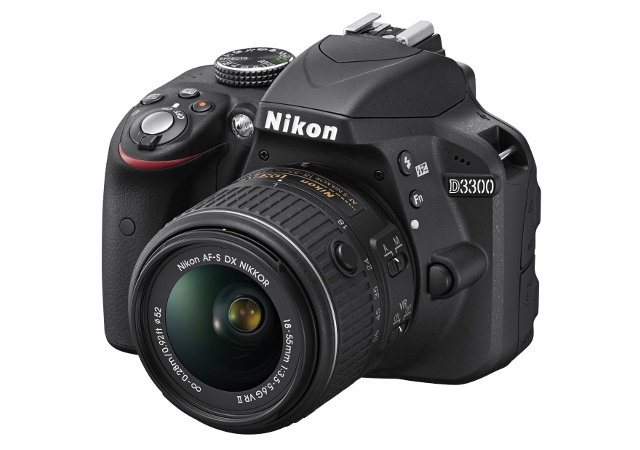 Nikon's D3000-series cameras have been great values for entry-level cameras for a long time, and the D3300 is no exception. The APS-C sensor and 24.2 megapixels made for clear pictures that are closer to a 35mm equivalent than you might expect for a sub-$500 camera—the photos you get from this camera will be some of the best that you find from an entry-level.
In addition to crystal-clear photos, the ability to record video in 1080p HD, up to 12800 ISO for pictures in bad lighting, and great battery life make this a very well-rounded camera for beginners. Although there aren't many options for processing or effects, the settings that you can find hidden in the menus do give enthusiasts a number of options when it comes to how their photos come out.
Included with this camera is an 18–55mm, f/3.5–5.6 lens, Nikon's standard kit lens for entry-level cameras. It's nothing special, but it definitely gets the job done (it's the lens that I use for the majority of my own photography on my D3200, the previous model in this series). Amazon also offers a bundle that includes an SD card, camera bag, and Nikon wifi adapter for the same price as the camera itself, making this a phenomenal value.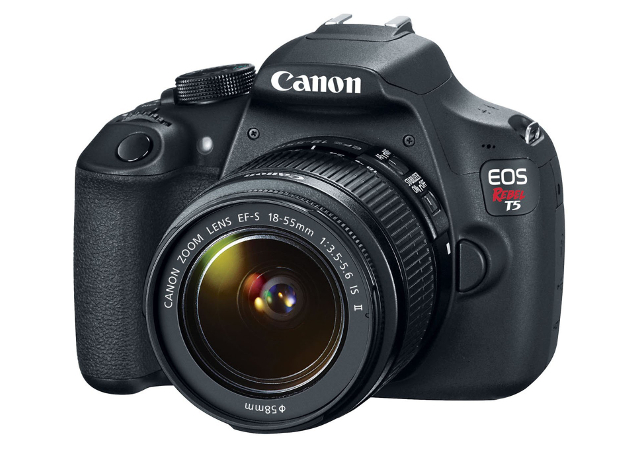 It's tough to beat the Rebel T5 on price, and even harder to beat it on value. The 18-megapixel APS-C sensor uses some of the same technology that's found in Canon's higher-end offerings, and will give you clear pictures, even when cropped or printed in large formats.
One feature that may appeal to many beginning photographers with little experience in post-processing is the availability of creative filters for some added creativity in your photos. Grainy B/W, Soft Focus, Fisheye Effect, Miniature Effect, and Toy Camera Effect give you some artistic leeway in how your pictures come out and add some fun and variety to your picture-taking.
6400 ISO, 1080p HD recording, and a clear, bright LCD screen on the back of the body round out the feature set of this entry-level top seller. Like most other cameras at this price point, it comes with an 18–55mm lens. Amazon's bundle also includes an SD card, camera bag, and a small tripod to help out with storage, travel, and stabilization.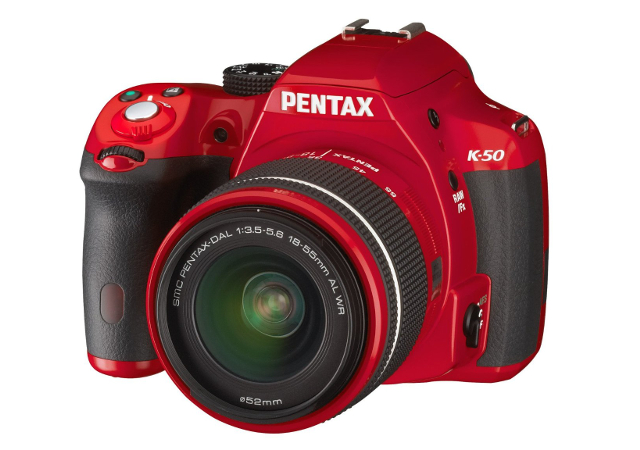 Nikon and Canon tend to dominate the DSLR scene, but Pentax has taken steps to differentiate itself with affordable prices and fun colors (the K-50 comes in black, red, and white). The 16-megapixel APS-C sensor on this camera is run-of-the-mill, and will capture clear, high-quality pictures that will be a big step up from your point-and-shoot. Where it really stands out, however, is the package that it comes in—for less than some camera bodies, you also get a 50–200mm zoom lens to get frame-filling pictures of subjects that are far away.
The K-50 is able to take pictures with ISO up to 51200, making it one of the most light-sensitive cameras in this price range (though you can expect very grainy pictures at that speed). 1080p HD video capture lets you capture high-quality videos, in-body shake reduction reduces blur, and 81-point weather proofing makes this a very versatile camera as well.
When you add in the value of the zoom lens, which gives you a lot of added functionality, the price for this camera starts to look like a steal. The are no free accessory bundles offered by Amazon, but if you can find good deals on a bag and an SD card, you'll have everything you need to progress from total newbie to enthusiast without having to spend more money.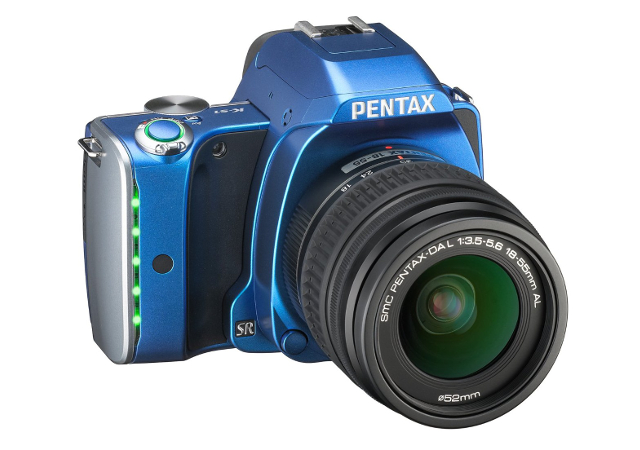 With the lowest price tag among DSLRs in this list, the K-S1 is sure to appeal to many buyers. It's not just the price that catches attention, though—this little camera packs a 20-megapixel APS-C sensor and ISO speeds up to 51200. A built-in anti-aliasing filter and Pentax's in-body shake reduction system mean that this camera is one that will serve you for a number of years before you want to replace it.
The 18–55mm lens is the same as what you can expect to find anywhere else on entry-level DSLRs. It's a very versatile lens that will work for just about anything that a beginning photographer will want to do. That's not what makes the K-S1 stand out.
What makes it stand out is Pentax's eye-catching body LEDs, both on the grip and the controls, and the industry-defying white and blue color models. My personal favorite is the white-and-blue "Blue Cream Soda" model (there's also a red-and-white "Strawberry Cake"). If you want to stand out among other DSLR users, a Pentax will help.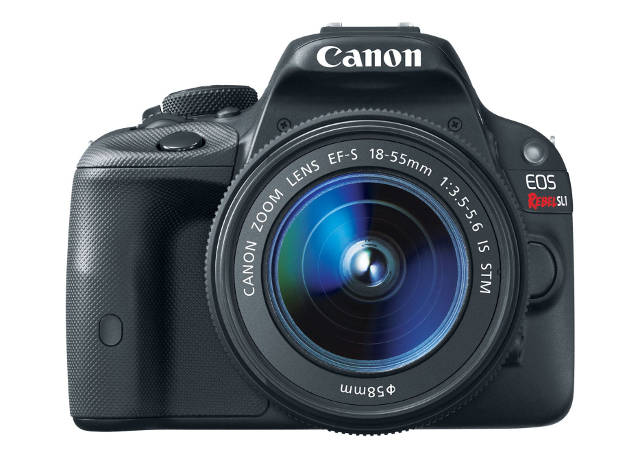 A step up from the T5, the Rebel SL1 sets itself apart with a smaller form factor that's great for small hands. The 18-megapixel APS-C sensor will give you the clear pictures you expect from a Canon DSLR, and 1080p HD video recording lends itself well to adventure. There are also a number of unique camera modes that will help you when photographing kids, by candlelight, and even food.
The SL1 packs a touchscreen on the back, making for very easy interaction with menus and photo reviewing, and the inclusion of a number of creative filters gives you freedom to experiment with your photos. 12800 ISO and an 18–55mm lens are standard for Canons around this price, but the SL1 does have a better Live View than other cameras that are under $500.
While it doesn't have any features that blow away the competition, the Rebel SL1 is a very solid choice at the $500 mark, with good performance and modern technology to help you get the most out of your photos. The smaller size and light weight make it great for travelers, too.
Another of Pentax's "stand-out-from-the-norm" cameras, the K-S2 improves on the specs of the K-S1. 20 megapixels, an articulating LCD screen, special functions for self-portraits (including the ability to snap the picture from your phone), wifi connectivity, and 4K interval movie capture make this one of the more advanced cameras you can get at this price.
Many of the other stats are the same as the K-S1; 1080p video, 51200 ISO, and anti-aliasing give you solid quality for the money. The K-S2 is a particularly small camera, and even comes with a smaller-than-average lens (with standard zoom capability), making it a perfect choice for travelers, beginning sports photographers, and anyone else who needs to pack their gear.
As with the K-S1, the K-S2 is weatherized and dust proofed so that the internals will stay safe and clean in bad weather (up to a point, of course). And, of course, it comes in multiple colors: black and orange, white with a racing stripe, and olive green.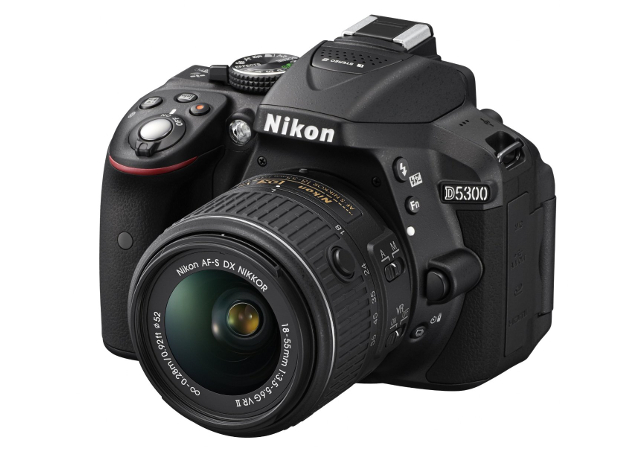 At almost $700, the D5300 starts to push the boundaries of "entry-level." But with that price tag comes a solid improvement on the D3300: 24.2 megapixels, a 39-point autofocus system (the D3300 has an 11-point system), an articulating LCD screen, and built-in wifi make this a camera that bridges the gap between entry-level and intermediate.
Nikon's sensors produce extremely crisp images, and you can expect very high quality photos from this camera, even if they're significantly cropped or blown up. 12800 ISO and 1080p HD video recording let you capture images in low light or real time, and built-in GPS geotags your photos so you'll always know exactly where you were when you took them.
The standard 18–55mm lens that comes with entry-level Nikons will work well for this camera, but you'll really get the most out of it if you upgrade to a higher-quality lens, either from Nikon or a company like Sigma. With an upgraded lens, this camera will last you well into your intermediate-level photography phase!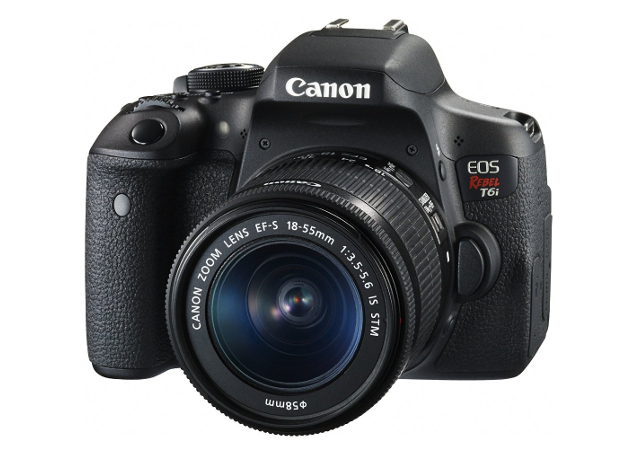 It's debatable whether a $750 camera qualifies as entry-level or intermediate-level, but the EOS Rebel T6i is a great option for a first-time DSLR user. 24.2 megapixels, up to 12800 ISO, a 19-point autofocus system, and built-in wifi and near-field communication (NFC) make this a camera that does just about everything (unfortunately, doing just about everything means this camera has a noticeably shorter battery life than some other equivalents; if you go for the Rebel T6i, investing in an extra battery is a good idea).
The fully articulated LCD screen lets you see your photos no matter the light and angle, remote shutter operation with your smartphone means you can capture pictures of yourself with ease, and 1080p video capture ensures your videos will be clear enough to watch on a very large TV with no clarity issues.
As wth the Nikon D5300, the Rebel T6i will really show its potential if you upgrade the lens. The standard 18–55mm lens, while very functional, doesn't have the optical quality of a more expensive Canon or third-party lens. The kit lens is great for beginners, but an upgraded lens will really make this camera shine.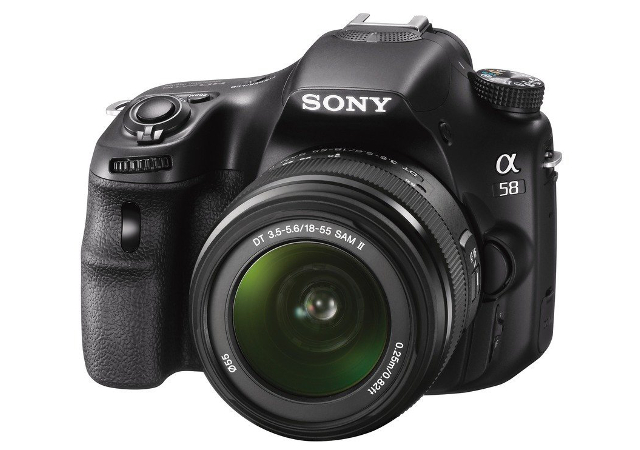 While Sony doesn't often get mentioned in discussions of DSLRs, the ɑ58 is a hidden gem. For the price, you get a number of features that will help you take great photos: from the 20.1-megapixel APS-C sensor, to the 1080p video shooting, to the lock-on autofocus technology, whatever you're looking to record, you'll have the tools to do it well.
The ɑ58 uses "translucent mirror technology," which improves the performance of the autofocus, giving you more confidence that your subject will be in focus when you look at the image. 16000 ISO and Sony's Twilight mode help you capture high-quality images in low light without having to resort to long exposures that require a tripod.
The tiltable viewing screen and OLED viewfinder also enable you to both line up and review your awesome shots. 11 modes and 15 different effects mean you can get the look you want from your photos, even if they didn't come out quite perfectly the first time. All in all, this is a fantastic camera for beginning photographers, and comes in at a very reasonable price.
SEE ALSO: Top 10 Camera Bags Worth Buying
Get Shooting!
No matter which camera you buy, the key to improving your photography skills is practice. So grab one of these cameras and start shooting!
Do you have an entry-level DSLR? Which one? What do you like about it? Share your thoughts below!
---
Load More