Smartwatches are the in-thing today and if you are a proud owner of one, you should be well aware of the different Watch Faces that are available at your disposal on the Play Store. They are an absolute delight to have on your Smartwatch because they bring to your wrists a whole different world of compact information; from weather to your calendar and even your fitness developments. This enables the user to stay away from their other gadgets and provide a hassle-free working environment.
There are several Watch Faces available on the Play Store and these are 22 unique, beautiful picks that we have for you on this compilation of list of best Android wear watch Faces.
1. Red Bull Watch Face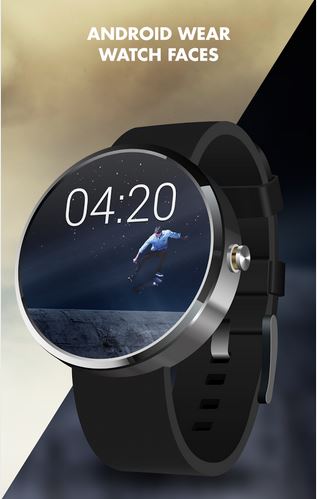 Red Bull signifies the best of both worlds, sports and technology. There's no doubt you would get that rush of adrenaline just witnessing a piece of sporting action on your TV screens, how about you bring it to your Android Wearables? The Red bull Wallpapers app, seamlessly brings HD pictures directly on to your watches giving it a breathtaking look. You can choose from a palate of thrilling sports — racing, skating, parkour, skiing, snowboarding, etc. Upon installing you get to choose from a wide range of interactive animated wallpapers and more than 100 HD images as your lock screen image, or just let the app choose the image of the day for you and immerse in the awesomeness of the sporting action Red Bull brings to you every day.
Availability: Free on Google Play
2. PAC-MAN Watch Face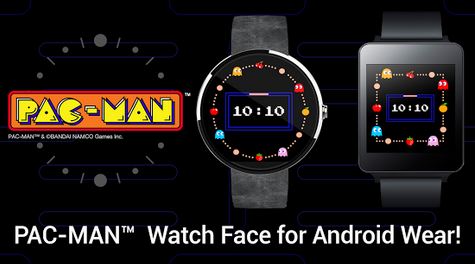 Now and then, we love to be hit with nostalgia and we need something to teleport us to go back in time. What better than a game loved and played by all ages alike, Pac-Man? As time flies by, watch your very own Pac-Man gobble up the power-pellets, fruits and the ghosts. Biting time was never this exciting. Go get your very own Pac-man Watch Face now.
Availability: Paid on Google Play
3. WatchMaker Watch Face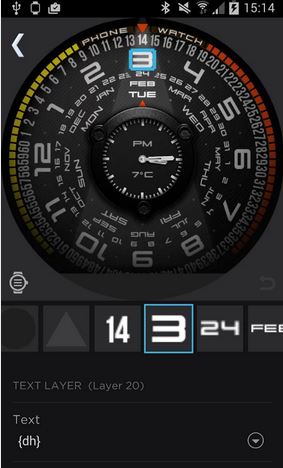 The WatchMaker Watch Face comes with more than just a few charming designs. It is power packed with truckloads of features that are bound to keep you up to date with the weather in your place, your to-do list and your fitness concerns. It comes with an in-built compass that can also complement your travel bug when you go backpacking alone into trails unknown. Sync your Google calendars and track upto 3 time zones if you are a frequent flying business person. Go ahead and buy it to experience the other amazing features.
Availability: Free on Google Play
4. 500px
500px is one of the most popular pictures sharing platform on the Internet. 500px is used by renowned and astute photographers from around the world. And, now with 500px's Watch Face app, you can bring these wonderful, breathtaking images right to your wrists by downloading this app.
Availability: Free on Google Play
5. StarWatch Watch Face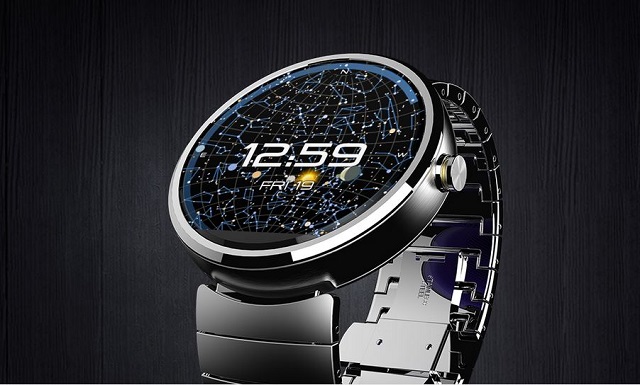 Are you a stargazer? Can you get beyond just the Orion's Belt? If the answer to that question is Yes, then this is it. The StarWatch Watch Face brings the night sky to your wearables and displays the starry sky above your head on the Watch. It displays all major stars, constellations and other major celestial bodies. Now you have the map of the Night Sky on your wrists. It works seamlessly fine on both digital and analog mode and can be configures between 12-hour or 24-hour formats. Tweak and play with different configurations to get your right choice and enjoy stargazing on your Android watches.
Availability: Paid on Google Play
6. Odyssey Premium Watch Face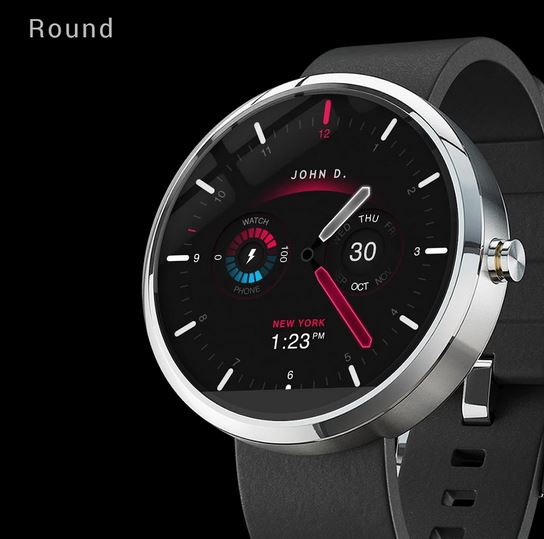 Are you a sci-fi geek? Do you often find yourself fantasizing time travel? Then this downloadable watch face is the best choice for your Android wearable. It combines art with a futuristic design and lets your smartwatch showcase a cool display. It boasts several features like world clock, battery indicator for your watch and your Android phone, weather information sourced directly from your mobile, etc.
Availability: Paid on Google Play
7. Porsche Watch Face
Porsche has been a long standing symbol for perfection and technology. They have not been merely an automobile corporation that manufacture super-cars but a pioneer in innovation. If you are a fan of their vision and designs, then this Watch Face is a no-questions-asked add-on to your Android wearable. It features a sleek design and if you are a Porsche supporter, it synchronizes the racing days from the season on to your calendar and gets you right up to date with your favorite team.
Availability: Free on Google Play
8. Time Traveler Wear Watch Face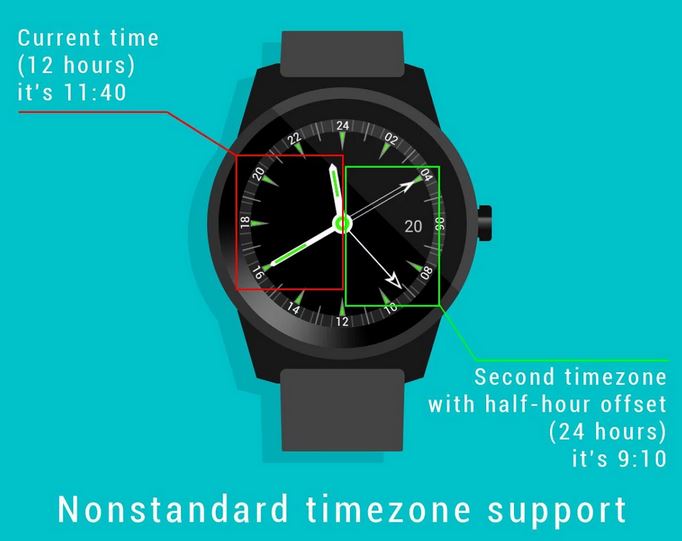 If you are a businessperson who is bound to fly frequently and shuffle between different time zones this Watch Face will make things easy for you. The Watch Face has two sets of hour and minutes hand that will let you know the times at two time zones hat you desire. This will not only make things simpler for you as a traveller, it will also sync with your Android phone. It is highly customisable with several color and display options you can choose from. It also features a battery saving mode that will retain the power for a longer period of time aiding long travels.
Availability: Paid on Google Play
9. Shadow Watch Face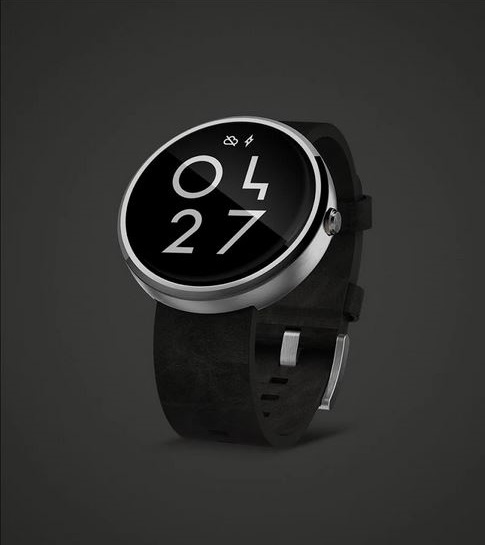 From the design room of Craig Ward, the Shadow Watch Face is a beautiful blend of light and darkness that takes you to the times of sundials. It transcends from night to day to night through shadows and light along with several custom-designed typography to show the time in the most beautiful way. It is minimal and clean on the screen and is absolutely no-nonsense. Go ahead and dive into the world of shadows!
Availability: Free on Google Play
10. Speeds Pro Watch Face
Fired up with a speedometer app, the Speeds Pro Watch Face brings to your Watch an absolute treat if you are a fan of the thrilling realm of speeding. It offers various options to customize and lets your Watch look like sport smartwatch without hindering its functionality. You can tailor it according to  your tastes and preferences. It works seamlessly with both round and square watches.
Availability: Paid on Google Play
11. Angles Watch Face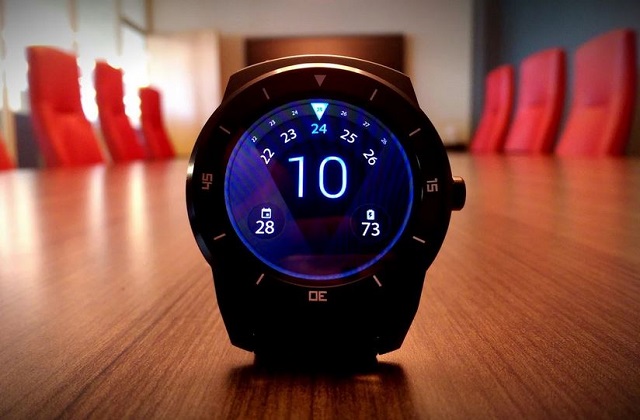 The sweeping of the seconds ticker into different angles on this Watch Face gives out a beautiful picture on your Android wearable. The striking feature on this Watch Face is the different angular dimensions that are beamed out of the display along with information like date and day. Other features of the Watch Face include indicators for battery and calendar and customization options for the Watch display.
Availability: Paid on Google Play
12. Facer Watch Face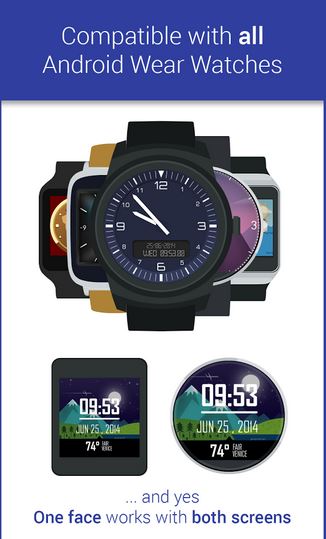 Facer is one of the most popular premium Watch Face designers around and they come up with brilliant designs that will complement the awesomeness of your Smartwatch. They come with editing tools that let you loose to tweak your Watch Face design to your tastes. You can import images and designs and customize fonts and include weather widgets with multiple display options. It can also be your fitness trainer with step counter. It is the ultimate Watch Face you would need if you are meticulous about your Watch Face designs.
Availability: Paid on Google Play
13. Raw Vegan Blonde Watch Face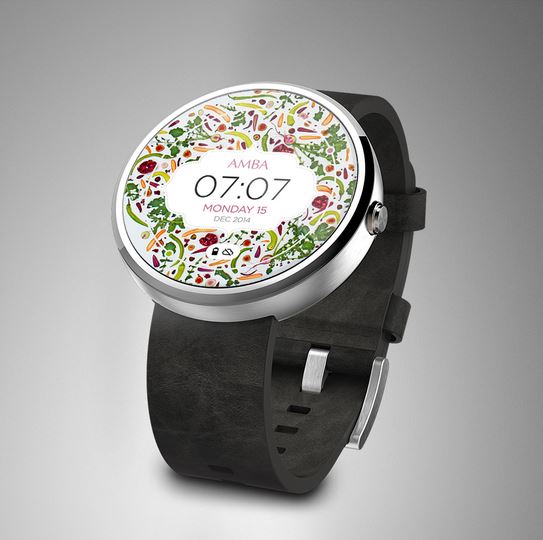 Vegetable Art is a rather new age design feature that has been implemented beautifully on this Watch Face. It is nature-inspired and is literally 'fruitful' as it displays an elegant pattern every day. If you are a person who loves your fruits and veggies, then this Watch Face is bound to give you a refreshing morning, every day.
Availability: Free on Google Play
14. Despicable Watch Face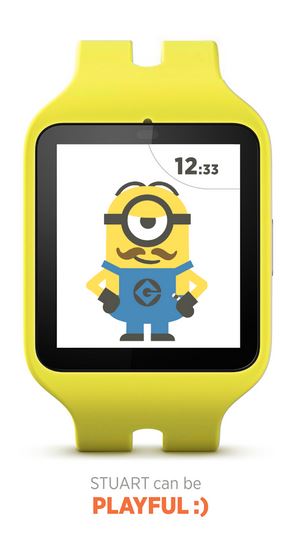 Who doesn't love Minions? These little animated creatures from the Despicable Me series bring a smile to anyone's face with their quirky smiles and voices. But what's awesome? Loads of minions on your Smartwatch, emoting differently at different times of the day, running around, causing mayhem, brightening your day up in a flash. At every point of your day, a different minion appears on the Watch Face, happy or sad, angry or elated, mischievous or silent, only to cheer you up if you ever are down and out for gas.
Availability: Paid on Google Play
15. Fruity Slices Watch Faces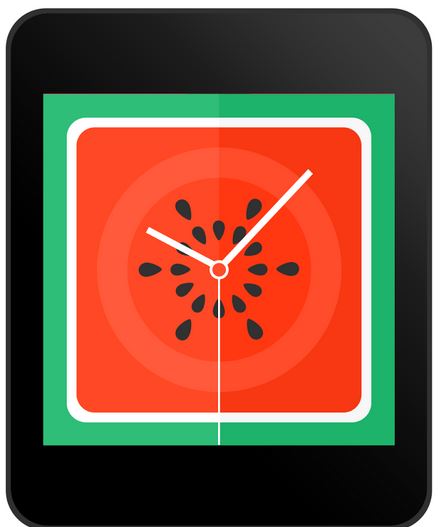 Fruits come in several colors and so do Fruity Slices Watch Faces. Be it the beautiful green of Kiwi or the bright pink of the grapes, this Watch Face presents you with the most vivid depiction of time with vibrant choice of colors inspired by nature. There are several options for you to choose from depending on your mood — Coco White, Classic Kiwi, Grape Pink and Water Fun. All these Watch Faces are custom-made and optimized for square and round screens.
Availability: Paid on Google Play
16. Retro Rocket Watch Face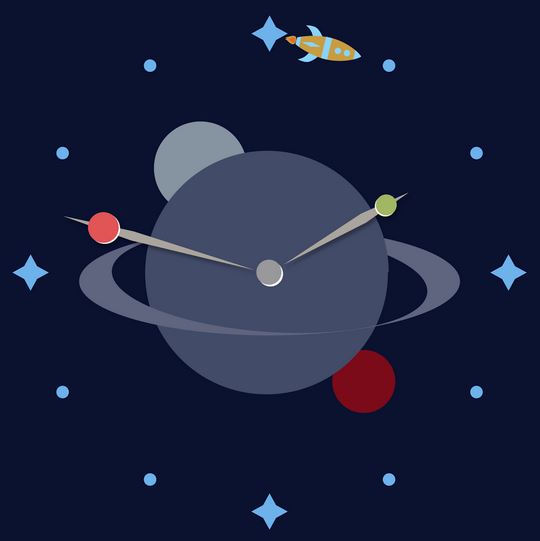 Adding to a traditional Watch Face, this Retro styled design will take you to the empty darkness that is Space. It displays a rocket — the second hand — going around the planets that are surrounded by celestial bodies like stars that also point to the different hours of the day. The buyer has several color options to choose from for his Watch Face.
Availability: Paid on Google Play
17. Planets Watch Face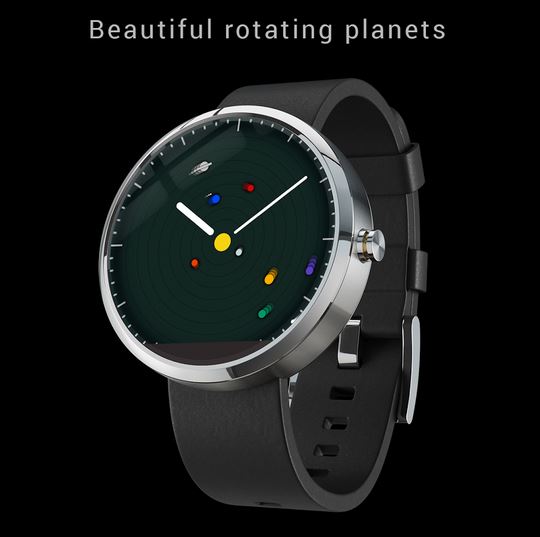 This is another Watch Face that has a Space themed display. It has a rather minimalistic design with small dots representing planets rotating around on the face of the watch while there are hands for hours and minutes. The best part about the planetary display is the accuracy of their positions in the current solar system. They track the rotation of all the planets and the dots move in accordance with the planets they represent. The Watch Face is optimized for round and rectangular smartwatches alike.
Availability: Free on Google Play
18. Muzei Live Wallpaper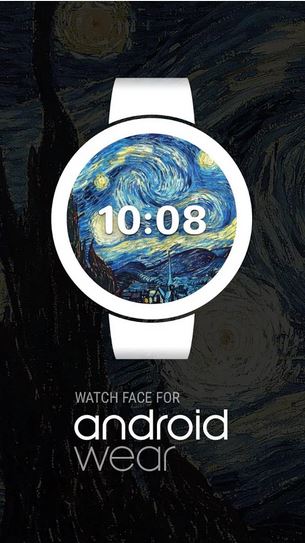 Do you like van Gogh? How awesome would it be if you could have a van Gogh portrait as your wallpaper on your Android Smartwatch? Muzzy Live Wallpaper enables you to bring famous works of art to your Smartwatch. With constant refresh of paintings every day you get to show off a new work of art each day. You could even immerse yourself in the glorious paintings by directly going into the gallery from the Home screen by double tapping. You could also export your photos into the Wearable as your wallpaper image.
Availability: Free on Google Play
19. Human Time Watch Face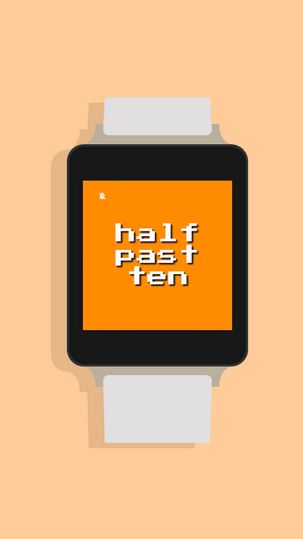 The Human Time is a simple Watch Face that is customisable according to your tastes and the time is displayed just like how spoken time is expressed. 9:15 am is displayed as "Quarter past Nine," and so on. It is a quirky design that you can tweak and turn the way you wish, with several colors and fonts at your disposal.
Availability: Free on Google Play
20. Street Art watch face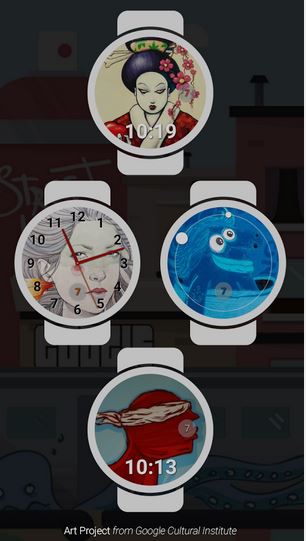 Street Art Watch Face is homegrown by Google as a part of its Cultural Initiative bringing together artwork of famous painters and artists like Aitch, Cheko, Erik Otto, Mariana Dias Coutinho, Hugo Lucas, etc., to present you vivid display images on your Smartwatch. They express different emotions from different artists' perspectives. They are a must-have Watch Face for your Android Wearable.
Availability: Free on Google Play
21. Slate: Watch Face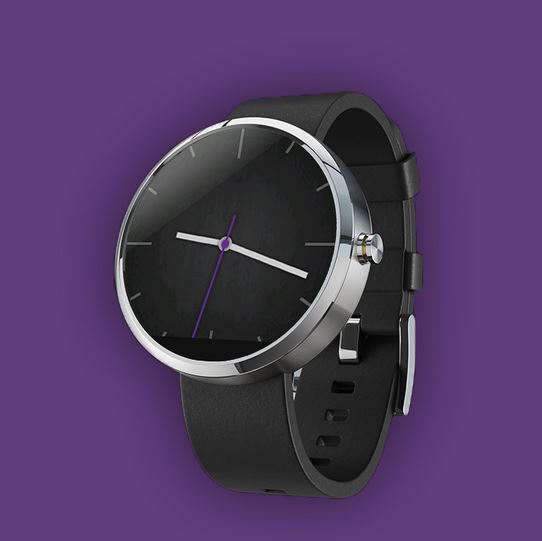 As we come close to the end of the enchanting list of Watch Faces, the Slate Watch Face features as one of the neatest and simplest Watch Faces on the Play Store. It is sleek and minimal and features the hour, minute and the seconds hands.
Availability: Free on Google Play
22. Flip Clock Watch Face
As a fitting end to the list, we go back to retro-style with a flip clock Watch Face. It is stylish and brings to your watch an enchanting look with a dash of nostalgia. It works wonderfully fine with both round and square faces and is optimized for low battery consumption. The Watch Face also boasts a wide range of options that you can tweak around to give your watch the ultimate look.
Availability: Paid on Google Play
SEE ALSO: Best SmartWatches For 2015
If you have any suggestion regarding our list of best Android wear watch faces or want to suggest a new and deserving watch face, feel free to let us know in comments.