Google has fueled the wearable technology and provided a significant opportunity for device manufacturers to make the most of the search engine giant's platform. Google's Android operating system powers nearly 81% of Smartphones shipped in Q4 of 2014 and it definitely makes sense for device manufacturers to build on this ubiquitous platform of Google. Since its announcement of the Android operating system – Android Wear, for the wearable devices last year, Google has seen an ever increasing market for its platform. Device manufacturers are flocking towards the search engine giant for building their devices upon and LG and Motorola were among the early adopters of this newly emerging technology. Now with the latest announcement of Huawei Watch and the lining up of fashion brands like Fossil has made Google's Android Wear even more formidable than ever before.
With beautiful changeable watch faces, Voice recognition, Google Maps, Notifications and other streak of features to it, Google's Android Wear has recently announced of planning to provide WiFi support and Gesture controls in the forthcoming updates. Device manufacturers and consumers alike have taken well to the announcement of this platform, paving way for a boom in the wearable device industry. These devices are quickly morphing into powerful tools that would let you access and achieve important tasks without even getting your smartphone out of your pockets. With a keen advantage for health monitoring, these devices are here to stay for some pretty long time considering the amount of interest and attention it is garnering.
20 Best Android Wear Apps in 2015
While the Google Android Wear and its manufacturers are on the rise, so are the numerous app developers flocking towards it for establishing themselves as early developers for this newly emerging platform. If you have managed to get your hands on one of the earliest versions of these devices or planning to get one soon, here is a list of the best 20 paid and free apps for your Google Android Wear device.
Free Apps
1. InstaWeather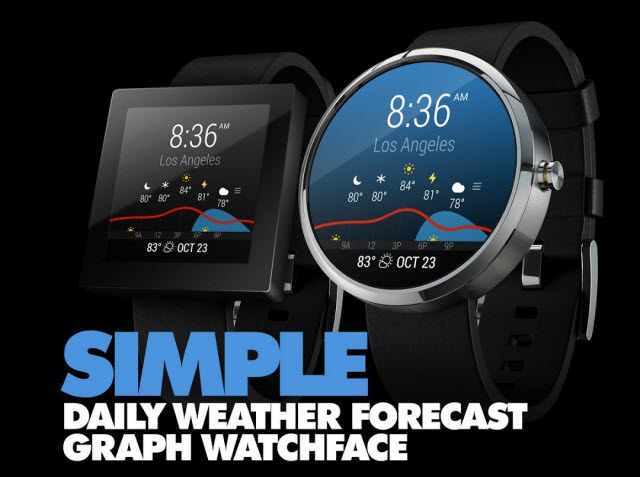 InstaWeather is one of the comprehensive weather management app for your Android Wear if you care about the meteorology more often. This app comes with different multiple watch faces and it provides key details like 24 hour weather forecast, satellite view and hour-by-hour weather forecast. The app also has the ability to provide instant notifications about a snowfall or rain heading towards your direction and the distance details along with it. The power saving mode makes sure that you are not draining your watch's battery while growing more keen on the weather around you.
Weather Radar (rain and snow) works in US, Canada, Mexico, Australia, UK, Ireland, Germany, France, Netherlands, Belgium, Luxembourg, Denmark (southern part only), Switzerland
Supported Smartwatches: Sony SmartWatch 3, Motorola Moto 360, Samsung Gear Live, LG G Watch, LG G Watch R, Asus ZenWatc
Availability: Free on Google Play
2. Find My Phone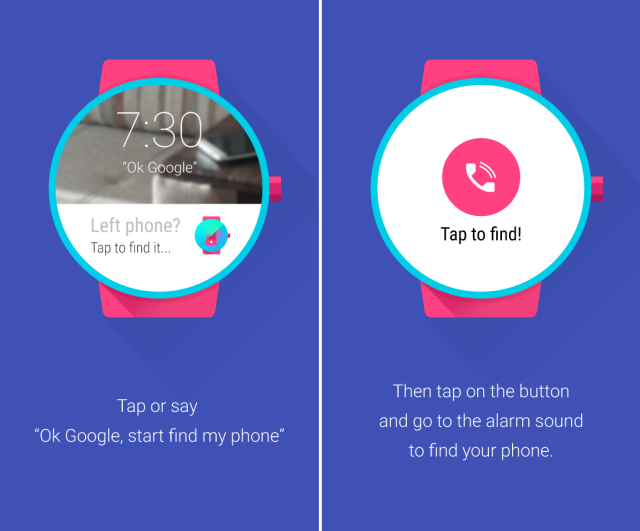 We couldn't stay away from our mobile phones for too long, can we? This app for Android Wear makes sure you are never on the move without taking your phone in tow. This app rings an alarm on your phone when you've strayed far away from it. Unable to find your phone? Simply tap to ring an alarm on your phone and you can easily find wherever it had been left. The settings like alarm volume, alarm tune, vibration, flash light and brightness could also be controlled in the PRO version of this app.
Availability: Free on Google Play
3. WearFaces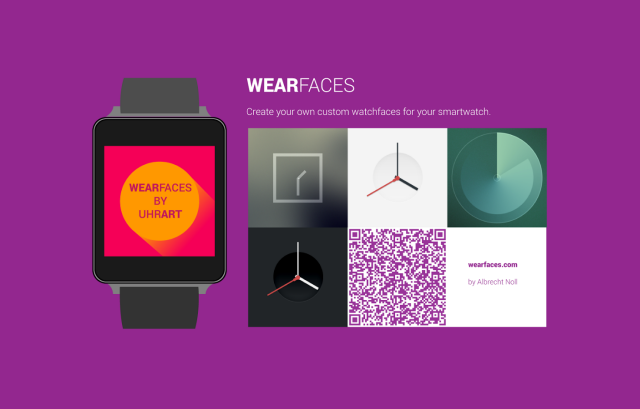 UhrArt's Android Wear faces creator is the app that you should be definitely having on your smart watch. The biggest beauty of Android wear is the ability to customize the watch face according to your choice. Thanks to Android Wear faces' strong community, you can find thousands of high quality watch face designs to choose from. The customizer also lets you create and upload your own watch faces to their collection. Also, you get 5 quality design watchfaces for LG G Watch, Samsung Gear Live and Moto360.
Availability: Free on Google Play
Note:  WearFaces is not compatible with Samsung Gear, Gear Fit, Gear 2, Gear Neo, Sony Smartwatch 1/2
4. IF by IFTTT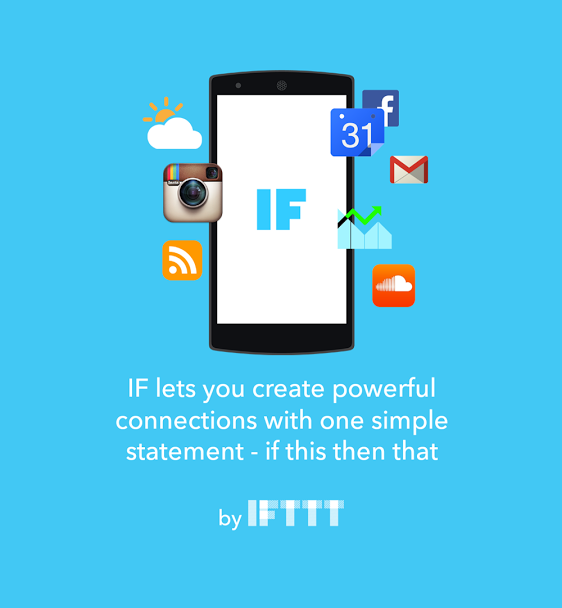 The popular iOS and Android application has also made its way to the Android Wear. IF by IFTTT ('If This Than That') has been named as the Google's Top App for 2014 and it sure deserves its piece of credit by linking your updates and connections with a single simple statement. You can set to receive notifications directly to your Android Wear and this tool also lets you post updates to multiple networks at once. When your set recipes are triggered, certain other pre-defined action occurs like sending your GPS location to someone at the tapping of the screen three times in the event of an emergency.
Availability: Free on Google Play
5. Aeris Wear Weather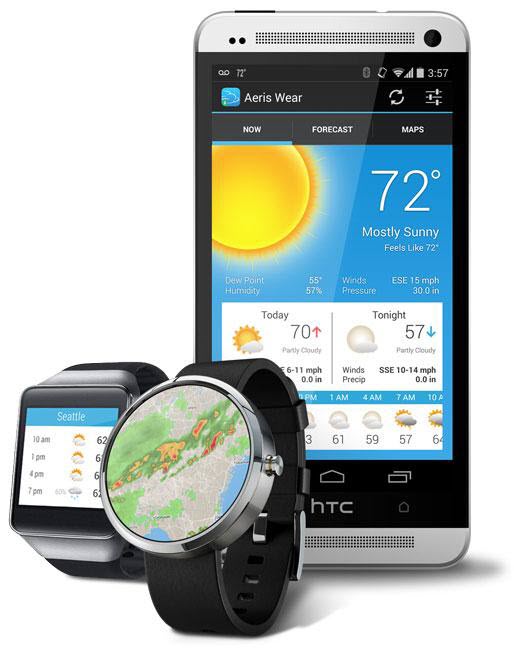 Weather applications work wonderfully on the Android Wear and that compels another one of those apps to make this list. Aeris Weather app provides weather forecasts and updates with an intuitive interface. Current weather and forecasts are covered in the free version of this app. If you choose to upgrade to the PRO version, you can receive further radar and customization features on this application making it a delightful experience.
Availability: Free on Google Play
6. Duolingo
Duolingo was another one of the Google's favorite apps in 2014 and bringing it to Android Wear makes it even easier for you to quickly get fluent in another language on the go. Now you can also browse through flashcards of your favourite language while on the move by simply swiping through the app. A peripheral app like such can help you learn a few more words while moving.
Availability: Free on Google Play
7. Whatsapp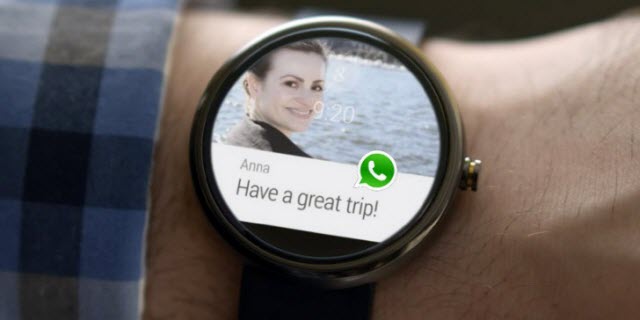 If you are reluctant enough to get your phone out of your pocket upon receiving a Whatsapp notification, this app on your Android Wear is your best bet. The app showcases your received messages and also lets you reply to those through voice input. You would no longer be needing to dig into your pockets to remove your phone for reading your Whatsapp messages with this app for Android Wear.
Availability: Free on Google Play
8. Evernote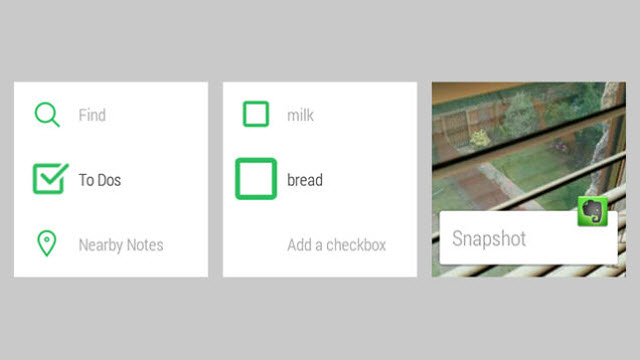 Evernote has consistently been among the top applications for Android and iOS, and now this app has also made its way into the Android Wear market. Taking quick notes might not be feasible for you with the need for digging deep in your pockets to shell out our phone. Evernote for Android Wear lets you make quick notes and to-do lists. Increase your productivity by speaking out calendar notifications and event alerts easily on your smartwatch.
Availability: Free on Google Play
9. Wear Tip Calculator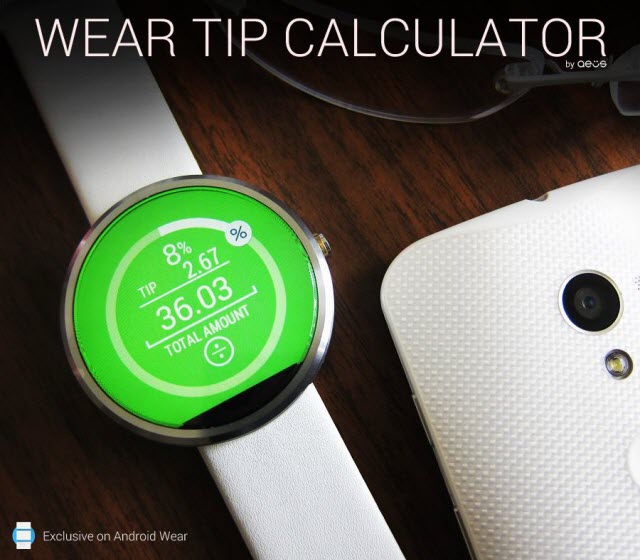 How embarrassing would it seem when you would need to find out the 12% of your bill for tipping precisely and furthermore you happen to be from a Math or Engineering background. Wear Tip calculator is a discreet alternative that lets you enter the total amount, the tip percentage and off you will be provided with the tip amount instantly. All this time, you would have made your friends believe that you were just fidgeting with your new watch.
Supported Smartwatches: Samsung Gear Live, LG G Watch, LG G Watch R, Sony Smartwatch 3, Asus ZenWatch and/or Moto 360 running Android 4.3 or higher
Availability: Free on Google Play
10. Calc for Wear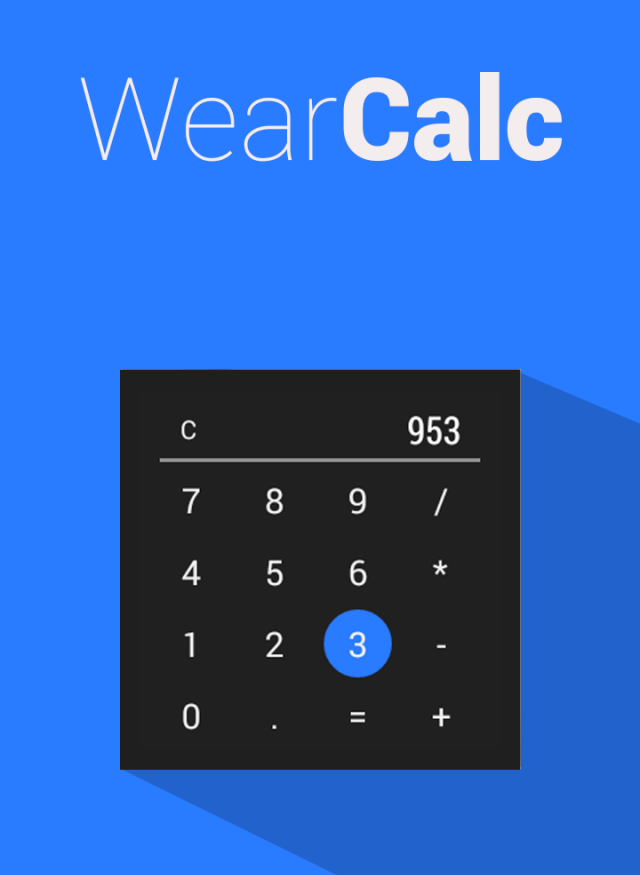 A quick and efficient calculator always comes in handy and WearCalc was made to achieve just that. The highly intuitive interface of this calculator lets you calculate from the comforts of your watch. The stylish and elegantly designed application makes calculations beautiful on your Android Wear.
Availability: Free on Google Play
11. Store for Android Wear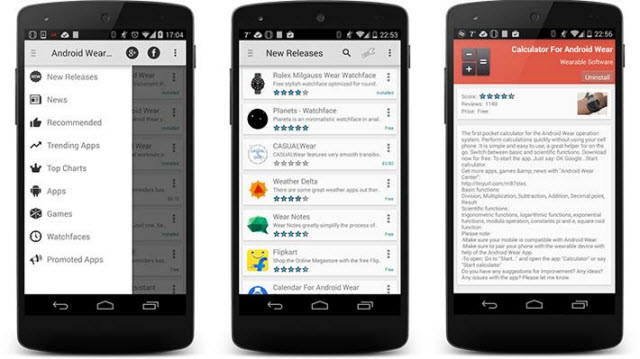 Is finding apps for your Android Wear getting difficult, Store for Android Wear is the complete repository of Android Wear apps that you would ever need. Managing previously installed app is also made easy with this app in addition to finding new ones to get started with.
Availability: Free on Google Play
12. Google Fit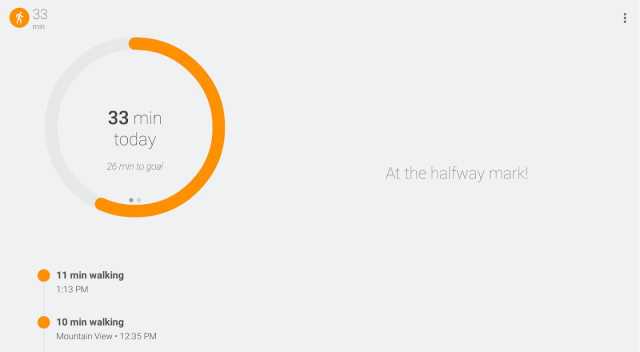 If you are considering or have considered Android Wear to replace your fitness bands, Google Fit is one powerful application to accomplish the same. You can set your daily goals and keep track of your milestones to the path of achieving those. Google Fit would provide you with the daily motivation needed to accomplish your set goals one at a time. With support for over 100 activities, the app also stores your data all in one place through a third-party service.
Availability: Free on Google Play
13. RunKeeper – GPS Track Run Walk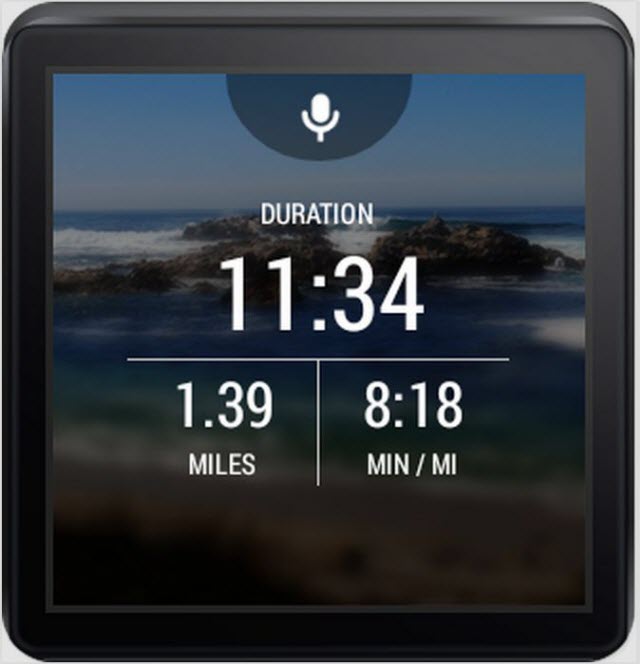 Using the GPS in your device, Runkeeper is the best free running app for your Android Wear. This app lets you keep track of the distance you ran or bicycled, your pace, weight loss and other such key features to set and achieve your goals. The app also syncs with other third-party fitness apps to let you share your milestones and achievements with your friends and family.
RunKeeper integrates with popular fitness apps and devices like:
MyFitnessPal calorie tracking app
Fitbit activity monitoring devices
Garmin Forerunner GPS watches and Garmin Connect
Withings wifi scales
Sleep Cycle app
Some other apps and devices like, Lose it!, Jawbone Up, GymPact, Earnedit, Fitocracy, Zombies Run, Gym Hero, pedometers and more.
Availability: Free on Google Play
14. WearTasker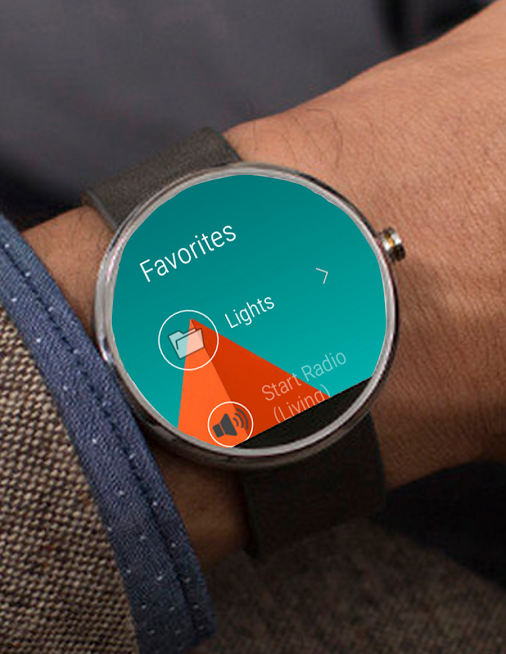 WearTasker is the final free app featured in this list and this one has a pretty steep learning curve if you aren't used with Tasker. WearTasker lets you choose your tasks and accomplish them fairly easily by simply swiping and tapping. The free version of this app only lets you add three tasks while a premium one increases your number of tasks considerably.
Availability: Free on Google Play
Premium Apps
15. PixtoCam (£1.20)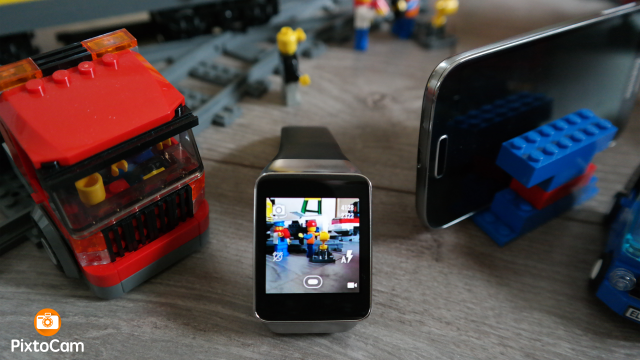 Have you ever wished to control your mobile phone's camera remotely? PixtoCam just lets you do that using your Android Wear. Using this app you can remotely take photos from the front and rear cameras of your smartphone, with even the capability to zoom in. The Spy-ready app makes sure that the sound notifications and flash are disabled on your mobile before taking the photos.
Supported Smartwatches: LG G Watch, Samsung Gear Live, Moto 360
Availability: Paid on Google Play
16. Runtastic Pro (£4.99)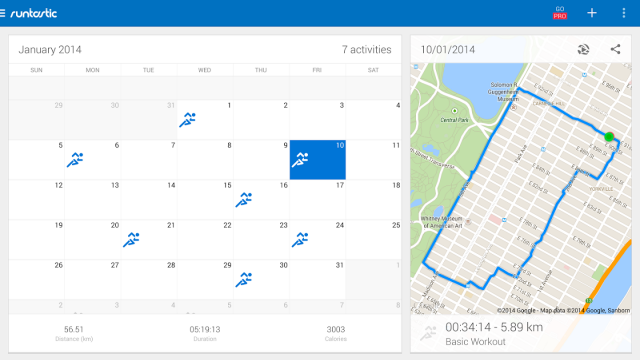 For all the avid fitness freak, Runtastic PRO is one of the most comprehensive fitness application available for Android Wear. You can track your steps, walking and cycling distance in addition to the number of calories burned in the process. The app also supports voice commands. Although Runtastic app comes as a free version, the paid PRO version is your best option for more control of your activities if you are an avid exerciser.
Availability: Paid on Google Play
17. Toggles Wear ($1.31)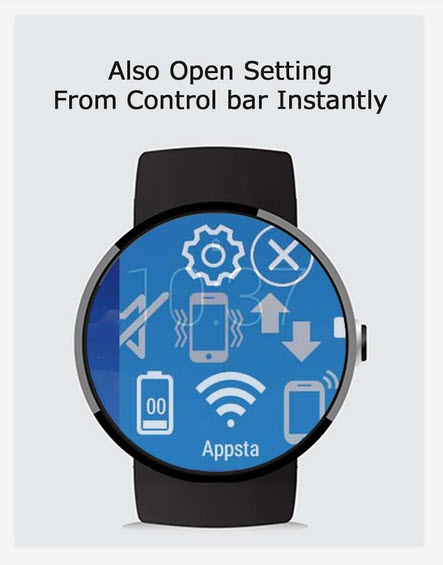 Toggles Wear is made to control your smartphone easily without having to  reach out  for it physically. With simple toggles for WiFi, Bluetooth, phone mode and more, you are just a touch away from choosing the optimum settings for your phone.
Availability: Paid on Google Play
18. WatchMaker Premium Watch Face ( $1.99)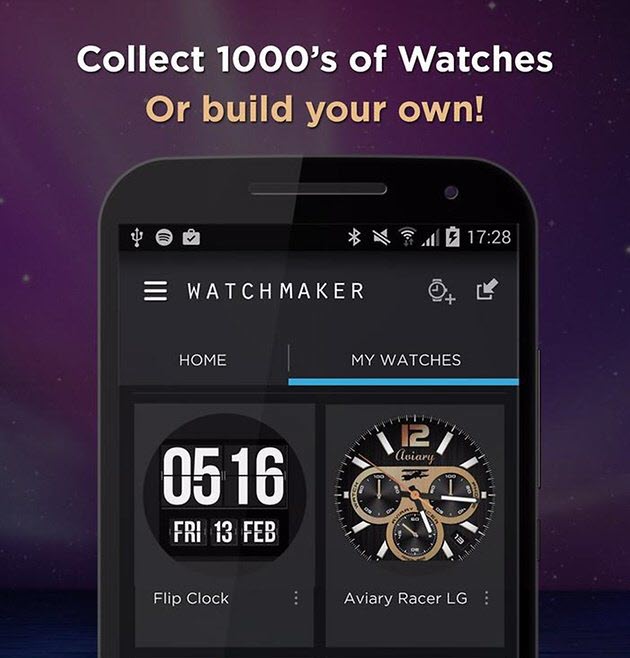 One of the most recommended app for Android Wear is the premium Watch Face maker. This premium watch face app gives you access to over 1000's of Android wear faces collectively designed by the community around it. With built-in compass, stopwatch, weather, countdown timer, calender and heart rate monitoring, this app is one of the most premium comprehensive app you would ever need for your Android watch. With 8 new watch faces added every week, you'll never fall short of a new watch face for each day of the year!
Supports Smartwatches: Motorola 360, LG G Watch, LG G Watch R, Samsung Gear Live, Sony Smartwatch 3,  ASUS ZenWatch
Availability: Paid on Google Play
19. Wear Messenger ($1.98)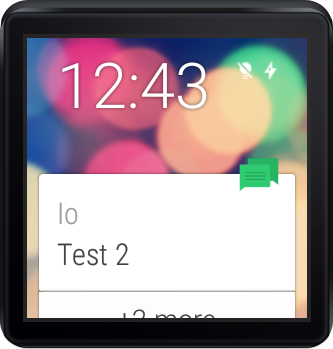 Wear Messenger lets you send and receive text messages on your Android Wear provided that your manufacturer supports the device. The recommended third-party keyboard application to go with this is Minuum.
Availability: Paid on Google Play
20. LookBehind for Android Wear ($0.99)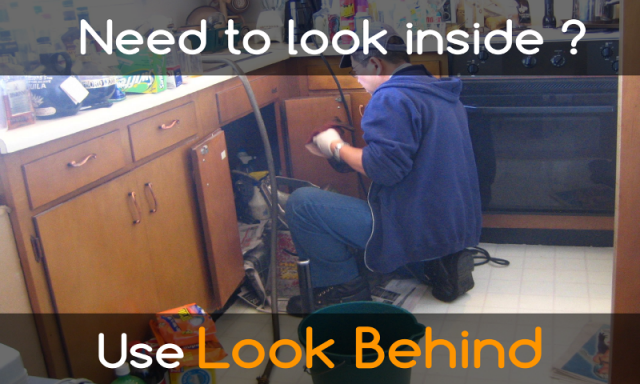 Look Behind is a paid app for your Android Wear to see what's on your phone's camera on your smartwatch. By a simple toggle, you can turn on your phone's flashlight. This app would come in handy for computer geeks in need of getting to the unfathomable areas of the computer while getting something fixed.
Supported SmartWatches: LG G Watch, Samsung Gear Live, Moto 360
Availability: Paid on Google Play
SEE ALSO: Top 20 Best Multiplayer Games For Android Devices
What do you think of these Android Wear apps to make the most of in 2015, the era of wearables? Share your thoughts and any suggestion that you would want to make to this list in the comments section.
---
Load More