Without overlooking the extravagant price tag ($550), there's no doubt that AirPods Max is already off the chart – on the vox pop. The over-ear headphone has got a lot going for it. Be it the much-touted active noise cancellation or adaptive EQ or the polarizing design, the headphone is at the forefront of attention. If you have managed to get one for yourself, you may be hunting for the matching accessories to both protect and enhance the active noise canceling headphone. Should you wish to go for a suitable travel companion, these are the 5 best AirPods Max travel cases that can keep your pricey investment protected.
Best AirPods Max Travel Cases You Can Buy
The worst thing about the new AirPods Max, without a doubt, is the included case. It has a questionable design language that has been memed to death. The case also doesn't serve any purpose other than putting the AirPods Max in low power mode. It is flimsy and does nothing to protect the AirPods Max. That's why I have featured those cases that can overcome its drawbacks.
Giving protection more priority, I have picked out cases that have a shockproof design for an extra safeguard against impact. Notably, most of them also feature water-resistant design to ensure your headphone remains protected from water. As AirPods Max isn't waterproof/water-resistant, you would like to offer an additional shield against water damage, especially when you are on the move. With that said, let's get started with the roundup!
1. Slappa HardBody PRO
Featuring a durable construction that can take on accidental drops with ease, Slappa HardBody Pro is a highly protective case for AirPods Max. While the rugged exterior endows strength, the soft plush velveteen interior prevents scratches. And with the two molded alloy zipper, your over-ear headphone remains securely inside.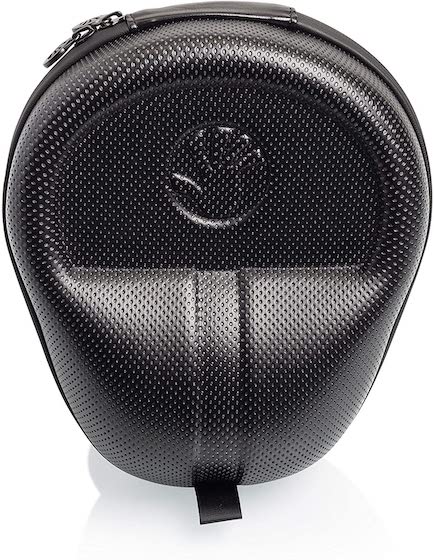 Another notable feature of the Slappa HardBody Pro case is the water-resistant and fire-retardant design that makes it a better choice for travelers or people who tend to use things in a rough and tough manager. Protection aside, the case also comes with a loop that attaches to a carabiner clip for convenient carrying. Keeping in mind these notable features, HardBody Pro seems to be a good bet at $22.
Buy from Amazon: $21.99
2. Geekria UltraShell Case
Another case that bets big on protection is Geekria UltraShell. And looking at the shock-absorbing exterior, I can say that it is fully equipped to shield your over-ear headphone against accidental drops and scratches. For being so protective, UltraShell doesn't seem to be a bulky case.
The simple design with minimal workmanship gives it a formal appearance. And with the internal mesh pockets, you get the convenience to carry things like earphones, chargers, cables, and more. Times when you are on the go, you would appreciate the flexibility to store tiny things.
At $24.55, Geekria UltraShell may seem to be comparatively expensive than other similar cases. But given the simple and protective design, you can't go wrong with it.
Buy from Amazon: $24.55
3. Laudtec
Carved out of PU leather, Laudtec is designed for those hunting for a refined leather case for AirPods Max. The integration of faux leather and ethylene-vinyl acetate gives it a shock-absorbing construction.
While the leather exterior gives it an executive look and feel, the EVA and soft velvet padding strengthen the casing so that the case can absorb shock. Apart from boosting the impact-resistance, the interior also makes the case waterproof, which is yet another plus from a protection point of view.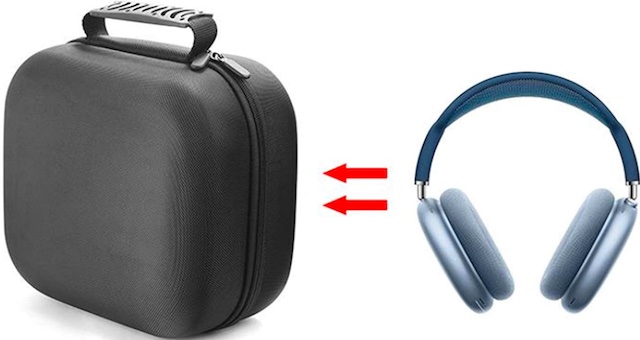 The case has an elastic strap that comes in handy during travel. You can use the strap to carry your AirPods Max with complete peace of mind. Priced at $20, Laudtec is fully equipped to be a long-lasting companion for the AirPods Max.
Buy from Amazon: $19.99
4. CaseSack
If a relatively cheap yet good-looking AirPods Max case is what you are after, this offering from CaseSack could be a deserving contender. The case has got a lightweight yet protective form-factor. Being pretty compact, it can easily get inside a small bag.
Thanks largely to the hard shell EVA and the interior with much-needed cushion, It can defend the pricey headphone against impact and scuffs. Moreover, CaseSack also features a handle that can let you carry your headphone securely. As for the zip around closure, it seems quite durable and also provides hassle-free access to the headphone.
Buy from Amazon: $15.65
5. Homvare
Last but not least, Homvare is the sort of headphone case that packs a solid punch way above its weight. Made of ethylene-vinyl acetate and faux leather, the has a compact yet durable construction. The company claims that it is shock-proof and water repellent, which makes it a fully protective companion for the headphone.
Furthermore, Homvare also features an additional mesh pocket which you can use to store small items like cable and earbuds. The strong zipper with double stitching makes it easy to close/open. Plus, there is a carabiner clip that can let you attach the case to a bag or backpack for secure carrying.
On top of all, Homvare comes in a variety of color variants including black, blue, charcoal, and more so that you can choose the matching color for your headphone.
Buy from Amazon: $13.99
Top AirPods Max Cases Lined Up for You
So, that ends our roundup of the best travel cases designed for AirPods Max. Considering how expensive the headset is and also the fact that it isn't waterproof, it's advisable to offer an extra shield to ward off accidental damage. After all, prevention is always better than cure, isn't it?
By the way, can you tell us why you preferred the AirPods Max over the regular AirPods Pro? I would love to hear from our readers why they are investing in such a pricey headphone. Let us know your thoughts in the comments below.