There are certainly times when the inbuilt speakers on our computer and TV just does not make the cut when it comes to watching movies, listening to music and playing games. This is to be expected, as the inferior internal speakers usually cannot be compared to a dedicated speaker system, especially due to the lack of enough bass and power output. If you want to experience punching bass out of your speakers, even a pair of dedicated satellite speakers won't do the job. That's exactly why you need to invest in a good 2.1 speaker system. This speaker system includes a pair of satellite speakers and a sub-woofer for producing good bass, and hence the name, 2.1. These speakers are usually great when it comes to all-round performance, like playing music, movies and even games. So, if you're keen on purchasing a new 2.1 speaker system for your computer or television, these are the 10 best 2.1 speakers you can buy:
1. Logitech Z623 2.1 
THX-Certified Multimedia Speaker
When it comes to performance, it's pretty hard to beat the Logitech Z623 2.1 speakers. If you have a thing for rumbling bass, the Z623 will certainly do the job, as it's nothing short of exceptional in terms of bass performance. The Logitech Z623 is THX certified, which means this speaker system has went through 200 rigorous THX tests to ensure accurate tonal balance with minimal distortion and noise. The subwoofer packs a 7-inch bass driver, and is capable of producing 130 watts of power, whereas the overall speaker system boasts 200 Watts of RMS power. That being said, the peak power goes all the way up to 400 watts, which is outstanding from a speaker system in this price range.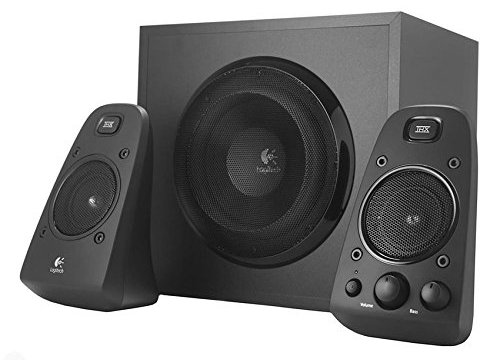 The Logitech Z623 has RCA and 3.5 mm inputs to easily connect up to three audio devices. This speaker system has been available for quite a while now, and there's a newer model with minor changes, named the Logitech Z625. It's basically the same set of speakers, but you'll have to shell out 30 bucks more, for the new Optical connectivity (S/PDIF) option that it comes with. All in all, for an asking price of under 120 bucks, you simply cannot go wrong with the Logitech Z623, as it's worth every single penny.
Buy from Amazon: ($119.99)
2. Bose Acoustimass 5 
Series V Stereo Speaker System 
Only a handful can match the level of sophistication that Bose brings to the table, in the audio department. The company's Acoustimass 5 Series V 2.1 speaker system is no exception in this regard, as it features an minimalistic, yet elegant design that makes it stand out from the rest of the competition. The satellites in this speaker system have a sleek profile with precisely angled drivers to fill the room with spacious performance without any sweet spots.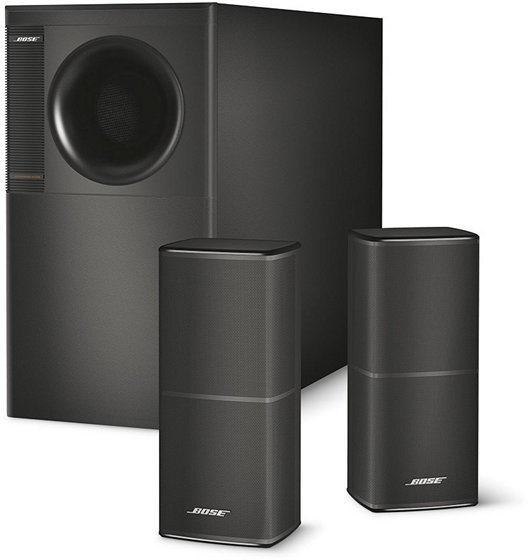 The sub-woofer used here is called the Acoustimass module, that's capable of reproducing low-note performance with deep, clear precision, no matter what the volume is. Lastly, the Bose Acoustimass 5 Series V is aimed towards home theater setups and its recommended power varies from 10 to 200 W, with receivers rated from 4 to 8 ohms.
Buy from Amazon: ($399)
3. Sony SRS D9 2.1 Multimedia Speaker System
Next on the list, we've got a 2.1 speaker system from Sony. We've seen plenty of speakers from Sony, and they barely disappoint when it comes to sound quality. The Sony SRS D9 is no exception, as it features a set of magnetic fluid speakers and a subwoofer. The RMS power for this speaker system is rated at 60 Watts, which is quite impressive for the price point.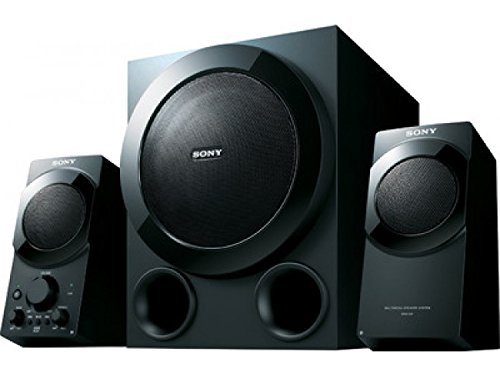 The SRS D9 has a frequency range of 28-150 Hz for a high-end sound experience, and the sub-woofer is made of wood to provide an optimal bass performance, as the 5-inch bass driver is capable of providing strong bass without any compromise on sound quality. At a price tag of nearly 85 bucks, the Sony SRS D9 is definitely worth investing in, especially because of the sound quality that it manages to bring to the table.
Buy from Amazon: ($85)
4. Cyber Acoustics 2.1 Computer Speaker with Subwoofer
If you're on a tight budget, but don't want to sacrifice much in terms of performance, the Cyber Acoustics 2.1 speaker system will be surely worth every penny you're spending on. This speaker system features two 2-inch satellite speakers and a 5.25-inch side firing sub-woofer for that deep bass. The sub-woofer is packed in a wooden cabinet and is acoustically tunes for optimal sound quality.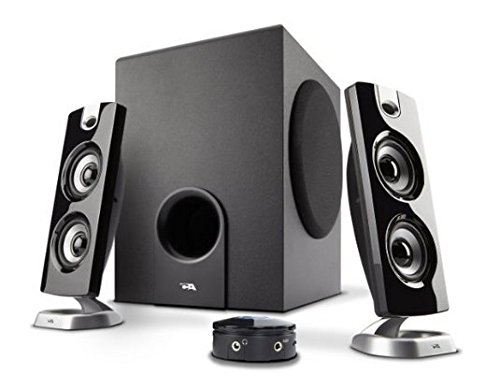 This speaker system comes with a desktop control pod that gives you full control over the speakers, as it includes an on/off switch, volume control, bass control, LED power indicator, headphone jack and auxiliary input to connect your phone, tablet or gaming console. The peak power is rated at 62 Watts, whereas the RMS power is rated at 30 Watts, which is seriously good for a speaker system costing under 40 bucks.
Buy from Amazon: ($39.43)
5. Edifier USA M3200 2.1 Speaker System
Edifier has a pretty good reputation in the audio industry and the company strives to live up to their name with their M3200 2.1 speakers. Packing a completely unique design, with satellites looking almost like a flower vase, it's hard to not take a second glance at these set of speakers. There's no compromise in terms of functionality due to this design. The sub-woofer is magnetically shielded and enclosed in a wooden box, and packs a 5 and a half inch driver for that deep bass we all love.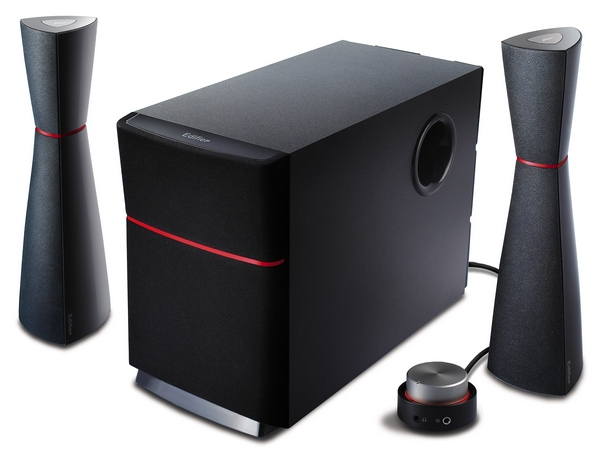 The satellites on the Edifier M3200 pack a small driver at the top and a larger driver at the bottom for producing a sharp sound, with minimal distortion. The speakers come with a control pod that packs volume control, on/off switch, headphone jack and an auxillary input. For the price point, the RMS power of 34 Watts is fairly decent and good enough for most of the users.
Buy from Amazon: ($78.52)
6. Harman Kardon Soundsticks III 2.1 Channel Multimedia Speaker System with Subwoofer
If you're more concerned about stellar looks rather than actual performance, you're bound to fall in love with the Harman Kardon Soundstricks III. This 2.1 speaker system features a completely futuristic design, as it's made of transparent plastic, that lets you see through the internal components of the speakers. The sound quality is quite good, but for its price point, we expect much more, especially because it's coming from Harman Kardon.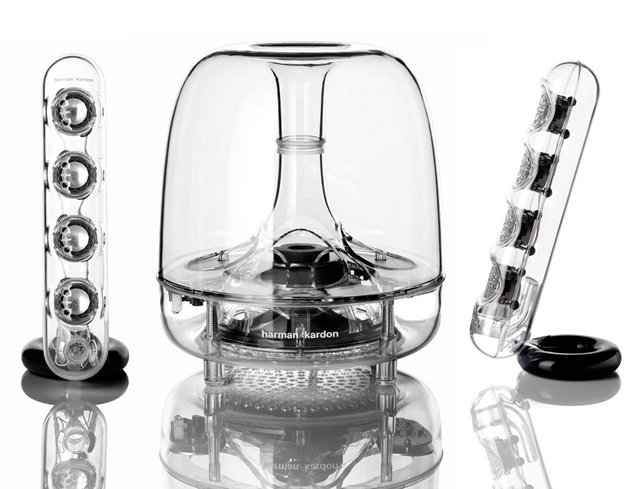 The Soundsticks has an RMS power of 40 watts, which is disappointing for a 2.1 speaker system costing nearly 150 dollars, so don't expect the punchy bass that you'd expect from a Logitech Z623. The speakers have touch sensitive controls for raising, lowering or muting the system volume, and the satellites are completely angle-adjustable, so that you can fit exactly where you want them.
Buy from Amazon: ($147.99)
7. 
Arion Legacy AR504LR-BK 2.1 Speaker System with Subwoofer & Remote 
Compared to several other 2.1 speakers featured in this list, this one's quite bulky, but surely manages to overwhelm us in terms of sound quality. these speakers are primarily intended for listening to music, as it packs 2 tweeters, 4 woofers and a sub-woofer, to fill your entire room rumbling bass. The manufacturer claims full spectrum sound ranging from 20 Hz to 20 KHz with these speakers and promises low harmonic distortion.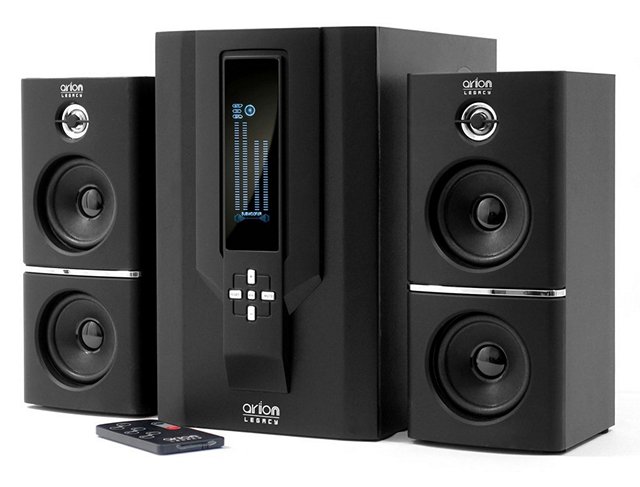 A remote is provided with the system, so that the users have full control over audio. The sub-woofer features an integrated LCD display with digital equalizer and AUX input jack. Lastly, the RMS power is rated at 35 Watts and the peak power goes all the way up to 70 Watts, which is impressive for a 2.1 speaker system at this price point.
Buy from Amazon: ($54.99)
8. Logitech Z333 Multimedia Speaker System
We've got another Logitech 2.1 speaker system in this list, but this one's much more affordable than the Z623. That's right, the Logitech Z333 costs half as much as its bigger brother, but manages to bring serious performance to the table. With an RMS power of 40 Watts and a peak power of 80 Watts, we're seriously impressed with the audio quality that the Z333 offers at this price point. The sub-woofer packs a 5-inch driver to provide a deep rich bass for the audiophiles, with minimum distortion.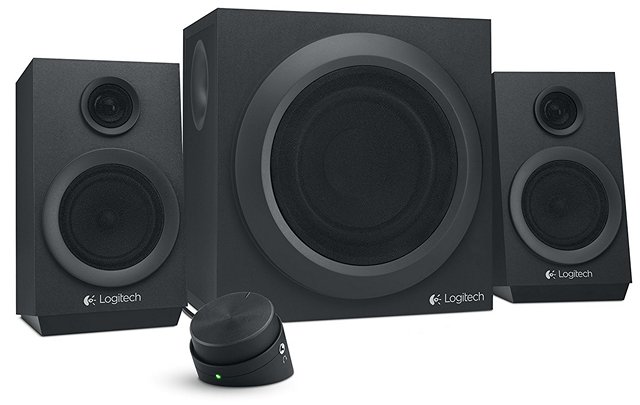 The Z333 has a control knob located on the sub-woofer, you can easily adjust the bass according to your preferences. The speakers come with a control pod as well, which lets you adjust volume, connect headphones and turn it on/off. This is something which the higher-end Z623 misses out on. If you're aiming at high performance on a budget, this is certainly the one you should be going for.
Buy from Amazon: ($54.99)
9. Bose Companion 5 Multimedia Speaker System
While the Acoustimass 5 Series V speakers were aimed towards home theater setups, the Companion 5 is primarily intended for computers. Just like most of the Bose products, pricing is on the expensive side, and it pretty much costs the same as the Acoustimass V speakers. The overall package is compact and the satellite arrays come fully assembled on stands for superb performance and more usable desktop space.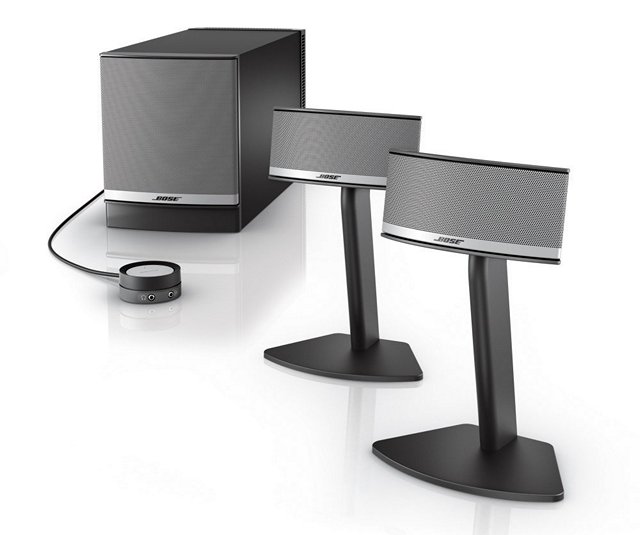 The Companion 5 comes with a handy control pod, which lets you adjust or mute the volume and houses and headphone jack as well as connection for a second audio source. What's unique about this speaker system is the fact that it houses a compression circuitry in order to keep your music clear and distorted at even maximum volume. Whether you're playing games, movies or music on your computer, the Companion 5 can offer a surreal audio experience.
Buy from Amazon: ($399)
10. Creative SBS A250 2.1 Multimedia Speaker System
Last on the list, we have the most affordable 2.1 speaker system that's considered as best in the price range. Well, Creative's quite popular for making some affordable yet impressive speakers, and the company's A250 is just one of them. For under 30 bucks, you're getting a 2.1 Multimedia speaker system that offers RMS power of 9 Watts and a peak power of up to 18 Watts, which is certainly good enough for most of the budget minded consumers.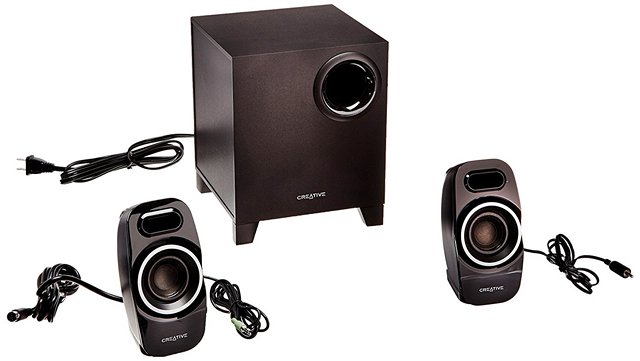 The SBS A250's downward firing sub-woofer is custom tuned for offering rich base without much distortion at higher volumes. An improved frequency distribution of the whole system is ensured, thanks to Creative's Dual Slot Enclosure. Well, if you think the other speakers featured in this list are too expensive for your budget, this is definitely worth checking out.
Buy from Amazon: ($29.99)
              SEE ALSO: 10 Best 7.1 Surround Sound Headsets You Can Buy
The Best 2.1 Speakers You Can Buy At Different Price Points
We're glad that we could list out some of the best 2.1 speakers for every single price point, in order to satisfy all our readers, as we know everyone's budget varies. That being said, a 2.1 speaker system is worth investing in, especially if you're used to the internal speakers on your computers and TVs, in order to notice the stark difference between them. Once you switch to a 2.1 speaker system, we're pretty sure that the integrated speakers will never manage to please you. From the Bose Acoustimass 5 Series V to the Cyber Acoustics 2.1 speaker system, there are plenty of options to choose from. So, which one of these best speakers are you looking forward to buy? Do let us know in the comments section down below.