Whenever I'm posed with the question, what is your all-time favorite anime? No matter what, Attack on Titan will always find a spot on my top-rated anime list. Inarguably, it is one of the greatest anime of all time and will be forever remembered by the fandom that way. This is the highest reputation one's work can get, and the recent Attack on Titan finale only further solidified that statement for me. So, how did you like the Attack on Titan ending?
Attack on Titan's ending was first revealed in manga Chapter 139 back in 2021, and well, it created quite a stir among the fans. From then on, fans were waiting for the anime's finale to see if anything had changed. Now that the series has concluded, I've analyzed the ending of Attack on Titan and even compared it with the manga to see if there were any changes. So, keep reading as we explain and learn all about the enigmatic ending of AOT in this post.
Heavy Spoilers Warning: This article contains major spoilers for the ending of the Attack on Titan series. We highly suggest you read the manga (up to chapter 139) or watch the anime completely to avoid ruining your intended experience.
How Does Attack on Titan End?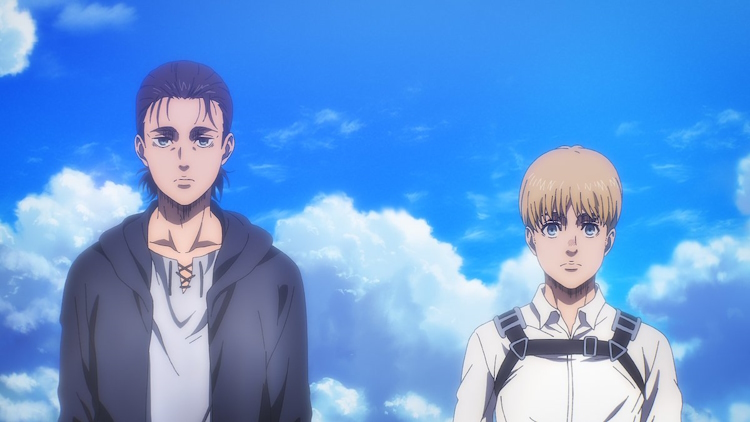 We have broken down the ending of Attack on Titan into multiple sections so that you can understand each moment completely. They are as follows:
Mikasa's Destiny
Earlier, with the aid of his kin Levi and friend Armin, Mikasa stormed inside the founding titan in the climactic chapter of AOT. Before this, the centipede/ worm (source of all living matter) turned the remaining humans alive into titans. Thus, it was chaos everywhere and Mikasa began to see a dream-like moment with Eren.
She knew what she had to do and delivered on it by successfully decapitating Eren's head. And in that heartbreaking moment, she gave him the first and last kiss of her life. This moment was instantly followed by a lengthy conversation between Eren and Armin, which finally shed light on the impending mysteries in Attack on Titan.
Eren's Conversation with Armin
The final moments of this grandeur saga are nothing short of epicness. It started with Eren having a deep and important conversation with his best friend, Armin Arlelt, in what they call the 'Path'. He discussed the recent events of his actions, rumbling, and everything with him.
Furthermore, Eren will then apologize to him about their last meeting. This makes us remember an important line mentioned by Armin, "Those who can't abandon anything, can't change anything". This turns out to be true as Eren chooses to abandon his comrades in an attempt to change the future of the people he loves. Although his actions aren't the righteous way to achieve true freedom he yearns for, it's the necessary sacrifice he had to make to secure a safe future. A small price to pay for salvation, isn't it?
Eren also highlights why he decided to go with the idea of Rumbling. He added that more than 80% of the world's population has been eliminated mercilessly. Thus, the rest of the world couldn't take revenge against or continue discriminating against Paradis for a long time to come.
Eren then mentioned how Armin, Mikasa, and others will be revered as heroes for saving humanity from the brink of extinction as he made himself a villain for that very reason. This is very similar to how the Tybur family was considered after the Great Titan war. It also reminded me of another great anime's ending, "Code Geass" in that moment.
Furthermore, Eren gave away an important piece of information about Ymir Fritz. Ymir remained obsequious to King Fritz for ages even after death as she was in love with him. We don't know whether this was a case of Stockholm syndrome or she did love him as even Eren was puzzled at first and later confirmed she continued to serve and obey him for the sole reason of loving him.
The most horrific part of this conversation is when Eren reveals that he ordered Dina Fritz in titan form to devour his birth mother, Carla Yeager. It's because he knew that this was the main triggering event in his life that started everything and how the history played out.
Next up, he started to have a breakdown and expressed his true feelings for Mikasa. This confession to Armin led to us seeing his true self behind the devil facade he has been portraying himself as all the time. Eren admitted that he wants to live with Mikasa and his friends and not die sooner. But then, he also knew that wouldn't happen anyway. The power of seeing the future and past simultaneously took a heavy toll on Eren's mind.
Later, he even revealed to Armin that he didn't know why he did all this, but he knew deep down he had to. On seeing this, Armin decided to remark that they share the burden of this outcome and it's not something Eren alone brought up in this world.
He then let Armin know that he would erase the memories of this conversation temporarily and that he would remember this conversation later for sure. In his last moments, Eren made sure that he would go to extreme lengths to save humanity, especially for his friends.
Did Eren Die in the End of Attack on Titan?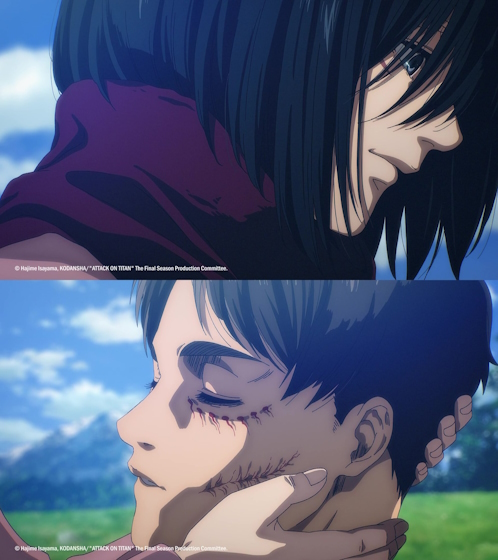 Eren's death at the hands of Mikasa was a destiny that can't be changed. It was revealed by Eren in his conversation with Armin. All these days everyone believed that Eren would be the one to free Ymir. But he revealed that Ymir Fritz had been waiting for ages for someone to come and free her from the shackles of love and that person wasn't him. It was later confirmed that the person was Mikasa.
We were left to wonder why it was Mikasa, the same as Eren, but there is no information about why Ymir chose Mikasa herself. All events in history took place the way they were supposed to so that Mikasa could finally free Ymir.
As you can see from this conversation, Eren's death was bound to happen and he knew it himself. The act of cutting off Eren's head directly led to Ymir getting her freedom, which further resulted in Titan powers vanishing from this realm. All the people who had the titan powers shifted to titans, and people who turned into Titans were restored to their human form as the link between Ymir, Eren, and the worm (the source of all living matter) was severed.
Even Mikasa has a final conversation with Ymir to mark its importance and bid goodbye. Then Mikasa, Armin, and everyone else mourned their friend's death and wanted to give him a proper burial. So yeah, Eren indeed died in the arms of his lover, and what a tragic yet poetic death it was!
Outcome of the Battle of Heaven and Earth
After the end of the rumbling and everything, Mikasa and Eren's friends took his remains and buried him in his favorite place. It's a special place under a tree where Eren used to nap as a kid. Three years have passed since the climactic war, which was known as the "Battle of Heaven and Earth," and the survivors of this war (namely Reiner, Jean, Conney, Pieck, etc.) were announced as ambassadors.
Their primary goal was to initiate peace negotiations between Paradis and the other nations. While this was going on, Historia confirmed the remaining group of Yeagerists joined hands to begin another military organization. This was formed to ensure the safety of the people of Paradis and defend themselves once again from the greater danger posed by the outside world.
Years passed by and Mikasa continued to visit Eren's grave. She weepingly remarked how she missed him and wanted to see him once again. During this time, a beautiful moment took place when a bird flew by and interrupted her crying to fix the scarf that was about to slip off Mikasa's neck.
If you are an ardent fan like me, you remember exactly how Eren wrapped the scarf around Mikasa when he gave it to her. Well, the same happened in the final moments of the story and even Mikasa acknowledged this sign by thanking Eren once more for doing this. That Bird is considered to be the reborn version of Eren as it was spotted near Armin as well before this incident.
The ideal world (a world without titans) Eren dreamt of for his friends and the people of Paradis was secured for now. Along with Mikasa, it was emotionally overwhelming for us to bid goodbye to our favorite character Eren! And so Itterasshai, Eren!
The New Beginning After the End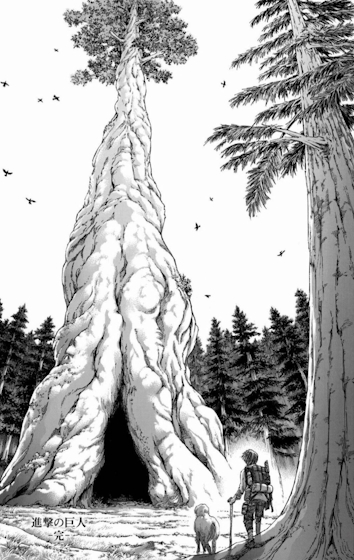 Up until now, this ending looks like the peaceful and bittersweet ending we hoped for (except for Eren's saddening fate). But things took a sudden change when Hajime Isayama decided to extend the final chapter. This showcased to us the future of Paradis Island, the happening around the world, and the final moments of Mikasa.
Mikasa continued to visit Eren's grave every year with her newly formed family. And even in her old age, this tradition continued. A specific panel was shown which confirmed the death of Mikasa in her old age as she was buried with Eren's scarf. Several years passed by, and the civilization of Paradis Island rapidly developed into that of a futuristic world.
The tree beneath which Eren's remains were buried grew larger and larger as all of these events transpired. Unexpectedly after a long time, war broke out once again in Paradis, and Shiganshina became bombarded into a barren wasteland. One would say, well, this was bound to happen to the land of Titans and this was the realistic outcome one could have expected.
This reminds me of the quote from Netflix's Dark series, "The cycle must repeat, just as always it has." As long as there is a hunger for power, fame, and glory between humans, wars will continue to exist. The repetition of the war cycle brings the most humane touch to the story by Isayama.
The war resulted in a forest taking over the lands once again and engulfing the tree where Eren was buried. In this apocalyptic world, a young child and his dog discover the tree. This tree bears a resemblance to the one Ymir Fritz discovered and walked into all those years ago! Additionally, the child and the dog are seen going inside the tree. This means Isayama heavily hinted at history repeating itself once again with the possibility of the discovery of the Titan powers and the discrimination, wars, and battle cries, which is about to follow just like how we witnessed before.
Is AOT Anime Ending Different from the Manga?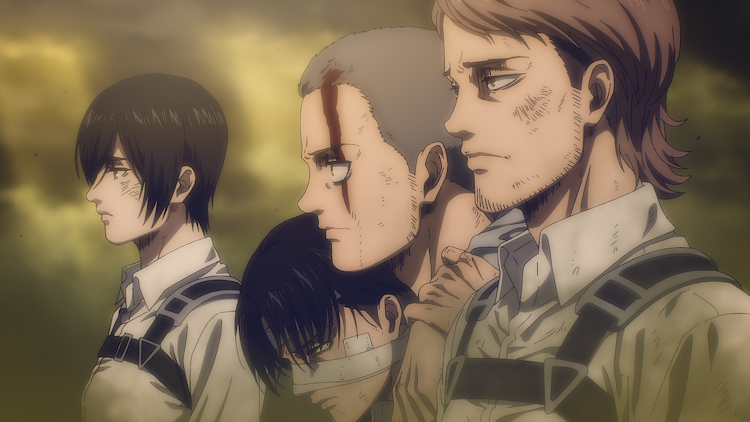 After the manga's conclusion, debates were raised about whether the anime needed to have a different ending than the original manga due to the dissatisfaction of the fandom. Even before this final episode was released, it was stated that Isayama assisted the staff with a change in the AOT ending. However, this all doesn't matter anymore, as the anime's ending stayed true to the Attack on Titan manga's ending to the tee.
Many misunderstood Isayama's words when he mentioned he had redrawn the last scene's draft. A few extra dialogues or scenes may have been added to further justify the ending and make the finale more emotional for the fandom. Therefore, it is now confirmed that the Attack on Titan anime's ending is the same as the manga.
The only little change we observed is that in the manga the civilization of paradise advanced to that of a modern world we live in whereas in the anime it showcased a more advanced and futuristic civilization. Also, the child and the dog are seen going inside the tree whereas in the manga they just discovered and wondered about it. Anyway, these are just minor creative changes.
Beebom's Take on the Ending of Attack on Titan
We read the manga's ending as soon as it was out two years ago, and we liked how author Iseyama approached Eren's final moments. And now, after watching the finale of the anime, we were shocked and overwhelmed to see Iseyama's genius, he had managed to create such an enigmatic story filled with mindblowing twists, unreal emotions, unpredictable drama with extraordinary battle scenes, and more
After checking out the extended version of the finale, this is a befitting conclusion to this magnum opus story which continued to spellbind us for 10+ years and in the end provided a once-in-a-lifetime experience.
As mentioned earlier, this is the more realistic approach to the ending and gives a humane touch to the story. Although we know this isn't the perfect ending, we can't think of a better ending than this albeit we know this gave mixed feelings to some fans.
The ending landed in a way that many felt it to be disappointing and an equal amount of people found it to be the fitting ending to an epic saga. Nevertheless, that won't be able to tarnish the GOAT status of the series as it was a perfect example of a perfect anime/manga. At the end of the day, opinions and experiences are subjective and boil down to one's preference and perspective. We hope we were able to assist you in understanding the true ending of the Attack of Titan series in a better way.
The finale deeply moved us and let fans grieve for the comrades we have lost throughout the story (Sasha 😭). However, at the same time, the hint of history repeating itself was something we didn't expect to see. It's not the Titans or any other creature that disrupts global peace, it's always the humans who are hungry for more power and absolute control over the world, turning this good place into a battleground to show off their superiority and stroke their ego. That's subtly portrayed in Iseyama's manga.
Everything aside, we all enjoyed this epic conclusion to this legendary story and bid our goodbyes to unforgettable favorite characters from this series. And for one last time, Shinzo wo Sasageyo! What do you think about this ending? Let us know in the comments below.
---
Load More