True to its name, the most fascinating thing about the Attack on Titan manga and anime series is the Titans. Till today, I remember vividly when I started watching AOT back when it first aired in 2013, the concept of Titans and Titan Shifters hooked me. From then on, the anime began to expand on the concept of Titans, introducing bigger and more powerful monsters.
Over the course of four seasons, we also learned that there are a total of nine titans, and each has its own special powers. Since the Attack on Titan finale is finally here, we have listed the nine Titans and their powers in this guide. Keep reading to learn about every Titan in the AOT manga and anime series.
Spoiler Warning: This guide includes spoilers for Attack on Titan (aka Shingeki no Kyojin) manga and anime series. Proceed at your own risk.
What & Who are the Nine Titans in AOT?
It all started when Ymir Fritz combined with the source of all living matter to become the first Titan, aka the Founding Titan. Right after her death, the Titan powers were passed down to her three daughters in a gruesome way. From then on, passing down these powers to further generations led to the birth of eight Titans.
So there is a total of nine Titans and various characters have inherited the powers throughout history. The names of the nine titans are:
The Founding Titan
The Attack Titan
The Armored Titan
The Beast Titan
The Colossal Titan
The Female Titan
The Jaw Titan
The Cart Titan
The War Hammer Titan
That said, let's take a look at all the nine titans in the AOT universe:
1. Founding Titan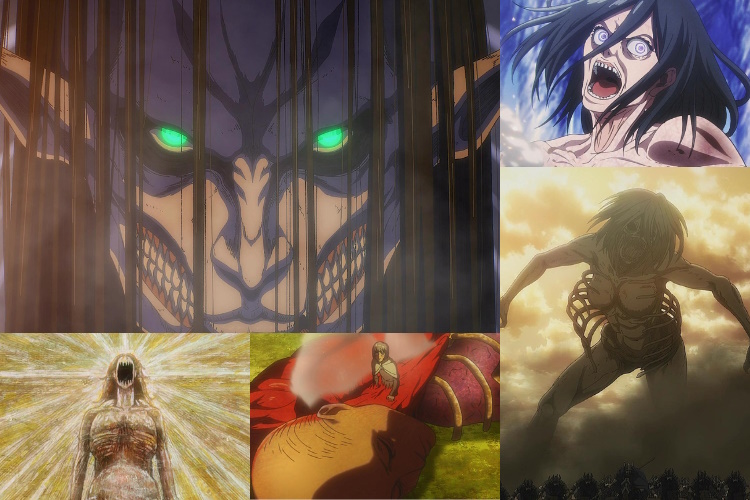 Japanese Name: 始祖の巨人 (Shiso no Kyojin)
Previous Inheritors: Ymir Fritz, Karl Fritz, Father of Uri Reiss, Uri Reiss, Frieda Reiss, Grisha Jaeger
Current Inheritor: Eren Jaeger
Height: Varies depending on inheritor
Special Powers: Control and creation of Titans, Ability to control and communicate subjects of Ymir
The first and foremost titan to be born is the Founding Titan. It can be also considered the mother of all the other Titans as they are derived from this titan's powers. It all started with Ymir and further, this Founding Titan power was passed down in the royal family in this order: Karl Fritz, Father of Uri Reiss, Uri Reiss, Frieda Reiss, and finally Grisha Jaeger broke that cycle by stealing this power. Finally, it was received by our protagonist Eren Jaeger from his father Grisha.
One could conclude that this is easily the best titan among the nine titans as it includes many powers at its disposal. The ability to create titans and manipulate them at will can bring you an army of titans. Then comes the ability to alter the anatomical characteristics, and memories of the subjects of Ymir. The inheritors of this power can also telepathically communicate with the subjects as Eren did recently during the rumbling. However, it all comes with one rule, the inheritor should have royal blood. But one who doesn't possess royal blood can also utilize those powers with the help or contact with royal blood. We can talk about founding titan's powers all day but I've stated all the major powers above.
2. Attack Titan
Japanese Name: 進撃の巨人 (Shingeki no Kyojin)
Previous Inheritors: Eren Kruger, Grisha Jaeger
Current Inheritor: Eren Jaeger
Height: 15 meters
Special Powers: Future memory inheritance
The Attack Titan is the third titan we saw after the Colossal and Armored Titan's debut. The first known transformation to this titan was achieved by Eren Jaeger. From then on, we learned the different past inheritors of the Attack Titan. The first one is Eren Kruger, an Eldian spy and he passed it on to the father of Eren, Grisha Jaeger. As we are aware, the current inheritor is Eren and the Founding Titan and War Hammer Titan were fused with this one.
On paper, the Attack Titan may look like a weak titan. But I can assure you that it's not the case as it's one of the best all-rounder titans. Its shape is perfectly suited for battle and we have seen the combat abilities of this titan. Even Isayama has mentioned that this design was inspired by a Japanese martial artist, Yushin Okami. The next big thing about this titan is the future memory inheritance technique. It is an ability where the current inheritor can foresee the memories of the future inheritors which plays a key role in defining history. It is exactly not time travel but as Zeke stated it is more of "the power to transcend time". That said, Attack Titan will always be the fan-favorite titan for decades to come.
3. Armored Titan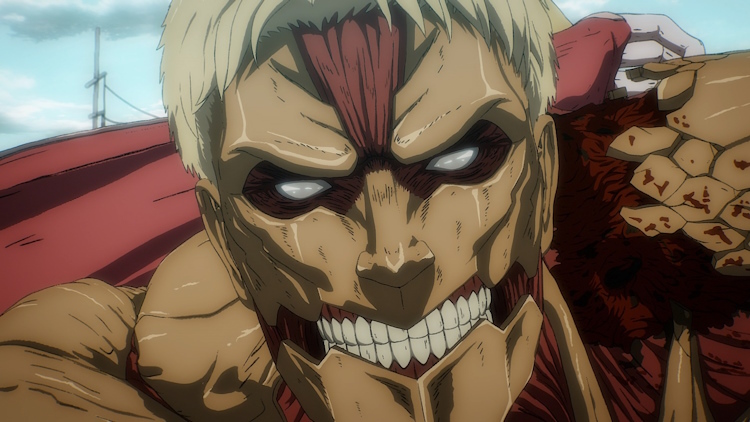 Japanese Name: 鎧の巨人 (Yoroi no Kyojin)
Previous Inheritors: Unknown
Current Inheritor: Reiner Braun
Height: 15 meters
Special Powers: Defensive armored skin, Hardening
The Armored Titan is the second Titan we were introduced to right after the Colossal Titan. It became an instant fan favorite as Reiner was one. We don't know anything about the past inheritors of this titan and the one and only inheritor we know is Reiner Braun. As the title implies, the armored titan has an inbuilt hardened armor-like skin which acts as the ultimate defense as well as offense of this titan.
The armored skin comes with great advantages and disadvantages as well. First, it provides you with an almost impenetrable defense but the heavy armored plates slow down the titan's mobility. Nevertheless, the ability to harden comes in handy during combat and greatly helps in offense and defense. Overall, the armored titan is a great titan that can withstand anything.
4. Beast Titan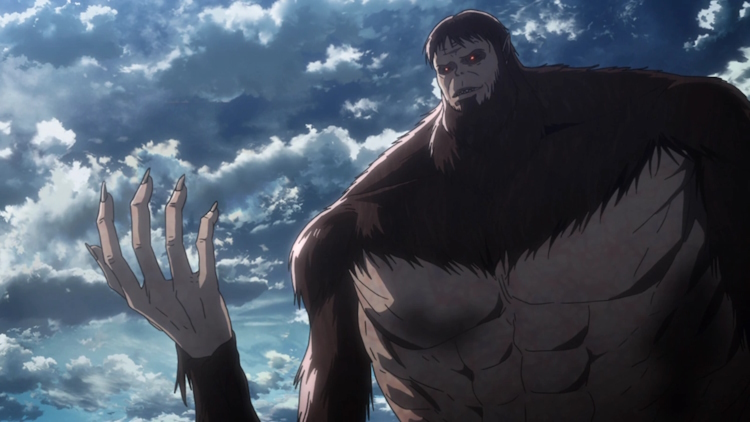 Japanese Name: 獣の巨人 (Kemono no Kyojin)
Previous Inheritor: Tom Xaver
Current Inheritor: Zeke Jaeger
Height: 17 meters
Special Powers: Strong throws, Titan Shifting, Ability to speak
The Beast Titan's first appearance is an unforgettable moment! The ape-like appearance of this titan stands so distinct from all the other titans. It is also one of the tallest titans with a height of 17m. The previous inheritor of this beast titan was revealed as Tom Xaver who mentored Zeke. Then Zeke Jaeger claimed the power from him and remained as the next and only inheritor we know currently.
The beast titan comes with monstrous powers that make it one of the most powerful titans in AOTverse. It can do powerful throws at anything with incredible accuracy. These throws can wipe out a group easily as the power behind them is immense. The inheritor also can harden specific positions at their will. But the important power of this titan is the ability to transform the subjects of Ymir into titans and also control the pure titans to his will with commands. However, this ability requires the user to have royal blood, and since Zeke was one, he was able to execute them flawlessly.
5. Colossal Titan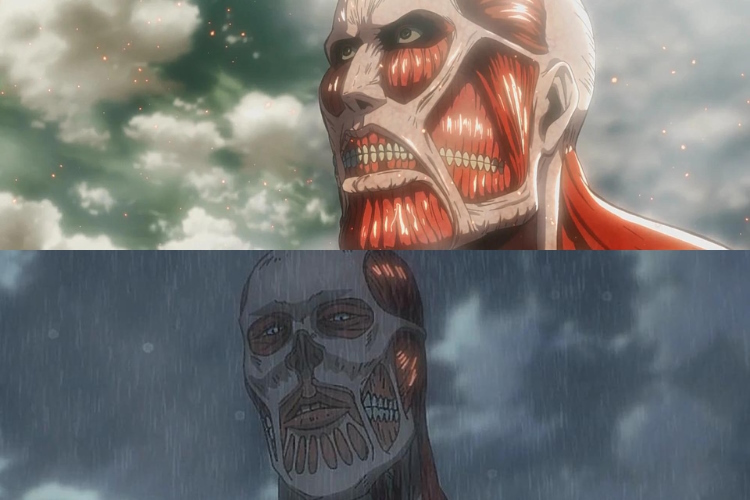 Japanese Name: 超大型巨人 (Chō ōgata Kyojin)
Previous Inheritor: Bertholdt Hoover
Current Inheritor: Armin Arlelt
Height: 60 meters
Special Powers: Gigantic size, Colossal strength, Steam emission, Explosive transformation
The first titan we ever saw at the beginning of the show was Colossal Titan. One can never forget the chills that this titan gave us when it appeared over Wall Maria. We have seen only two inheritors of this power namely Bertholdt and Armin who got it later by consuming the former. It is considered to be the tallest titan which arches about 60 meters in height. Its gigantic height and size are some of the best features of this titan and also give birth to its numerous other powers.
The first is the colossal strength that is capable of destroying anything and overpowering anyone. Then the only titan capable of utilizing its transformation to its advantage is the Colossal Titan. During its transformation, it unleashes an energy that is equal to that of a bomb. Additionally, this titan can control the steam it lets out and can use it to its advantage to protect its nape. The steam produced is capable of burning any human in its vicinity so it's a great ability. However, if one uses these powers for long, it can deplete their stamina and titan usage easily. The size of this titan also affects its mobility as the titan is seen relatively slower than other titans.
6. Female Titan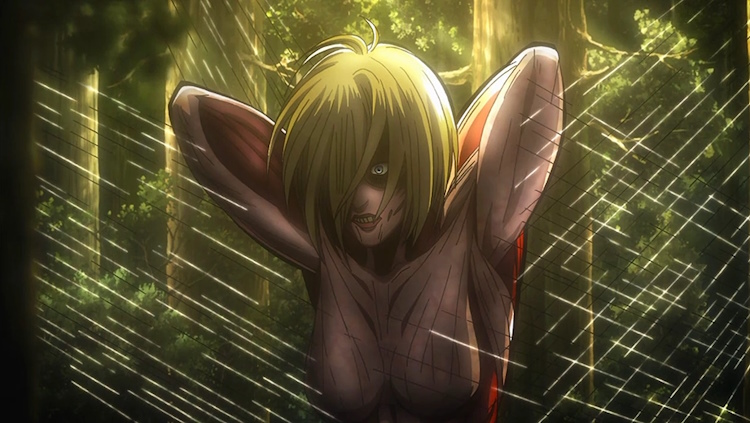 Japanese Name: 女型の巨人 (Megata no Kyojin)
Previous Inheritors: Unknown
Current Inheritor: Annie Leonhart
Height: 14 meters
Special Powers: Adaptation, Versatility, Titan attraction, Hardening
The Female Titan is one of the most unique Titans among the other Titans without a doubt. When it first appeared, I still remember Annie stealing the show with this new titan form. As the name suggests, this titan retains the appearance of a female and only one inheritor is known which is Annie Leonhart. It is currently unknown what will happen if a male gets the power of a female titan as the fandom has discussed it for a long time.
The best power of this titan is its ability to harden and attract titan. Hardening specific areas of the flesh especially its nape greatly improves the overall defense. Attracting fellow abnormal titans is not likely a big plus power as those titans likely rush to eat the body of the female titan. But one could use this technique in crucial moments to their advantage and use it as a distraction to escape. Furthermore, the outstanding features of this titan include its amazing technique of adaptability and versatility to different situations and it possesses unreal speed to traverse along with amazing endurance like cart titan.
7. Jaw Titan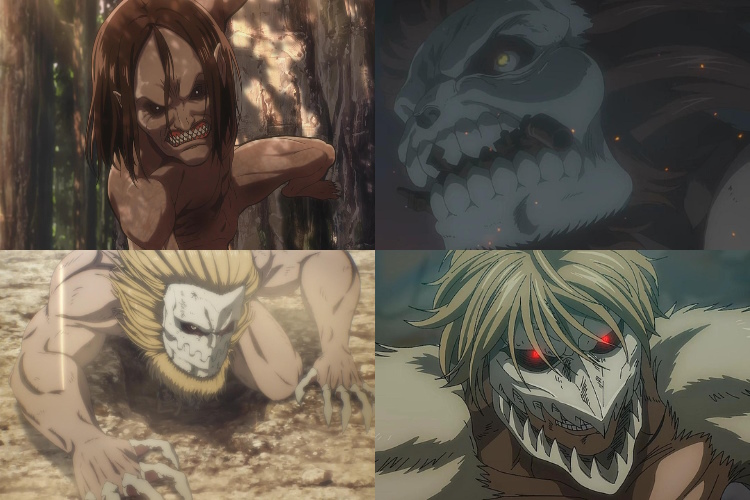 Japanese Name: 顎の巨人 (Agito no Kyojin)
Previous Inheritors: Marcel Galliard, Ymir, Porco Galliard
Current Inheritor: Falco Grice
Height: 5 meters
Special Powers: Gigantic & powerful jaw, Coarsened claws, ultra speed
We have seen up to 4 different versions of Jaw Titan throughout the show. The first inheritor we saw was Ymir in the scout regiment but it was later mentioned that she got the power from Marcel Galliard. Then when Ymir returned to Marley, she allowed Porco Galliard (brother of Marcel) to consume her and get the Jaw Titan's powers. And very recently, it was Falco who became the inheritor of this power after Porco transferred it to him during the war for Paradis arc. As you can see above, depending on the inheritor, the design of the titan varied drastically.
Now coming to how powerful this mini titan is, it's easily one of the best as well. Why you ask? Its smaller size elevates its agility to the peak level and can traverse swiftly thereby also making up for its poor defense. The special powers of this titan are its (as the name suggests) remarkable jaws and hardened claws. It's perfect to tear through anything and cause a rampage so easily. As a result, Jaw Titan will always be a special one!
8. Cart Titan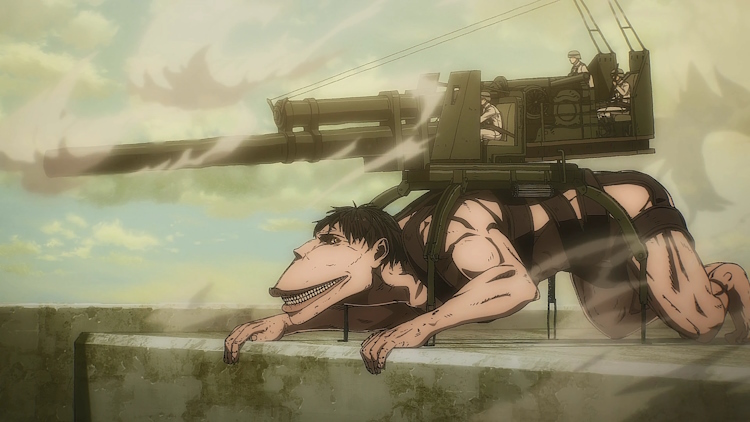 Japanese Name: 車力の巨人 (Shariki no Kyojin)
Previous Inheritors: Unknown
Current Inheritor: Pieck Finger
Height: 4 meters
Special Powers: Ability to speak, Incredible speed and resilience, four-footed structure
As the name implies, the cart titan is equipped with a four-footed (Quadrupedal) form like an animal's. As a result, it can move freely, and that too at a phenomenal pace. The only inheritor we know of this titan is Pieck. She instantly became one of the most famous female characters in the history of AOT after her debut. An incredible ability of the cart titan is that it enables the inheritor to speak while in the titan form which is seen only with a few titans.
Next to its unbelievable speed, it also has a tough withstanding body to run through its transporting, spying, and many more duties. Its resilience is top-notch for it to work tirelessly and is one of the most highlighted powers and abilities of this titan.
9. War Hammer Titan
Japanese Name: 戦鎚の巨人 (Sentsui no Kyojin)
Previous Inheritor: Lara Tybur
Current Inheritor: Eren Jaeger
Height: 15 meters
Special Powers: Hardening, Ability to reposition
If you have been an AOT fan for a long time, you would exactly know how hyped everyone was to see the War Hammer Titan. In my opinion, it has the coolest design out of all the other titans. War Hammer Titan was passed down only between the Tybur family for generations and the only previous inheritor we know is Lara Tybur. And the current inheritor is Eren and we all know how he snatched that power from her in a gnarly way. War Hammer Titan is one of the best titans with a distinct set of powers. Although Eren made it look like it's a weak titan, it clearly is not.
As you are aware, some of these titans can harden, but War Hammer takes it to the next level with the concept of structural hardening. It means using the hardening titan flesh, the inheritor can generate weapons, create attacks, and do many more things with it. But that comes with a disadvantage if the user overuses that power it makes them weakened as they will run out of stamina easily. The next power is such a cool feature! It is the ability to reposition its control center from the titan's nape to anywhere the inheritor wants to. For example, Lara remained in a hardened crystal and it was connected to the main titan via cable-like flesh. After Eren took the War Hammer's powers it was combined with the Attack and Founding Titan.
And that's everything you need to about the Nine Titans of the Attack on Titan. These are the great powers that redefined the history of this universe. These titans played a vital role in making what AOT is AOT and elevated its stature to greater heights. That said, let us know which is your favorite titan in the series in the comments below.
---
Load More