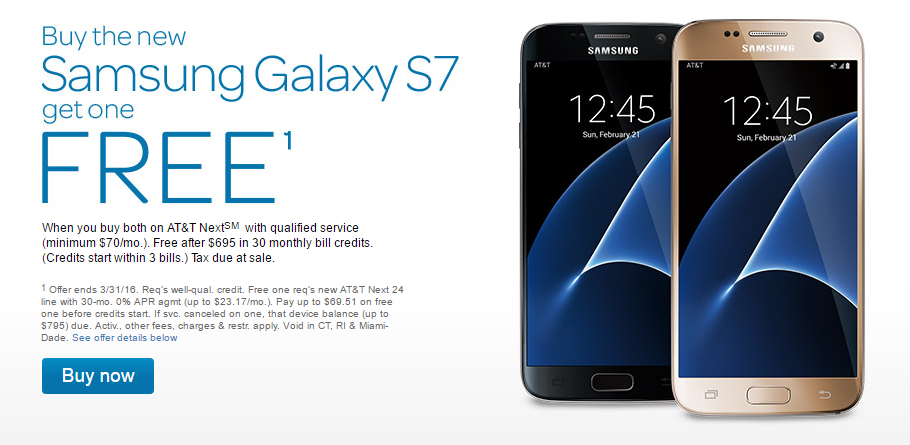 The newly-released Samsung Galaxy S7 and S7 edge are among the most powerful and coveted smartphones on the planet today. Both these devices took the world by storm, and have seen an unprecedented level of demand for any Samsung device. To make matters even better, what if we told you that it's possible to pay for Galaxy S7 or Galaxy S7 edge and get another one completely free? AT&T has a limited time offer that brings precisely that.
Under the AT&T buy one, get one free (BOGO) promo (which ends March 31, by the way), you can obtain not just the latest and greatest Galaxy S7 and S7 edge, but also last year's Galaxy S6, Galaxy S6 edge, Galaxy S6 edge Plus, Galaxy S6 active and Galaxy Note 5, along with some others. To avail the offer, you need to buy both the devices via AT&T Next 24 payment option, and opt for a qualified service plan (details available here). After three months, the second device that you purchased will start receiving bill credits up to $650 over the course of the installment plan, thus making the second device essentially free over the course of 30 months in total.
The promo is available for both new and existing AT&T customers, ensuring that no one is left out from taking advantage of this. Adding to it the fact that Samsung is offering a free Gear VR headset with Galaxy S7 and Galaxy S7 edge for a limited time, this promo is worth availing if you're interested in these devices.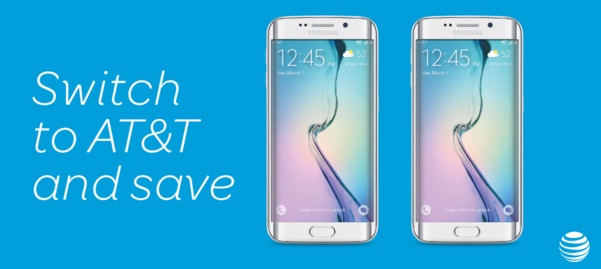 AT&T's offerings don't end here, either. If you've been unsatisfied with your current wireless carrier and have been eyeing AT&T as a viable option, there's an incentive to make that switch now. Until March 31, again, you can avail $650 more in credits for making a switch to AT&T from another carrier. All you have to do is avail a new line of service with AT&T and port-in your number, purchase a phone using the same Next instalment plan, and get rid of your existing phone via AT&T's buyback program.
Once you've met all the eligibility requirements and submitted the required documentation (which is essentially your existing carrier's last bill), you can visit this link to complete your registration within 60 days of porting your number. AT&T will then send you a prepaid VISA card within 4-6 weeks, which can carry a balance of up to $650 based on the amount of your early termination fee or device payment plan balance, minus the buyback value of your traded-in smartphone.
You can buy a Galaxy S7 from AT&T here (starting at $23.17/month), and the Galaxy S7 edge here (from $26.50/month). Both devices come with either full-payment or monthly instalment options. BOGO for the Galaxy S6 series devices can be found here.
Samsung's Galaxy S7 and Galaxy S7 edge smartphones are the top-of-the-line flagship devices from the South Korean manufacturer right now. Both come with Snapdragon 820 processor (in the US), 4GB of LPDDR4 RAM, 32GB of internal storage expandable via microSD card, and a 12-megapixel Dual Pixel rear shooter with f/1.7 wide aperture lens. The Galaxy S7 comes with a 5.1-inch quad-HD display, while the larger, more expensive Galaxy S7 edge boasts 5.5-inch QHD display panel. You may read our full review of the Galaxy S7 edge here.