Whenever we get a new laptop in to review at the Beebom office, I'm usually fairly excited. Sometimes, I'm too excited, and sometimes I'm not, but I am excited to a certain degree almost every single time. So when Asus sent us the Vivobook 14 X403 for a review a while back, I was definitely looking forward to using it as my primary laptop for a few days to see what it's like. Well, I have used it fairly extensively over the last week, and if you're wondering whether this is the laptop for you, and if it's worth the asking price of Rs. 54,990, here's my review of the Asus Vivobook 14 X403: the laptop with a terrible name, but a great… just about everything else.
Asus Vivobook 14 X403 Specifications
Before we jump in to the review, here's a specsheet for the laptop that Asus sent over to us:
Processor
8th-gen Core i5-8265U
Display
14-inch FullHD
Graphics
Intel HD Graphics 620
RAM
8GB LPDDR3 2133MHz
Storage
512GB PCIe SSD
Connectivity
802.11ac dual band WiFi;
Bluetooth 4.2
Ports and I/O
1 x USB 3.1 Gen 1 Type-CTM
1 x USB 3.1 Gen 1 Type-A
1 x USB 2.0 Type-A
1 x Audio combo jack
1 x HDMI 1.4
1 x SD card reader
1 x DC jack
Battery
72Wh
Price
Rs. 54,990
Design and Build
Look, the Vivobook 14 X403 is a thin-and-light laptop aimed at productivity oriented workflows, and it looks perfect for that. It has a sleek design that looks great, and it comes in this Silver Blue colour, which just looks silver to me, which is a classic colour for these type of laptops, just like black is the classic colour you'd find on most gaming laptops, and that's great.
It's not the sturdiest of laptops I've seen and used, but then again, at this price point, it's one of the sturdiest ones I've experienced. Thankfully, I didn't drop it, so I'm not sure how that would've gone (and I hope you don't have to find out for yourself either), but Asus claims that the laptop comes with military grade durability and reliability standards (MIL-STD 810G) and can, Asus claims, handle drops from as high up as 10cm with ease. It's definitely a good rating to have, but once again, I didn't test this out, so I can't confirm whether it holds up to that claim or not, but there's no reason why it shouldn't.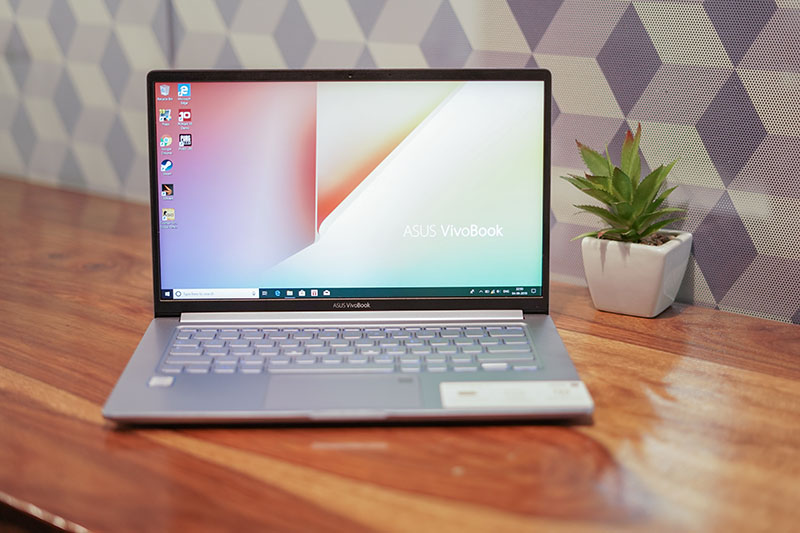 Coming back to the design for a bit, the Vivobook 14 comes with the signature Vivobook thin-bezels that look stunning, and result in this laptop being a lot smaller than what you'd expect a laptop with a 14-inch display to be. In fact, it's only very slightly bigger than my 13-inch 2017 MacBook Pro, which is just a little embarrassing to me, personally, because I used to love the thin bezels on the MacBook Pro, and this is just unfair. Jokes apart, I love the thin bezels on the Vivobook 14 X403.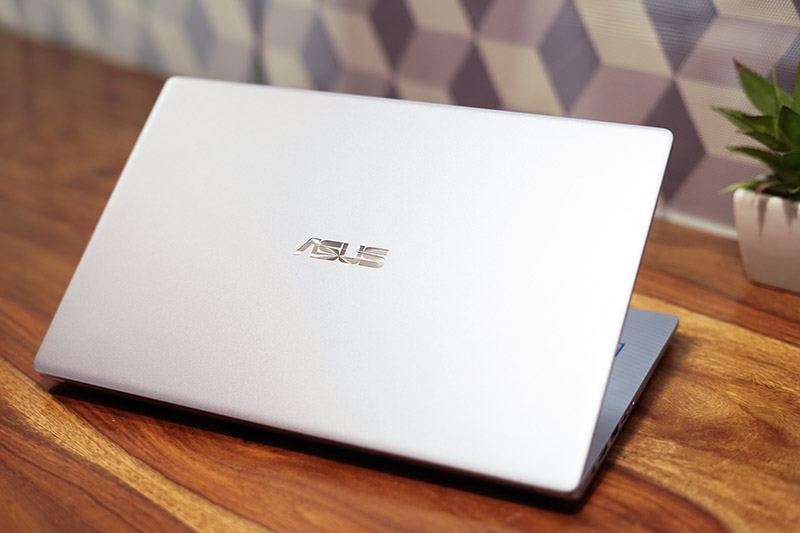 The Vivobook 14 basically gets the design and build perfectly right. I honestly can't seem to find anything really wrong with this laptop. It's only slightly infuriating because I love being nitpicky about these things and Asus has done such an amazing job with this, that there's really nothing to complain about.
Display
The fact that there's nothing to complain about doesn't really extend to the display though. The Vivobook 14 X403 comes with a nice 14-inch FullHD display which I really liked in my usage of the laptop. 14-inch looks like just the perfect screen-size to me, for the kind of work I do on a daily basis. It brings in just a little more screen-real estate, which is great, but it's not massive, like 15-inch laptops usually are. 14-inches sounds like a reasonable screen size to have if your workflow mostly revolves around your laptop being big enough that things aren't cramped in, and portable enough that you can carry it around to meeting rooms and, sometimes, to the cafeteria.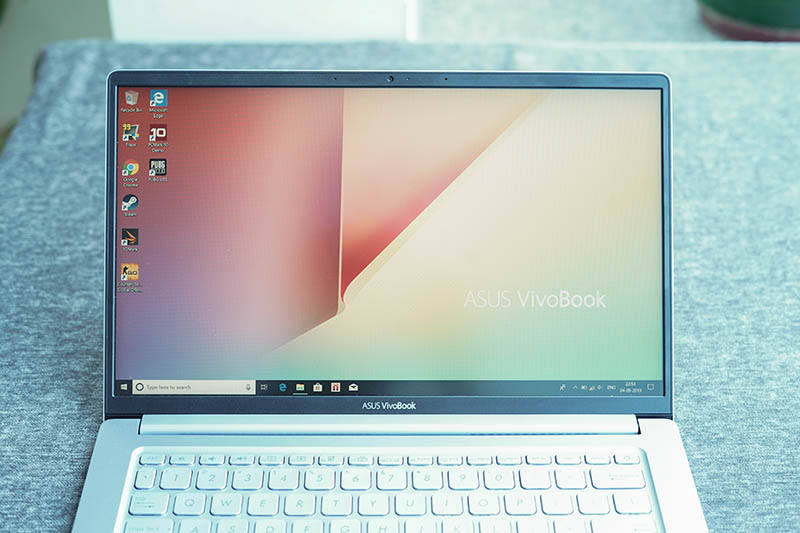 I digress though, let's circle back to the display. So this panel in the Vivobook 14 is a decent display to have. It's not the brightest, by far, but it's not so dim that you wouldn't like using it. Plus, it has a matte finish which I suspect makes the brightness levels worse. However, the thing I find weird on this display, is the contrast. Honestly, colours just look a little dull on this screen. Now I'm not sure why that is, and I tried everything I could to fix this, but that's just how the display is. It basically turns every colour into a flat colour, which sounds like a good thing in theory, but can quickly get annoying because it just doesn't look satisfying enough.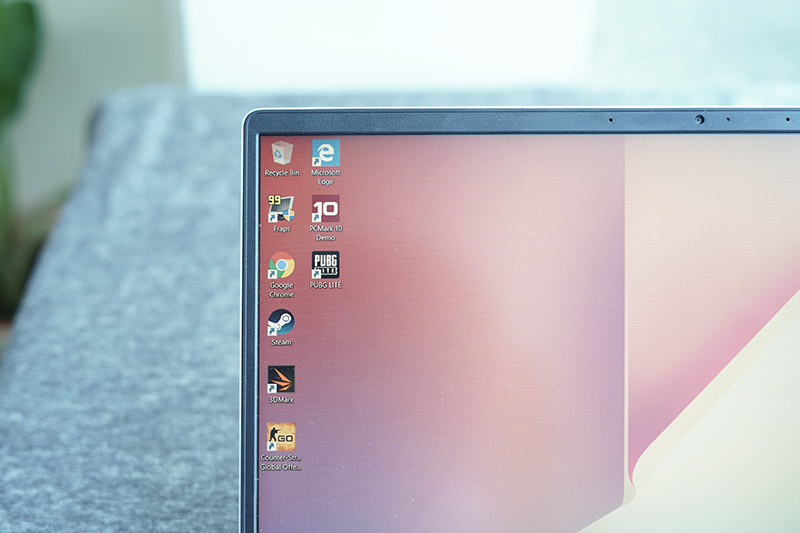 Still, get past that contrast issue, and the display is definitely not a deal-breaker. It does look good, it has decent viewing angles, and thanks to the matte finish, it reduces glare by a lot, which I love because there's a light right behind where I sit and it drives me crazy with glare on a glossy display… like the one on my MacBook Pro.
Performance
If you're reading this review, chances are you've spotted the "Impressive Performance" I put in the title, so you already know where this section is headed. The Vivobook 14 X403 comes with an 8th-gen Intel Core i5-8265U processor paired with 8GB of LPDDR3 RAM, and a 512GB PCIe SSD.
That translates to great performance that doesn't let you down. Sure, the 8th-gen processor is a weird choice from Asus, but in practice, it wouldn't make the kind of difference that would push this laptop to the bottom of the barrel, so to speak. Especially for the kind of workflow this laptop is meant to be used in. In my week-long usage of the Vivobook 14, I didn't experience any lags, freezes, or annoyances of any kind. The laptop handles multiple Chrome tabs paired with a Photoshop session with ease, and doesn't let up if you try to push it.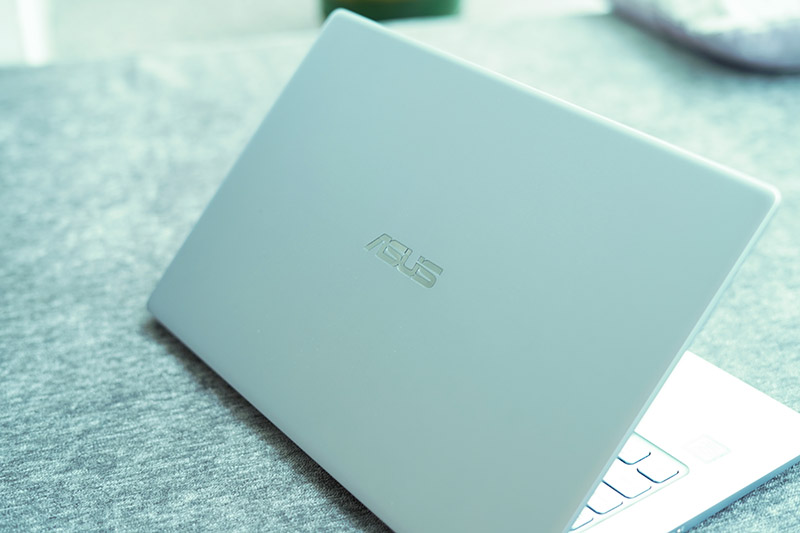 The same can be seen in benchmark scores posted by the Vivobook 14. In PCMark 10, the laptop scored 3,805 points, while in 3DMark Night Raid, the Vivobook 14 got a score of 5,840 points. I also ran Time Spy on this, even though I knew that would bring this laptop down to its knees, and it scored a silly 467 points there — what does that tell you? No gaming. Please.
Still, if you're hell bent on playing something on this, games like CS:GO run fine on the laptop, albeit at a mix of low to medium graphics settings if you want playable frame rates. CS:GO assumed High graphics by default and then got frame rates of around 20FPS, which is just plain sad. However, switch the graphics to low, and you easily get around 50FPS on CS:GO. If you're a gamer, you're probably annoyed that 50FPS on CS:GO is acceptable to me, and you'd be right, but on a laptop that's clearly not aimed at gaming, 50FPS in CS:GO means you can take breaks at work and get some AWP kills in Dust 2, which is what I did.. or at least tried to do.
Anyway, performance isn't an issue on the Vivobook 14 X403, and the laptop will easily power through your workflow without hiccups, which is awesome.
Keyboard, Trackpad, and Fingerprint Scanner
Speaking of awesome, the keyboard on the Vivobook 14 is mighty good. It's a backlit keyboard, with a standard white LED backlight that's bright enough, and bleeds out from under the keys, but that's not really annoying. Using the keyboard is fun, the keys have ample travel, the response is a little bouncy, but not so much as to fatigue your fingers, just enough to make typing feel like playing a game — I massively appreciate that because I type a lot.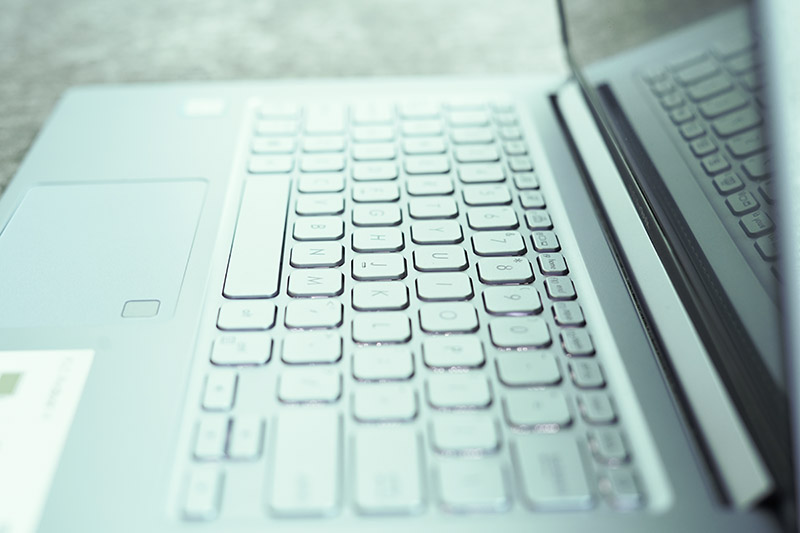 The keys are laid out with a good amount of spacing in between, which is great because these keys aren't even slightly curved to help guide your fingers, but I didn't find that to be a problem at all, at least on this laptop.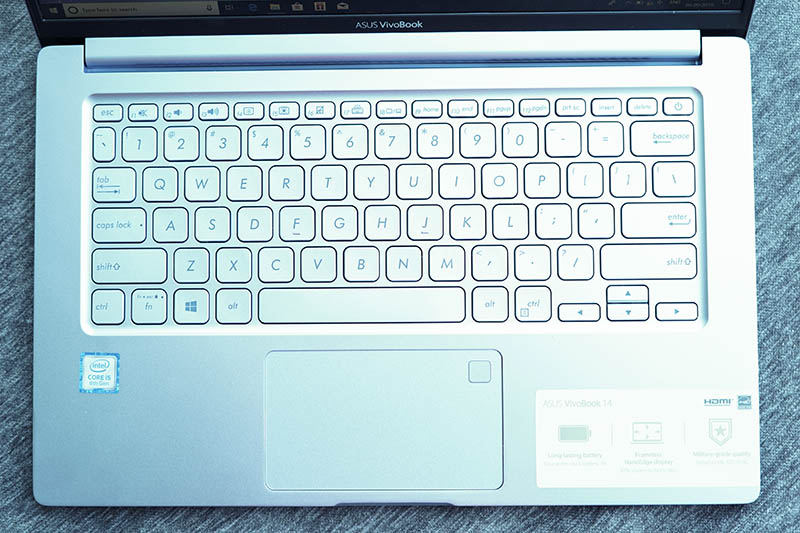 The arrow key layout is compact on this laptop, but at least it's still laid out in a way that you won't accidentally hit the side arrow keys when you're trying to hit the up arrow key. That's something that happens to me often on my MacBook Pro, but it doesn't on the Vivobook 14 and I love that.
My complaints arise with the trackpad. Asus has used a precision touchpad on the Vivobook 14, which is great. It brings handy and intuitive gestures, it responds quickly and well, and it would be a great touchpad… but, it's just tiny. It really is. It's a small trackpad and that means I can't use the gestures as naturally as I would like to on this. Add to that the fact that there's a fingerprint scanner on the top right corner of the touchpad, and things get even worse. Don't get me wrong, it's not a terrible experience, or even something I'd call a deal-breaker, but it's mildly infuriating at times.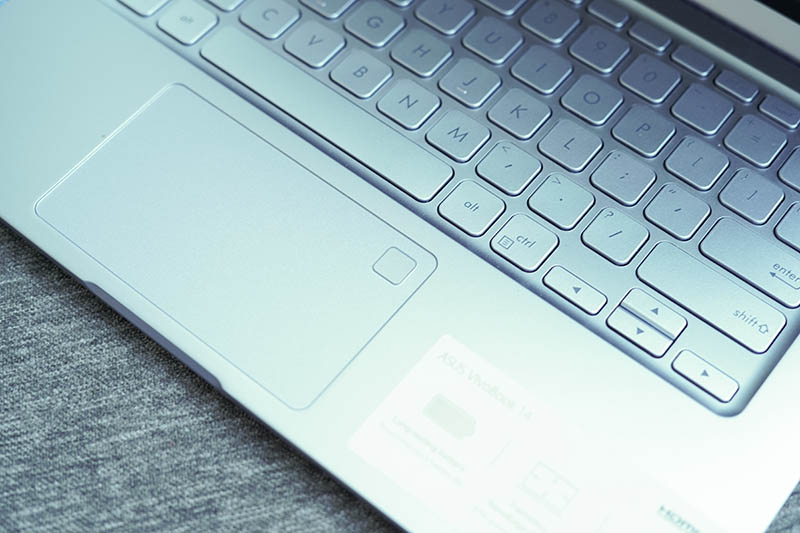 The fingerprint scanner though, that's amazing. It's a perfect size, not too small or too big, and it's ridiculously fast. To be fair, I don't have anything to compare this to, since I've not used laptops with fingerprint scanners enough to remember what that experience was like, but as my first true experience with a fingerprint scanner on a Windows laptop, this is heavenly fast. Unlocking the laptop is easy, and I don't need to type in pesky passwords or PINs. You don't understand how important that is to me, because I set some of the longest, most complicated passwords on my laptops (don't judge me, they have all my personal stuff on them), and having a fingerprint scanner means I can keep my files safe, but not have to go to the trouble of typing that long, complicated password every time I unlock my laptop. Yay!
Ports and I/O
For a thin laptop, Asus sure packed in quite a lot of ports on this thing. There's a USB-C port, two USB 3 ports, an SD card reader, and a headphone-mic combo port. That's not too many ports, but it's more than enough for what you will be doing on this laptop. Plus, the addition of a USB-C port is always a plus.
In my usage, at least, I didn't find myself looking for ways to add more ports to the laptop, but if you do need to, there are a ton of USB-C dongles that will easily bring more I/O options to your laptop. Plus, there are a lot of USB-C accessories that you can use with this laptop as well, thanks to the USB-C port.
Battery
So, the battery. I don't know how Asus did this, but it managed to put in a massive 72Wh battery inside the sleek, tiny chassis of the Vivobook 14, and that big battery brings along a great battery life. I'm not talking 9 to 12 hours of battery life here, I'm talking "this laptop will get you through your work day, and have juice left over for watching Netflix back home without charging" levels of battery.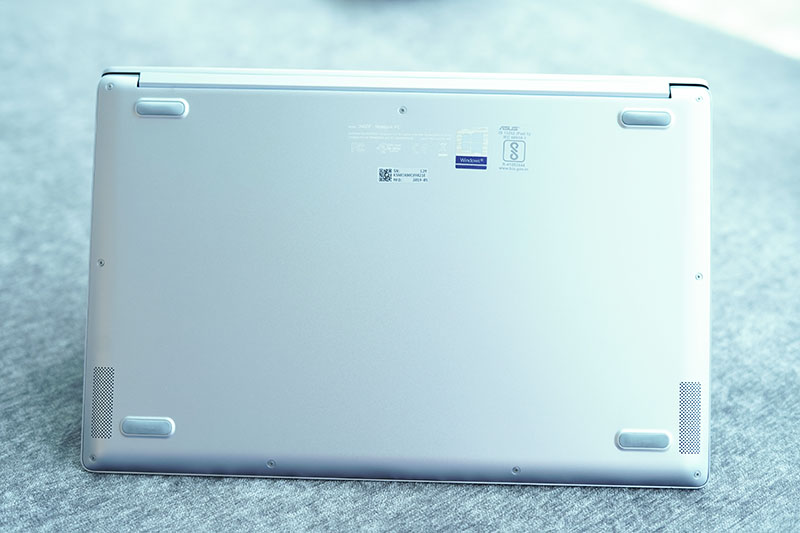 Asus claims a whopping 24 hours of battery life on the laptop. I know what you're thinking "That's insane". I thought so too, because, like, how!? Then I read the 72Wh spec, and yeah it makes sense.
I wanted to test that out, obviously, so I left my charger at home and brought this laptop to work with a full 100% battery. I used it, all day, the way I use my personal daily driver, with varying levels of brightness depending on where I was sitting. It lasted through it. I got back home, watched Friends on Netflix (for the umpteenth time), and it lasted! In total, I got around 15 to 16 hours of battery life from the laptop, and that's amazing. I love it.
The Vivobook 14 has no trouble keeping up throughout the day, and that's exactly what I would want in a laptop I intend on using every day for work.
Pros and Cons:
Pros:
Amazing battery life
Great performance
Fingerprint scanner
Cons:
Muted colours on the display are a tad annoying
Small trackpad
Asus Vivobook 14 X403: An Impressive Work Laptop
So yeah, the Vivobook 14 X403 is a really impressive laptop, especially for work, and even for students who want a laptop that will last them throughout their day without needing a recharge. It has a great design, solid build that meets military grade durability and reliability standards, a good display, great keyboard, a super fast fingerprint scanner, and a battery life that puts almost every other laptop to shame. Plus, it's powerful enough to handle all your work needs. At Rs. 54,990, the Vivobook 14 X403 is a laptop I have no trouble recommending to people who need it to handle productivity tasks. However, it is priced at Rs. 58,990 on Amazon for some inexplicable reasons.
That said, there are other options you can consider, all of them bringing similar specs to the table. You can go for the MSI PS42 Prestige that comes with an 8th-gen Core i5, 8GB RAM, 512GB SSD, and a fingerprint scanner as well, for Rs. 52,990. Or, if you want to play some games on your laptop, you can check out the Predator Helios 300 with an 8th-gen Core i5, 8GB RAM, 1TB HDD, 128GB SSD, and GTX 1050Ti for Rs. 59,990. Plus, unlike the Vivobook 14, both of these laptops offer extra memory slots that you can use to increase the RAM if you need to.
Buy the Asus Vivobook 14 X403 from Amazon (Rs. 54,990)
REVIEW OVERVIEW

SUMMARY

The Vivobook 14 X403 is a laptop aimed at productivity oriented workflows, and it does that with style. The laptop brings great looks, amazing performance, and an insane 24 hour battery life in a sleek package that's highly reminiscent of the MacBook Air, only slightly thicker. At Rs. 54,900, this is the laptop to get if you're looking for a work laptop that will last you through your day and then some.