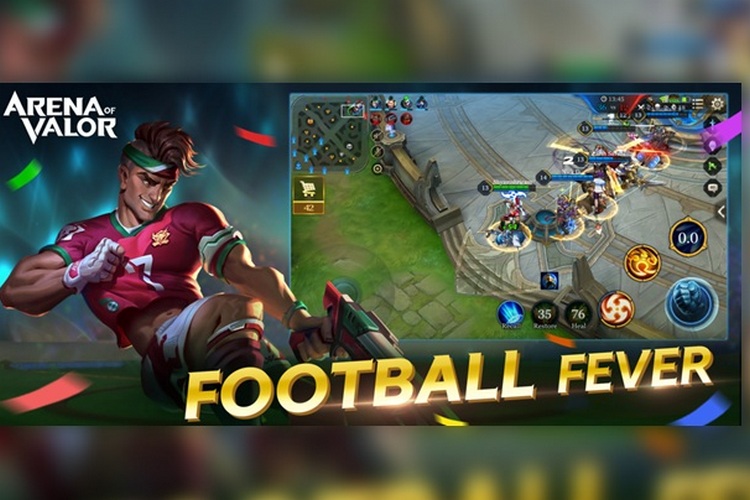 With the FIFA World Cup entering the exciting knockout phase of matches, 'Arena of Valor' has gotten a "Football Fever" mode that changes the format from a standard MOBA game to a duel. With the introduction of the new mode, players will be able to take each other on in a three-on-three game, where instead of destroying towers and killing minions, they'll need to attack the ball, sending it towards the goal.
It may be weird to see the heroes of Arena of Valor – including the DC guests – play football instead of saving the world, but the new mode does stir things up a bit, making things interesting. The mode will be available until July 29, two weeks after the World Cup Final in Moscow. It sounds like fun, if only for the novelty factor, so do give it a go even if you're not a regular AoV player.
Developed and published by Chinese tech giant, Tencent, Arena of Valor is a multiplayer online battle arena (MOBA) that was originally available on only smartphones and tablets, but has since been released on the Nintendo Switch. It is available on Android and iOS for free, but with in-app purchases ranging from $0.99 to $99.99 in the US and Rs. 10 to Rs 6,200 in India.
Some of the heroes are also getting exclusive skins based World Cup uniforms, including Valhein, Murad, Xeniel, and Tulen, whose French-inspired kit can be obtained for free by completing a list of tasks.
According to Tencent, the game has more than 200 million monthly active players, making it one of the most popular mobile games in the world. The game also recently held its AoV Summer Tournament where the overall prize pool was Rs. 5,20,000, with the winner pocketing a cool Rs. 2,00,000.
According to Aneesh Aravind, General Manager, Tencent Games India, "If you are a fervent Football fan then AOV's Football Fever, is going to leave you in a fever pitch. The best part —You can celebrate the World Cup by playing with your favorite heroes in quick 4-minute matches. We are very excited about this new game mode and am sure that our AOV Fans in India will enjoy these world cup themed matches alongside their AOV heroes on a football field."
---