Appy Geek has been one of the popular tech news apps out there but surprisingly, the app is no longer available in the Indian Google Play Store. You might still find it if you have a link to the app, but you cannot search for it. That has me worried about the app's future and if you are an Appy Geek user, you should be worried too. Thankfully, Appy Geek is not the only tech news app out there and there are some worthy apps on the Play Store which you can use instead. In this article, we are going to tell you about some of the best tech news apps on Play Store, as we bring a list of 4 best Appy Geek alternatives for Android:
Best Appy Geek Alternatives For Android
1. Beebom
The Beebom app is one of the best tech news apps out there if not the best. It is one of the highest rated tech news apps on the Play Store with over 100,000 installs and 5000 ratings with an overall rating of 4.8. Our Beebom app is also one of the most feature rich apps out there. The app brings you tech news, videos and a lot more.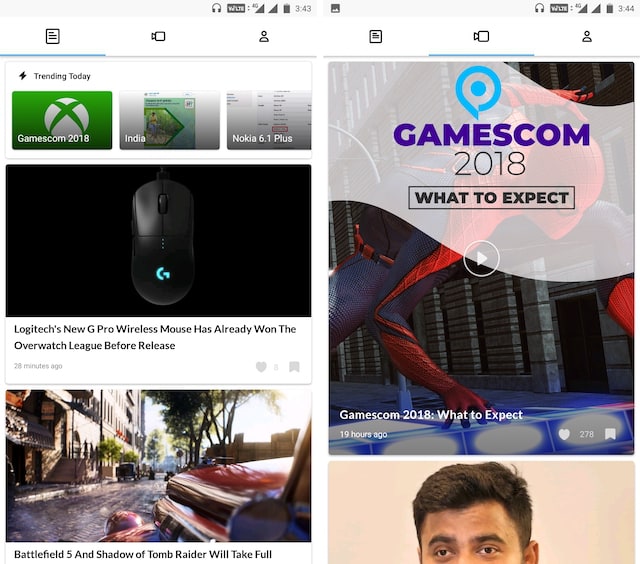 With Beebom app, our motto is to deliver news in quick bite sizes chunks. Unlike Appy Geek where you either see headlines or full news, here, you get instant tech news in a crisp format which you can read in seconds. That's not all, if you find something interesting, you can tap on the "Read More" button to get to the detailed coverage of that particular news in an instant. We also have a trending bar at the top which shows you the news pieces that are most interesting and trending in the world. Apart from the news, we also publish daily app-exclusive videos where we share news, tips, apps and game recommendations, and more.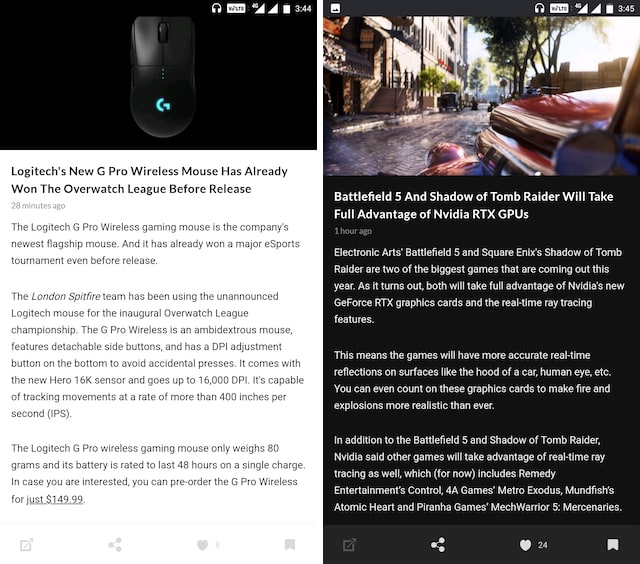 We have also made it very easy for you to navigate the app by using simple gestures. You can just swipe left and right to get to the next and previous news items, and swipe down to go to the home screen. These gestures are super handy and make the app enjoyable. The app also has a ton of other features including dark mode, bookmarks, like and comments, support, material design experience, and more. Lastly, the app is completely free to use and you don't have to suffer any ads too.
Install: Free
2. Feedly
Feedly is one of the best news aggregators I have ever used and if you like to receive your news from multiple sources, Feedly is the best way to do that. With Feedly, you can easily organize all your publications, blogs, YouTube channels, and more in one place and consume the news directly from one app. You no longer have to switch between your favorite blogs as Feedly will aggregate the news for you. Just select your favorite publishers, subscribe to their channels and Feedly will automatically pull the feeds for you.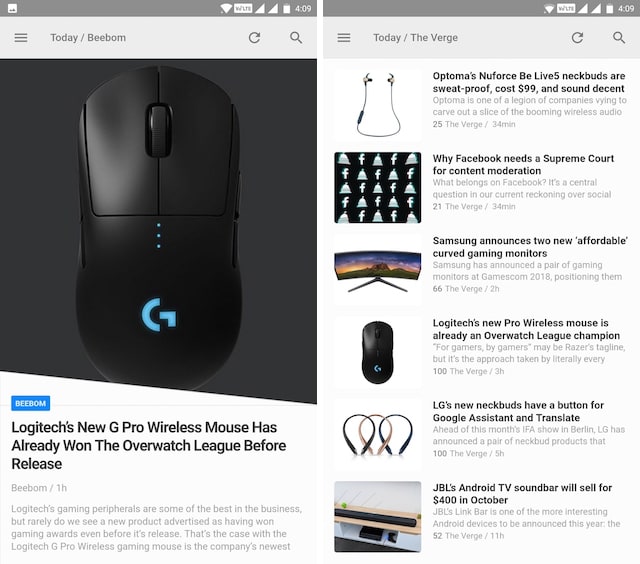 Feedly also allows users to create multiple personal feeds which is not something you can do with Appy Geek. This is one of my most favorite Feedly features as it allows me to create different feeds for the different type of content. For example, I have created different feeds for tech, politics, economics, and so on. So, when I just want to read tech news, I can open the tech news feed and read to my heart's content. Other cool features of Feedly include dark mode, auto mark read feature, automation using IFTTT, third-party read it later apps support, social media sharing options and more. As I said before, Feedly is one of the best news aggregators app on Android and you should definitely check it out.
Install: Free (pro plans start at $5.41/month)
3. Google News
When Google first announced that it is redesigning and launching a new Google News app, I was highly skeptical as the company has a history of breaking its already working products. Thankfully, that was not the case with Google News. In fact, I love it so much that it has become my favorite way to consume all kinds of news in one place. One of my favorite feature of Google News is what the company is calling "Full Coverage". The feature basically shows you the same news from different sources so that you can form your own opinion by reading all sides of the story. I love this feature and miss it on other apps whenever I am using them.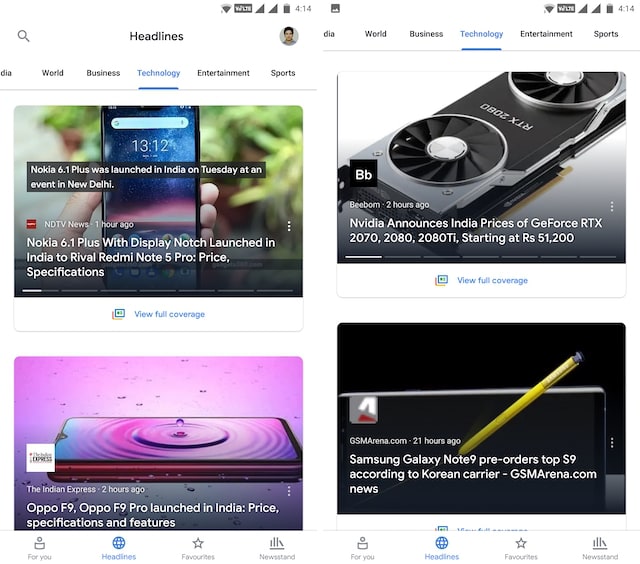 Other features include the "For You" section which is a briefing of top stories which have been customized according to your interests and history, "Newscasts" which presents you with a collection of articles, videos, and quotes around trending topics, and more. Apart from pulling its own feed, Google also allows users to choose their news sources by allowing them to subscribe to different news channels. Probably the only problem I have with Google News is that unlike Appy Geek, it focuses a lot on local news publications by default. So if your country doesn't have good tech news websites, your reading experience won't be great at the start, at least, not until you configure your sources. Other than that, I think Google has done a hell of a job here, and you should definitely try this out.
Install: Free
4. Flipboard
Just like Appy Geek, Flipboard is a news aggregator app which allows you to subscribe to your favorite tech news blogs and website thereby allowing you to get all the news in one place. I have used Flipboard heavily in the past and I love its page flipping animation. Basically, you swipe up to get the next news and when you do that the app shows a flipping animation which is really cool and never gets old. One of the best features of Flipboard is its support for almost all the websites and blogs in the world. No matter how obscure your favorite blog is, Flipboard will pull all the updates without any problem. The best part is that unlike Feedly, Flipboard is totally free to download and use and doesn't ask you to pay any subscription price.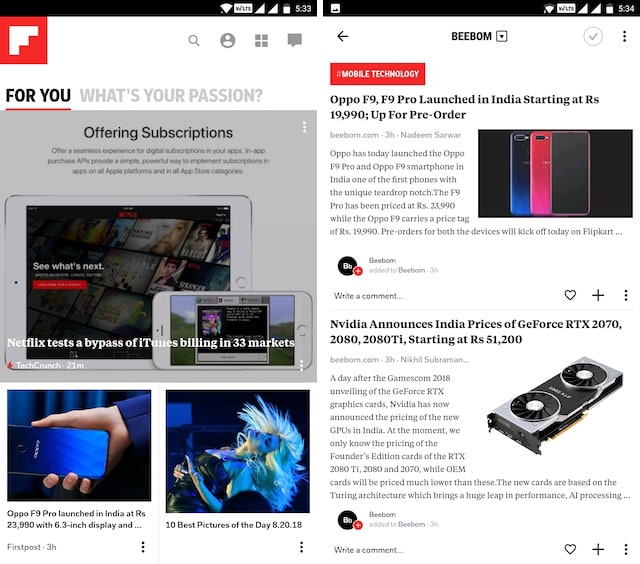 Install: Free
SEE ALSO: 10 Best Apps to Hide Photos and Videos on Android
Get Your Tech News Fix With These Awesome Apps
That ends our list of the best Appy Geek alternatives that you can use to get your fix of tech news. I would love for you guys to try out our very own Beebom app and tell us if you liked it or not. If you rather use a news aggregator Feedly and Flipboard are for you, while Google News is best for getting full coverage. Do let us know which app you are going to use by writing in the comments section below.