WhatsApp, the instant messaging platform now owned by Facebook, has become one of the primary sources for keeping in touch with friends and family. The app has over 1 billion users across the globe which is why we thought to bring you a list of few Android apps which would make your experience in using WhatsApp better. So, here are 6 apps that should enhance your WhatsApp experience:
1. Square Pic
You must be aware that WhatsApp needs the image to be in a square format for setting the profile picture. Often times, images we upload needs to get trimmed in the most essential parts which result in less appealing pictures. To get around this, there is an app called Square Pic that allows you to change your image to the square format.
The app also has many bonus features like setting background colors, adjusting blur intensity, adding Snapchat styled text, setting borders and even applying filters. Check out the app and never compromise on your profile pictures ever again.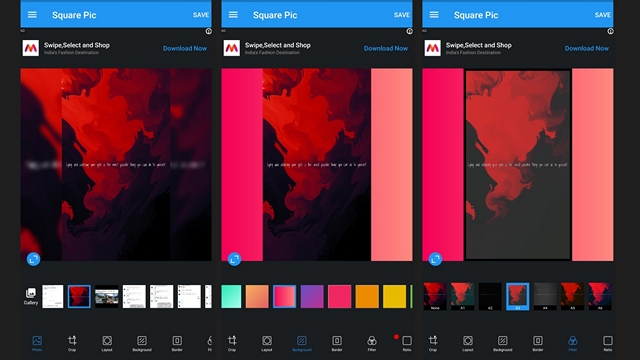 Download Square Pic (Free)
2. Status Saver
We all have that friend who shows-off cool videos in their WhatsApp statuses. If asked to send them over, they will act as if they created the video. We all have been there and it totally sucks to depend on someone just because you loved that cute cat video. Well, not anymore. You don't have to rely on your overachiever friend to get their awesome statuses. With Status Saver, you can simply download any image or video your contacts have uploaded to WhatsApp Status.
The app has ads which can be removed by a one-time in-app purchase of Rs. 150. Check out Status Saver from the link given below.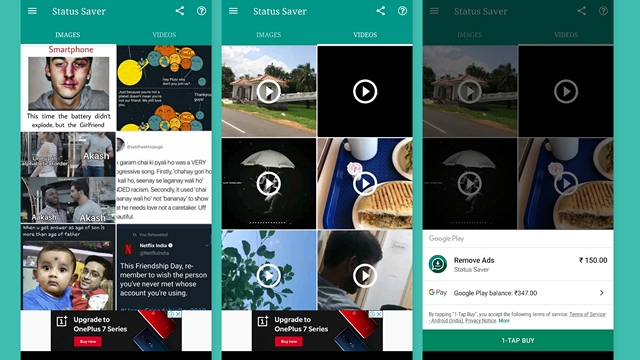 Download Status Saver (Free, In-App Purchases)
3. Sticker Maker
With the usage of stickers becoming mainstream these days, you would definitely not want to miss out on all the fun of sending customized stickers which is why we added Sticker Maker in the list.
The app lets you create custom stickers from your own images. If you need step by step instructions on how to create your own sticker, feel free to check our guide here. Alternatively, you can check the image below for a quick understanding of how the app works.
Download Sticker Maker (Free)
4. SKEDit
Nobody wants to miss sending those 12 AM birthday wishes to their loved ones. But, if you're a morning person, staying up late till 12 AM will not just work for you and chances of you falling asleep are more. Worry not, there is an app called SKEDit which lets you schedule messages to a time you desire. The app will automatically send messages in the scheduled time and it works just fine.
Bonus Tip: You can schedule something like "Sorry dear, my eyes are getting tired to the point where I can't even read what you just sent even though I really want to, let's catch up tomorrow" as a message after 5 minutes to get away with not replying any further if the person has sent you a message. However, be warned that you should use this only if you're completely sure that the person would be awake at that time or it would obviously backfire.
The app also has much more use cases like reminding someone to take meds, periodically checking on friends and family, and much more. The opportunities are endless and we would recommend you to check out the app. However, there is a catch. You will have to disable your screen lock for the app to work when the screen is turned off. If you're okay with making that compromise, this is a must-have app.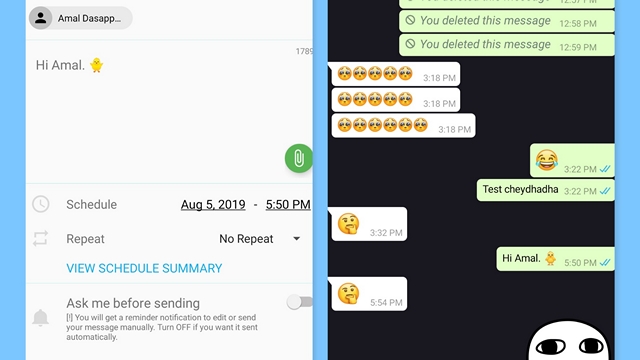 Download SKEDit (Free)
5. Transcriber
Listening to audio messages without earphones is one of the worst things you could do to yourself as audio messages are simply unguessable these days. Transcriber, as the name hints, gives you a transcription of audio messages in text format so you don't have to play the content in unsafe situations.
All you have to do is tap and hold the audio message and Share to Transcriber. In case you're wondering, the app works just fine with forwarded audio files. It also supports a lot of languages for output and it worked just fine as I tried it out on a couple of languages. The app does feature ads but you can remove them by making an in-app purchase of Rs. 65.
Download Transcriber (Free, In-app Purchases)
6. Message Portal
Have you ever wanted to read deleted messages from WhatsApp? With Message Portal, you can read all the notifications at one place. Since the deleted message would have also been a notification once, it gets retained inside the app which is pretty cool. The app can also be used as a control center for all your notifications.
Download Message Portal (Free)
So, those were our top 6 picks of apps that improve your overall experience in WhatsApp. Do you have any similar suggestions? Tell us in the comments section.