Any Apple product, service or news is deemed important if it's preceded by the 'one more thing' tagline that the late Steve Jobs used to announce that defined historic moments for Apple in the past. The current boss of Apple Inc, Timothy Cook has used it well to introduce the Apple Watch and the Apple Music in early June 2015.
The music streaming service, he said during the June 8 announcement at Apple's WWDC, will be 'the next chapter in music' with over 20 million songs available at your disposal.
What's in Apple Music? And How to Use it?
The Apple Music app bears its logo from the early generations of the company when they were just making iPods. Its interface is divided into five main tabs built into the app where-in the first tab is for "You". This is the section where you will have to give your preference of what you would like to listen from tons of options such as Bollywood, Pop, Rock, Metal, Dance and many more. On selecting your favorites, the app will intelligently search for music that you prefer and build a virtual apple library where you can stream the music and videos on the go. (Below are the  screenshots)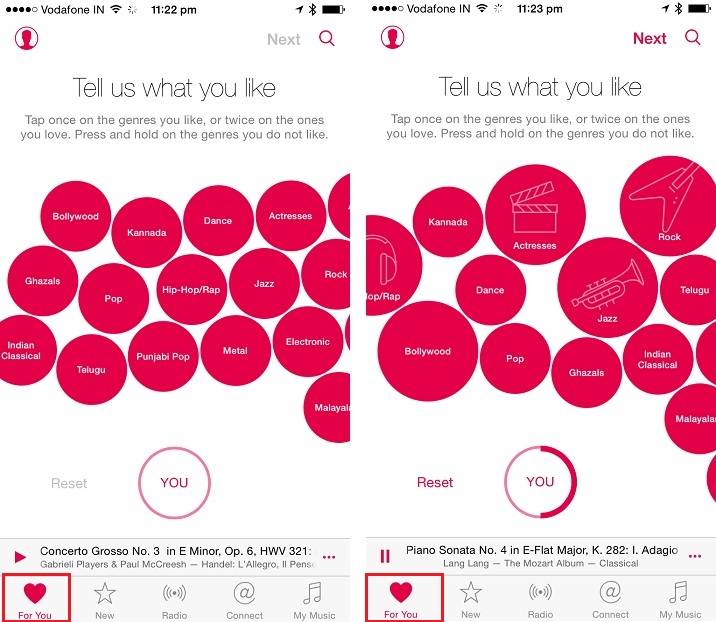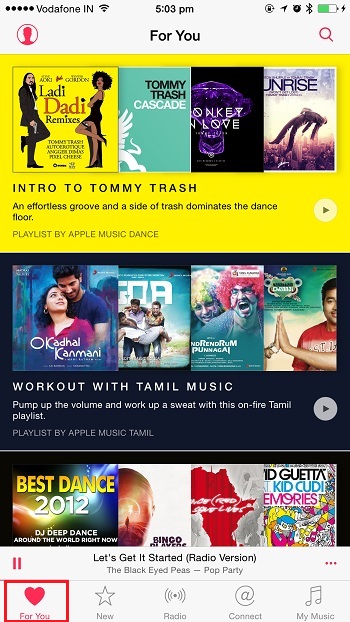 Once you are set up, you will see another tab called "New". This option includes the trending tracks and videos based on your preference. The option also includes new music, top songs, recent releases, recommended videos and essential that are all knitted and brought under one hood just for you.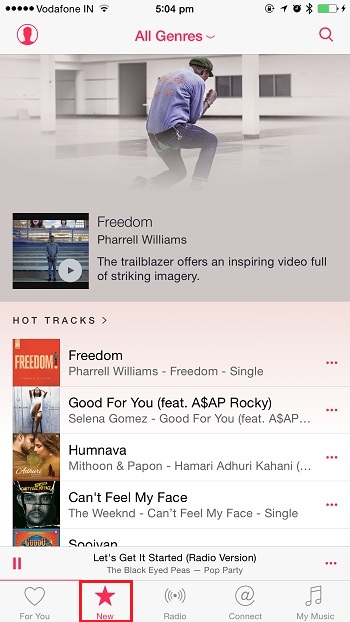 If you have heard of or remember BBC Radio1, you will not take a moment to understand the third tab which Apple has named "Beats 1". You guessed it right, Beats 1 is a 24×7 radio station with DJs from New York, Los Angeles and London. The Beats 1 is hosted by former BBC Radio1 presenter Zane Lowe. Apart from playing the latest and greatest music on demand, there are guest RJs, interviews and hordes of contests. Those of you who have listened to BBC Radio may not find a great difference in Apple's Beats 1 Radio unless there are massive improvements made by Apple in due course of time. In the meantime enjoy the favorite tracks on the move that you may not get to listen live unless you download them.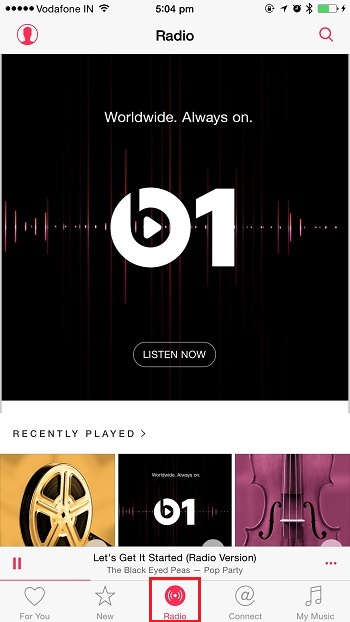 The next tab is "Connect" where the Artists have their pages in which they share their music, exclusive posts, photos and videos. You will have to select the artists whom you would like to follow and they would automatically appear in the Connect option of your Apple Music app. Simple! This is the section where Apple has stood out in comparison to Spotify or YouTube. Here you can post comment and see others' comments to the playlists or content uploaded by Artists.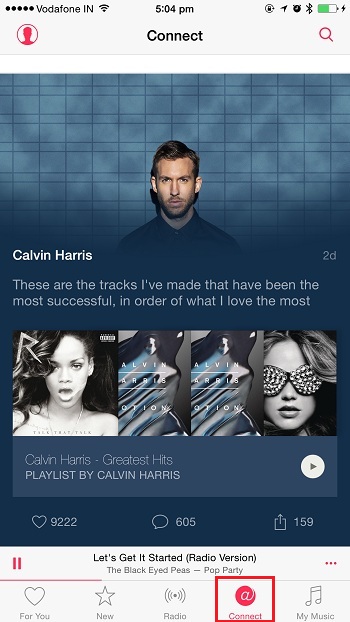 The last tab is "My Music", yes the one which you have been using to listen to your songs in your iPhones. This section is pretty much the same as before except for its user interface and theme. Also, you could see the recent tracks added by you on top of the section when you click on My Music.
Creating Playlist in Apple Music
Creating playlist in the new Apple Music app is quite simple, though not easily traceable. This is how you can create a playlist:
You need to be on the latest software (8.4) released by Apple to load the Apple Music
Launch the app and select the last tab "My Music"
Click on to the "Playlists" , the right option on the top of the screen
Select the "New" option and you will be redirected to a new window
You can Name your playlist in the "Title" along with the description
Then you can add your favorite songs in the new playlist and you are all set
The following screenshots would guide you on how you can create a new playlist: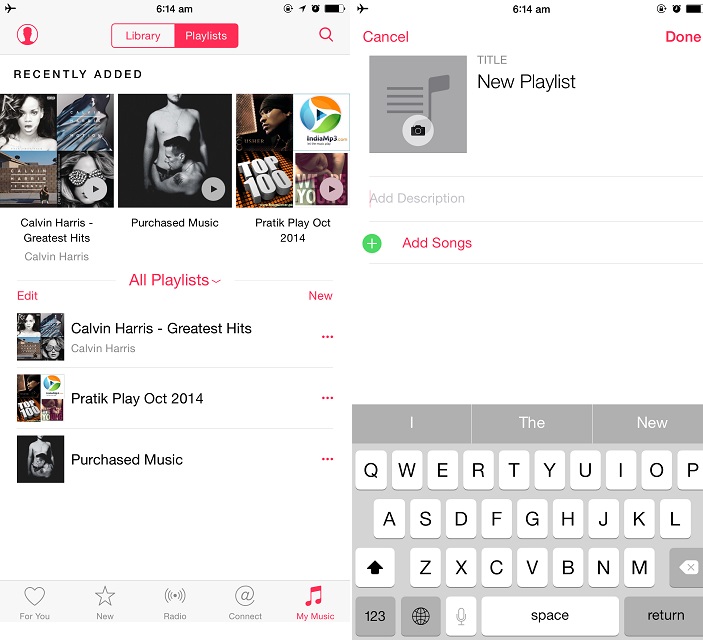 PS: After you are done creating the playlist, you can then save it. You can even share it by tapping on the share button. Any changes that you make in the future will result in the playlist updating across all iOS devices.
How to save tacks / playlists for Offline listening
Did you know that Apple Music allows you to listen to your favorite tracks even offline so that you do not have to burn your data all the time when you are not on Wi-Fi? Here's how you can do it:
One you have launched the Apple Music app, simply navigate to the song / album or the playlist that you desire to download to your iPhone for offline listening.
Tab on the truncation (the three dots next to the selected track) to the right of the title.
You will get a menu popping up from the bottom of the screen with various option. Select "Make Available Offline" option
This action will download the music and save it in your iPhone
If you are on Wi-Fi network, your iPhone could automatically download the tracks and you can listen to them when-ever you desire
The tracks and playlists that you download would show up across all your devices loaded with Apple Music
Better Use of Siri
No you can direct Siri to help you navigate and shuffle or choose from the songs that you would like to listen.
So, you can now say: "Hey Siri, play me top charted songs from the playlist of Calvin Harris" and there you go.
Associated Costs
Well, Apple Music is free for you to listen and explore the depth of the app after you sign in yourself with your apple Id till September 30, 2015. Thereafter, It will cost Rs. 120 per month (individually) or Rs 190 (for the entire family) per month . That's pretty cool as the cost of subscription is lower that what Apple would charge in other countries. For instance in US, the subscription per month after the trail period is $ 9.99 for an individual and $ 14.99 for family per month.
However, unless you disable the automatic renewal option from the app, Apple will charge you as soon as your trial ends. In order to disable auto renewal, Go to -> Your Profile on the top left hand of the For You tab -> View Apple I'd -> Subscriptions -> Manage -> Your Subscription -> Disable auto renewal. We must all thank Apple for putting this option.
Apple Music and the Competition
Days before Apple Music launch on June 30, Google Play Music launched its free music streaming service. However, It is not free from advertisements and more unfortunate it's not yet available in India. With the launch of Apple Music, other competitors such as Spotify and Rdio would definitely lose subscribers because in the free trial period of three months the subscribers would be able to decide whose service they would like to opt for and which is more user friendly, rich in content and keeps them entertained.
Compatibility
Apple Music is compatible with iOS 8.4 or later, iTunes 12.2 or later (OS X Mavericks or later; Windows 7 or later), and Apple Watch. It will also release for Android devices and Apple TV in late 2015.
End Note
Folks, who are impressed and satisfied with the services of Apple Music would definitely shift their preference to Apple. I'm using Apple Music from the hour it was launched on June 30 and I'm using it thoroughly since 5 days and I should say that I'm pretty impressed with the content and the choice of tracks and videos. But your preference may not be same as mine. I would suggest all music enthusiasts to get excited about Apple Music and if you really like it then go for the subscriptions. However you would also have option to unsubscribe when-ever you want to.
SEE ALSO: Tips To Boost Battery Life of iPhone 6
Happy Listening!
---
Load More