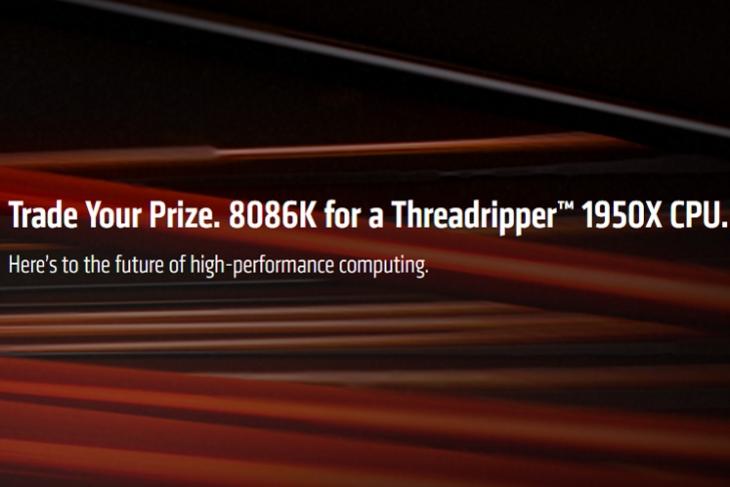 If you've been following the recent advancements in the computer processing market, you would surely know that ever since AMD's first-gen Ryzen CPUs, its rivalry with Intel has been amped up to an all-time high. Now, with Computex behind us, both chipmakers are eager to one-up the other. We have had ugly spats in the past, but honestly the most recent feud has been pure fun to watch, and you just might win some brand new powerful chips to go with it.
It all started when Intel decided to announce the limited edition Core i7-8086K. Intel ran a contest to give away 8,086 of the CPUs.
AMD, which recently unveiled their Threadripper 1950X CPU, decided to mock Intel big time In an official blog post, AMD has stated the following:
Our competitor recently kicked off a sweepstakes to celebrate the first 40 years of the x86 processor by giving away 8,086 limited edition processors.
We appreciate the advancements they've helped drive with the x86 architecture over the last four decades. But, we're ready to take it from here. That's why we're giving 40 performance-hungry enthusiasts in the U.S. an opportunity to celebrate the next 40 years of high-performance computing by trading in their commemorative processor prize for our CPU that enables you to work, play and create with heavy metal.
The first 40 U.S.-based winners of the Intel® 8th Gen Core i7-8086k Limited Edition Sweepstakes (which opened on June 7, 2018 and closed on June 8, 2018) ("Competitor Sweepstakes") to complete certain steps will be offered the opportunity to exchange their new, in-box prize processor for a flagship 16-core AMD Ryzen™ Threadripper™ 1950X processor built for the gamers and creators who need a processor that can do it all.
Now, if you thought that was enough, AMD spiced things up further by adding a FAQ section, with a major focus on the following question – "Why would I want a Ryzen Threadripper 1950X?"
We'll let the numbers do the talking: 16 cores. 32 threads. 64 PCIe Gen3 lanes. 40MB cache. Need more? Unrestrained performance for all your workloads. AMD SenseMI technology that leverages machine intelligence to customize performance. The Ryzen Threadripper 1950X is a game-changer. But don't take it from us – the Ryzen Threadripper 1950x processor is a CES 2018 Best of Innovation Award winner and the expert reviewers also agree.
With all this mockery, you'd expect Intel to have something up their sleeve as well. And rightly so, the company decided to settle things in a very classy way.
.@AMDRyzen, if you wanted an Intel Core i7-8086K processor too, you could have just asked us. 🙂 Thanks for helping us celebrate the 8086! pic.twitter.com/ZKKayaws7u

— Intel Gaming (@IntelGaming) June 18, 2018
You may be on Team Red, but this is one public battle that surely belongs to the Blue guys!