There's no debating the simple fact that music is one of the most crucial elements at any social gathering — be it your birthday, casual weekend at the park or beach with friends. And don't tell me, you don't sing along or break a leg when your favorite track is playing in the background.
If you love to belt out your favorite songs with friends then the Aisen A02UKB600 multimedia speaker (which I'll refer to as Aisen B600 henceforth) is exactly what you are looking for. It's not only a portable trolley Bluetooth speaker but also makes a mean karaoke machine as well.
Aisen was kind enough to send out the B600 multimedia speaker for us to check out, so after spending more than a week with it, here's my take on whether this is the karaoke machine and speaker to buy or not:
Aisen B600: Specifications
Before we talk about how the speaker looks and sounds, here's a quick look at some of its key specifications:
| | |
| --- | --- |
| Dimensions | 205 x 265 x 400 mm |
| Weight | 3.3 kgs |
| Input Voltage | 230V |
| Power Output | 20W rms |
| Frequency Response | N/A |
| In-built Battery | N/A |
Aisen B600: What's in the Box
Aisen B600 comes packed inside a massive cardboard box, with styrofoam protection to safeguard the plastic build of the speaker from any transportation damage. You'll find all the accessories sitting at the very top. Here's everything you get in the speaker's box: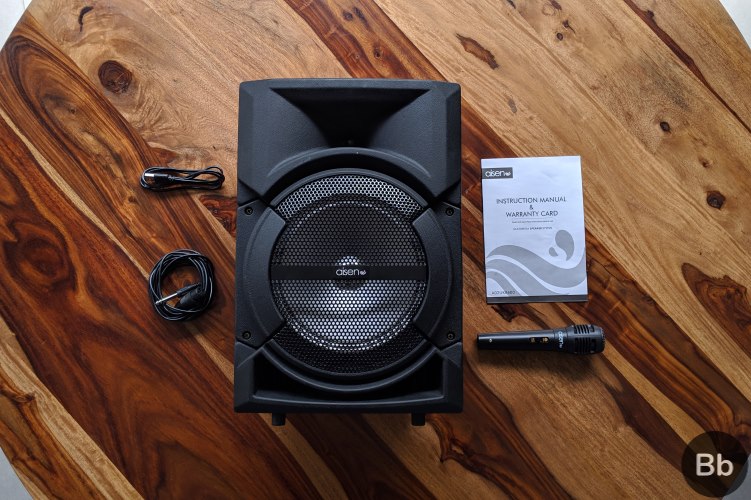 1x speaker unit
1x microphone (with cable)
1x remote control
1x charging cable
1x user manuals
All this is enough to get the speaker working, but the box is missing batteries for the remote (not really an exorbitant investment) and an AUX cable for tethered audio, rather than the lower quality Bluetooth streaming.
Aisen B600: Design & Build
The Aisen B600 is a pretty bulky yet sturdy multimedia speaker, with the company saying it boasts a 'unique acoustic' appearance all-around. It may not exactly seem like that in the pictures attached here, I know, but the speaker is pretty huge, perhaps slightly bigger than an average home theater's woofer.
The plastic build of the Aisen B600 speaker looks beefy and good, but it isn't the best and the plastic feels inferior to the touch. The outside also scuffs pretty easily, making the build of this portable multimedia speaker questionable. I dropped the speaker a couple of times and it already has a couple of battle scars.
The speaker unit that sits front and center on the Aisen B600 comes with a multi-colored LED lighting that lifts up the ambience. It turns this speaker into an attraction at parties and people will know where to queue up to play tracks. The lights seem a bit too much for daily use and it's possible to turn it off with a dedicated switch on the rear panel, where all controls are present (more on this below).
The feet at the Aisen B600 speaker's bottom are bare and could have included skid-proof soft pads for better noise absorption, which is already quite decent and the speaker here doesn't even move about at high volumes. Aisen has gone with bare feet because buyers can attach castor wheels and turn it into a trolley speaker, even though the handle would prove too short for the same.
The handle, however, is strong and makes it effortless to carry about the speaker, which is something I did quite often over the past week. The speaker may weigh more than 3 kilograms and may even look heavier, but it's surprisingly light for its size. Each speaker has a circular opening at the bottom that can be used to mount it on a pole.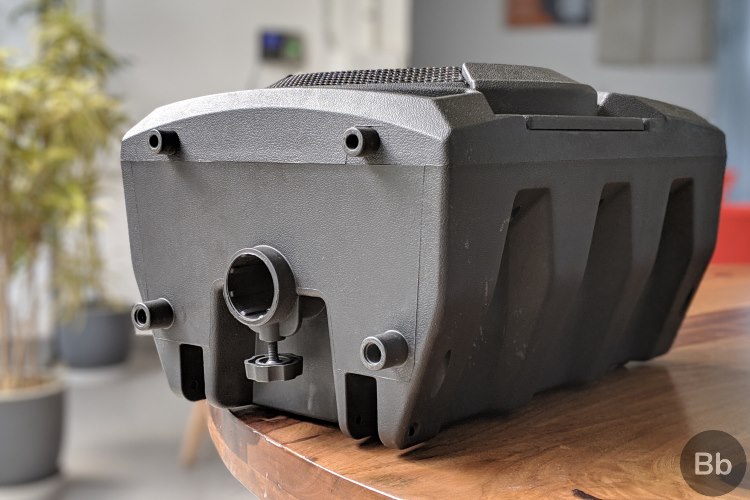 Aisen B600: Connectivity & Ports
There are plenty of ports, knobs, and buttons on the rear panel of the Aisen B600 speaker. You can see for yourself in the image below that all of them are just splayed out – not too neat we must saay. There's a ton of settings you can play around with, to control the audio output.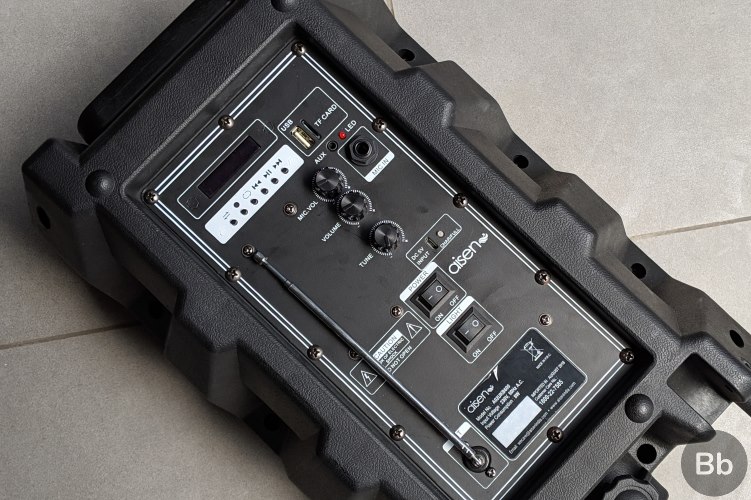 Starting off, the speaker sports a convenient display on the top to show the active mode, radio channels, and the playing track with timestamps – but I would've preferred it to be on the front. Who's going to be looking at the back to see this? This is followed by primary controls, including the play/ pause, back/ forward, mode switch, repeat, and record buttons.
As for the modes, you can switch between line-in, Bluetooth, and radio modes. I tried out the speaker in each mode and didn't notice any major connectivity issues, except for while I was listening to the radio. The antenna needs to be fully extended and the speaker has to be kept in an open space, without much clutter, for good reception.
Then, you've got the USB-A port for pen drives, TF card, AUX input, 6.5 mm microphone jack, and microUSB port to round-up the ports fiesta. The three knobs on the Aisen B600 speaker help adjust the speaker volume, microphone volume, and 'tune' the audio output – i.e an analog equalizer. There's the power and light switch at the bottom too.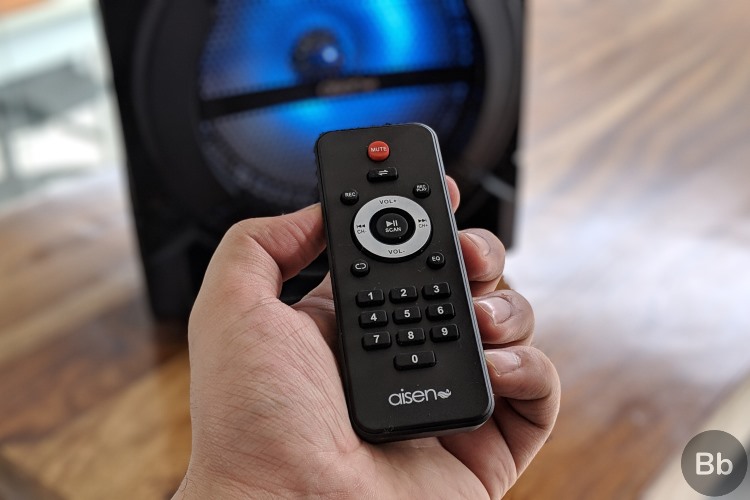 And then there's the remote control that Aisen bundles with its speakers. It does make it easier to control the speaker playback without having to go up to it every time. You can change the input setting, play/ pause music, set repeat, scan radio channels, or directly input the frequency for the radio channel you want.
Aisen B600: Audio Quality
If you are someone looking for a multimedia speaker that's extremely loud or a hobbyist searching for a great karaoke machine, well, the Aisen B600 is ideal for you.
You can do both at the same time too, and it's awesome to listen to yourself over the original vocal performance of your favorite artists.
Well, I have spent more than a week with the Aisen B600 and this speaker gets super loud. I couldn't turn it up past the 70% mark without being a nuisance to my neighbors, especially since I was jamming My Chemical Romance every day post work. Yes, it is that loud and no the audio doesn't muddle at this volume.
The audio performance of this speaker is pretty average, with your bass and treble being punchy but the mids feeling a bit lacking at times. The vocals sound hollow and you don't really feel the music like it's supposed to. Nothing extraordinary – but you can tweak the output via the tuning knob.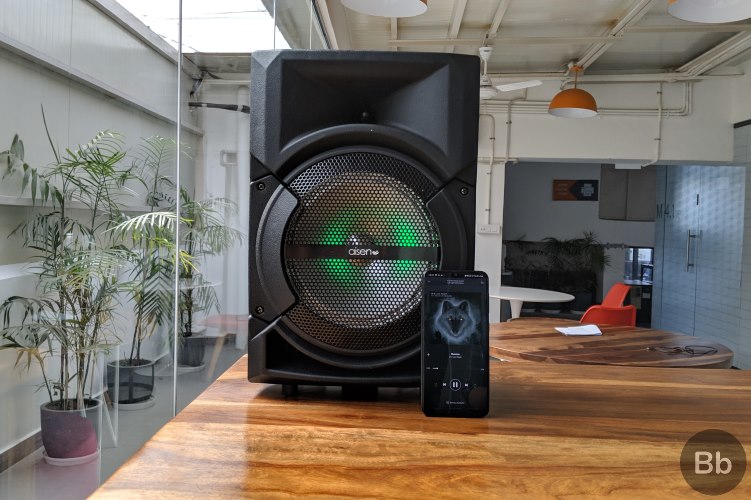 I didn't only listen to My Chemical Romance, but the quick riffs and high-pitch vocals for this band sounded great. I also listened to newer tunes such as Lauv's Paris in the Rain and Maximillian's Beautiful Scars, which have more emphasis on the vocals, and these sounded decent too
I used this speaker while binge-watching Amazon Prime's latest 'Made in Heaven' over the weekend and the Aisen B600 didn't disappoint here as well. At around 50 percent volume, it was sufficient for a medium-sized room, and I thoroughly enjoyed the series. The dialogues were clearly audible, except for when the background music had soaring bass elements, which is when the speaker falters a little.
Aisen B600: Karaoke Mode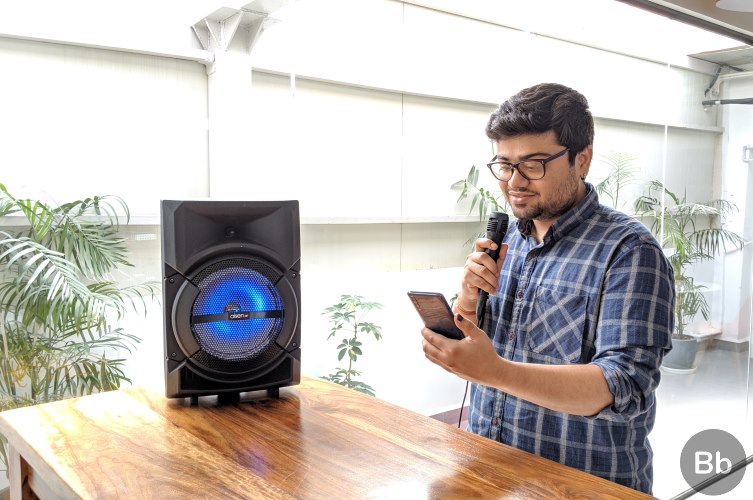 One of my favorite features of the Aisen B600 certainly is the 'karaoke mode'. Yes, the speaker here comes with a wired microphone which you can just plug into the 6.5mm jack on the rear, turn up the mic volume, and sing your heart out.
You can gather friends, connect your laptop, PC or smartphone to the speaker, and fire up instrumentals or lyric videos on YouTube to sing along. That's the perfect setup for a cozy karaoke session at home.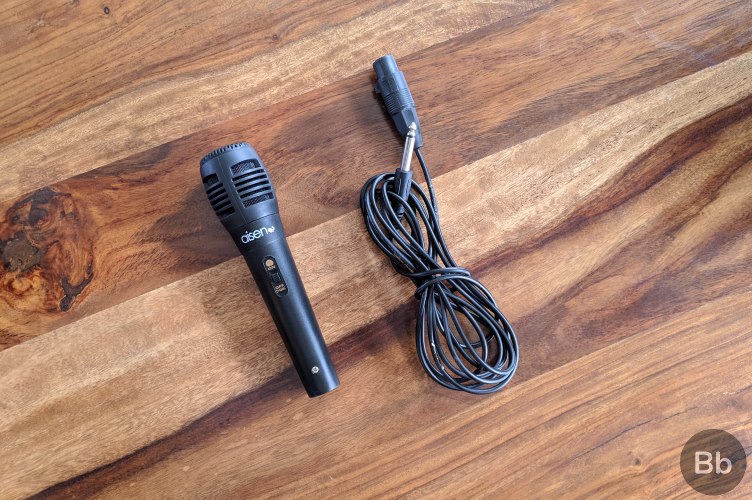 It can get pretty loud, and the audio output from the microphone is pretty good and can easily be adjusted using the tuning knob on the rear. You can reduce hums or reverb using the same.
Aisen B600: Battery Life
There's a modest-sized rechargeable inbuilt Li-ion battery inside this speaker, which is a great addition for users who love to jam to music at picnics or the beach. Its capacity is, however, unknown to us as neither Aisen's official product page nor the Amazon listing has info on the same.
The company promises a 2-hour playback and I usually saw results at par or better than the same while using the speaker. I mostly played music or watched Netflix via Bluetooth, with the lights off and at around 50 percent volume, but I think you can expect a slightly infelower rior battery backup (around 1 hour and 40 minutes) when using it at higher volumes and with the lights on. And it's disappointing for a speaker of this size and caliber.
One thing I truly despise about the battery life is that the speaker doesn't give you any warning when the charge is running low. It simply cuts off your music abruptly and you need to plug it in to get started again.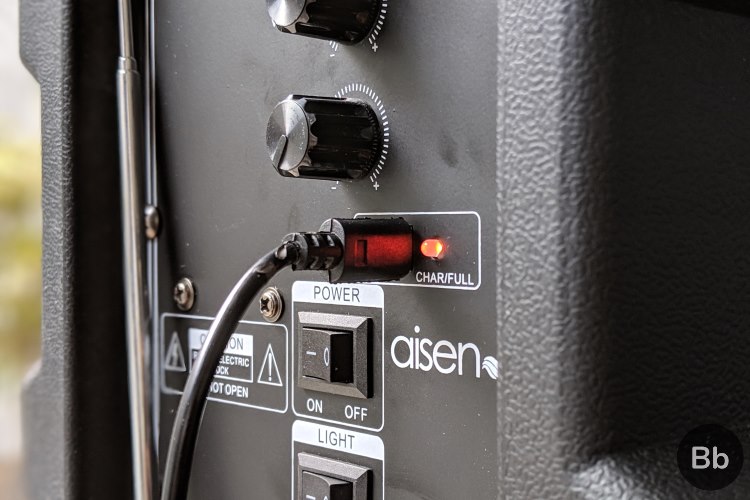 The battery life isn't really bad for a speaker of this size, with its output power, but you may need more juice during house parties. Well, don't worry as the Aisen B600 is also usable when it's plugged in. You'll simply need to connect the 5W microUSB charging cable, which starts charging your speaker (as indicated by the LED light next to it).
Should You Buy The Aisen B600 Multimedia Speaker?
Now that you know almost everything about the Aisen B600, you know that the speaker sounds good and is pretty loud, the karaoke mode is excellent for parties or picnics, and you can even play music using a USB drive or TF card — giving you ample choice for the mode you want to use. And for the sub-Rs 4,000 price tag, I can't think of any reason not to recommend it.
While this seems like the perfect karaoke machine for the price, Aisen still needs to work on building brand trust, so if you're looking for something more sturdy and powerful then the Zync Karaoke Portable Bluetooth Speaker (Rs 3,849) could be a good alternative. It's not only packing a more powerful 32W speaker, but also a wireless microphone for about the same price.
PROS:
Really lightweight
Extremely loud
Decent sound output
Karaoke Mode
Many connectivity options
CONS:
Inferior plastic build
Mediocre battery life
Note: I've found the retail price of the Aisen B600 speaker to fluctuate pretty often on Amazon.in, so keep track of the same and wait for a price drop – if you plan to buy this speaker. It was retailing at Rs 3,690 at the time of writing this review.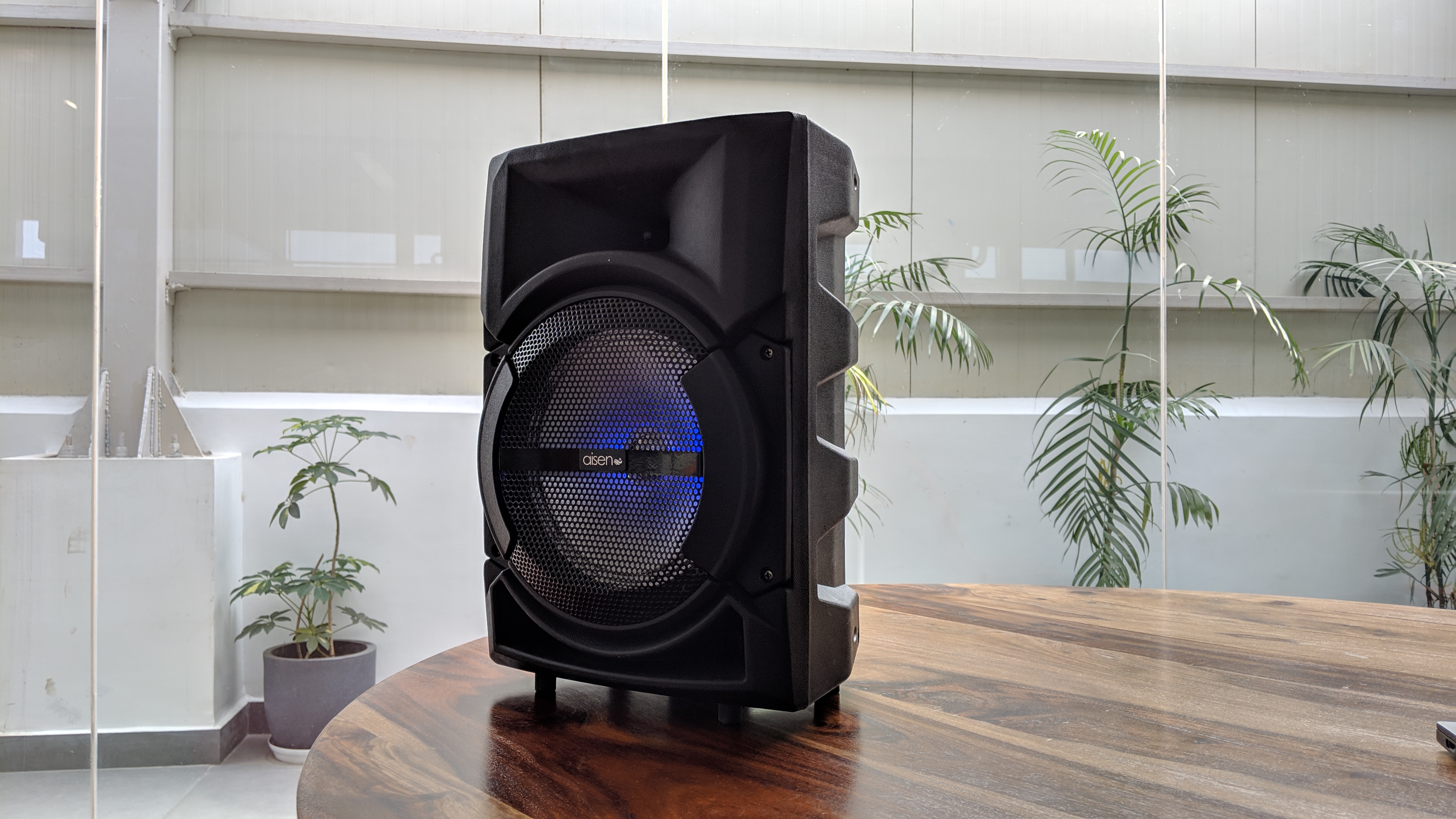 SEE ALSO: Xiaomi Mi SoundBar Review: Cinematic Sound At a Bargain
Aisen B600 Multimedia Speaker Review: Party People, Gather Around
The Aisen B600 multimedia speaker is an ideal and affordable deal for users who've been looking for a karaoke machine to add some zing to their parties, gathering, and any other celebratory event. And if you don't want to use it for karaoke anymore, it still seems to be a great addition to parties.
Buy Aisen B600 Multimedia Speaker (Rs 3,690)
REVIEW OVERVIEW

SUMMARY

The Aisen B600 is a huge and powerful multimedia speaker, with a sturdy yet light build, decent sound output, and a crowd-pleasing karaoke mode that alone is enough to convince me to recommend this speaker. It also lets you connect any number of devices to enjoy music the way you want.