At a time when most phone makers are caught in the race to either make the most striking and feature-rich flagship or hand down abundant features at an affordable price, there are some who're making phones built like a tank. Yes, I'm talking about rugged phones that've been designed for a singular use-case, i.e durability.
While not being a very popular genre, there are still plenty of options in this category. The one you must have already heard of is Samsung's Galaxy Active series, but there happens to be a new kid in town. The Aermoo M1, available for £364.99, claims to be the world's first 5.2-inch rugged phone with a plethora of useful features. But, is this rugged phone worthy of becoming the rugged phone of your choice? Let's find out in our in-depth review:
Specifications
Before we jump in to talk about what I think about the Aermoo M1, let's take a quick look at the specifications of the device. Check out the complete specs sheet below:
| | |
| --- | --- |
| Dimensions | 164 x 81 x 15.5 mm |
| Weight | 287 g (10.12 oz) |
| Display | 5.2-inch Full-HD IPS LCD |
| Processor | octa-core MediaTek Helio P25 |
| GPU | Mali-T880 MP2 |
| RAM | 6GB LPDDR4X |
| Storage | 64GB, expandable up to 128GB |
| Primary Camera | 21MP Sony IMX230, f/2.2 aperture, OIS, PDAF, and dual-LED flash |
| Secondary Camera | 8MP, f/2.8 aperture |
| Battery | 5,580mAh li-ion, with Quick Charge support |
| Operating System | Android 7.0 Nougat |
| Sensors | accelerometer, barometer, compass, fingerprint, gyroscope, proximity |
| Connectivity | Wi-Fi 802.11 a/b/g/n, Bluetooth v4.0, A2DP, A-GPS, GLONASS, NFC, microUSB, 3.5mm jack |
| IP Certification | IP68 dustproof and waterproof |
| Colors | Desert Gold, Polar Night Black, Space Silver |
| Price | $379.99 |
What's In The Box
The Aermoo M1 comes packed inside a bright orange cardboard box, with minimal branding on the front that attracts you to unbox the device right away. If this is your first-ever rugged phone, you'll be surprised to see the contents of the box.
Here's everything you get in the Aermoo M1's retail box:
Aermoo M1
Charging Adapter
microUSB Charging Cable
Quick Start Guide
A Screwdriver (you'll learn its purpose below)
Two extra screws
Screen Protector
Design And Build Quality
The biggest challenge with rugged phones, which has been continuing until date, is that companies add substantial weight to the devices in the name of protection against drops and breakage. Aermoo M1 suffers the same fate and you will feel the heft the instant you pick up the device. The device weighs in at 287 grams, which is about double the standard of today's phones.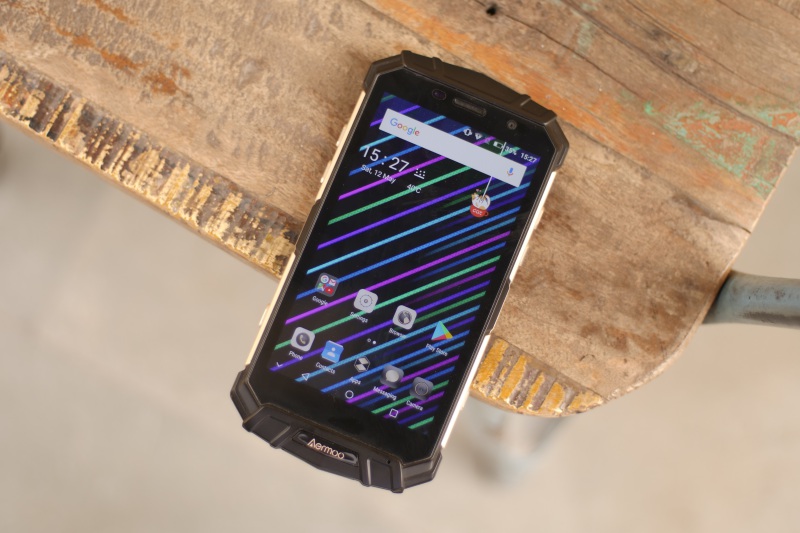 The device adopts an octagonal design, with an aluminum metal body (golden, in our case) and polycarbonate bumpers to protect it from shocks and bumps. The bumpers also hide the 3.5mm headphone jack (at the top) and the microUSB port (at the bottom) with flaps to earn an IP68 water and dustproof rating.
Aermoo M1 is not too comfortable to hold, especially for longer durations of time. Thanks to its bulky design, you will want to put down the phone after some time to give yourself some rest.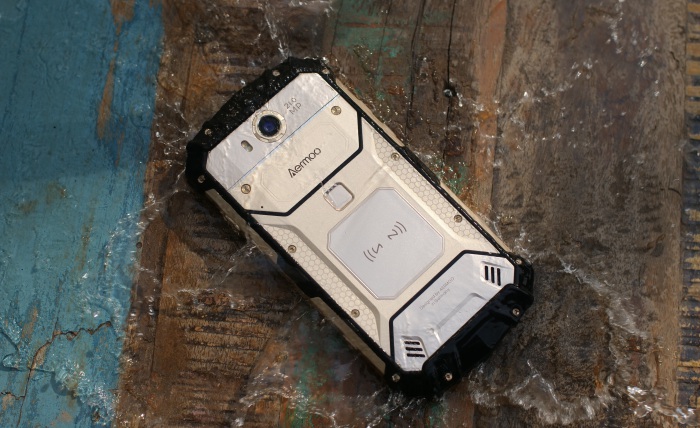 Apart from the power and volume keys, there are also a number of other buttons on this device. You get a shutter button, which has obviously gone extinct ever since the OEMs started making thinner devices and a PTT (push-to-talk) button to activate a walkie-talkie service on the right edge.
The left edge holds the SOS button, which I tell you is a hassle and has been placed in an inconvenient position. It gets activated even at the slightest press and the buzzer goes off, which is definitely annoying. Otherwise, all the buttons feel quite clicky and easy to access.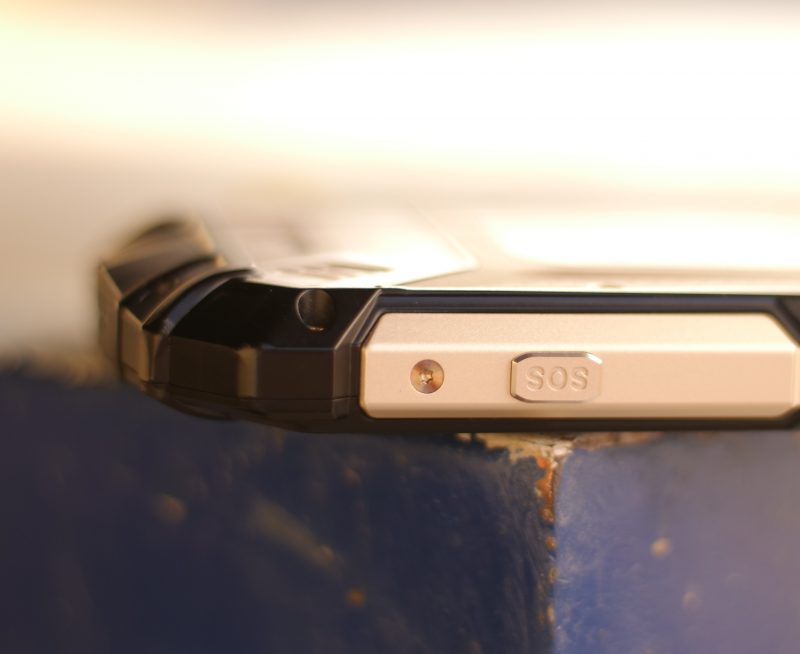 As for why you need a screwdriver, this rugged phone sneaks the SIM tray behind a metal plate on the rear under the camera and it's secured by two screws. You'll need to open them every time you want to swap out the SIM or microSD card, so that's a huge hassle. It is also the rear which holds the fingerprint scanner (not so responsive and slow) and dual-speaker setup at the bottom.
Now, let's talk about the most important features of this smartphone – durability. Aermoo M1 is a rugged phone by design and should be resistant to shocks and drops. Well, in our drops tests, we made the device take a fall from pocket height in three situations – at the edge, on its back and front.
As for how the Aermoo M1 fared in our tests, here's a GIF of the drop: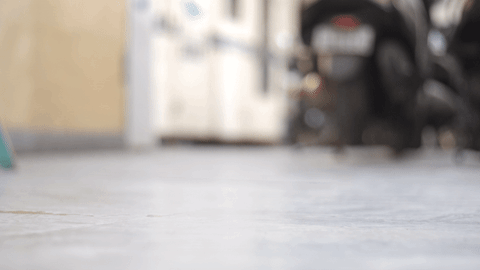 The Aermoo M1 managed to survive all of the three drops like a champ, which shows that the device excels in its category. The polycarbonate edges did take a beating from the drops but the phone was working fine – with our fears of the screen shattering dispelled at the end.
Display
If you've been loving the adoption of the taller 18:9 display, well, you sadly won't be able to enjoy that on this device. The Aermoo M1 sports a 5.2-inch Full-HD (1920 x 1080) IPS LCD display, with a pixel density of 294 ppi. While this may not sound attractive to many, I found the display to be quite satisfactory.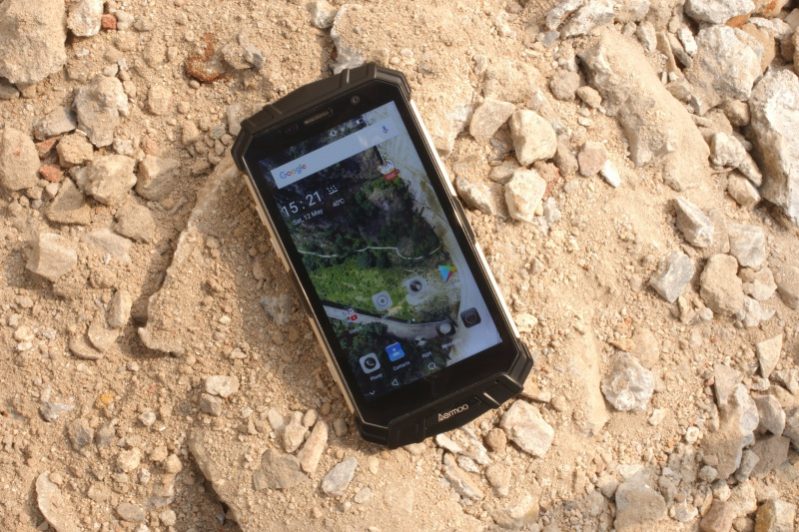 The touch is pretty responsive, the screen gets super-bright (even under direct sunlight) with good color reproduction and the viewing angles are also crisp, so there's nothing to complain about here. It's covered by Corning Gorilla Glass 5 that will protect your screen against scratches, but an oleophobic coating makes it less prone to smudges as well.
Aermoo has added MiraVision, a set of engines that enhances the display picture quality. It also brings an 'eyebrow mode,' which is a confusing name for their blue light filters. You can configure its filters for outdoor mode, sleep mode, and night mode based on your preference.
User Interface
Except for the ruggedness and the design of the Aermoo M1, it will be the user interface that caught me by surprise. The device is running Android 7.0 Nougat, which sure is disappointing, but it is the awful-looking launcher (similar to the ones that are cluttered in Chinese phones) that will give you jitters. But, if you look past the minor shortcomings then you'll find a myriad of smart 'assistive' features are baked into the software.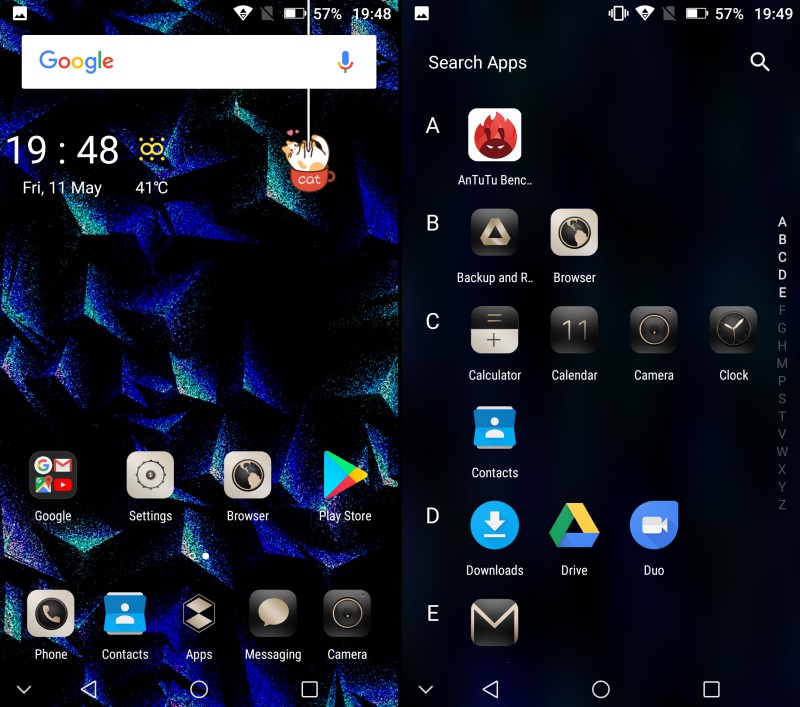 Collectively called Smart Assistant, the Aermoo M1 offers plenty of features that'll make using the phone a doozy. You'll be able to activate functionalities such as a slide menu, which gives you access to quick settings, system apps, and more with just a swipe. These can also be accessed from a floating menu, similar to the one available on iPhones.
It also packs in motion and non-touch gestures that'll enable you to answer a call, change images in the gallery or shuffle music by waving your hand at the top of the screen, take screenshots sliding three fingers vertically and slide three fingers towards the left to show recent apps.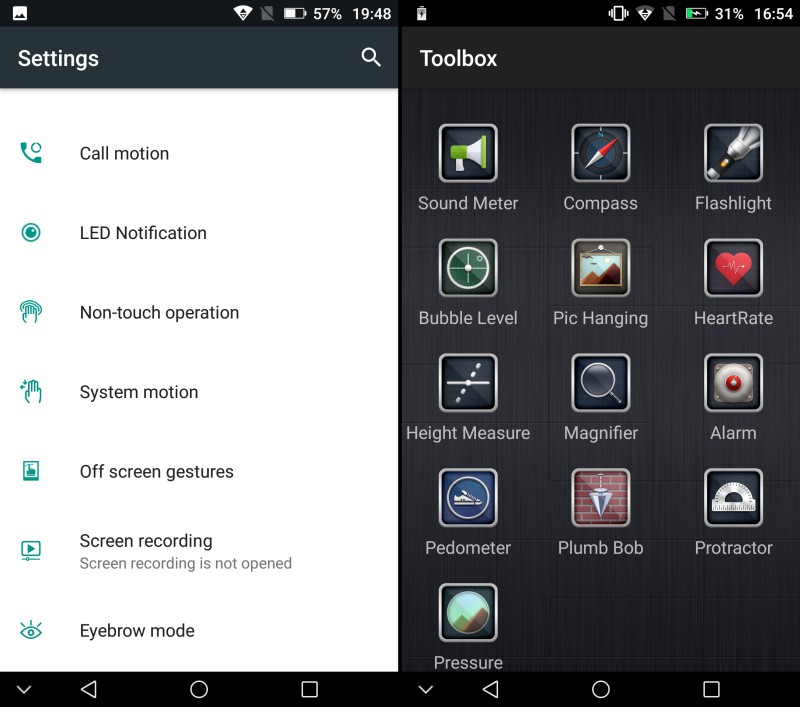 There's not more to explore here, except for the toolbox that houses several features that are necessary for an average rugged phone user, which includes adventurous people as well as construction workers. You get access to a sound meter, compass, heart rate monitor, magnifier, protractor, plumb bob, and an air pressure monitor tool as well.
Performance
When talking about performance, I'd say that Aermoo M1 works buttery smooth in most situations that you're likely to use the device. It's powered by an octa-core MediaTek Helio P25 chipset, coupled with 6GB of RAM and 64GB of internal storage. This is the flagship configuration from last year, which makes it possible for the phone to perform decently without any major hiccups.
Using the device on a day-to-day basis, I didn't notice any frame drops or lag on the software end – even though it is bogged down by heavy customization. Everything was snappy and fast, be it switching between apps or scrolling through a lengthy webpage. It was a delight to try out the additional features but if you prefer gaming in your free time, well, then I have some sad news for you.
For gaming, I decided to try out the only obsession of everyone right now – PUBG Mobile and Aermoo M1 defaulted to low settings, which was just the first blow. I then started to play the game but the frames started to slowly drop and I was not able to easily control my player at all times. I also tried out Shadow Fighters 3 and that ran great, that too on high settings. So, I'd say that gaming performance is kind-of inconsistent.
Finally, if you're someone who cares a lot about benchmarks and numbers, then you find the AnTuTu and Geekbench scores attached below. The numbers are not bad, per se, but they don't tell anything specific about the performance but more about the hardware that has been packed inside.
Cameras
In today's time, cameras are one of the more important aspects that a consumer takes into account before buying a smartphone but that isn't the case with the Aermoo M1. You'll get this device for its tough looks and unbreakable quality, so it indeed wouldn't matter as the cameras are just okay-ish.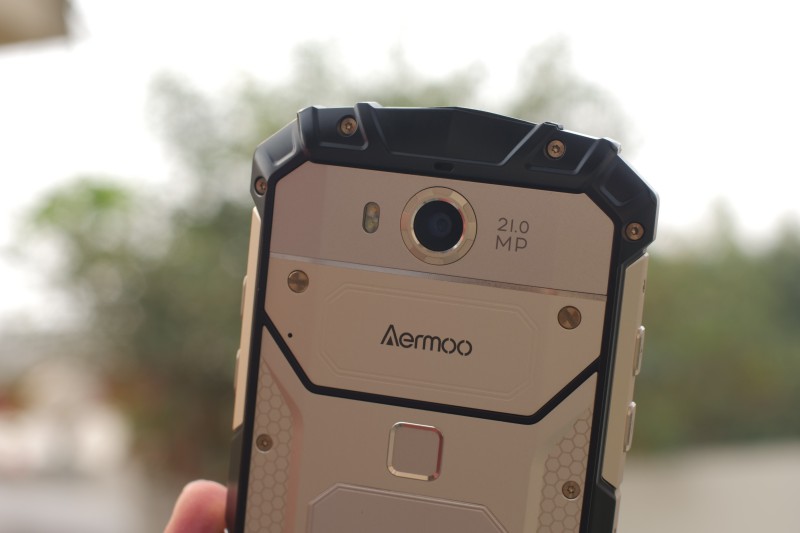 The Aermoo M1 features a single 21MP Sony IM230 sensor, with a f/2.2 aperture and phase detection auto-focus, that'll help you to capture some quick everyday shots but the auto-focus is quite finicky. The camera app sports a nice on-screen soft scroll dial that can enable you to switch between image modes, including candlelight, sports, night portrait, and landscape.
Coming to the picture quality, the single rear camera managed to capture photos with significant amount of detail and color reproduction is often accurate. Although I find that the photos captured exhibit slight noise (more evident when zoomed in), I think the camera would be able to suffice the needs of the adventurous kind – thanks to all the camera modes and easily accessible shutter button.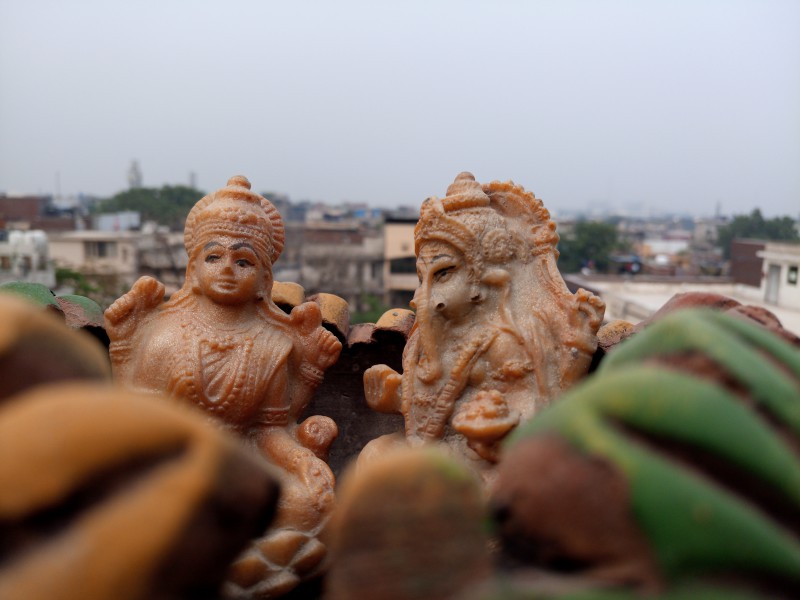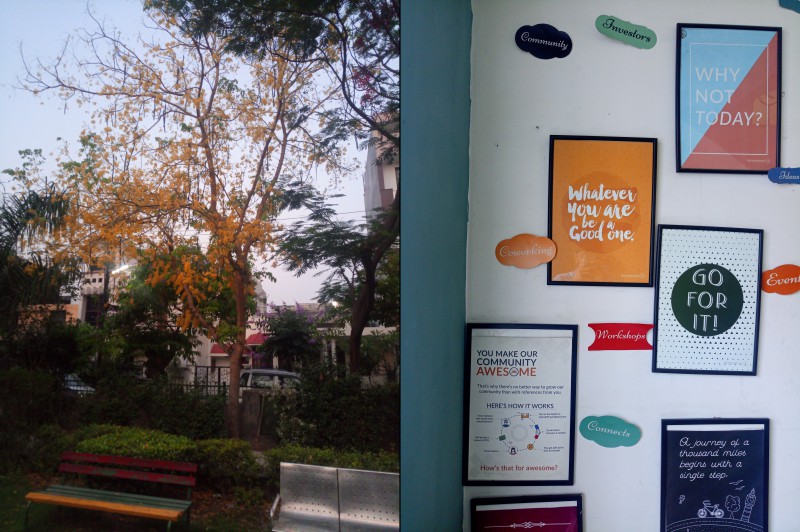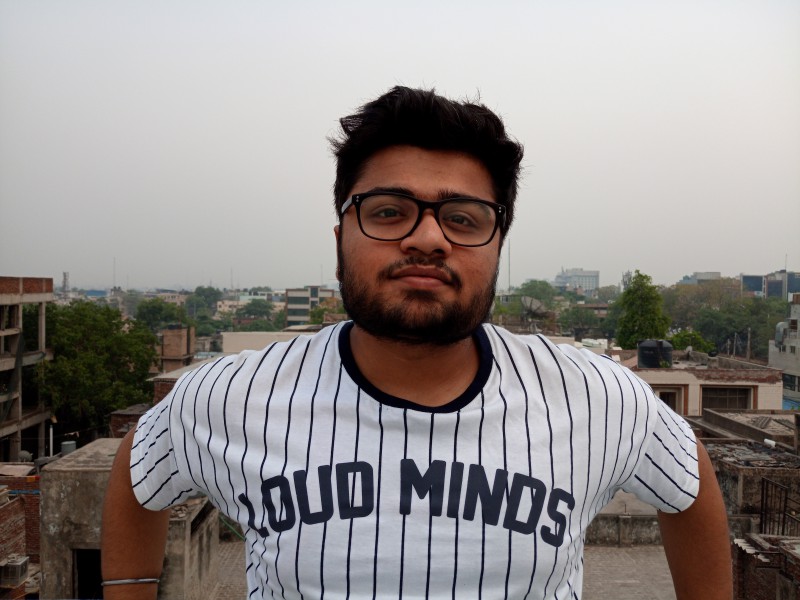 In low-light conditions, the camera suffers greatly because of a smaller aperture and there is a considerable amount of noise that's hard to ignore. The color reproduction is still fine, as mentioned earlier, but the details are lost in dimly lit conditions. So, if you planned to capture the starry night sky then Aermoo M1 is going to leave you disappointed.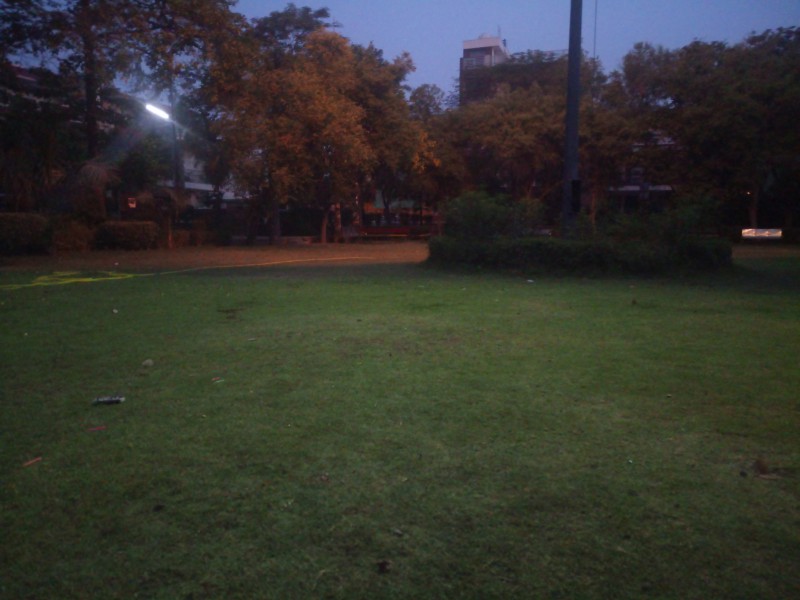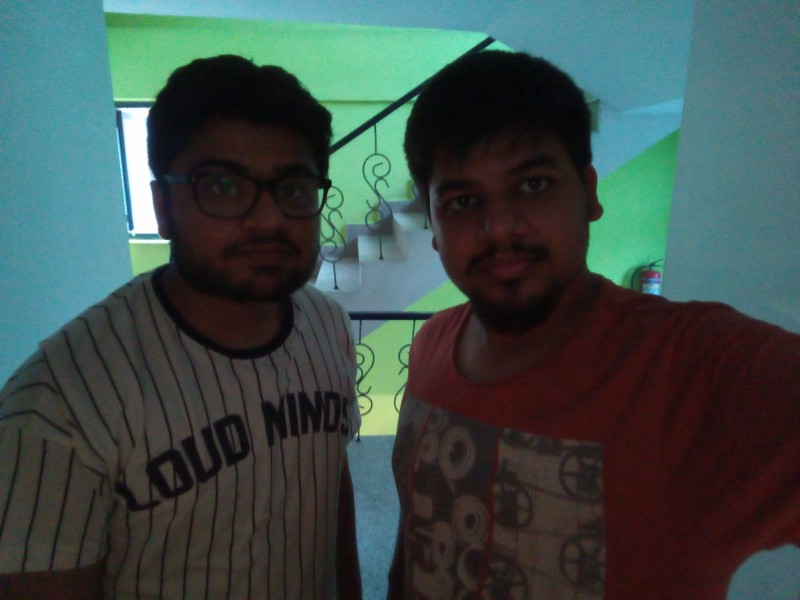 The Aermoo M1 features an 8MP front camera with an f/2.8 aperture that will help you click decent selfies, both in well-lit and low-light conditions. The rugged phone has beauty modes, which while making your bust look social media ready but at the cost of overall softness in the image. And the noise is still not going to leave you be, even with the front camera.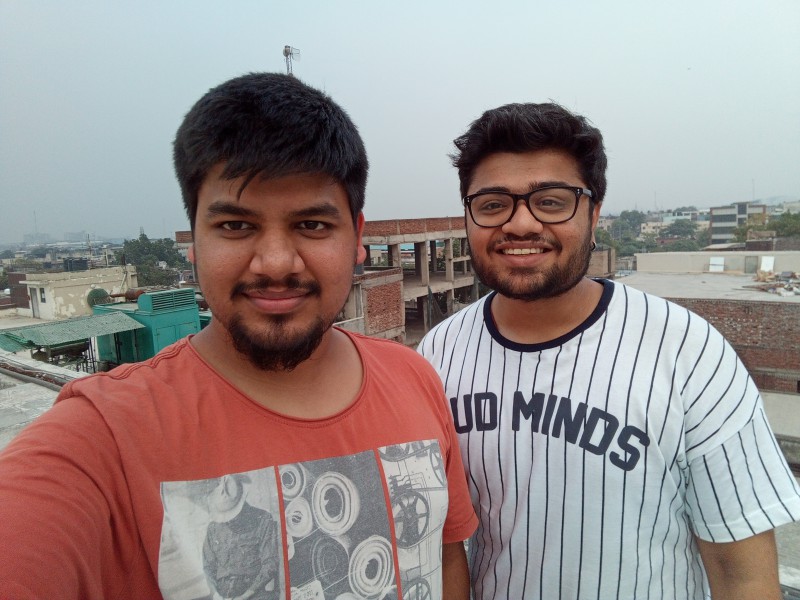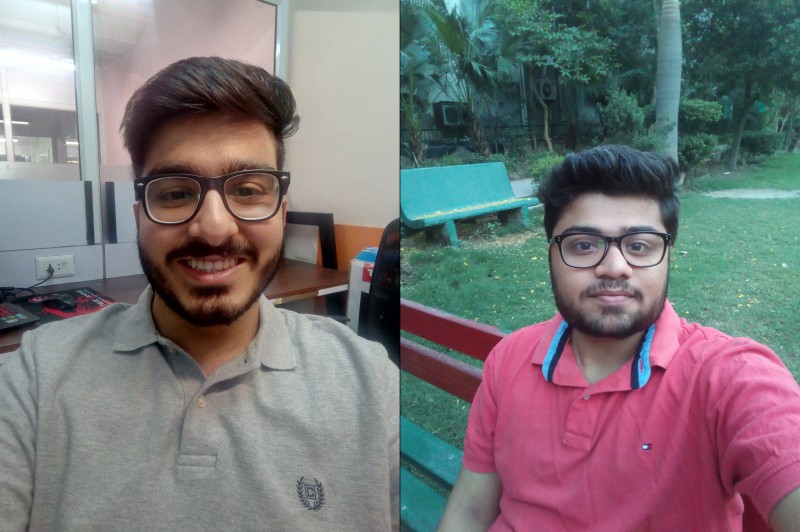 The Aermoo M1 is not only the lacking the taller 18:9 display but has also skipped on yet another major trend i.e bokeh photos, which blur out the background and make a subject pop.
As for videography, the Aermoo M1 enables you to capture Full-HD (1080p) footage from both the front and rear camera. But, the rear camera features Optical Image Stabilisation (OIS) but that didn't appear to be the case in my tests.
Telephony And Audio Quality
While inserting the SIM cards may have proven to be a bit of a hassle, the audio quality of the calls is crisp and distinct. I wasn't faced with any call drops and both sides were able to distinctly hear one other without any problems. No hissing or crackling sound was found to be coming from the earpiece.
Coming to the speakers on the Aermoo M1, the device has two of them included at the bottom rear and they're decent, to say the least. The dual-speakers do get loud enough for you to be able to enjoy music, but the sound is tinny and crumbles off at high volumes. The pure joy of playing games is, however, elevated as the sound from the dual speakers is amplified when you cup the device in your hand.
Connectivity
The Aermoo M1 packs all the necessary connectivity options that one would need from a smartphone today. The device offers hybrid dual micro-SIM card slot and supports most major LTE bands. It also supports Wi-Fi 802.11a/b/g/n, Bluetooth v4.0, NFC, as well as all major satellite navigation systems i.e A-GPS and GLONASS.
While it does feature the 3.5mm headphone jack, whose removal has become a raging trend, the major qualm that I have with the Aermoo M1 is the inclusion of the older-gen microUSB charging port in 2018. The microUSB charging port may offer a wider compatibility but only at the cost of charging speeds, which you can read about in the next section.
Battery
Being a rugged phone, that's going to be used and abused on the daily, the Aermoo M1 comes packed with a massive 5,580 mAh lithium-ion battery. Now, that's a lot of juice and it shows in the bulky design. But, this is also the reason that the device needs plenty of time to get charged completely.
Aermoo M1 goes from 0 to 80 percent in roughly 2 hours 15 minutes, which is pretty great for the bigger than average battery. It is all thanks to the support for quick charging using microUSB. The adapter included in the box outputs 24W (12V/2A), helping cut down the charge time.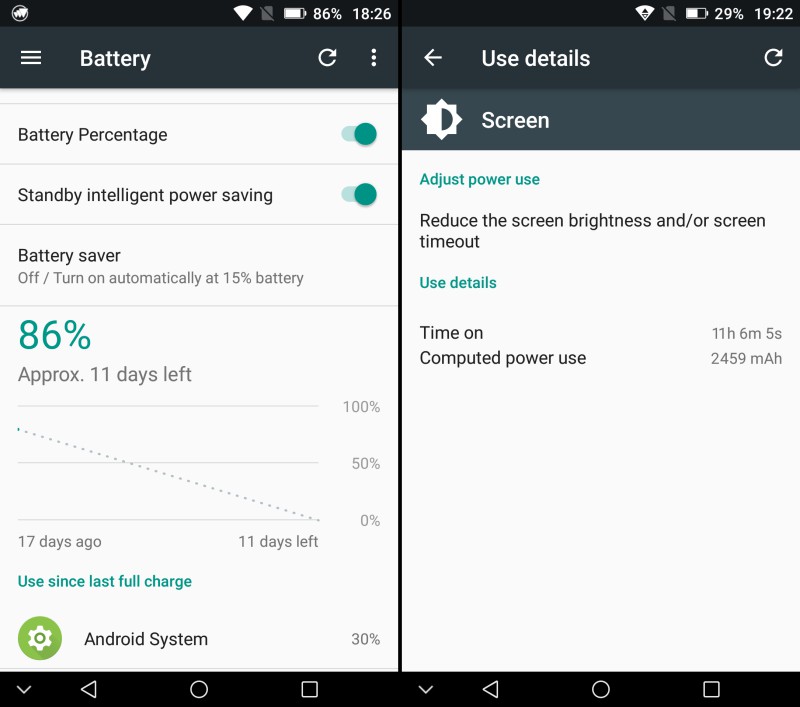 The highlight here, however, is the support of wireless charging which further makes it easier to charge the device. It eliminates the hassle of toying around with cables and you can place your Aermoo M1 on a charging mat and go to sleep after a tiring day at work.
The Aermoo M1 easily lasted me a couple days on medium to high usage. I spent most of my time browsing the Internet, viewing YouTube videos, and also playing PUBG, which resulted in a screen time of about 10 to 12 hours. The standby time, on the other hand, is a whole another story as my test device was lurking around the 15% mark even after two days of usage.
Is This The Rugged Phone To Get?
If you had been looking to get a rugged phone, by now you must be convinced that the Aermoo M1 is 'THE' best phone to get. But wait a second, I have an even better deal for you. How about I get you the same, yes, exactly the same device in both looks, and the performance for $20 less? Well, Doogee S60 is that phone!
But, it's not just Doogee, Germany-based Aermoo also faces competition from big dogs such as CAT, AGM, Homtom, and others, who have already made a name for themselves in this category. Nonetheless, be it Aermoo's M1 (or the Doogee S60), the phone offers a ton of feature that certainly makes it a compelling choice.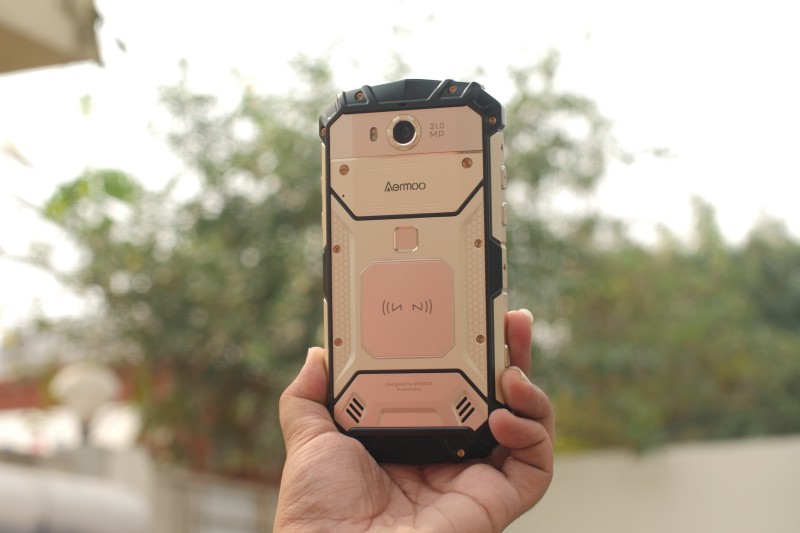 Pros:
Built like a tank, quite literally
Wireless charging
Plentiful add-on utilities
Cons:
Really hefty build
SOS button woes
SEE ALSO: Belkin F8M747bt Wireless Charging Pad Review: Time to Cut the Cord?
Aermoo M1 Review: A Decent Rugged Phone
While being present in a market segment that's not cluttered with brands like Samsung, Xiaomi or Apple does have its perks, the Aermoo M1 will certainly find a place for itself within the rugged phone community. Boasting of a military grade design coupled with tons of useful software tools, the Aermoo M1 offers a great value for money. While the camera performance might be sub-par, the device manages to check all the right boxes, and should easily prove itself worthy of your recognition.
Buy from Amazon (£363.99)
REVIEW OVERVIEW

Design And Build Quality

9

Telephony And Audio Quality

9

SUMMARY

The Aermoo M1 can certainly be called the complete rugged phone package that's not only capable of surviving drops, which it should by default but also offers a great feature-rich software experience that should come in handy for the targetted audience.